From the President's Desk
A Fitting Response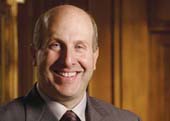 As many of you know, Oberlin College made national and international news this past winter when bias incidents disrupted our campus community. Unfortunately, similar things have occurred at other colleges across the country. But when they hit home it hurts.
The incidents—which included racist, homophobic, and anti-Semitic graffiti and other provocations—have ceased, although law enforcement and internal investigations are continuing.
But the most important outcome of those challenging days will endure in Oberlin history. It is the distinctively Oberlinian way our community responded. Our students, faculty, staff, alumni, and fellow Oberlin residents turned hate into an opportunity to educate. In classrooms, studios, and labs—in settings formal and informal—our community responded by teaching, learning, discussing, and having sometimes difficult conversations about race, diversity, and inclusion.
Led by the students and faculty of the Africana Studies Department, our community suspended classes and came together for a Day of Solidarity on March 4. This was not a day off but a meaningful learning experience featuring workshops, lectures, and a special all-campus gathering that filled Finney Chapel.
Student working groups formed that day. They have since presented the administration and the board of trustees with proposals for making Oberlin a more diverse, inclusive, and welcoming environment for everyone. We are already working to implement some of their proposals, such as strengthening the emphasis on diversity and inclusion in our new-student orientation programs.
Faculty members in the college and the conservatory used the incidents to spark discussions in their classes about the incidents and about race, diversity, and inclusion in our society. As always at Oberlin, those classroom discussions have sparked countless conversations that are continuing across our campus.
These extraordinary things became part of the great and ongoing work of Oberlin—teaching, learning, thinking, researching, writing, rehearsing, performing, and competing in athletics.
That is what we do. At Oberlin, we are devoted to enabling our students and faculty to achieve academic, artistic, and musical excellence. We believe that the essence of Oberlin's excellence depends on diversity, inclusiveness, and social engagement. Respecting and learning from our differences is central to our educational mission. And we are dedicated to using education and hard work to directly engage with the difficult issues of our times.
Those are our community's shared values. They set Oberlin apart from other institutions of higher education. When confronted by bias, our community turned our shared values into meaningful, positive action.
I am very proud of our response, and very proud to serve such a remarkable institution and community. Many of you have written, emailed, and telephoned offering encouragement, support, and suggestions these past months. Many alums have also reached out to students, administrators, faculty, staff, and—of course—to each other. On behalf of everyone here in Oberlin, thank you for honoring our values and helping us make Oberlin even greater still.