Thought Process
Eating Oberlin
Oberlin may be a small town, but that doesn't mean it lacks big ideas. Back when eating local and organic food was little more than a trend in California and New York, Joe Waltzer '98 launched Black River Café, a restaurant that focused on doing just that.
After the success of Black River, which Waltzer opened only a few short months after graduating with a degree in environmental studies, he opened Agave Burrito Bar & Tequileria in 2003 (both can be found on Facebook and Google+).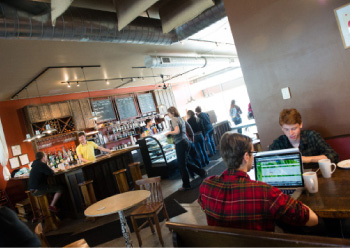 In both establishments, Waltzer is committed to sourcing as locally and sustainably as possible, which translates to about half of all products coming either directly from the Oberlin area or within the Ohio River Valley. "I've sold a lot of food, supported a lot of farmers, and created options for people to buy local, healthy food and support local businesses," he says. "My goal was always to help support and develop local food, so having a business that has been successful doing that—and has encouraged other businesses to do the same thing—means that it's bigger than just what I do."
Jessa New '01, co-owner of the Slow Train Café, has witnessed the food scene in Oberlin change from her days as a student. "The focus on locally sourced products has become less of a trend and more of a passion and way of life now," she says. "So many people in Oberlin want to know where their food comes from, how it is grown or produced, and who the people are behind the food."
This desire greatly influenced New, her husband (men's soccer coach) Blake New, and business partner Zach Tesler '07 when they made the decision to open the coffeehouse in May 2010. The team sources as many products as possible from the Cleveland area—the coffee is roasted in that city's Tremont neighborhood; the bagels come from Bialy's Bagels in University Heights; many of the baked goods come from Olof's Daughter, a licensed home baker in Olmsted Falls—and the cooks at the Feve make the hummus from scratch. The team opened its second coffee joint—The Local Coffee & Tea—on Main Street in November 2012.
"It is extremely important to us that we are supporting small, independent businesses," says New. "The relationships we've made with these other small business owners are one of my favorite parts about running Slow Train and The Local."
Restaurants aren't the only alumni food businesses around town. Jim Pechaitis '74 began growing his own hops six years ago, selling to breweries across Ohio. Pechaitis also sells to home brewers and herbal tea makers at the Oberlin Farmers' Market, which draws local vendors to sell their goods in front of the public library from May through October. Today, Pechaitis tends to 600 hops plants on three-fourths of an acre just west of Oberlin.
"This fits the niche of being local and offering a unique product," he says. Even in a sophisticated place like Oberlin, not everyone understands the product. Asked one student as she inhaled the hops aroma, "How do you get them to smell like beer?"
---
Oberlin Food: The Movie
Would it be possible for Oberlin to someday localize 70 percent of its food supply? In For the Love of Food, the 2012 short film written, directed, and produced by Brad Masi '93, this is the kind of question on the minds of many backyard gardeners, farm owners, cheese makers, and restaurateurs that make up Oberlin's local food web. With cinematography by Mika Johnson '00 and an original score by composer Ryan Lester '11, Masi conveys just how interconnected, abundant, and diverse Oberlin's local food system is. Featured are AmeriCorps volunteers on George Jones Memorial Farm; college co-ops; Black River Café owner Joe Waltzer '98; David Sokoll '09, a prep cook at the Oberlin Early Childhood Center; City Fresh community supported agriculture to the Oberlin community garden.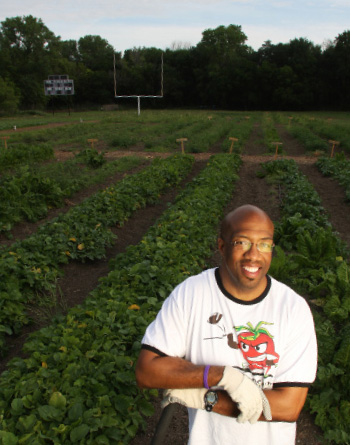 To learn more about For the Love of Food, visit www.neofoodweb.org
---
Victory Garden
Michael J. Sorrell '88 made a number of important changes since becoming president of the historically black Paul Quinn College just outside of Dallas in 2007. But few of them were quite as visible as when, in 2010, he plowed under the school's football field and planted a two-acre garden. Now called the WE over ME Farm, the plot addresses an important nutritional need for the area, which is otherwise several miles away from sources of fresh produce. At least 10 percent of the produce is donated to the surrounding neighborhood, and the rest is used by the college. "This is not a complicated issue," says Sorrell. "People deserve better than to be forced to feed their families at convenience stores and fast food restaurants. I refuse to believe that this is who we are as a society and it is definitely not what we are going to be as a college."
---
Market Solutions
At San Francisco's Canyon Market, the independent grocery store Janet Mason Tarlov '88 owns with her husband, Richard, you can find "locally sourced produce, fresh-made prepared foods, sandwiches and baked goods, humanely raised meat and poultry, sustainable seafood, and a full line of groceries."
You can also find those things at the Davis Food Co-op, which Doug Walter '78 owns with roughly 9,999 other families in downtown Davis, just west of Sacramento. For nearly a quarter-century Walter has served as the co-op's membership director.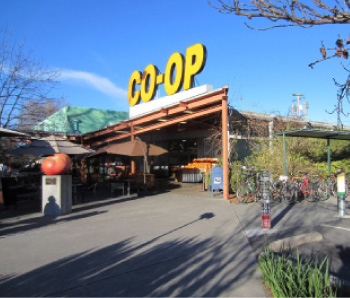 Both places offer fresh-baked bread, beer, wine, and cheese, and even lessons on pairing wine with food. Both emphasize healthy eating, sustainable practices, and community involvement. And if you want to compare apples to apples—they ring up at around 70 cents apiece at both places.
Tarlov and Walter have taken two different paths to bringing good, healthy food to consumers hungry for it—one, a for-profit business and the other a consumer co-op. "[I'm] in the business of social change related to food," says Walter, who was not in a co-op at Oberlin, but was politically active. His one food memory of Oberlin involves a sort of protest in which he baked cookies—in the shapes of bombs and tombstones—to have students give to a military recruiter visiting campus.
"We are a consumer cooperative; explaining and exploring what that means has kept me examining what community means; whether there can be justice in producing, distributing, and consuming food; and why our prices don't ever seem to satisfy people," he says.
Tarlov was a member of Harkness and enjoyed the pizza and beer nights at Tank (she remembers Tank's T-shirts imploring, "Give Pizza Beer"). Soon after graduating, she moved to Ann Arbor to join the staff of the venerable Zingerman's Deli, and continued in the specialty food business until opening Canyon Market in 2006. She sees her shop as part of an emerging trend of "urban hybrid markets" that combine traditional and natural groceries, along with specialty foods, geared specifically for the neighborhood. Though their stores operate on different economic models, the long view they both take has contributed to the most important thing they share: optimism.
"In the last 10 years, roughly since the birth of my children, I have gained a new perspective on the effect our deeply flawed yet amazingly complex and fascinating food system will have on future generations," says Tarlov. "I am gratified to see a passion for food, health, and policies around sustainability and government regulation in young people today that was unheard of when I graduated from college. This gives me great hope for the future of human and planetary health, as well as the continuation of traditional and cutting-edge cuisine."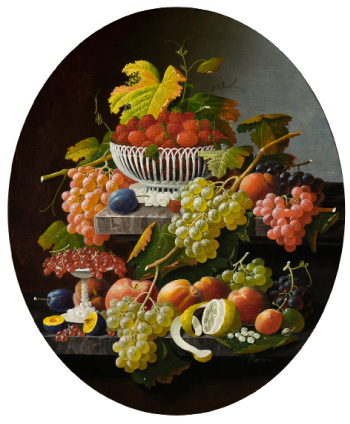 Walter feels his perspective has expanded, too, through conversations with "the young people who've grown up with organic agriculture as a known option. They're seeing possibilities that surprise and delight me. And I'm pleased that many of the ones I talk to think that cooperatives are part of what they want to build."
---
Fresh Fruit
Severin Roesen's late- 1860s painting Still Life with Fruit, purchased through an acquisition fund established by Peter and Barbara Smith Goodman, both '49, is one of the most recent acquisitions of the Allen Memorial Art Museum. It will be featured in special exhibitions at the museum during the next two academic years. The German-born Severin helped to establish the tradition of still-life painting in America, after immigrating to the United States in 1848.
---
It'll Sell Like Hotcakes
David Tamarkin '00 grew up paging through the food magazines of his mother, who taught cooking classes, so the path toward becoming Time Out Chicago's food editor isn't surprising. What might be surprising is that a stop on the path was the WOBC radio show he did with classmate Amy McIntire '00 entirely about pancakes ("I'm not sure it was fun to listen to, or anything," he says). Tamarkin has just launched Middlewest, a twice-a-year food and recipe publication printed unbound on cardstock. The project took to Kickstarter for start-up funding, met its goal in January of this year, and began printing in April.
---
Continental Drifter
Josh Adler '02 did what many might think was the unthinkable for an American: He sold French wine to the French. As director of the wine program at the acclaimed Paris restaurant Spring and the head of the restaurant's retail offshoot, Spring Boutique, Adler became an established expert in French wines. Now he wants to sell French wines to the rest of the world, first by facilitating relationships between American distributors and small French wineries, but ultimately sell directly to the consumer with the Paris Wine Company, his own web wine store.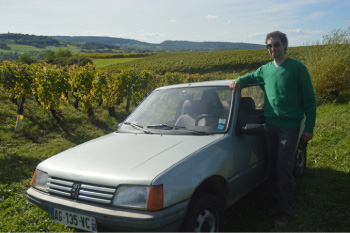 Adler spends many days behind the wheel of his 1989 Peugeot, driving from Paris to small organic and biodynamic wineries in regions such as Champagne and Burgundy, where he meets with winemakers—often those who produce minuscule amounts and give little thought to profit. Through the distributors with whom he has forged connections, he helps them get their unique wines into American restaurants and wine shops for the first time.
"It's about creating a channel of sales that doesn't currently exist," says Adler. "Most wine shops in the States don't really know their stuff firsthand. They learn about wines from someone in sales, who heard about it from his boss, who heard about it from a distributor. I want to cut through all that."
Because he knows the producers themselves, Adler has an intimate relationship with the products he's selling, and he can pass that knowledge on to consumers. "I can try to sell the best wine," he says, "not just the best-known wine made by the guy who was doing it 30 years ago."
---
How Dascomb Got Delicious
Oberlin graduates from a decade ago would barely recognize the offerings at Dascomb and the snack bar (now inexplicably called DeCafé). DeCafé offers freshly made salads and sandwiches with locally sourced produce, and now includes a small grocery store that features natural and organic coffees, snacks, and dairy products. Food stations scattered around the Dascomb dining room beckon with fresh-baked pizza, a salad bar, and made-to-order dishes, like stir-fry. Dining options all around campus, managed by Bon Appetit Management Company, benefit from the company's Farm-to-Fork program, sustainable seafood principles, animal proteins free of human-therapeutic growth hormones and antibiotics, cage-free eggs, and its investments in nearby farms and producers.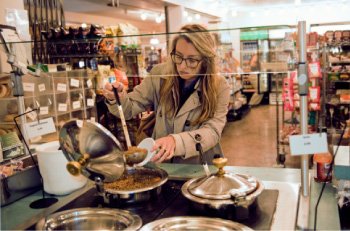 The change reflects the transformation of food consumption that is happening across America, but particularly at college campuses. At Oberlin, thanks to the heritage of co-ops and the emphasis on environmental issues, the focus on organic, local, and sustainable has even deeper roots.
In March, President Marvin Krislov approved the college's commitment to the Real Food Challenge, an initiative to have Oberlin Campus Dining Services serve 40 percent "real food" by 2020 (the nationwide nonprofit Real Food Challenge asked colleges to commit to 20 percent, a threshold the college had already surpassed).
Oberlin's interest in food can also be seen in student-driven activities, including an Oberlin food blog, winter terms spent learning and experimenting with everything from cooking basics to Chinese candy-making, and ExCo courses that, over the last decade, have included permaculture; "humanure" and composting; food preservation techniques; fast food and society; history, politics and taste of chocolate; fermentation and food activism; and pastry art.
The one-stop shop for information on the current Oberlin food scene is Slow Food Oberlin (slowfoodoberlin.wordpress.com), an affiliate chapter of the international Slow Food movement (Slow Food USA's chief financial officer is Nathan Leamy '06). In contrast to fast food, Slow Food "links the pleasure of food with a commitment to community and the environment."
---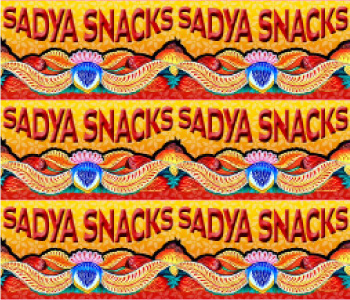 Menus Without Venues
Asya Ollis '96 and her Southern Indian food business are part of an emerging culinary trend: the popup restaurant. Popups have popped up everywhere from London to L.A., at sites ranging from outdoor festivals to galleries, bars, and even other restaurants, whose kitchens are temporarily turned over to guest chefs.
Ollis, who sells her Indian street food specialties under the name Sadya Snacks at farmers' markets around Ithaca, New York, set up her March popup event, "A Night in Bombay," in Ithaca's Lot 10, a cocktail lounge and nightclub. During two sold-out 40-person sittings, she served a feast of Southern Indian food—not widely available in the U.S. She became interested in the regional fare and in Indian street food while visiting Southern Asia in 1998 and since learned to cook from the Indian families she lived with during subsequent trips.
Ollis is gearing up for the summer markets and looks forward to producing another popup, probably outdoors.
---
Not Cutting the Mustard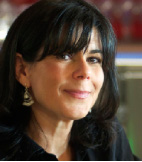 As a journalist who writes often about restaurants, I am frequently asked if I've ever wanted to be a chef. Usually I answer that any desire I might have had was pounded out of me by the six months I spent in 2009 observing the kitchen at elBulli in Spain, considered at the time the best restaurant in the world. It wasn't so much that the work was hard and the hours long (most chefs easily work 14 hours a day), as that it was tedious. And by way of illustration, I tell the story of my first visit to elBulli, which took place years before I decided to write a book about it.
I was at the restaurant, situated on a gorgeous cay on the northeastern coast of Spain, to interview Ferran Adrià, the genius chef widely credited with inventing what is known as "molecular gastronomy." When I arrived, Adrià was sitting at his usual perch on a wooden table in the gleaming, sunlit kitchen. Yet what really caught my attention was not him, but 14 or so young cooks, each identically clad in a white jacket and blue apron, standing on either side of a long narrow counter in the center. Between them were small heaps of green pinecones, from which, with reddened fingers, they were painstakingly removing the nuts. Adrià and I went away to do our interview and returned to the kitchen a little over an hour later. The cooks were still at it, and the piles of cones had barely diminished. "Who are these people?" I thought to myself. "And why would anyone voluntarily do that?"
That's the easy answer I give as to why I am not enticed into a career in the kitchen: No matter how exciting and creative and even astonishing a final dish might be—and Adrià's cuisine was all that and more—it still requires a lot more tedious, mechanical labor than I have the patience for. But the real truth is that any dreams of culinary stardom I might have had died a long time ago. They died, to be exact, at Oberlin.
My first experience cooking for a group larger than my immediate family came my first semester, when I joined Baldwin Co-op. At the time, it had a reputation for being the "gourmet" co-op, though how gourmet it actually was remains open to debate. I do remember marveling, however, at the fact that granola could be made and not bought, and that tomato sauce did not necessarily come from a jar (which was much the same reaction I had when confronted with those free-range pine nuts many years later).
My first co-op job was as Tuesday night prep cook, which meant I would show up after dinner to make crusts for the following day's quiche or grate cheese for all those Enchanted Broccoli Forests. Usually the instructions left by the menu planners were extremely clear, but one night I ran into a recipe that wasn't remedial enough for my skills. I was to make salad dressing. It was a simple-enough vinaigrette, but salad dressing was one of those things that my pre-Oberlin self had never considered might be made by hand. And thus, when the recipe told me to add mustard to the vinegar, I had no frame of reference. I reached for the industrial-sized yellow tin on the spice shelf.
Remember, we were cooking for 90 people, so quantities were multiplied. As I went to add the amount that the recipe required, it momentarily crossed my mind that a cup was rather a lot of powder. At lunch the next day I realized what I had done. While the bowls of salad were still making their way around the tables, I began to hear coughing. In my mind, this memory has since merged with the Seinfeld episode in which Frank Costanza recalls poisoning his fellow soldiers with overspiced, rancid meat, so that when I think about it now, I picture my fellow Baldwinites gagging and falling in slow motion from the table. Maybe it wasn't as bad as all that. But the coughing was real, and in that moment, to my great shame, I realized my mistake. To this day, I couldn't tell you why I thought that "mustard" meant dried instead of prepared.
It probably goes without saying, but something like that would never happen at elBulli. The cooks there made mistakes all the time, but they were mistakes like squeezing a puree-filled syringe too hard so that the "lentil" that emerged looked more like a bullet than a legume, or pouring a bucket of liquid nitrogen over foie gras "noodles" a bit too early so that they had begun to melt ever so slightly by the time they made it to the table. Everything had to be absolutely perfect, in other words. And there's another lesson I've learned over the years that explains why I could never be a chef: I am no perfectionist.
I can, however, make salad dressing.
---
Crustacean Culture
Zach Moser '02 is a shrimper and an artist, two careers that don't appear at first glance to make perfect partners. Conceived with co-conspirator Eric Leshinsky in the aftermath of Hurricanes Rita and Katrina, Moser's Shrimp Boat Projects combines commercial shrimping in Galveston Bay with artistic explorations throughout the Houston area, a working study of geographic, economic, and cultural identity. From May through November, Moser and Leshinsky net and sell fresh shrimp and by-catch to Houston restaurateurs and at local markets. When they aren't sliding around on the deck of their boat Discovery before dawn, they teach classes at area colleges and organize events to share their experiences negotiating the Gulf Coast landscape. Recent happenings have included a lecture on the spirituality of sustainability by theologian Norman Wirzba and a semester-long course on public art at Rice University.
---
Two Questions for Michael Ellis '80
What's so cool about your job?

Probably the most interesting thing about my job as head of the Michelin Guides worldwide is the possibility to see on the ground what new culinary trends are taking shape. Whether it is the U.S., Europe, or Asia, there are always new, evolving cooking techniques, ingredients, and personalities involved. We at Michelin try to capture as best we can this vibrant gastronomic landscape and reflect it in our guides. We probably can't capture everything out there, but it certainly is a fascinating endeavor.
What food trends are you seeing?
I think we will be seeing, among other trends:
1) more use of ingredients sourced locally and organically;
2) cooking involving low temperatures and long cooking times;
3) and, finally, the use of herbs and spices in concentrated or distilled forms.
---
WORKING CLASS VINO
Some parents are inspired by their children to drink wine; Matt Reid '91 and Marcy Web '93 were inspired by their daughter, Bea, to make it. The Calistoga, California, couple produce wines, including Bea's Knees Petite and Bea's Rose, from Sonoma, Napa, and El Dorado county grapes, as PWR Wines—The People's Wine Revolution. Their goal is to make affordable, high-quality wine. Or, as they put it, "ruling class wines at working class prices." Their wine can be found on the cover of this magazine.
---
Fair Weathered Friends
Writer and producer—and former sturgeon farmer—Elizabeth Thacker Jones '02 founded the Food Book Fair, a festival and conference about food culture, art, architecture, activism, and publishing, now in its second year in Brooklyn, New York. Called by LA Weekly "the Coachella of writing about eating," the fair drew more than 80 media outlets last year, and Jones plans to take it on the road in 2014.
---
Bangalore Burritos
By bringing burritos to Bangalore, India, Dharam Khalsa '08 may be introducing a new hyphenate to fusion cuisine: Mexican-American-Indian. He and his partners have launched California Burrito, a chain of health-conscious fast food restaurants catering to Indian tastes. The second outlet was due to open in April, with six more on the way by the end of 2013.
Khalsa, who majored in history with a South Asian concentration, says that he and his partners modeled California Burrito after American chains like Chipotle. That sort of elevated fast food establishment is currently missing in India, where a quick lunch means either local fare or decidedly less healthy KFC, the country's most popular fast food chain. Khalsa realized that burritos stuffed with freshly grilled chicken, beans, paneer, cilantro-lime rice, and avocado would give diners a casual, healthy, and unusual alternative.
"It's a money-making venture," Khalsa says, "but it's not something I feel bad about. Burritos aren't going to kill anybody. It's positive cultural sharing."
---
Big Question for Jerry Greenfield '73
Cofounder, Ben & Jerry's
Have you ever thought of naming a flavor after Oberlin, and if so, what would it taste like?
"It would have to be slightly offbeat, not a mainstream taste. I've always said that Oberlin isn't for everyone, and that would be true about a flavor also. I'd want to call the flavor 'Where are the Flashbacks I Was Promised,' but I don't think it would fly."
---
Travel Globally, Eat Locally
Have you ever found yourself in a faraway city wishing you knew a local who could really give you the flavor of the place? Or have you ever moved somewhere new and wanted to meet local people? Evelyne White and Shane Boris, both '04, cofounded the online platform Bookalokal to solve these problems using the most basic tool: food. Bookalokal helps guests meet local hosts over home-cooked meals, food tours, cooking lessons, and other creative "food events." Hosts range from people who love to cook and entertain, to food bloggers and aspiring chefs.
---
He's Watching What You Eat
As a veteran analyst on Wall Street, Eric Katzman '86 has been the go-to guy for insight on everything from toys to cosmetics to household cleaners. But the former economics major found his true calling in the grocery aisle: studying consumer food trends for Deutsche Bank. It's a role that's earned him the nickname "The Food Guy" and clued him in to a variety of unfortunate truths—most notably that the spoils of eating well go mostly to the wealthy and educated. "We're very blessed in the United States in terms of our food options," Katzman says. "But despite that variety, your average consumer doesn't really partake of it. They eat the things the body loves: fat, salt, and carbohydrates." He praises government efforts to reverse decades of detrimental dining, from a redesigned food pyramid to Michelle Obama's assault on childhood obesity. "But at the end of the day, the consumer has a free choice. Lack of education and lack of income is a challenge to get consumers across the spectrum to eat healthier."
---
Lawn and Gardens
Some of the most interesting writing about food can be found at the website of the cooperative seed company Fedco Seeds, in the section that contains essays and speeches by Fedco founder C.R. Lawn '68 (www.fedcoseeds.com/seeds/CRindex.htm). That's where Lawn expounds on everything from storing seeds and harvesting squash, to progressive taxation and the dangers of genetically modified food. Because his trade necessarily takes the long view, the seed pioneer with the Dickensian name is something of an oracle. He spoke about community supported agriculture—a farming model in which customers buy shares in a farm's varied seasonal output instead of buying specific produce at a specific price—in 1997, when there were only 600 such farms in the United States. As of 2007, there were more than 12,500. Still, no amount of planning and prescience can account for the unpredictability of farming, which Lawn says is even worse for seed farmers since the crops remain in the field longer, leaving more time for things to go wrong. "Whatever I dream about now might come to fruition in five or 10 years," he wrote in a 1997 essay, "or maybe not at all."
---
Freedom of Espresso
If you like to sip coffee while browsing for Burroughs (William or Augusten), you might have Bill Kramer '68 to thank. When he opened Kramerbooks and Afterwords in 1976, it was one of the first bookstore/café hybrids in Washington, D.C., and possibly the nation. Now boasting a full menu, the Dupont Circle shop is a D.C. institution.
---
Baked Ideas
Although Michon Boston '84 says she was the only person in her dorm to keep a cookbook next to her dictionary, she's surprised to find herself producing an annual baking contest in Washington, D.C. Now in its third year, the "Makes-Me-Wanna SHOUT! Baking Challenge" is presented with the Zora Neale Hurston-themed restaurant Eatonville, which features the winning dessert on its menu as one of the prizes. The event raises money for an anti- poverty organization. Boston, an event and video producer, writer, and occasional baker, describes herself as a foodlorist: "The contest and my foodways connect with storytelling."
---