Tofu Bravo
Michael Strauss clutches a shallot in his meaty palm and considers it for a moment, like a pitcher pondering whether to return to the curveball that has betrayed him all afternoon.
Half a beat later, he chucks the bulb into his grocery basket, where in another moment it will be buried by a bouquet of cilantro, scallions, bell peppers, spinach, shiitake mushrooms, a nub of ginger, and a block of extra-firm tofu. It's lunchtime.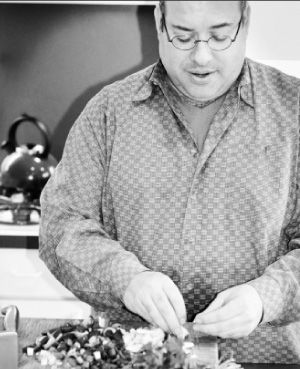 On a frigid afternoon on the business end of spring, the Oberlin associate professor of viola and chamber music has carved a few hours from his schedule to talk about the inevitable intertwining of his two passions that don't involve football: music and cooking. He plans to do this while crafting a Thai-inspired meal at his home not far from campus.
"I talk to my students in terms of food all the time, because it's something that everybody understands," says the ebullient Strauss, longtime principal violist for the Indianapolis Symphony Orchestra and an acclaimed solo performer. In much the same way, he develops concert programs as if he were fixing to feed them to his kids.
"I decided on going with a certain theme today, and that's also what we do when we schedule a chamber music concert," he says, as the sizable blade he's wielding rhythmically meets the massive bamboo cutting board that is a centerpiece of his kitchen.
Whether he's serving barbecue or Bartók, Strauss prefers to start with an amuse-bouche, and one that incorporates an unexpected flavor note to awaken the senses. In culinary terms, that could be achieved with a mash of ginger or a splash of lime. Musically speaking, the surest route is to play something new—"and with all the composers here at Oberlin, new music is a readily available commodity," he says. "You can schedule something like this and it'll just freak an audience out. They love it."
The freakout is followed by something more familiar: a generous helping of "old dead guy music," as he puts it. "After an amuse-bouche, you hear this old music with completely new ears."
Today's central dish is Thai fried rice: a toss of chopped carrots and peppers, shallots, jasmine rice, and coconut milk augmented with a wisp of Sriracha. Cheerfully pandering to the whims of a vegetarian guest, Strauss has substituted seared tofu for the more traditional scrambled egg and the pork, beef, chicken, or shrimp he surely would've used otherwise. (He's got no problem with tofu, he says. But his preferred protein? "Something that moves.")
The dish is served alongside sautéed mushrooms marinated in sherry, soy sauce, and sesame oil, then tossed in a skillet with fresh spinach. It's perhaps the simpler of the two creations, but it's no less delightful on the palate.
"If we were to name the lunch pieces, the spinach and mushrooms are a great Schubert Rosamunde Quartet: very fragrant, a little pungent," he says. The fried rice, in turn, is sweet but more substantial. "Something like a Shostakovich 1st."
At the end of each semester, Strauss coordinates the lineup for three chamber music ensembles. It's a process he likens to the Food Network reality series Chopped, in which contestants are presented with an oddly matched mélange of ingredients and challenged to create something tasty from them.
"You've got turkey breasts! You've got a jar of peanut butter! And you've got Brussels sprouts!" he bellows. "Go make something!
"So I take the ingredients and make a menu out of it. And the ingredients are all good — these students are very good — but we try to set them up so that they're palatable for the audience. We hope the students notice that there's a rhyme or reason to what we do."
---
GARDEN VARIETY
Rachel Wandrei '03 says that her experience as a voice major and a member of Harkness Co-op "have come together in a remarkable way."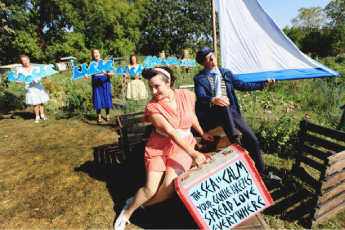 Wandrei performs with the Minneapolis theater company Mixed Precipitation on a summer project called Picnic Operetta, which stages operatic performances in community gardens and other Twin Cities green spaces. "We serve a five-course tasting menu of locally grown, performance-inspired delicacies during the show, bringing together classical music, horticulture, food, and storytelling into a celebration of the urban ecosystem," she explains.
---