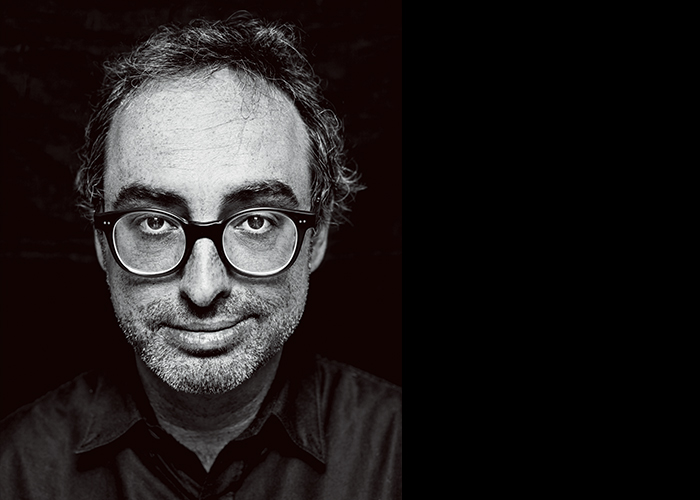 The Accidental Alumnus
In Absurdistan, novelist Gary Shteyngart '95
spoofs his character's education at thefictitious (yet vaguely familiar)
Accidental College.

With Little Failure, a memoir, we get the non-fiction version.
By Jeff Hagan '86 Photograph by Peter Hapak
Gary Shteyngart says he probably wasn't Oberlin material.
Don't get him wrong—he's glad he attended the college, as it yielded two important events in his life: a girlfriend and, thanks to the careful attention of now-emeritus Creative Writing professor Diane Vreuls, the start of his writing career. He even thinks it's a fine school worthy of his own progeny:
"I have a little kid—I would send him to Oberlin in a heartbeat. Because he would fit in fine." But the kid's father? Not so much.
Not fitting in has been the Russian émigré's métier and—a Russian Jewish comic novelist probably wouldn't object to the term—shtick. The fun he had with it in his three novels earned him wide praise, robust sales, and literary prizes. Shteyngart's debut, The Russian Debutante's Handbook, won the Stephen Crane First Fiction Award and gushing reviews.
Absurdistan claimed the cover of the New York Times Book Review and a spot among its 10 best books of 2006. His most recent novel, Super Sad True Love Story, won the Bollinger Everyman Wodehouse Prize. In 2010, Shteyngart was chosen by the New Yorker as one of 20 literary luminaries under 40.
In his novels, Shteyngart '95 trains a (vodka?) gimlet eye on a variety of targets, some of which may seem a bit familiar to his Oberlin peers. Like, for instance, a character in Absurdistan named Jerry Shteynfarb, or a Midwestern institution of higher learning named Accidental College. Perhaps it's inevitable that someone nicknamed "Little Failure"—by his mother—might find solace in satire.
The author pioneered—and sort of hijacked—the "book trailer" form, a short video issued by publishers to introduce readers to an author with a new book. Shteyngart's videos are comically absurdist tales featuring famous costars like Paul Giamatti and James Franco. In the trailer for Shteyngart's newest book, his 2014 memoir Little Failure, Franco plays Shteyngart's husband who also produces a memoir (50 Shades of Gary) that far exceeds the popularity of his own. In the video, Shteyngart seems both bewildered by and resigned to this bizarre turn in his world.
That pretty much describes Shteyngart in all worlds, at least as he portrays himself in Little Failure, a hilarious but deeply moving memoir that has surprised the satirist's many fans for being heartfelt, frank, and even kind. The biting wit that left marks in his novels is here no less humorous, but much more gentle. Even assessments like his original take on St. Petersburg's Hotel Mir, written in a piece for Travel + Leisure nearly a decade ago, come up for generous reconsideration: Perhaps it was not, upon further reflection, the "worst hotel in the world."
Time hasn't necessarily softened Shteyngart's view of Oberlin, though his college years take their place in a parade of experiences that find him almost always out of place. That parade began in Moscow Square in Leningrad, where a frail, asthmatic little Gary (actually Igor at the time) became a good Soviet citizen, so in love with Lenin that he wrote earnest stories of the Soviet leader's heroics (there's also a magical goose involved—perhaps accidentally setting the tilt at which his other works skew).
Shtyengart's parents suddenly—and to him, surprisingly—left the U.S.S.R. for the U.S.A., specifically Little Neck, Queens, during a period when Soviet Jews were allowed to emigrate. Shteyngart found himself in a Hebrew school the oddest of odd men out—a small, sickly child with poor English skills and budding survival skills: He realized he was better off telling kids he was German instead of Russian (at a Hebrew school), and he learned the common language of his classmates—cruelty. Just as he had embraced Lenin in Leningrad, he embraced the politics of most Soviet Jews in his new home and became a Reagan-loving young Republican. Intelligence and reading habits honed during his homebound early years landed him a spot at the prestigious Stuyvesant High School, where his lessons were even more dubious. In the company of other driven immigrants, he learned he wasn't as smart as he thought he was, and he learned to drink and do drugs.
"I'm winding my way 
through a large chunk of the Oberlin campus... past 
the thousands of bicycles 
old and new that Oberlin students tend to see as extensions of themselves, 
one of the few objects they 
may fully possess without ideological heartache... " — from Little Failure
Those last two skills followed Shteyngart to Oberlin, where his antics and 3-foot-long, sky-blue bong, nicknamed Big Blue, eventually earned him the nickname Scary Gary. Having finally acquired the accessories of the American middle class, he arrived on campus to find this currency was no good in Oberlin, his Ocean Pacific and Aéropostale shirts painfully out of place, his desperate desire to belong preceding him like bad cologne.
Shteyngart writes that he didn't know what to make of Oberlin, where he encountered food co-ops that eschewed honey because it exploited bees, architecture "designed for LSD and psychedelic-mushroom experimentation, as it makes sense only when its melting," and, most perplexingly, a guy named John who dressed in a janitor's shirt with the name Bob written in a patch affixed above the pocket.
"It was a shock," Shteyngart says. "Dressing ironically was a complete surprise to me because I had spent such a large part of my life not having the money to buy good clothes. When I went to that upper-middle-class Hebrew school, clothes were the primary marker, along with the kind of car your father drove and the house you lived in. That was the primary way people had of evaluating each other.
"Like every good imitator, I got into the swing of things by the end," he says. Pointing out the "before and after" Oberlin photos that open one of the chapters of his book, he adds, "By the end of it I was as Oberliny as anybody else.
"The progression of my education from Hebrew school to Stuyvesant—this math and science school full of immigrants—to Oberlin was just this very unlikely trajectory, and at each phase I had no idea what I was supposed to do. I didn't know what the expectations were. And in some ways, Oberlin was the strangest of them all. It inverted everything that America had taught me to believe."
At Oberlin, Shteyngart writes in his memoir, he learns "to master an Oberlin technique called "As a." As in, "As a woman…" or "As a woman of color…" He finally gets traction among his classmates—particularly the women he hopes to impress—when he begins his sentences with "As an immigrant…" Eventually he scores with "As an immigrant from a developing country crushed by American imperialism…"
"The thing about identity politics is that "As a" only works if you glorify the particular group that you're part of," he says. "I never quite bought into that because I never saw the place that I came from as being particularly heroic.
"What I hate most are ethnic pride parades. I don't think anyone should be proud of anything. We're all complicit in the destruction of this planet and in the way the human race has turned out. There's nothing anyone should be particularly happy about. So "As a" became almost a joke for me at Oberlin."
It wasn't a joke for his Oberlin peers, whom he found took everything too seriously, especially in the classroom. "There is no room for funny at Oberlin," he writes in his memoir.
"Heavy blocks of Ohio sandstone have gone into everything from a 
turreted Gothic hall to a Mediterranean-style, red-tile-roofed chapel. 
Amid these iconoclastic structures can be found 
one of Newark's lost 
terminals, here reconfigured into a suicidal dorm 
named South..."— from Little Failure
"Taking oneself too seriously as an artist especially, is awful," Shteyngart says. "What a horrible way to live. Self-importance is very destructive. People don't realize that. It really is. It destroys creativity, it destroys possibilities, it destroys the imagination. All the credos I grew up with—Leninism, Reaganism—all these incredibly self-assured beliefs—it's just nonsense. People need to loosen up. That should be the Memorial Arch motto: Loosen up."
Shteyngart found a kindred spirit in Vreuls, his creative writing teacher, who worked one-on-one with him to sharpen his writing. "Diane is tough with me but also patient and kind," he writes. "More important, she knows how to laugh with every inch of her 6-foot-long Dutch-Serb body, ridiculous laughter, Eastern European laughter."
He also found a girlfriend, for which he gives all credit to Oberlin. "Oberlin College was established in 1833 so that people who couldn't otherwise find love, the emotional invalids and Elephant Men of the world, could do so," he writes in Little Failure. His girlfriend, J.Z., a Southerner who did not have academic parents nor easy access to money, was not, Shteyngart felt, "your typical Obie."
"We were both outsiders. And I think that's the best kind of relationship you can find at Oberlin, when you're really outside of the norm and you fall in love with someone who also isn't having a great time, but with whom you open up this dialogue to the exclusion of almost everyone else."
Shteyngart, J.Z., and a small group of other friends formed their own community apart from campus mainstream.
"It's a school without fraternities and sororities, but people do find a kind of scene. A lot of it was about the co-ops, like Keep and Tank. People gravitated to that. And you did feel like a bit of an outsider when you approached scenes like that. There was a dominant ethos of incredible sort of East, West Coast sophistication—maybe more East Coast than West. Oberlin is a school that supposedly celebrates equality, but these people were really ahead of us. They were the dominant groups. And we were at the margins. And that's why I love Lena Dunham's Girls. I think that's such a wonderful show. That really captures to me the privilege, but also the expectation that life was going to give you something good for not doing very much, that the characters in that show have." He and his friends, however, were not a part of that entitled world. "It was almost like we were in a different school together."
What the intelligent and talented outsider ultimately attained through Oberlin was a place in the very strata he found so impenetrable there.
"It was a very positive experience in the end because it got me doing what I am doing now: being a part of America's cultural industries.
"You have to learn how to operate within certain groups of people. 
And in culture, Oberlin and a handful of other colleges is the norm. I don't even think it's unflattering—it's just what it is. And it's how it's always been. From whatever scene—from Paris to St. Petersburg in the 19th century—there's always been a certain group of cultural elites, and you have to operate within them, or against them, but at least you have to know what you're against, and Oberlin presented me with both."
A bestselling author and friend of the famous, in all ways Shteyngart can afford—and afford to reject—capitalism's bounty. His work is respected at revered publications that bear the name of his beloved New York on their mastheads. He is, by all measures, an unqualified success. It only took a little failure to get there.