Feeling Punchy?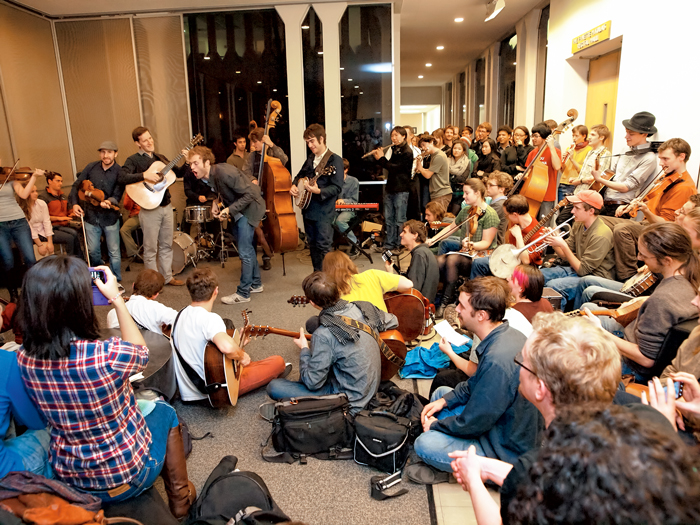 What do you get when a big-time comedian brings 
bluegrass masters to campus?The rockingest residency around.
By Erich Burnett Photographs by Dale Preston '83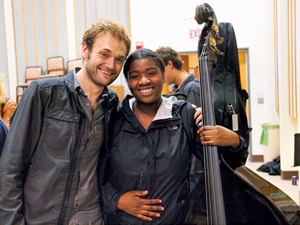 On another night in another year, the closing notes of the Cleveland Orchestra's annual concert in Oberlin might have given way to a silent, sleepy campus. This time around? No chance.
As one audience filed out of Finney Chapel, a new one packed the conservatory lounge late that Tuesday night in early December. They came from the college and they came from the con, and they amiably jockeyed for a clear view of what they'd all flocked to see: the Punch Brothers, the virtuosic bluegrass ensemble with the unmistakable rock-star vibe.
Throughout the two-hour jam session, students traded turns on trombones and keyboards and harps and kazoos, complementing the band's remarkable musicianship with joyful melodies of their own. The rollicking, off-the-cuff concert was actually just one of a series of indelible moments on the first leg of what surely is the most adrenaline-stuffed residency in Oberlin history.
The Punch Brothers, featuring Chris Eldridge '04 on guitar, devoted the first week of December to visiting with students, performing for them and with them, and offering endless streams of insight about life as classically trained musicians in a world that can be cruel to such beasts.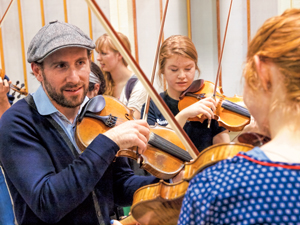 "Everybody stands to learn from everybody else and from all approaches to music," says Eldridge. "There's really no reason they should be separate and no reason that they shouldn't all be embraced. No matter what you're doing musically, having a wider grasp and a love of different things will only help you to be a better musician."
From classroom settings and master classes to chance meetings around town and a Monday-night free-for-all at the Cat in the Cream—where the Punch Brothers concluded their first visit with an unscheduled, 11th-hour concert, students and band alike were left clamoring for more.
And more was—and is—on the way: The Punch Brothers continued their residency with a return trip that included a March 9 performance at Finney Chapel in conjunction with the Artist Recital Series. They'll drop by again in May, concluding the residency with a Commencement/Reunion Weekend concert that marks the culmination of their work with students in the conservatory's nascent Performance and Improvisation Program.
The Punch Brothers residency is the first of its kind presented through the American Roots Residency Fund, newly established by actor-comedian Ed Helms, a 1996 Oberlin graduate and avid musician.
The entire experience could signal the dawn of a quintessentially Oberlin tradition: The Punch Brothers residency is the first of its kind presented through the American Roots Residency Fund, newly established by actor-comedian Ed Helms, a 1996 Oberlin graduate and avid musician. It is intended to support annual visits to Oberlin by renowned performers of various American musical styles, encouraging interaction with students through collaborations, concerts, master classes, lessons, discussions, and mentorship.
"I hope that students will feel a charge from being so close to these artists and to hear straight from the artists the sheer amount of work that goes into this kind of lifestyle," says Helms, a lifelong musician who performs in a bluegrass band called the Lonesome Trio with friends he met two decades ago at Oberlin.
"It's really a special opportunity to pick the minds of musicians like that."
Band of Brothers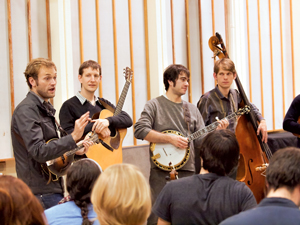 Formed in 2006, the Punch Brothers boast members who hail from all over the musical map. The band is the brainchild of mandolin player and frontman Chris Thile, who was raised around music as a child member of the progressive folk trio Nickel Creek, with whom he won a Grammy for Best Contemporary Folk Album in 2003.
When Nickel Creek went on hiatus three years later, Thile found a kindred spirit in fiddle player and violinist Gabe Witcher, an esteemed session player known for his work on countless records and scores for television and movies, including the 2006 Oscar winner Brokeback Mountain. Also on board was banjo player Noam Pikelny, a Chicago native who had studied music at the University of Illinois before striking out professionally and redefining the role of the instrument; and guitarist Eldridge, who had studied with Professor Bobby Ferrazza at Oberlin.
By 2008, versatile bass player Paul Kowert—a graduate of the Curtis Institute of Music in Philadelphia who had performed as a soloist and section member with orchestras around the world—had joined the band, cementing its current lineup and paving the way for acclaimed records including Antifogmatic (2010) and Who's Feeling Young Now? (2012), both for Nonesuch.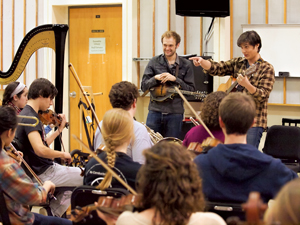 All the while, each member has maintained a series of solo projects—most notably Thile, who recorded the acclaimed album The Goat Rodeo Sessions with cellist Yo-Yo Ma in 2011 and won a MacArthur Foundation "Genius Grant" a year later.
"We each have our own things that we as individuals want to share," says Eldridge. "But we also love to talk about making music as a group: collaborating with other musicians to make something greater than ourselves."
Time for PI
Now in its second year, Oberlin's Performance and Improvisation Program—"PI" for short—can be thought of as a bridge between the conservatory's classically trained students and its jazz students, a forum for helping both to develop their internal music awareness and proficiency at expressing themselves through music. It's an innovative combination of classroom study and ensemble performance that draws heavily on the music of disparate cultures and the exaltation of improv.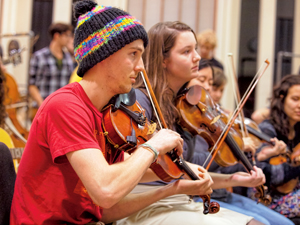 "Students are truly hungry for experiences that allow them to explore new aspects of music that wouldn't ordinarily be taught within the repertoire of their instrument," says the program's founder, Jamey Haddad, a professor of advanced improvisation and percussion who recently completed a two-month tour with Paul Simon and Sting.
"The goal of PI is to create a culture on campus where committed students who want to explore composition and improvisation in an ensemble situation can do so in addition to the requirements of their jazz and classical majors."
Throughout the year, visiting artists from a broad spectrum of world music styles—including recent visits by the classical acoustic ensemble Trio Globo and Brazilian jazz and classical pianist André Mehmari—offer additional learning opportunities. Students prepare by studying each artist's repertoire in advance.
Enter the Punch Brothers, who epitomize everything that PI represents: their melting pot of influences, their improvisational bent, and their ability to capitalize on their classical music training at a time when doing so is more challenging than ever.
"There's a very real sense of musical cross-pollination with the Punch Brothers," says Michael Strauss, an associate professor of viola and a member of the committee that organized the residency. "Because of their unique voice, they've been able to stretch the musical perceptions of their medium.
"The PI program has already opened these kinds of avenues to students," says Strauss. "The modern musician really shouldn't have boundaries, and there just isn't a lot of music that the Punch Brothers can't sync with. It's a perfect marriage to bring this group to campus."