Around Tappan Square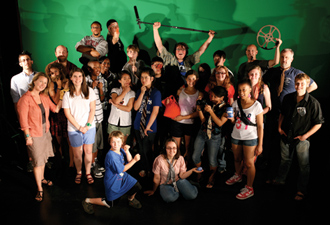 Oberlin's first Summer Media Workshop for Teens brought 15 local students, ages 14 to 18, to campus to make movie magic, including seeing their finished films on the Apollo Theatre's big screen. See inside for full story. (photo by John Seyfried)
Apollo Outreach Initiative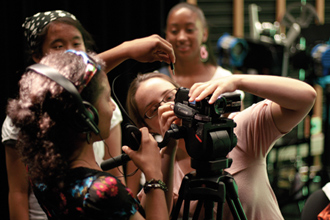 College Initiative Exposes Local Youth to Media
Something was happening in Warner Studio 2, and it didn't look good. Someone was violently charging toward a young girl alone in the middle of the room.
"Bam!" a bystander shouted as the girl threw out a dramatic, slow-motion punch. Suddenly, another enemy appeared, but before she could attack, the girl threw an imaginary energy orb toward the approaching menace with an exuberant "Yaagggh!"
Just another day in class for the 15 students enrolled in Oberlin's first Summer Media Workshop for Teens, a project of the college's Apollo Outreach Initiative (AOI). Though only their third day of class, the teens, ages 14 to 18, already were exceeding their teachers' expectations.
"The first day they seemed like an interesting, promising group. The second day they started to go off the chart," said a pleased Geoff Pingree, a cinema studies professor who, along with colleague Rian Brown, an associate professor of cinema studies and new media director, coordinated the two-week summer camp.
The Summer Media Workshop, AOI's first program, was emblematic of the initiative's aim: To provide a foundation for community outreach programming by integrating Oberlin College students with Oberlin-area youth, giving them a chance to explore diverse media forms in critical and creative ways.
The product of the students' efforts—the short films they produced—debuted in June on the kind of screen most fledgling filmmakers can only dream of: the giant screen of the Apollo Theatre. The college purchased the single-screen theater a little more than a year ago to support the cinema studies program and to forge just this type of community partnership.
"During the first week we learned a lot and worked a lot," Sabine Decatur, a student at Oberlin High School, said moments before her project was shown at the Apollo. "It feels great to finally be seeing what we've done on a big screen [and] to have our name—AOI Summer Workshop for Teens Premiere—on the Apollo marquee."
As a way to teach Oberlin College students about outreach and to prepare for the media workshop, Pingree and Brown taught a practicum in media literacy last semester. The summer teaching opportunity was essential to the course.
Fellowship Winners
Oberlin is well represented among the ranks of college students winning major national fellowships this year.
Karin Drucker '11 was named a 2010 Truman Scholar to pursue graduate studies in public service.
As 2010-11 Fulbright fellows, May 2010 graduates Zachary Diamond will study musicology in Peru; Caroline Lewis will study sociology in Chile; Madeline Fierstein will teach English in Mexico; Pauline Zaldonis will teach English in Colombia; Abby Cole will teach English in Guatemala; Rebecca Page will study environmental studies in China; Christina James will teach English in Indonesia; and Hannah Dalporto will teach English in Argentina.
Mackenzie Brown '10 was awarded a Compton Mentor Fellowship to create healthy alternatives to fast food by supporting sustainable businesses in Elyria, Ohio.
The Morris K. Udall and Stewart L. Udall Foundation selected Benjamin Jakubowski '11 and Abby Halperin '12 as Udall Scholars on the basis of commitment to careers in environmental policy, health care or tribal public policy; leadership potential; and academic achievement.
The Barry M. Goldwater Scholarship and Excellence in Education Foundation named Lisa Goddard '11 and Jaie Woodard '11 Goldwater Scholars. Goddard plans to pursue a PhD in physiology, focusing on the neuromuscular aspects of instrumental music performance. Woodard plans to pursue a PhD in computational biophysics.
The Thomas J. Watson Foundation named May 2010 graduates Maia Brown and Lisa Chung as Watson fellows. Brown will record oral histories and study with activists in Ireland and South Africa who have devoted their lives to social justice work. Chung will head to Brazil, China, Japan, Germany, and the Netherlands to explore the methods by which artists, composers, engineers, and programmers from all over the world connect through technology-based sound and art projects.
Daniel Abramson '10 was named a winner of the Coro Fellowship, which provides 68 students across the United States with an intensive nine-month public affairs program in one of seven cities. He will be located in New York City.
Read more at www.oberlin.edu.
A centerpiece of the practicum was the Langston Middle School Poetry Project, in which practicum students joined with Langston teacher Barbara Pratt and college Creative Writing Visiting Professor Lynn Powell—who originally founded the two-week poetry residency at Oberlin—to help the Langston students use images, as well as words, to bring their poems to life.
Generous donations from two anonymous parents allowed AOI to hire Claudio Orso as its outreach coordinator and filmmaker Carla Carter as a lecturer for the summer camp. Cinema Studies Production Coordinator Dan D'Amore also helped staff the camp. The gifts provided for student scholarships (two-thirds of the students were on full scholarship and did not have to pay the $250 workshop fee) and paid for cameras, microphones, lights, tripods, and laptops for editing.
David Reese, an English teacher at Oberlin High School, participated in the workshop as a student. "While I'm here, I'm a student learning about [cinema]," Reese said this summer. "I'm trying to become an expert in this medium, but I'm also thinking about teachers who just want to use film more in the classroom." To this end, Reese blogged about his experience in hopes that his day-by-day accounts would help other teachers in his school create successful film programming.
Carter, a filmmaker, has also spent her career teaching filmmaking to children of all ages. For her, helping out with the Oberlin workshop was "like a dream come true. It represented a perfect mix of both my passions of working with young people and doing filmmaking."
Pingree said they wanted to give the students in the program a basic introduction to some technical skills, "and some of what we call 'conceptual' skills—how to think about creating stories and projects."
One of the first exercises this summer involved working in small groups to brainstorm, rehearse, and shoot a one-minute video in a single take. Students also got the chance to shoot action in front of a green screen, which allowed them to add backgrounds later.
During the second week of the workshop, with the help of their Oberlin student group leaders, camp students scripted, storyboarded, shot, and edited their own short films.
The process taught them more than technique and storytelling—it taught them about themselves.
"I think I've realized directing isn't the route I want to take, but I really like editing," said Jessica Bot.
While the workshop this year took place in the cinema studies' shooting studio, Mudd 443 (with craft- and prop-making in Warner Gym), future workshops will also take place at the Apollo, where screening, production, editing, and workshop spaces will be available in the new home for cinema studies and Apollo Outreach. "In terms of the college and its mission, outreach and education are the heart of the Apollo Theatre," said Pingree.
Brown is pleased with the support the program has gotten so far. "All sectors of the college have come together here in order to make this work," she said, noting that President Marvin Krislov dropped by to get a look at the students' works-in-progress. "We're off to a really good start."
Orso was also happy with the program's results. "My favorite part was that I saw the artists of tomorrow," he said. "I'm in the most blessed position I can think of."
Talking Points
Oberlin received a $925,000 grant to increase energy efficiency in six of its residence halls. The award is part of the American Recovery and Reinvestment Act's Energy Efficiency and Conservation Block Grant: Local Governments and State Energy Program.
May graduates Emily Arons, Rachel Rothgery, Daniel Abramson, and senior Vincent A. Alessi won a total of $60,000 in development grants from the college's Creativity & Leadership Project to begin carrying out entrepreneurial ventures of their own designs. Arons will establish a certified commercial kitchen in West Virginia; Rothgery will disseminate low-cost, fuel-efficient stoves to women in Niger; and Abramson and Alessi will develop and market an innovative lab device.
The Oberlin College John W. Heisman Club's 2010 Hall of Fame class was inducted on Friday, October 1, as part of the athletics department homecoming weekend. Those honored were Al Wellington '70, Randy Miller '70, Robert Burham '53, Kyron Cook '74, Alice Hauschka '91, and Bethany Pribila '97.
Juniors Sage Aronson and David Ohana, along with senior Suman Giri, are working to bring electricity to areas of rural Nepal by establishing small-scale hydroelectric facilities.
May graduate Maia Brown won the grand prize in the Association of Independent Colleges and Universities of Ohio 2010 Excellence in Visual Arts competition, marking the third year in a row that an Oberlin student has garnered top honors in the contest.
The 2010-11 Convocation Series includes lectures by New York Times bestselling author Ishmael Beah '04 and Oberlin professor Dan Chaon; environmentalist and former politician Christine Todd Whitman; award-winning scholar and writer Nell Irvin Painter; feminist, journalist, and social and political activist Gloria Steinem; and Gen. Anthony Zinni. Academy award-winning screenplay writer Mark Boal '95 and folk-singer Josh Ritter '99 participated in the series in September.
The Adam Joseph Lewis Center for Environmental Studies celebrated its 10-year anniversary in October. Details are posted at www.oberlin.edu/ajlc10yr. Look for an article about the anniversary in a future issue of the Oberlin Alumni Magazine.
Yeoman Baseball Team Makes History
One for the books: The 2010 baseball team finished with the best record in Oberlin's history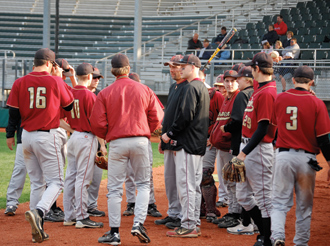 The 2010 Oberlin College men's baseball team put together the greatest season in school history, winning a record 18 games and just barely missing the playoffs in the competitive North Coast Athletic Conference (NCAC). In addition, several players broke school records and achieved personal bests.
Pitcher Jack Dunn '10 became Oberlin's career leader in wins with 16 during his four years. Another hurler, Phil Brua '11, put together a phenomenal season on the mound, going 6-3 and setting the school record for saves in a single season with six. He also set the record for overall appearances (22) and relief appearances (20).
The April 22 issue of Sports Illustrated featured infielder Ben Puterbaugh '11 in the section "Faces in the Crowd," honoring his record-breaking hitting season. At the time the magazine was published, Puterbaugh was hitting .509, which put him as the fifth best hitter in Division III. Puterbaugh finished the season hitting .459 and demolished the school record for hits in a season, amassing 61. The previous record was 43 held by Seth Binder '07, now the Yeomen's assistant baseball coach. Puterbaugh also was named NCAC Player of the Week, twice.
A politics major, Puterbaugh spent the fall semester studying in the Dominican Republic, where he also played in a baseball academy. After returning in the spring, he had a hunch that this season would be a good one. "I wasn't surprised with our success," says Puterbaugh. "I definitely expected us to be competing for a playoff spot. I think this year we were more prepared. [The new Williams Field House] really helped with our preparation."
While many of the core players will be back for another competitive year, last season marked the end of Eric Lahetta's time as head coach after 13 seasons. He will serve as Oberlin's assistant director of athletics for intercollegiate sports. Assistant coach Adrian Abrahamowicz will take over as head coach.
"This [season] is something I'm going to cherish," says Lahetta. "My time as head coach is what I'm going to cherish for the rest of my life."
Symposium Showcases Scholarly
and Artistic Achievements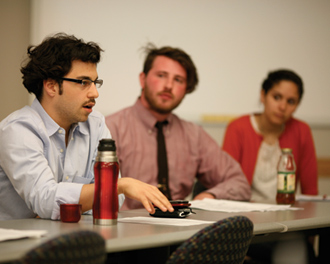 The college's inaugural Senior Symposium showcased capstone research projects in music, art, humanities, and the sciences in a public forum in April. More than 40 students from a broad spectrum of majors presented their oral defenses and accomplishments in creative and scientific lab work in simultaneous panels.
"While some departments and programs provide opportunities for senior students to make public presentations of their independent work, there is value in having a campuswide, community recognition of the work of graduating students," said Sean Decatur, dean of the College of Arts and Sciences, who initiated the symposium.
The collection of presentations in the symposium demonstrates the opportunity for interdisciplinary research and the importance of student-teacher collaboration at Oberlin.
Among those who presented was May graduate Marissa Kennedy, an Oberlin College research fellow who gave a case study on the underrepresentation of ethnic and minority groups in veterinary medicine. Kennedy, an English major who plans to pursue a veterinary degree, found there was a lack of information available about the diversity of veterinary careers.
"Most high school students think that private practice is the only job available. There are different career paths for veterinarians, like public health and research," Kennedy said.
(photo by John Seyfried)
May graduate and environmental studies major Emily Arons presented her senior honors project on the history of resistance to surface coal mining in Appalachia. Arons spent time in the Coal River Valley of southern West Virginia, where she lived and worked alongside residents and studied the effects of coal processing. This summer, she turned her research into practice with a $30,000 grant from Oberlin's Creativity & Leadership Project to establish a community kitchen that will benefit the struggling local economy.
"I'd like to see the symposium complement the department-specific rites of passage for capstone and honors students," said Randal Doane, assistant dean of studies and director of undergraduate research, who helped Decatur organize the symposium. "I hope it inspires and stokes the fire for learning and success for other students at the college and the conservatory."
Ono at Oberlin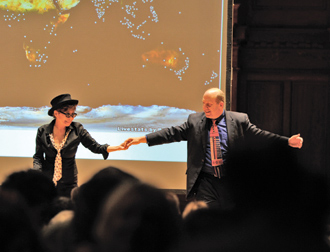 Yoko Ono's Convocation Series talk in May began with words of heartfelt sentiment and ended with Oberlin's 14th president dancing with her to a techno-beat version of Give Peace a Chance with nearly a hundred members of the capacity crowd eventually joining them on stage.
The legendary artist implored her listeners to have the courage to imagine peace and to express their love for one another. She also screened two films. The first, a home movie, provided a glimpse into her childhood in Japan and her first visit to the United States. The second gave additional context to the Imagine Peace Tower project, which pays tribute to the vision of her late husband, John Lennon. The project, composed of a tall shimmering tower of light appearing from Lennon's October 9 birthday to the December 8 anniversary of his death, was installed in Reykjavík, Iceland.
Prior to her presentation, Ono visited her installation Wish Tree for Oberlin, a tree on Wilder Bowl festooned with wishes passersby had written on leaf-like bits of paper and hung on the tree in the days preceding her visit. Ono will incorporate the wishes into the Imagine Peace Tower. Ono has created a number of such trees around the world, collecting almost a half million wishes.
Ono's grandfather, Yeijiro Ono, graduated from Oberlin in 1887. Her uncle, Tokuji Saisko, studied art here from 1916 to 1918.
In Other Words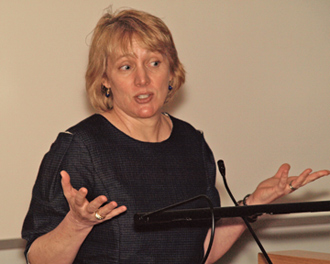 "Law is looking at ever-new and changing fact situations through a framework of existing cases, and it seems to me actually rather like taking an art history exam, although the focus is less visual."—Cynthia Hogan '79, above, former art history major at Oberlin and currently counsel to Vice President Joe Biden.
"If you look at the great Democrats—Roosevelt, Truman—they weren't interested in bipartisanship, but getting things done." —Author Robert Kuttner '65, while on campus to deliver a Convocation lecture.
"If you're anti-nuke, I'm sorry, get over it." —Environmental Defense Fund lawyer and Oberlin College Trustee Karen Florini '79, during a talk on the future of environmental policy.
"I'm sure I could have been a lot more wealthy and a lot more famous if I'd taken a different path. But I'm trying to do projects that nurture my soul or stimulate my intellect or make me laugh." —John Scheinfeld '75 the documentary filmmaker behind the The U.S. vs. John Lennon.
A Romp in the Hales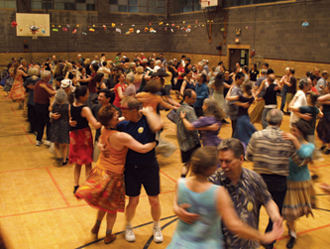 Hundreds of dancers of all ages do-si-do'd and swung their partners at the 11th annual Dandelion Romp, Oberlin's biggest contra dance event of the year, held in April..
Unlike square dancing, which shares contra's traditional music and dance callers, contra dancing does not have four couples square off. Instead, dancers stand across from each other in lines to begin each dance, and the number of dancers is limited only by the size of the room. By the end of the night, most people will have danced for at least a few seconds with everyone else in the room, and eye contact between dancers is encouraged, especially during the dizzying spins in which they sometimes engage. At this year's Dandelion Romp, colorful skirts, most of them worn by women, swirled through the air.
"The music atmosphere of Oberlin made [contra dance] a good place to take off," said Sheila Moore '64, who returned to Oberlin for the first time in decades to attend the Romp.
Emma Schneider '10, one of the main organizers of the event, agreed. "A lot of the music and liberal-mindedness at Oberlin combines well in contra dancing."
Alumnus Researcher
All about the Benjamin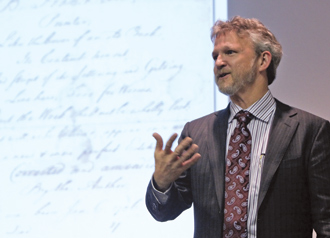 Alan Houston's scholarly research on Ben Franklin was never easy since so much information about one of America's founding fathers is already unearthed. "I was frustrated because he's so well studied," the 1980 graduate said during his visit to campus last semester. However, a trip to the British Library in London would make all of Houston's patience worthwhile. While leafing through the library's materials he found 47 letters written by, to, and about Ben Franklin that hadn't been seen for 250 years. After keeping his findings secret for two years, he published them this year in Benjamin Franklin and the Politics of Improvement. Although the documents didn't dramatically change the historical record, they did show that Franklin was more devoted to his wife than scholars previously believed. "The affection is clear in the letters so it's really touching," said Houston. "I like seeing things like that."