Designing the Future
Design symposium allows students and alumni to dream big, and dream green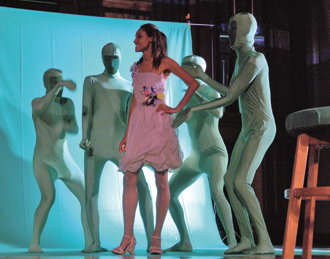 Wait—what?
A fashion show? At Oberlin?
If you were there—and about 600 students, faculty, staff, alumni, and members of the greater community were there on a mid-April Friday in Finney Chapel—you'd be able to answer the question with, "Yes, but it was an Oberlin fashion show."
In this case, it meant featuring models who eat real food wearing clothes that real people might wear in a nearly surreal show produced by Dr. Albert Bryan—who's not only not a real doctor, he's not even a real person.
The event, called Green Dreams, concluded a semester-long program that tasked Oberlin's Apparel Design Challenge team—a small group of students passionate about design, marketing, and business—with reinventing fashions for the Oberlin College bookstore. Guided by faculty members and alumni, the group conducted market research, generated designs, consulted with professionals, and ultimately produced a collection of original, Oberlin- themed attire.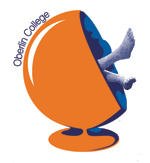 one of the winning T-shirt
designs, by Karl Orozco '13
With a live band performing a propulsive version of the Beyoncé and Jay-Z duet "Crazy in Love," models were escorted to the stage by a cluster of green-clad dancers against a green backdrop on which images were projected. This was the students' creative response to the challenge of devising a runway show without a runway.
While the theme was a nod to Oberlin's environmentalist impulse, the use of the technology purposely put an ironic twist to the proceedings, because green screens employ chroma-key green, a color rarely found in nature. A statement on the inherently artificial aspects of fashion, perhaps? Whatever. Few people seemed interested in teasing out the deeper meaning, what with the assault of color, music, images, and, most importantly, Oberlin apparel that actually looked cool.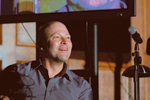 Michael Alexin '79 takes
in the fashion show
Imagining that Oberlin College should offer cool apparel wasn't an idea unique to Michael Alexin '79, but, as vice president for product design and development at retail giant Target, he had the background, reputation, and enthusiasm to give the idea heft.
"There's very little I want to buy [at the college bookstore]," he says. "There's nothing cool. It's all traditional. They never have new things, and they never have my size."
The thought to update Oberlin's clothing designs evolved into an opportunity for Oberlin's Creativity & Leadership Program—which seeks to fuse student imagination with an entrepreneurial impulse—to challenge students across a variety of disciplines and interests. Lauren Abendschein '07, then-assistant director for entrepreneurship at Oberlin, organized the Apparel Design Challenge team, which included 11 students. This led to the fashion show, for which a student performance collective that goes by the name Dr. Albert Bryan was brought in to create a multi-media spectacle. Alexin mentored the students and met with them via video-conference, and also delivered a keynote speech for the symposium and served as a commentator for the fashion show. Two of the T-shirt designs presented at the show, one bearing an image of one of Mudd Library's signature "womb" chairs, another featuring an albino squirrel, are now available in the bookstore (see them at oberlin.bncollege.com)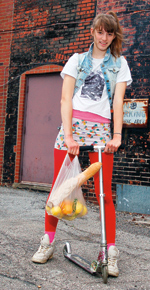 Rosie Eck '12 models
student designs
"The fact that Oberlin's not a design school and doesn't have an apparel design curriculum, and yet we have students—studying everything from biology to psychology to politics to piano—passionately designing new T-shirts and sweatshirts for the college is so awesome," says Alexin.
That "multidimensional level of interest is part of the Oberlin DNA," he adds. It's also what made Alexin something of a renaissance man.
"I wouldn't trade my Oberlin education for the world," he says. "I've been able to excel, doing something sort of not typically Oberlinian, by using the skills I learned here: how to write, how to think, how to analyze a problem, and how to formulate and articulate a point of view. And I can do that better than a lot of people that I've competed with for positions over the years. Oberlin makes me really unique in what I do, and it helps me leverage that creative and business side."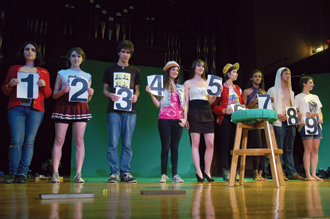 Green Dreams was, perhaps, the most flamboyant of the weekend's events, which included a wide-ranging pre-Green Dreams keynote speech by Carleton Varney '58, president and owner of Dorothy Draper and Company, the nation's oldest interior design firm. Varney also served as a judge at the fashion show, as did New York City-based photographer and fashion designer Brad Walsh '04 and Oberlin class trustee Assiatou Diallo '08.
In all, about a dozen alumni participated in the weekend's events as panelists, speakers, and judges, offering their expertise and commentary from a wide range of backgrounds. In addition to those already mentioned, they included: Eric Einhorn '02, Marcia Hoskins Fardella '74, Jonathan Kirschenfeld '76, Amanda Medress '09, Peter Nicholson '91, Michael O'Donnell '75, Thomas Shepard '58, Steven Roth '77, and David Stull '90, dean of the conservatory.
"The symposium as a whole sought to underscore the power of design by showcasing the work of our alumni," says Andrea Kalyn, director of the Creativity & Leadership Project. "They presented a tremendous example to our students, and we are extremely grateful for their participation and engagement."