Mideast meets Midwest
While sharing pizza might not bring peace, an intensive seminar on campus this summer has brought a greater understanding to the Palestinian, Israeli, and Oberlin students who were part of the innovative international program.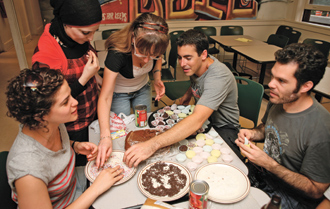 For two weeks this summer, a group of Palestinian and Israeli university students came to Oberlin to learn and live together as part of a seminar that was the culmination of the American Democratic Culture Partnerships, an innovative program involving Oberlin College, Al-Quds University, and Tel Aviv University. Despite residual tensions from the 2009 Gaza War, a Palestinian campaign for an academic boycott against Israel, and longstanding political conflicts over the future of Palestine, the students from Al-Quds and Tel Aviv found common ground with their Oberlin counterparts through discussions of American democracy, including its strengths and weaknesses. In their free time, they bonded over pizza, bowling, and sightseeing.
In spring 2010, Mohammed S. Dajani Daoudi, founder and director of the American Studies Institute at Al-Quds, along with Michael Zakim, a history professor at Tel Aviv, and Oberlin history professors Carol Lasser and Gary Kornblith taught courses on American democracy in tandem at their respective institutions. Working from a common source book and common syllabus, the spring course made use of online discussion forums, as well as Skype and videoconferencing, to promote communication between students at the different schools.
The American Democratic Culture Partnerships (originally called the American Democracy Project) emerged from a trip to Israel and Palestine that Lasser and Kornblith took in December 2007, as well as Lasser's ties to Tel Aviv's Michael Zakim '81, who was one of Lasser's first honors students. The two were invited by Zakim to present papers at Tel Aviv University.
When Oberlin College President Marvin Krislov heard about their planned trip, he put them in touch with Munther Dajani, dean of the faculty of arts at Al-Quds University and father of Adi Dajani '07. Munther Dajani invited Lasser, Kornblith, and Zakim to visit Al-Quds, where they met Mohammed Dajani and broached the idea of teaching parallel courses about American democracy at all three institutions. The initiative has been funded by the Mellon Foundation, the Christian A. Johnson Endeavor Foundation, the U.S. State Department, and private donors.
The summer seminar was a rare opportunity for the students and faculty from Palestine, Israel, and the United States to study together and to get a broader, more personal appreciation of each other's cultures, experiences, and perspectives. The academic schedule was filled with intensive team research projects and presentations by guest speakers, while extracurricular activities included a group outing to Cedar Point amusement park, mall shopping, a pizza and bowling night, a trip to downtown Cleveland, and a weeklong tour of Washington, D.C.
While bringing the Palestinian and Israeli students to the same campus is a feat unto itself—in their homelands, they would need special permits to cross into each other's territory—what's more extra-ordinary is that they lived and ate together in Oberlin's Keep Co-op.
Following a discussion on civil liberties in the post-September 11 era led by Christine Link, the executive director of the Ohio ACLU, several of the student participants sat down and talked candidly about their personal interactions during their fortnight in Oberlin and what they learned from the experience.
Assil Alhamouz, a graduate student in American Studies at Al-Quds University, said she was surprised that she would be rooming in the same house with Israeli students.
"To be perfectly honest, I wasn't happy about it," said Alhamouz, who was born and raised in Ramallah.
"Living with Israelis?" asked Yoni Shadmi, a history and literature major from Tel Aviv University.
"Not living with Israelis in particular, but someone we consider the occupiers of our country," Alhamouz said. For her, "there was a huge uneasiness going in. You could cut the tension with a knife. When Palestinians see Israelis, we automatically see soldiers, because every single Israeli has mandatory military service. Personally, when I look at Yoni, I'm trying to remember if I ran into him at a checkpoint at some point or another."
Members from all the teams had no problem keeping an open dialogue. Alhamouz said living together was easier than she initially thought—perhaps a consequence of being on neutral territory far from home.
"The irony here is that I live an hour's drive from Assil's home," said Shadmi, who believes traveling to Oberlin was an important way to gain perspective.
"I think there's a value in going far away. There's a reason they hold peace talks in Camp David. Something changes in you when you go far from home. Maybe we can let go of some our preconceived notions," he said.
"I think this will open the future for good relations," said Mohammad Battat, who in addition to studying for his master's degree in American studies at Al-Quds teaches English to students at the junior-high level. "This is my first time meeting with Israeli and Jewish citizens, so this is also my first time living in the same building, sharing bathrooms, and eating with Israelis. It's fantastic. We're all human beings. We can live together."
As Oberlin's Carol Lasser points out, a distinction between the Palestinian and the Israeli teams is that Israeli citizens are more focused on the status of democracy in their society, while Palestinians are more concerned about establishing their nation and their rights as citizens.
"We want people to come out of this with greater knowledge and a greater sense of possibilities," Lasser said. "The Palestinians in particular are trying to promote studies of the United States in the Mideast. We would like this to become a model for teaching American democracy in a manner that recognizes American flaws but doesn't demonize the U.S."
The American Democratic Culture Partnerships are not intended to be a peacemaking mission, but they do aim to promote cross-cultural understanding. "The goal has been to reflect on the challenges of creating viable democratic societies in very different contexts: What do we share? What do we need to know about each other? For Oberlin students who have been so extremely critical of American democracy, it has opened their eyes to what strengths are worth embracing," Lasser said.
Samuel Lawrence, a senior at Oberlin majoring in history and visual arts, contends that he is both critical and proud of the U.S. government. From his personal standpoint as a Jewish American, Lawrence said he was interested in engaging with Israeli and Palestinian students because he is also critical of the state of political conflict in the Mideast.
"I want to look at cases in U.S. history, the mistakes that we've made and what we've done right, as a way to gain insight into the conflict in Israel and Palestine," Lawrence said.
Outside of the classroom, the students shared a lot of laughter and enjoyment while sharing cultures, particularly over the meals they prepared together at Keep.
Naama Raz, a history major at Tel Aviv, said the relaxed atmosphere helped ease some of her anxieties coming into the seminar. It never occurred to her that she would be living in the same house with the Palestinian team members, and she was nervous at the start.
"I was so afraid before I came," said Raz. "But I will take a good experience from it. With the circumstances in Israel, I don't see everyone as terrorists because I have less interaction with that. Assil saw so many soldiers in her life—it's hard to be in Palestine without seeing soldiers."
Raz and others agreed that the study of American democracy and American history provoke an endless dialogue.
"It's our job to talk if no one else will," she said.
Amanda Nagy is a staff writer for Oberlin's Office of Communications.