Losses
Wendell Logan
Legendary Founder of Oberlin's Jazz Studies Department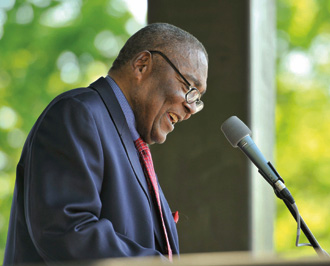 Wendell Logan, who arrived at the Oberlin Conservatory of Music in 1973 to build, from the ground up, one of the most respected jazz studies programs in the United States, died June 15, 2010, in Cleveland, Ohio. He was 69 years old.
Mr. Logan was professor of African American Music and chair of Oberlin's Jazz Studies Department, which he founded. An exponent of both jazz and art music, he was an important compositional presence within his musical generation. Throughout his distinguished career as composer, performer, and educator, he received numerous commissions and won many awards, including four from the National Endowment for the Arts, the Lakond Award from the American Academy of Arts and Letters, a dozen or so ASCAP awards, three Ohio Arts Council grants, and, in 1991, the prestigious Guggenheim Fellowship and the Cleveland Arts Prize in Music. In 1994, he was a fellow at the Rockefeller Foundation's Bellagio Study and Conference Center in Italy. His instrument was the soprano saxophone, and he performed in Africa and the Caribbean, in Europe, and throughout the United States.
Mr. Logan's passing occurred just six weeks after the dedication of the Bertram and Judith Kohl Building, Oberlin's new home for jazz studies, during which the lobby was named in his honor. He presented Stevie Wonder for an honorary doctorate in music, and conducted a celebratory concert that featured Wonder, the Oberlin Jazz Ensemble, members of Oberlin's jazz studies faculty, and returning alumni.
Wendell Morris Logan was born in Thomson, Georgia, on November 24, 1940. He grew up in that small town and first studied music with his father, a professional musician. At an early age, Mr. Logan was exposed to the Southern cultural milieu of spirituals, the blues, jazz, and gospel music. He also heard performances by touring musicians and groups such as James Brown, "Fats" Domino, and Little Richard.
In his second year of studies at Florida A&M University in Tallahassee, where he earned a Bachelor of Science degree in 1962, Mr. Logan heard Stravinsky's Firebird Suite and was exposed to 12-tone music for the first time. Realizing the exquisite craftsmanship behind Firebird, he then earnestly committed to becoming a composer. In pursuit of this goal, he studied with Olly Wilson and Johnnie V. Lee at Florida A&M, and then began graduate work in composition at Southern Illinois University Carbondale, where he studied with Will Gay Bottje.
Mr. Logan earned a Master of Music degree from the university in 1964, all the while playing the trumpet with jazz groups and concert bands and arranging music for both. He has composed more than 200 works that have been performed on three continents. In 2001, Mr. Logan's large, operatic composition, Doxology Opera: The Doxy Canticles, premiered in Chicago; Paul Carter Harrison was librettist. The work was a synthesis of Mr. Logan's early influences, including the long-meter hymns and chants of the African American church, jazz, blues, and the Euro-American classical tradition. His work has been recorded on the Orion, Golden Crest, University of Michigan Press, Morehouse College Press, and RPM labels, among others.
Mr. Logan founded several ensembles at Oberlin. The Oberlin Jazz Ensemble (OJE) brought together classical performance majors as well as jazz majors; in 1985 the OJE made an extended tour of major cities in Brazil at the invitation of the United States Information Agency. More recently, they performed to acclaim in the U.S. Virgin Islands, and frequently appear at collegiate festivals throughout the United States. The Oberlin Jazz Septet, featuring the best Oberlin students, has been featured at such venues as the Kennedy Center for the Performing Arts and the Detroit Jazz Festival. The Oberlin Jazz Faculty Octet was twice featured at conferences of the International Association of Jazz Educators, and in the 1990s, the group released Hear and Now, an album of original compositions by Mr. Logan, Associate Professor of Jazz Guitar Bob Ferrazza, and the late pianist Neal Creque. In 2007, Mr. Logan collaborated with his colleagues on the jazz studies faculty to produce Beauty Surrounds Us on the conservatory's music label, Oberlin Music. Two of Mr. Logan's compositions, "Shoo Fly" and "Remembrances," can be heard on the album.
Prior to teaching composition, African American music, and jazz ensemble at Oberlin, Mr. Logan served on the faculties of Florida A&M University, Ball State University (Muncie, Indiana), and Western Illinois University (Macomb). His wife, Bettye Logan, with whom he celebrated 48 years of marriage on May 26, survives him, along with two children, four grandchildren, and two brothers.
Obituaries have appeared in jazz and musical publications and other media outlets worldwide, including the June 22 issue of the New York Times.
On Saturday, October 9, a musical tribute featuring members of the jazz studies faculty, students, and alumni was held in Finney Chapel to honor Mr. Logan and his legacy. Gifts in memory of Wendell Logan may be made to either the Wendell Logan Conservatory Jazz Studies Scholarship or the Wendell Logan and Michael R. Rosen Jazz and Classical Percussion Endowed Scholarship Fund. For more information please contact Oberlin College's Office of Stewardship, Bosworth Hall, 50 West Lorain Street, Oberlin, Ohio, 44074, or call 440-775-8569.
—Marci Rich '91