Alumni Notes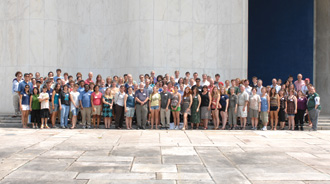 The Alumni Association welcomed 46 sons and daughters of Oberlin graduates—a number that once again represents sizable growth from five years ago, when the figure was 32—into the Class of 2014 this fall. President Marvin Krislov and Alumni Association Executive Director Danielle Young greeted the group at an Orientation Week luncheon in August, where alumni parents represented classes from 1964 through 1985. The students and their families came together for a group photo after the luncheon. (photo by Tony Morrison)
A Home of Our Own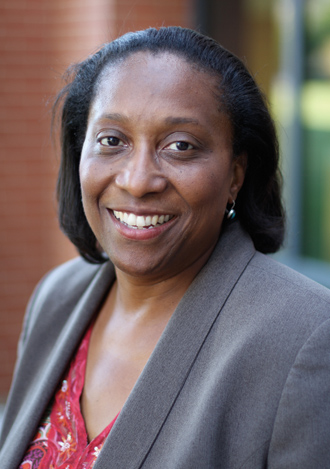 Congrats to the alumni office as it finally moved into its new digs in September, after many years of planning! The new Dewy Ward '34 Alumni Center recognizes the importance of alumni to the fabric of Oberlin's heritage. It is an acknowledgement of the fact that all incoming students will eventually become alumni, and thus a key part of the college and conservatory legacy. The office also signifies the hard work of many alumni and others to create a home for former students who visit Oberlin, Ohio.
Located in the East College Street Project–a sustainable, mixed-use complex developed by Naomi Sabel '02, Ben Ezinga '01, and Josh Rosen '01–the new space provides a central location for alumni to find out about the latest happenings on campus, and serves as a launching point for events that will spark alumni to reminisce about their journey through the campus, conservatory, and the town.
The center is named in honor of Dewy Ward '34, who was the first woman president of the Alumni Association, initiator of innovative alumni programming, defender of students during the Vietnam era, and 1996 Alumni Medal recipient. Special thanks to Leanne Cupp Wagner '76, past president of the Alumni Association and 2010 Alumni Medal recipient, for her generous contribution and naming of the Ward Alumni Center.
With 3,000 square feet, the larger facility includes much-needed work and meeting space, and a welcoming lobby and reception space for alumni and students. The floor plan was designed with enough room for the alumni office staff to expand in size over time, and a conference room and kitchenette allow for the alumni office to host catered events on the premises. Alumni are also invited to visit the student art gallery adjacent to the Ward Alumni Center, which will open in early 2011, and indulge in a cup of fair trade coffee at the neighboring Slow Train Café (owned by Zach Tesler '06 and Jessa New '01 and her husband, Blake New, head men's soccer coach), which opened its doors in May.
Realization of the Ward Alumni Center would not be possible without the support of many individuals, including committed alumni, the alumni office staff, the Board of Trustees, President Marvin Krislov, and the college's senior administrators and dedicated volunteers on the Alumni Association's Executive Board. A number of Alumni Association past presidents and past Alumni Council board members also deserve recognition for their advocacy and support of this project.
Alumni Council members and friends who returned for Alumni Council Weekend, September 24-26, were given tours of the space and participated in special ribbon cutting events. An archives display highlighting the 171-year history of the Alumni Association, live music, and much more was also included in the weekend's events. For those who could not attend, we look forward to celebrating the opening of the new Ward Alumni Center with you whenever you choose to return to campus.
We have much more to celebrate this year. Alumni participation in the Alumni Fund increased 3 percent, with an additional 1,500 donors. American students of color comprise 24 percent of the new class, making this the most diverse class in Oberlin's history in terms of percentage. The number of enrolling African American students is the highest since 1987, we reached an all-time record number of Latino/a students, and the number of new Asian Pacific American students represents a slight rise from last year.
For further details about the alumni facilities, feel free to contact the Alumni Association at 440-775-8692. If you would like to contribute to the Ward Alumni Center or Studio Arts space, please contact the Office of Development at giving@oberlin.edu.
Regional Roundup
What's Happening in Your Region?
Find out at ObieWeb, www.oberlin.edu/alumni/oberlinClubs.
From Reunion and Homecoming weekends to promoting local alumni clubs in your area, the Alumni Relations Office is always looking for volunteers to help energize our efforts. In order for our office to continue to find ways to serve you more effectively, we need YOUR help in planning events and programs.
The success of the first annual Oberlin Cares–Alumni Day of Service this past April and another record-setting year of annual Summer Picnics could not have been accomplished if not for the numerous talented and dedicated regional alumni volunteers. I thank all the regional coordinators, steering committee members, and alumni volunteers who coordinated so many diverse events and programs that have made the Oberlin regional program such an enormous success and widely emulated model over the past couple of years.
Why not consider volunteering to serve on your local alumni club's steering committee? The Alumni Association is looking for volunteers to help strengthen Oberlin's presence nationwide through alumni events, admissions, and career networking. If this sounds like something you'd like to be involved with, contact me at 440-775-8692 or john.keller@oberlin.edu. Plug into your local Obie scene or visit the Oberlin Club page at www.oberlin.edu/alumni/oberlinClubs/oberlinclubs.html. to see all the different ways you can stay connected.
Here is a small sample of what your alumni clubs have been up to:
Oberlin Alumni Association –
Alumni Reception with President Marvin Krislov
in Ann Arbor, Mich.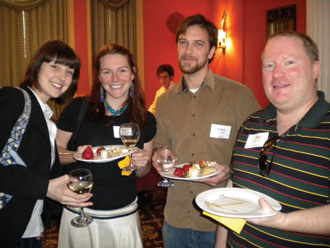 On April 14 more than 120 alumni, parents, and incoming students joined President Krislov and Ann Arbor Mayor John Hieftje for an evening reception to hear campus updates. The Alumni Association would like to re-launch the Ann Arbor alumni club, so if you're interested in joining the steering committee let us know.
Oberlin Club of Chicago –
Oberlin Cares Day at Washington Park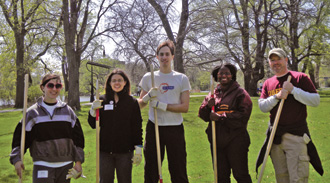 This past April the Alumni Association launched a nationwide alumni day of service called Oberlin Cares. In Chicago we had a number of alumni join John Keller, director of alumni regional programs and education, at Washington Park to help clean-up and lay fresh mulch.
Oberlin Club of Seattle –
Oberlin Cares Day at Kiwanis Wildlife Corridor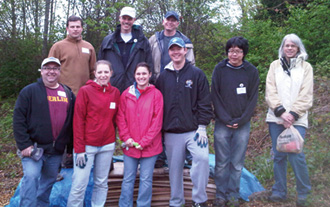 Numerous Puget Sound area Obies joined regional coordinator Michael Schwartz '84 to help restore Seattle's largest heron rookery with more than 60 active nests by installing new native trees and shrubs.
Oberlin Alumni Association –
Obies Night Out in St. Louis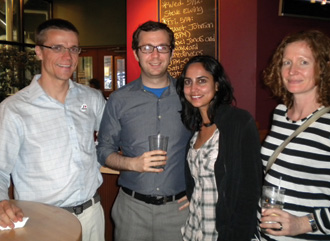 Looking to re-launch the St. Louis alumni club, Obies Erin Ferrell '04 and Brody Wilson '02 hosted an alumni happy hour at Schlafly Bottleworks. The event gave alumni the opportunity to share laughs and connect with fellow St. Louis-area Obies. Want to help the St. Louis efforts? Let the Alumni Office know today.
Oberlin Club of Cleveland –
Hike/Bike Ohio and Erie Canal Towpath
The Cleveland alumni club continued its diverse programming in May with a day of hiking and biking the Ohio and Erie Canal Towpath with fellow Obies from around Notheast Ohio.
Oberlin Club of Minnesota –
Obies Night Out in Minneapolis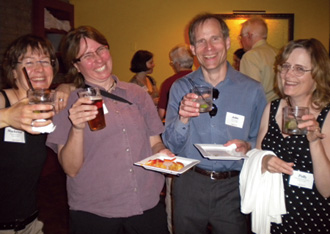 More than 25 Obies joined outgoing regional coordinator Hudie Broughton '02 to share some laughs and drafts at the Ginger Hop. Thanks for your time and energy over the past few years, Hudie!
Oberlin Club of San Francisco Bay Area –
Alumni Bowling at Yerba Buena Bowl
Bay Area Obies donned their best bowling shirts and bowled a few frames at Yerba Buena on June 8.
Oberlin Club of Philadelphia –
Obie Day at the Ballpark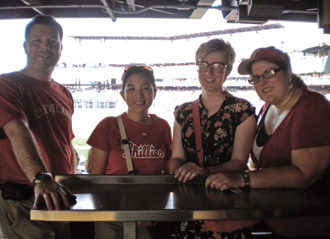 More than 25 Obies came out to enjoy America's pastime and see their hometown Phillies battle the Cleveland Indians on a perfect night for baseball (the Phillies won 7-6).
---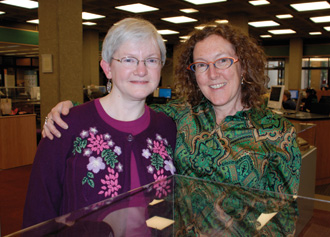 Oberlin College's Mudd Library is the recipient of an exceptional collection of artists' books donated in honor of Ruth Hughes '85, chief cataloger at the Library Company of Philadelphia. The collection consists of 100 artists' books by 79 individual book artists. Alice Austin, Hughes' colleague at the Library Company and herself a well-known book artist, encouraged book artists from around the country to donate their works. The collection, Show and Bestow: The Ruth Hughes Collection of Artists' Books, was displayed in a special exhibition this spring in the Main and Art Libraries.
"Alice knew that I liked artists' books, and she also knew that I was on the acquisitions committee of the Friends of the Oberlin College Library," says Hughes. Austin also knew Hughes had cancer, and creating the collection was a way to pay tribute to Hughes.
While Austin knew all of the artists who donated their work, Hughes only knew a few personally. "I was blown away," she says of the response from artists. "People really wanted to help."A printed catalog of the collection, featuring an essay by Lynne Farrington, curator of printed books at the University of Pennsylvania, is available for purchase at the Library Company of Philadelphia and the Oberlin College Library. An online exhibition of the collection is also being prepared.
---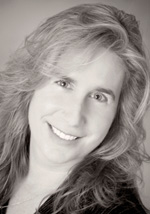 Tanya Lee Stone's latest book, Almost Astronauts: 13 Women Who Dared to Dream, won the Sibert Medal, the highest award for children's nonfiction given by the American Library Association. The 1987 graduate's book also garnered many other national prizes, including a Boston Globe-Horn Book Honor, YALSA Excellence in Teen Nonfiction, National Council of Teachers of English Orbis Pictus Honor, and Bank Street College of Education's Flora Stieglitz Straus Award. The book tells the true but little-known story of 13 female pilots who were tested in 1961 to see if women were as qualified as men to be astronauts. Although they passed with flying colors, NASA did not let women into the space program until 1978. W: www.tanyastone.com.