Oberlin
Beyond Oberlin
The View from Oberlin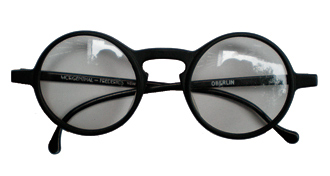 In the mid 1980s, the corner of Madison Avenue and 62nd in Manhattan was a nexus of old New York money as well as celebrities from the art world and the silver screen. On that same corner sat Morgenthal Frederics, an optician's practice that had recently begun designing eyewear styles of its own. What better location to introduce the city's movers, shakers, and tastemakers to eyeglass designs with suggestive names like "Audrey," "Greta," and "The Oberlin"?
Robert Warner, the man responsible for "The Oberlin" did not matriculate. In fact, he's never even set foot on campus. "The way I came up with the design," he confesses, "was I was collecting yearbooks from the flea market and I would just take the photos of students wearing eyeglasses and enlarge them, blow them up to life size, to figure out what the frames looked like."
The glasses that happened to strike Warner's fancy were on the face of a graduating Obie from the late 40s. While taking inspiration from all things retro was in vogue at the time, "there was definitely a gap at that time for good looking round frames for men. There were a lot of rectangular frames and very science-related, lab-related, serious executive frames, but nothing that was sort of fun and architectural."
Not only did Morgenthal Frederics sell hundreds of pairs of the frames in house, but "The Oberlin" was also sold as far away as Chicago, Miami, and San Francisco. But did it end up on the bridges of any famous noses? Warner recalls fitting "The Oberlin" for the cosmetics mogul Estee Lauder, the comedic actor Dudley Moore, and Roy Cooper, a drummer who has backed the likes of Eric Clapton, Pink Floyd, and Elton John.
Though Warner has retired from the eyewear industry to focus on his collage and paper weaving work "now that you've sort of piqued my interest," he muses, "maybe it's time to design a few more glasses."
Get Your Pencil Sharpener On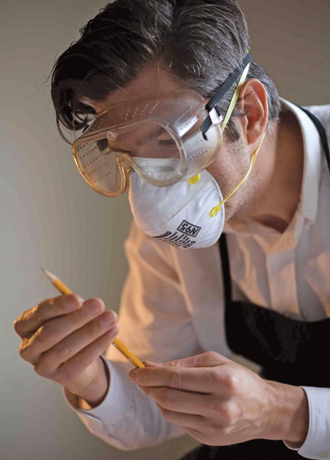 Cartoonist David Rees '94 has kept busy since he retired his caustic syndicated comic, Get Your War On, on January 20, 2009, George W. Bush's last day as president. He has created other comic strips—My Fighting Technique is Unstop-pable, My Filing Technique is Unstoppable, and Adventures of Confessions of St. Augustine Bear—and maintains a blog, www.mnftiu.cc, through which fans can read about his various projects.
But perhaps the most important project the edgy satirist is working on is his latest, and most personal: artisanal pencil sharpening.
Living as he does in New York's Hudson River Valley, home of handcrafted, well, everything (children's toys, cheese, furniture, coffee, bread, vodka), and being the mastermind of a comic strip entirely made from clip art, artisanal pencil sharpening is the logical next step for the comic strip artist.
How does the service work?
You send him your No. 2 pencil and 15 bucks, and he will manually—even lovingly—sharpen the pencil and mail it back to you. "I guarantee an authentic interaction with your pencil," he says on his website, artisanalpencialsharpening.com, which invites visitors to "Reacquaint yourself with the pleasures of a hand-sharpened pencil."
The pencils are returned in a special protective tube, with "a signed and dated certificate authenticating that it is now a dangerous object."
Sharp, a little dangerous, and able to draw a fine line—sounds like Rees' own satire these days.
Wrestling With the Spirit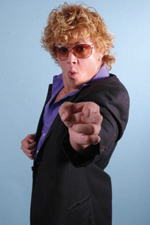 Alex Whybrow '03 as his
wrestling alter-ego "Sweet 'n'
Sour Larry Sweeney"
When Alex Whybrow '03 was voted "Most Likely to Reach Enlightenment" by his high school classmates, it's doubtful they foresaw the path his spiritual journey would take. During winter term of his junior year at Oberlin, he traveled to India with the intention of studying at the foot of a learned yogi.
However, due to the recent September 11th attacks, Whybrow's School for International Training program wouldn't allow him to travel to Rishikesh, a small north Indian city nicknamed the "yoga capital of the world." As a second choice he went to train at an amateur akhara, or wrestling arena, in Dehli.
Before reaching India, Whybrow saw his interest in wrestling and yoga as two sides of the same coin, one vulgar, the other elevated. But, he says, "when I was over there, I saw wrestling in religious texts and got a different perspective of it. It was something that engaged me on a spiritual level." It also cinched his determination to become a professional wrestler.
Whybrow grew up on the wrestleverse of the '80s, filled with character-driven, soap opera-ish battles between good and evil, before audiences had completed their course of study in skepticism. Early in his career he wrestled as a "babyface," a heroic character and a foil to the villainous "heels." But he found his true calling in the heel persona of Sweet 'n' Sour Larry Sweeney, a manager character with a flair for trash talking his opponents and riling up the crowd.
While professional wrestling now focuses more on gymnastic athleticism and elaborate choreography, Sweeney's old school, character-based sensibility has opened a lot of doors for him. Not only has he been paid to wrestle in 30 states, as well as England, Mexico, and Japan, but he's had the chance to meet his idols. "That was just awesome for me," he enthuses, "the fact that I got to wrestle and get to know so many of the guys that I grew up watching on TV."
Will Video Kill the Literary Star?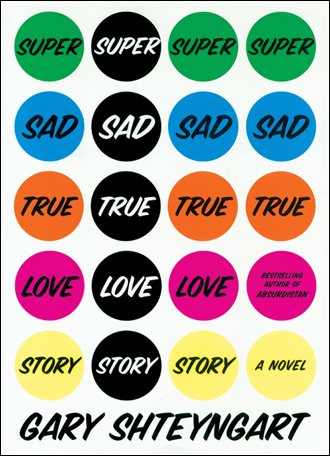 You've read their books—but have you seen their videos?
That surprising question may come up more and more as authors are turning to viral videos to market their new books. According to the New York Times, "the trailer is fast becoming an essential component of online marketing" for the book publishers. And though the form is rather new, two Obie authors, John Wray '93 and Gary Shteyngart '95, have apparently cornered what the Times calls the "comic cameo subgenre."
Actor Zach Galifianakis portrays Wray, and Wray portrays Galifianakis in an off-the-wall interview in the video promoting Wray's Lowboy. Galifianakis, as Wray, claims he listens to Dolly Parton's "9 to 5" from 9:00 to 5:00 every day while he's writing, and says he once wrote an entire novel spelling out all the words in bow-tie pasta.
Actor James Franco is among the cameos turning up in Shteyngart's trailer for Super Sad True Love Story (visit Oberlin.edu/oam for links to the videos), in which the author's supposed inability to read is lauded for making him entirely free from the influence of any other writer. That's a fairly unlikely tale for someone who appeared in the New Yorker's summer fiction issue among 20 writers under 40 who "capture the inventiveness and the vitality of contemporary American fiction."
Franco is seen as a student in Shteyngart's class and is interviewed about the author's new book. "Actually I haven't read his new book, Sad True whatever," says Franco. "But actually I don't think he wants me to read it. I don't think reading is really his thing."
It's another student, though, who gets the best line. Asked to name her favorite Shteyngart class, she replies, "I guess the seminar on how to behave at a Paris Review party."
Josh Spiro '09 and Jeff Hagan '86 contributed to Oberlin beyond Oberlin.