Pool with a View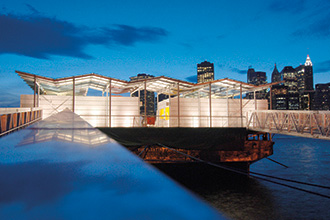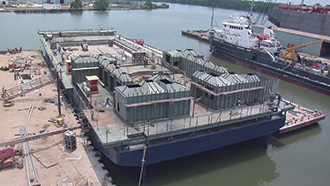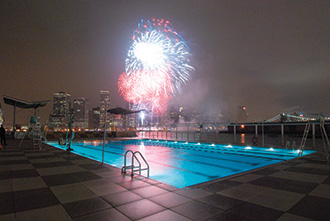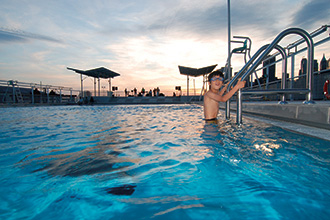 Photo by Philippe Bauman
Photo by Julienne Schaer
Architect Jonathan Kirschenfeld '76 helped convert an old cargo barge into a floating pool in which thousands of urban kids can swim and play beneath the New York City skyline.
As soon as he answered the telephone that summer afternoon eight years ago, Jonathan Kirschenfeld '76 realized that his life as an architect was about to take an amazing turn. The female caller didn't mince words. She needed an architect to convert a massive, old, cargo barge into a floating swimming pool. A public pool for children, she added. One that could move through the waterways of New York and dock where it was needed most. Was he interested? Was he capable?
Kirschenfeld felt his pulse kick up a notch. And for good reason: As the veteran operator of a small architectural firm in Soho, he specialized in projects for the nonprofit sector: supportive housing facilities for the homeless, day care centers for city- and state-funded clients, and performance spaces for local communities. His caller, Ann L. Buttenwieser, director of the Neptune Fund, explained that the assignment would be enormously complex and difficult. As the architect, he would have to hire and lead a team of professional engineers and construction managers, as well as manage countless regulatory agencies and governmental approvals. For the 53-year-old Manhattan architect, who thrives on "next-to-impossible projects with limited budgets that allow me to push my design capabilities to the max," the decision to go after the Floating Pool Lady project was a no-brainer.
But what followed would be a seven-year epic struggle, pushing Kirschenfeld to the limit as he directed efforts to convert a football-field sized barge into a colorful, playful water space in which thousands of urban kids could cavort beneath the New York City skyline.
---
"There she is!" says the high-spirited architect, leading the way onto the deck of the recently completed barge pool, docked this mild May afternoon a few hundred yards from the Brooklyn Bridge. "Welcome to the sun court of the Floating Pool Lady."
A moment later, he's striding around the shoreward end of the 260-foot-long vessel, rocking gently on the tidal flow of the East River. The barge pool is lashed securely to Pier Number Two.
"We're installing a spray pad in the middle of this courtyard that will send up big jets of water that will turn into a wonderful mist. The kids' parents can watch from the dining terrace up there, where they'll feel a cool mist while eating lunch from the snack bar."
For a long time Kirschenfeld has lived with this vision—kids splashing, diving, and doing cannonballs into the 82-foot pool. "They'll be floating in the pool and floating in the river at the same time," he says.
He pauses for a moment, his face flushed with anticipation. Then: "It took us seven years. Seven years of stopping and starting and the price of steel skyrocketing. First we had to find a barge we could afford, and that was no easy assignment. There were plenty of affordable barges out there, but most of them were in places like Singapore."
After more than a year of searching, Kirschenfeld and company found the perfect barge in Louisiana (price tag: $450,000). But the construction process required that the huge vessel be stripped down and structurally altered in the Big Easy, then re-outfitted in New York.
"Building the thing was nightmarish at times, because we had to coordinate different phases of the construction between New Orleans and New York," he says. "It was like trying to build a Swiss watch at two different factories sequentially." A maze of complex permits and approvals nearly sunk the project, and Hurricane Katrina halted construction for nearly six months. "But now it's finally happening," Kirschenfeld says. "We'll have 176 kids from Bedford Stuyvesant and Bushwick and the South Bronx, from economically stressed areas of the city where many of the kids don't even know how to swim."
His eyes seem to drift off, lost in a pleasant daydream. Then he snaps back again. "I'm really looking forward to populating this place with kids, kids who don't feel a part of the waterfront renewal around New York Harbor. I like the fact that we went from an idea, to a series of drawings, through a gritty construction process in a struggling industrial shipyard, and made it into a place for children."
---
How do you convert a 260-foot cargo barge into an urban swimming pool?
The most important thing, says architect Jonathan Kirschenfeld—who has spent the past seven years doing exactly that—is to remain calm at all times. Despite years of setbacks, the widely publicized Floating Pool Lady launched on schedule July 4 in Brooklyn, N.Y., opening its doors—free of charge—to summertime swimmers.
"After decades of false starts, nearly sunken hopes, and persistent dreams, the Floating Pool Lady opened yesterday —at full capacity," wrote Ethan Wilensky-Lanford in the New York Times July 5. "The pool-on-a-barge, originally conceived in the early 1980s, had been held back at one time or another by red tape, financial shortcomings—even Hurricane Katrina."
Kirschenfeld, while eyeballing the Independence Day action aboard the full-capacity Lady, said: "It took us seven years of struggle to reach this moment, and watching these kids splash around on the barge-pool we created is truly satisfying."
The pool's construction required Kirschenfeld and his teams of marine engineers, plumbers, and electricians to manage a gigantic reconstruction effort in both New Orleans and Brooklyn. Fortunately, the architect managed to keep his cool during most of the long ordeal.
"I'm still amazed by the calmness Jonathan displayed throughout the process," says Ann L. Buttenwieser, the 71-year-old former New York City planner and philanthropist who hired Kirschenfeld to manage the project for the Neptune Fund in 1999 and subsequently raised $3 million for its construction. She was attracted to the notion of floating pools by studying the history of New York, which once housed dozens of bathhouses on the water.
"From the city's point of view, the floating pool concept is a very good one," said New York City Park Commissioner Adrian Benepe last fall. "Building swimming pools is very, very expensive. And outdoor swimming pools, they have a short life in the summer, and you have to find lots of land for them, which can mean taking over park land that's used for something else. So a floating pool is an ideal solution."
The July 4 opening drew would-be swimmers as early as 5:30 a.m. Many in line had to wait for one of four sessions, ranging from 90 minutes to two hours long. A free shuttle bus ferried visitors back and forth between the pier and nearby subway stations.
"It's about creating community in the most rambunctious, adversarial, diverse community on earth," said Marianna Koval, president of the Brooklyn Bridge Park Conservancy, which manages the pool and its docking site. "To have all the people that are part of this city sharing beautiful public space is critical to democracy."
After nearly 30 years of practicing architecture, Kirschenfeld sees himself as an artist whose medium is the urban landscape itself. Ask him to define his craft, and he'll wave at the surrounding skyline: "I guess you could say that what I do is explore the intersection between private and public spaces.
"That's where my passion is—right there on the edge. Taking the materials they give me and designing a space that people can inhabit with pleasure and joy. I designed a project for homeless veterans in Brooklyn a couple of years ago. The Knickerbocker. My client was the State of New York.
"The construction managers told me: 'You have a limited budget here, and you absolutely have to meet it. Make the building; make every inch count. You don't have to make it beautiful; just make it inhabitable for the occupants.'"
He goes on to explain how he used his bag of architectural tricks—"I call them architectural pleasures"—to design rooms that allowed each tenant a feeling of spaciousness, a touch of grace and beauty. He split the ceilings in each room, for starters, making one side of the room a few inches higher than the other. Then he added recessed lighting, whiteboard, and inset windows that would provide a bit of depth-enhancing shadow.
He's worked in this same spirit for three decades—constantly fighting for resources and scrapping for his economically stressed clients. Ten years ago, he tried to get the Lincoln Center to fund an audacious project: placing an opera house and a movie theater aboard a floating barge that would move around the five boroughs of New York.
"We didn't quite make it on that project," he says with a grimace. "At the last minute, the Lincoln Center decided not to fund it. Unfortunately for our project, they were in the middle of a billion-dollar fundraising campaign and expansion, so things didn't quite work out."
---
Raised in New York and Long Island, Kirschenfeld is the son of a doctor father and social worker mother, both also passionate artists. His grandparents were union organizers. "If I have a talent for resilience and persistence, and for tenacity, that's probably where I got it," he says. "I grew up in a world where you fought for the rights of other people. You fought for civil rights, for economic justice. It was just part of who you were."
At Oberlin in the early 1970s, he found himself drawn to geology, which "dealt with these massive forms that were created over time. I started taking geology courses, but also a lot of art courses. Every semester, I'd come up with another round of entirely new courses, and finally my advisor, geology professor James Lawrence Powell, sat me down and said: 'Jonathan, you're all over the place. You have to find some focus and come up with a major.' "So together, we just kind of made it up. We called it environmental design. This was 30 years ago, long before anybody had ever heard of 'green' architecture and engineering, and long before the environmental studies program took off like it did. I worked pretty hard with Powell, putting together all of these eclectic courses. It was pretty thrilling, and it got me started down the road to architecture."
After Oberlin, Kirschenfeld studied for a year at New York City's Institute for Architecture and Urban Studies and earned a master's degree in architecture at Princeton.
Deeply influenced by the late Aldo Rossi, an internationally renowned Italian architect, and by the clean, spare symmetries of Austrian architect Adolf Loos, he chooses to enhance the space that people will inhabit, rather than create buildings that call attention to the architecture. "I'm interested in aesthetics, sure—but at the service of the people who will be living and sleeping and eating inside."
He also sees architecture as a struggle to provide warm, livable spaces for people who are all too often frozen out of them. "I won an AIA [American Institute of Architects] award for a low-income housing complex a few years ago, and what I really liked was the way the judges said I'd built this warm and spacious and elegant structure in spite of having to work with a very limited budget."
Leading the way back to the subway, Kirschenfeld pauses to admire a massive brick warehouse, Eagle Storage. It's late afternoon, and the day's last light burnishes the façade of the century-old building. "Look at those inset windows," he says. "That's two feet of brick window. I beg for eight inches of inset on my housing projects.
"The incredible artistry, the craftsmanship—that was the world of 1910, when this warehouse was probably built," he continues. "Really, I feel like that's what I'm fighting for. Fighting for that kind of quality, that kind of craft. It's vanishing from our world, as everything turns into the dollar. I feel like I'm fighting these very small skirmishes, day in and day out.
"I just want to win a fight here and there," he adds. "Like putting together a pool for kids who wouldn't otherwise have a place to swim—and then taking the time and energy to really do it right—to give them a space where they can enjoy a summer afternoon, the way kids should." l
Tom Nugent is a freelance writer who lives and works in Michigan.