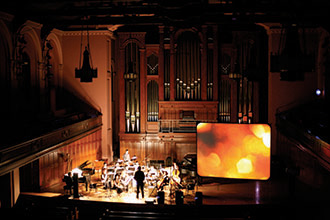 TIMARA: Technology in Music and the Related Arts
What happens when TIMARA alumni reunite? Magic.
Any attempt to categorize the nature of the TIMARA program at Oberlin usually ends in failure. Computer music, electronic music, multimedia performance, fun with noise, sound exploration—none exactly captures what Technology in Music and the Related Arts is all about. Exploration and expansion? Yes. Artistic diversity? Definitely.
The vibrant and active world of TIMARA—both at Oberlin and beyond—was thrillingly showcased in May when several generations of composers, sound artists, choreographers, video artists, and animators came together for a six-day reunion festival held in honor of the retirement of longtime professor Gary Lee Nelson.
Eclecticism was surely on display; events featured joystick-controlled electronics, late-night cabaret, a classically trained rock sextet, '60s video art, dancers and animation with live sound design, and performances by the Oberlin Contemporary Music Ensemble and Wind Ensemble.
Even the festival's organizer, TIMARA Chair Tom Lopez '88, was surprised by the scope of performances and lectures. "The incredible range of artistic and aesthetic and technological expertise really blossomed, and that was amazing to see," he says. "It's what happens naturally when a selection of TIMARA majors comes together to show off their stuff."
The varied nature of the festival also challenged the boundaries and expectations associated with a traditional concert. Many of the performances included on-stage composers with laptops; others featured video screens and light sensors. Several of the works used an arresting and striking combination of acoustic and electronic sound, engaging the audience even further. Composer Ashley Rose Fure '04, whose work was featured in the Contemporary Music Ensemble concert, spoke about this exciting intersection.
"What I love about working in an electro-acoustic medium is the freedom I have in choosing the sounds to incorporate into my musical vocabulary," she says. "I don't have to settle for a sound spectrum defined by the limitations of standard orchestral instruments; a single microphone gives me access to an endless stream of musically forgotten sources."
One of the highlights of the festival was a late-night show at the Dionysus Disco, designed for TIMARA alumni who focus on concert touring. Among the performers was Amy X Neuberg '84, a sound-looping cabaret artist who majored in linguistics and vocal music at Oberlin. "The most exciting thing was re-living the energy of this place, which is not something I've experienced in the 20 years that I've been out of here," she says. "I'd forgotten about that, just how intense everyone is and how serious they are about their musical studies, and what amazing players they are, and how rare it is to see such incredible talent all in the same place at once."
The festival was as much a celebration of today's TIMARA as it was an appreciation and crash-course in the history of the department. A Contemporary Music Ensemble performance in Finney Chapel featured work by two seminal professors in the department, Lopez and TIMARA founder Olly Wilson, as well as such young stars of the TIMARA scene as Fure and punk-musician/composer Mario Diaz de Leon '04. "This particular festival could only happen at Oberlin because it was about four decades of TIMARA," says festival honoree Nelson. "From Olly Wilson, one of the founders of electronic music, to Peter Swendsen, who will occupy my office in September, it is a showcase for the kind of excellence that is typical at Oberlin."
Swendsen '98, who joins the department this fall after finishing a year-long Fulbright residency in Norway, appreciated the long reach of the festival's line-up, indicative of Nelson's legacy at Oberlin. "The program has been able to maintain itself through multiple generations of students. Especially in our field, that's not something that happens in many places. It's a testament to the program and to Oberlin's support of the program, and for Gary, for being here through so much of it, initiating and then seeing a lot of those developments through. It's fun to have a chance to celebrate that."
As for Nelson's post-retirement plans, he expects to spend time composing new video/music works with his wife, tour with their Irish band, and perhaps make a year-long visit to Ireland, where he shares citizenship. Beyond his legacy in the TIMARA department, Nelson has also achieved a small cult following at Oberlin for his holiday performances as the elf Geldryk, singing his heart out to a lively crowd in the Conservatory Lounge. As for whether the elf might return to Oberlin, Nelson says, "I will have a brief word with Geldryk about this, but I already know that he thinks Oberlin students are his best audience."
WebExtra: See more TIMARA photos