Around Tappan Square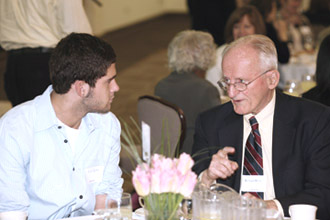 Thanking Donors
Donations by nearly 12,00 alumni helped Oberlin to award $41 million in student financial aid last year. To thank them, more than 250 students dropped by postcard-writing stations set up around campus in April to pen 1,000-plus personal notes of appreciation. Varsity athletes, meanwhile, joined other students in phoning alumni and Heisman Club members to voice their gratitude.
In May, Oberlin hosted its first annual Scholarship Luncheon, which allowed scholarship recipients and nearly 90 benefactors to meet face-to-face. Both students and alums shared stories of how much difference a scholarship can make in a student's life.
May Grads Take Home
National Awards
Richard "Max" Helzberg (A) was just a child when he developed a fascination for the art, language, and customs of Japan. At Oberlin, he double majored in East Asian studies and economics. He also traveled to Japan twice, first to study at Kansai Gaidai University in Osaka and then to intern with the Pasona Program in Nagoya. This fall, the May graduate will head to Japan again — this time under a full Fulbright Grant — where he'll study at a Japanese university and research one of the country's hot-button issues: the declining birth rate.
Helzberg is among at least nine students and new graduates to earn overseas' teaching and research opportunities this year. May graduates Joshua Curtis (B), Rachel Kelly (C), and Emily Klim (D) will each spend a year abroad as recipients of Fulbright teaching assistantships. Curtis will teach English at a secondary school in Korea and volunteer in an orphanage. At the age of 7, he says, he traveled to Korea with his parents to adopt his younger brother, Jonathan. Teaching for a year in Jonathan's homeland "is a way of getting to know a part of my family, and thus myself, better," he says.
Klim will travel to Russia to teach English and to research the role of Russian orthodoxy in the lives of modern Russians. "I want to get a grasp of how modern Russians view themselves and how they remember their history," she says.
Kelly, a double-degree graduate with majors in violin performance and German, will spend the year in Berlin, teaching English and studying the German public music education system. She believes that many problems facing minority groups in Germany compare to those in other western nations. "Working on how to resolve these problems through something I love—music—will be incredibly satisfying," she says.
Continuing Oberlin's 40-year streak of winning the prestigious Thomas J. Watson Fellowship is May graduate Daniel Gessner (E), who will spend the year studying universal health care systems in the United Kingdom, Sweden, South Africa, and India. "There are a lot of statistical studies of universal health care, but I want to collect the personal experiences and distill the idea of how well these things work," he says.
May graduate Alexa Punnamkuzhyil (F) is one of 10 new graduates nationwide to earn the coveted Compton Mentor Fellow-ship. She will travel to Kerala, India, her ancestral home, to lead a sexual-health campaign she designed to address issues of HIV/ AIDS awareness and domestic violence. The project uses a series of films as a way to convey health education information "without involving white coats and specialists," she says.
Also receiving national awards in the spring were Oberlin juniors Nathaniel Meyer, who received a Goldwater Scholar-ship; Helen Hare, a Truman Scholar; and Lucas Brown, a Udall Scholar.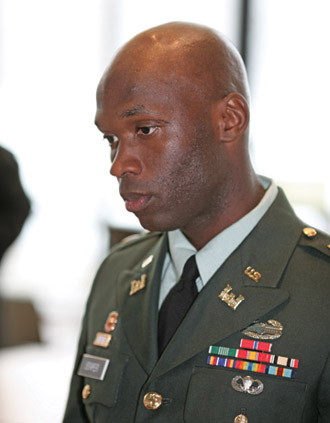 In Other Words
"The exploitation of our people, other countries, and our friends has got to end and the only way to do it is with Barack Obama. Some of the initiatives that [McCain] has been promoting sound like SNL type scenarios."

— John Conyers, U.S. Congressman during his talk entitled, "Dinner with John Conyers."
"A fascinating book that exposes the many dangers when a representatives of the kingdom 'not of this world,' become too close to representatives of an earthly kingdom." -Cal Thomas, syndicated columnist

— On The Preacher and the Presidents: Billy Graham in the White House by TIME editor Michael Duffy '80 and Nancy Gibbs, TIME's editor-at-large, who gave a Convocation talk took at Oberlin.
"I don't think you can persuade anybody necessarily who's so pro-war to suddenly become anti-war, but if you can start some dialogue, if you can provoke some debate, I think that's great."

— John Scheinfed '75, filmmaker and writer, in an "Off the Cuff" interview with the Review. He was in Oberlin to screen his documentary The U.S. vs. John Lennon.
Oberlin students have a tendency to be attracted to a "chaos and agitation" of ideas that are sometimes not suited to the real world.

— The Oberlin Review
— Robert Krulwich '69, co-host of Radio Lab on how his experience at Oberlin affected he and his cohort, Jad Abumrad '95 during their joint Convocation Speaker Series talk, "From Oberlin to Radio Lab: 25 Years Apart."
"If somebody comes up with a new theory, are you going to be influenced to believe it by symmetry argument, by calculation, or by an experiment? That's a matter of taste. And that is why there are always debates among scientists. … I might come up with the right theory but no one accepts it for 50 years (such was the case in the theory of continental drift)."

— Martin Harwit '51, 2007 recipient of the Astronomical Society of the Pacific's Catherine Wolfe Bruce Gold Medal for lifetime achievement in astronomy and professor emeritus of astronomy at Cornell University, from his lecture, "Discovery and the Search for Understanding of the Universe." Harwit also delivered the 2007-08 David L. Anderson Lecture.
"NAFTA is not to blame [for people loosing their jobs and having to take jobs with lower pay]. But it is true that after the great recession of 2000, 2001 a lot of [manufacturing] jobs were lost. I think the problem is misstated by the democratic candidates. The problem is that although the benefits from trade are much greater than the costs in terms of job losses, we don't have a system of compensation in place."

— Robert Reich, former secretary of labor and NPR Marketplace commentator in an interview with The Sound of Ideas (90.3 WCPN), moments before his Convocation talk at Oberlin, on "The Next President's Economic Challenges."
"A radical, even revolutionary, vision of the contemporary world and the role that the United States can and must play in reshaping it . . . a refreshing departure from the postmodernist view of the world."

— The New York Post
— David Frum, political commentator, presidential speechwriter, and author on his latest book, Comeback: Conservatism That Can Win Again (Doubleday, 2007). Frum gave Oberlin's fifth Convocation talk titled, "The United States after George W. Bush."
The Chicago Posse
Every other week this spring and summer, alumni Andria Ryberg '05 and Michael Sculnick '72 could be found in the downtown Chicago office of the Posse Foundation. There they met with Oberlin's newest group of "Posse" students—eleven admitted students from Chicago who will enter Oberlin collectively this fall. Together, the alums and students reviewed writing exercises, brainstorming methods, Oberlin's honor code, and other practicum aimed at preparing the new freshmen for life at Oberlin.
Of the seven colleges nationwide that partner with Posse Chicago, Oberlin had the highest number of alumni volunteers—about 30—who offered to tutor high school students heading to their alma maters.
"I really wanted to do this," says Ryberg, an administrator with Teach For America Chicago. "I taught second-graders for two years and wanted to continue teaching."
Nine Oberlin alumni went on to serve as foundation volunteers. Some have worked directly with the Oberlin Posse group. Sculnick, an attorney and a second-year Posse volunteer, joined Ryberg as a writing coach. The pair took a tag-team approach to their eight-week workshop, in which students wrote thesis statements, learned to organize ideas, performed peer reviews, edited copy, and learned how to make good word choices and use proper diction—all of which may put them ahead of their peers once at Oberlin, says Ryberg.
"We had a unique opportunity to share our college experiences," says Ryberg, who also briefed Posse Chicago on Oberlin's co-op system, social justice programs, and more.
"The kids teach you lots of things if you're humble enough to listen to them," adds Sculnick. "I feel like I have eight children." As for the group? "My sense is that they have great potential."
For more information, contact: MargaritaH@possefoundation.org.
New to the Oberlin Family
Cleveland-native Sean Decatur, a distinguished scientist and former associate dean of faculty for science at Mount Holyoke College, begins his new position as Oberlin's dean of Arts and Sciences this summer. An expert in biophysical chemistry, Decatur holds a PhD in chemistry from Stanford University. His wife, Renee Romano, a former associate professor of history at Wesleyan University, joins the Oberlin faculty as associate professor of history.
Hired as vice president of communications is Edward "Ben" Jones, a 1996 Oberlin graduate who most recently served as director of communications in the Office of Admissions at the Massachusetts Institute of Techno-logy. Jones is a nationally recognized expert on blogging, social networking, and Web 2.0 in higher education. He is married to Oberlin graduate Tanya Rosen-Jones '97.
Named to the newly created position of special assistant for community and government relations is Sandra Hodge. Hodge will lead an array of educational, environmental, and partnership initiatives between the College and the City of Oberlin, Oberlin City Schools, the state of Ohio, and the federal government. An Oberlin native, she has held senior positions with the United Technologies Center, the National Alliance for Business, and the Chicago Alliance for Business. Since 1985, she has been CEO/president of Hodges Enterprises.
Sandhya Subramanian joins Oberlin as its first general counsel/secretary. She holds a law degree from Yale and most recently served as chief attorney for the U.S. Department of Education's Cleveland Office for Civil Rights. Previously, she was a special litigation counsel at the U.S. Department of Justice's Civil Rights Division. Surmounting is married to James Hurdy, a 1998 graduate of the Conservatory of Music.
Bicycling the Underground Railroad
(photo by John Seyfried)
Many slaves en route to freedom more than 150 years ago did so by way of the Underground Railroad. Their travels, risky at best, were marred with uncertainty and struggle. Today, bicyclists can retrace that journey via a 2,100-mile trek that weaves through towns, Oberlin included, that served as an important part of the railroad route.
The Underground Railroad Bicycle Route, mapped by Adventure Cycling Association, begins in Mobile, Alabama, and winds north through Mississippi, Kentucky, Ohio, Pennsylvania, and Canada. In towns along the way, bikers can tour museums, historic buildings, and other sites that were helpful to slaves seeking freedom.
Oberlin, which was added to the tour in 2007, holds special significance to the route, says Adventure Cycling's Ginny Sullivan, as there are many avenues for learning about the area's rich history.
During a month-long, 1,500-mile trek from Mobile to Oberlin last year, a group of bicyclists toured the Oberlin Heritage Center and were treated to a reception hosted by Friends of the Oberlin Underground Rail-road Center.
"Some of the towns just rolled out the red carpet for us," said Cheryl Hummon '86 during her group's layover in Oberlin last year. "In Linden, Mississippi, [it seemed like] the whole town came out to greet us. They were just so excited.
"I'd done long distances before, but this was a challenging trip," she added. "We carried cooking pots and little stoves and all of our gear—probably 40 to 50 pounds worth. We slept in campgrounds and state parks … and averaged about 60 miles per day going up and down hills. … A trip like this will have an impact on anyone who does it. For some people it may be an 'ah-ha' moment. I like the unknown of what's around the next corner."
This summer, Adventure Cycling plans to partner with Bronx Lab School in New York to take 10 teens on the trek. After a stop in Ripley, Ohio, and a visit to the National Freedom Center in Cincinnati, the group will bike to Oberlin.
"We chose this section of the route because it will give the teens access to scenic and historic sites," says Sullivan. "They will end their journey in Oberlin, which couldn't be more fitting, since they'll have the opportunity to tour this amazing community and its Underground Railroad history, as well as Oberlin College, which will be a highlight for these college-bound youth."
Read Cheryl Hummon's Bike Journal
College, Conservatory,
and Museum Join Forces
When a student becomes an interpreter of art and culture, and not just a consumer, it becomes something special that defines the Oberlin experience. A new team-taught course, Connections: Art, Music and Culture, Past and Present, helped to drive that point home this spring.
"We want to make education reach across the Con and College divisions," says Associate Dean of Arts and Sciences Nick Jones, who taught the cross-curricular course with Associate Professor of Musicology Charles McGuire.
In their efforts to address the course's guiding question—How can [one] take different texts or pieces of art, be it theater or a painting, and interpret and reinterpret them over time?—students studied music, visual art, and performance art from various eras. The class also integrated events on campus, such as a postmodern production of Claudio Monteverdi's The Coronation of Poppea, staged by the Oberlin Opera Theater in March, and the student play Ma Rainey's Black Bottom, which chronicles the 20th-century African American experience.
The professors asked questions such as, "Why do we perform works from the past?" Or, in the case of the Monteverdi opera, "What do we do today to perform an opera written 400 years ago?"
The course also weaved in visits to the Allen Memorial Art Museum, where students explored cross-curricular topics such as Shakespeare in 18th-century art. "The structure of Connections created an exciting model of sustained engagement with the museum," says Curator of Academic Programs Colette Crossman, who is working to further integrate the museum's collection into the academic curriculum.
"Oberlin is uniquely equipped to offer these courses at the highest level," says Dean of the Conservatory David Stull. "It's a wonderful way to introduce students to the opportunities that exist here relative to music and to the study of art."
Fighting Cancer by Way of
the Boston Marathon
"Way to go Marie; 3 hours and 27 minutes. Good job," shouted a voice from the steps of Wilder Hall as Marie Barnett walked by.
In return the senior stiffened her small frame against the morning April chill and let out a grin filled "Thank you," while pumping her fist in the air. It had been several days since she participated in the Boston Marathon, and to her surprise the accolades continued.
Although she had done better in her first marathon than she had anticipated, Barnett hadn't broken any records; she wasn't anywhere near the front of the pack. It wasn't that kind of race, at least not for her.
In October, she had chosen to run on the Dana-Farber Marathon Challenge Team (DFMCT) in honor of her grandfather, Jack, who was battling cancer. DFMCT enables people to run the Boston Marathon while raising money to benefit the Claudia Adams Barr Program in Innovative Basic Cancer Research at Boston's Dana-Farber Cancer Institute. However, the following month, when Jack's health took a turn for the worse, the race took on a different meaning.
"His battle with cancer, which he lost on November 16, was my inspiration," she said. "It was very powerful to see all 550 of us [on the DFMCT] running for something bigger than ourselves. People cheered, 'Go Dana-Farber.' Kids were standing on the side of the road with their hands ready for a high-five. And when you gave them one, you could see the excitement in their eyes."
Although the team eventually separated as racers wound their way through the hills of Newton, Massachusetts, Barnett and her father, David, who was running in his 14th Boston Marathon, managed to stay together.
Runners in the marathon had chips placed in their shoes and their times posted online when they stepped on a checkpoint, Barnett explained. "I didn't think about it at first, but after a while it dawned on me that my family and friends might be keeping track of my progress."
Within two clicks of a mouse, supporters learned that numbers 22181 (Barnett) and 4399 (her father) were at the halfway mark (13.11 miles) in 1:44.29. In less than two hours later, both would finish. Out of a field of more than 23,000 runners, Marie was the 6,018th person to cross the line and the 914th woman to finish overall.
"I'm not surprised by how well she did," says track and field Head Coach Ray Appenheimer, who helped the young runner train for the marathon. "The race is a true test of mental concentration, and Marie has worked hard to develop that."
As for Marie's father, it was an "easy" run. He had qualified for his age group and usually runs the grueling race in 3 hours and 15 minutes, says Marie. But this year, the experienced marathoner was content keeping track of his daughter's splits and playing tour guide along the familiar route. All the while Barnett relied on training she had undertaken while preparing for the cross country season at Oberlin.
Barnett joined Oberlin's cross country team in her freshman year, "as a good solid runner, but her transformation over the last four years has been stellar," Appenheimer told a reporter in Acton-Boxborough, Massachusetts, Barnett's hometown. A double major in art and psychology, Barnett has earned Academic All-American honors for three years, and she finished 28th in cross country in the North Coast Athletic Conference this past fall.
Although Barnett's supervised training with Appenheimer started last June, she ran two half-marathons while studying abroad in Florence, Italy, and Turku, Finland, last spring. At Oberlin, she combined her preparation for the Oberlin cross country team with training for the marathon. She competed during the indoor track season, and ran both the 3K and 5K marathons. "The training was similar to my teammates', but I was running longer on the weekends, and about 50 to 55 miles a week," she says.
During the winter months, Barnett preferred running in snow to working out on a "boring" treadmill, even when one of Ohio's worst storms pounded the area, prompting officials to ask drivers to stay off the roads. Months later, it would all be worth it.
She and her father raised more than $10,000 each for cancer research, putting the Dana-Farber team a few steps closer to its goal of $4.5 million, a target it had set for itself 14 years ago, when the team was formed.
And then there are the memories of the family and friends they saw along the way, Barnett says. "One of my high school coaches was at the top of Heartbreak Hill (an ascent over one-half mile of the Boston Marathon course, between the 20 and 21-mile marks, in the vicinity of Boston College), and he ran with us for a while. … The finish is the most exciting part, and my family – mom, grandmother, and cousin – were waiting for us at the 25-mile mark..
"If I run another [marathon], it probably won't be as special as this one."
Pro Ball Dreams
Chris Schubert '08 had always dreamed of playing in the National Football League (NFL), and in early May, he got his shot when he was asked to attend the Cleveland Browns Mini Camp in Berea, Ohio.
It all started in April, when Schubert, along with hopefuls from other colleges, attended Pro Day at Mount Union College. There, the wide receiver, kick and punt returner, and holder was put through his paces in front of scouts from the Cleveland Browns, Pittsburgh Steelers, New York Giants, and Minnesota Vikings. Players were tested in multiple areas, including the bench press, 40-yard dash, 20-yard short shuttle, and the vertical and broad jump. Afterwards they took to Mount Union's football field, where Schubert ran routes and caught punts alongside Pierre Garcon for nearly an hour. Although much of the attention had been given to Garcon, a wide receiver from Mount Union (who was recently drafted into the NFL in the 6th round), Schubert's performance earlier in the day had left the scouts wanting to see more.
Still, the graduating senior didn't expect much feedback by day's end. His agent had even predicted it might take a while before he heard anything. As it turned out, he didn't have long to wait. The Cleveland Browns wanted him to attend their mini camp. The call, incidentally, came from Cleveland Browns director of player personnel, T.J. McCreight, who began his coaching career at Oberlin in 1993.
"When I received the call, which was about an hour after the NFL draft, I had to call my parents," says an excited Schubert. Held at the Cleveland Browns Training and Administrative Complex in Berea, Ohio, the camp was for all Browns' recent draft picks, undrafted free agents, and local players with the potential ability to play at the highest level.
During the four-day camp, which included athletes from the University of Miami (Florida), Florida State University, and the University of Wisconsin, players were given two-and-a-half days to learn the playbook.
"While it was a great experience, it was also one of the most stressful weekends of my life," says Schubert. "I have always been confident in my abilities as a football player and it was wonderful to be able to measure those with NFL players. I also met some good people in the process and received a lot of positive feedback from coaches and the front office personnel. Some of the coaches said they didn't believe that my football career was over."
Although Schubert continues to hope for a career in professional football, he understands the odds. He, his agent, and family members have sent out countless numbers of DVD's to professional teams in both the NFL and the Arena Football League. "My agent said I would probably become a little frustrated because I won't hear anything for a while, if at all.
"Regardless, I'm going to continue to train and get better. And when football is over for me, a [sociology] degree from Oberlin College will set me up to do great things. It will help put me in a position to succeed and I couldn't ask for anything more."
At Oberlin, Schubert led the College in catches (60), receiving yards (723), touchdown catches (6), and all-purpose yards (2,041). During the 2007 season, he also had an 84-yard kickoff return for a touchdown in Oberlin's 63-33 win over Kenyon and a 43-yard punt return for a score in the Yeomen's 49-14 victory over Hiram. In January, Schubert played in the All-American Bowl All-Star Game at the Metrodome in Minneapolis, Minnesota. Also this year he earned First-Team All-North Coast Athletic Conference (NCAC) honors as a wide receiver and return specialist. He holds 18 records for Oberlin football and has garnered numerous awards.
Editor's note: Schubert was appointed tight ends coach of Oberlin's football team in July.
Art Museum Acquires Warhol Photographs
The Andy Warhol Foundation for the Visual Arts has donated 153 original Warhol Polaroids and gelatin silver prints to the Allen Memorial Art Museum, bringing the museum's total Warhol holdings to 183.
The acquisition—a mix of black and white photographs and Polaroids of people, landscapes, nudes, and still lifes taken by Warhol from 1972 to 1986—includes images of luminaries such as artist Keith Haring, musician Rik Ocasek, designer Paloma Picasso, and actress, model, and art collector Jane Holzer.
These are the first Warhol photographs to enter the museum's permanent collection, where they join a diverse group of other Warhol works in silkscreen, watercolor, and sculpture, including images of Elizabeth Taylor, Marilyn Monroe, and the famous Brillo Boxes.
"Photography was of primary importance to Warhol's artistic practice, as he sought to transform newspaper and other popular images into prints and objects," says Curator of Western Art Andria Derstine. She engineered the acquisition and its exhibit, Andy Warhol: Prints, Paintings, Photographs. "With such a large number of original photos entering our collection, scholars and students will be able to learn first-hand about the importance of the camera for Warhol."
The Warhol Foundation donated more than 28,500 photos to 183 college art museums as part of its 20th Anniversary Photographic Legacy Program.
Wavemakers
Vicki Wang '09
Major: Piano performance and biology
Hometown: Toronto
Awards/Honors: The John Elvin Prize, East Asian Studies Tuckership, and Shansi Winter Term in Asia Grant
Most people can recall a time in their childhood when a skinned knee or sniffle meant having a funny-looking gel or foul-tasting elixir thrust upon them. Vicki Wang has similar memories. Having come from a city with a large Chinese community, she grew up with traditional Chinese medicine (TCM) and "had to consume the deathly looking brews myself." However, after her grandfather lost his voice box to laryngeal cancer and began a TCM regiment of his own, Wang started asking questions.
She wondered if the TCM practiced today in China differed from the version she grew up with. She wondered, too, if traditional practices could be combined with Western medical methods. If so, could the same assimilation and balance occur in North America?
To seek answers, Wang, who received a 2007 In-Asia Study Grant from Oberlin Shansi, traveled to the Zhejiang Chinese Medical University to learn and observe the fundamental theories and practices of TCM.
"For the majority of the population, traditional medicine is the only method of treatment, as it is cheaper and more readily available than Western medications," says Wang.
"Traditional-medicine hospitals have a very open format. Doctors diagnose illnesses quickly, not only by observing a patient's body odor, tongue color, speech, and pulse, but by combining traditional methods with physical reports and ultrasounds provided by Western facilities. Any student of traditional medicine must be able to fully understand both traditional and Western methods of diagnosis."
Wang's visit also revealed an extrememly close doctor-patient relationship. In Zhejiang, doctors visit their patients every one or two weeks. TCM practitioners are then able to consider many variables when treating patients. "This allows for one of the most comprehensive, effective, and accurate means of diagnosis and treatment," Wang says.
How will you impact the world after Oberlin?
Being a busy double-degree student has taught me to take any and all opportunities, put my best effort forward, and make the most of whatever situations arise. I hope to be able to give back to the community often.
Biggest fear?
Not being able to experience all that life has to offer. The paths we set can sometimes limit us to the infinite possibilities that are out there. It's important to strive each day for greater achievements; live life with no regrets.
What are your plans after graduation?
I plan to attend medical school and study to become a pediatrician.
—Yvonne Gay Fowler
Oberlin and Ohio Tackle
Climate Change
Ohio citizens can look forward to economic prosperity and a potential leading role in green economy, said Ohio Lt. Governor Lee Fisher '73 on April 18, when he returned to Oberlin to deliver the keynote address at the symposium Climate Change Solutions in the Buckeye State and Beyond.
"In many ways the climate problem is an energy problem, and Ohio has the greatest job-generating potential in the country in renewable energies," said Fisher, who heads Ohio's Department of Development. "I see things that are more exciting right now than at any time in our entire lifetime."
Fisher also assured the audience of Governor Ted Strickland's commitment to bringing sustainability and economic prosperity to Ohio, highlighting the administration's efforts to support solar, advanced coal, and wind energy. "The scientific consensus has been achieved; now we're just waiting for the political consensus to be achieved."
The day-long symposium opened with an overview of possible solutions to the climate crisis by Fred Krupp, president of Environ-mental Defense Fund and co-author with Miriam Horn of Earth, The Sequel: The Race to Reinvent Energy and Stop Global Warming, a copy of which was given to each of the conference's 230 attendees.
One of several speakers to urge attendees to embrace alternative energy production as an economic driver, Krupp highlighted several green entrepreneurs and shared the results of a study that showed that with a significant commitment to renewables, Ohio stood to gain 23,000 jobs in supply chain alone.
The first priority, he said, is to prevail upon Congress to pass cap and trade legislation. Cap and trade, which places an upper limit on greenhouse gas emissions and allows companies that exceed those limits to purchase credits from companies with credits to spare, is an increasingly widely supported approach to creating a fair and workable incentive for companies to go green. "The companies in this country are way ahead of Congress," Krupp said. "We need to urge Congress to fire the starting pistol for what will be the greatest race of all time—and it really is a race against time."
The first of two panel discussions examined key sources of green energy, such as solar, wind, and low-carbon coal, while the second reviewed the role of various sectors—such as agriculture, building, transportation, and forests—in climate change conversation.
Two speakers kept participants in their seats into the late afternoon. Sadhu Johnston '98, chief environmental officer and deputy chief of staff for Chicago Mayor Richard Daly, delivered a presentation highlighting Chicago's two-pronged approach to addressing climate change: pursuing an aggressive campaign to reduce the city's own emissions, and at the same time preparing city buildings and neighborhoods for some of the worst possible effects of global warming—including intense urban heat islands and increasingly intense storms.
Caring about the environment is not a luxury, Johnston said. "We're not building affordable housing if people can't afford to heat it."
The final speaker, Van Jones, president and founder of Green for All in Oakland, California, used a part-preacher, part-comedian storytelling style to remind listeners that the environmental movement needs to reach everyone.
"The pollution-based economy left a lot of people behind," he said. "You teach a young person how to weatherize a building, and you put him or her on a ladder out of poverty."
Karen Florini '79, senior attorney for the Environmental Defense Fund and one of the organizers of the event, says that going forward, an Oberlin-Ohio alliance on climate change solutions only makes sense.
"Oberlin—and the rest of Ohio—have the people, the knowledge, the will, and even the responsibility to try and change attitudes and behaviors when it comes to sustainability, and especially reducing greenhouse gas emissions," she says. "This symposium was an exciting first step."
Missed the symposium? Listen to all of the presentations online at www.oberlin.edu/climatechange.