A Question
of Access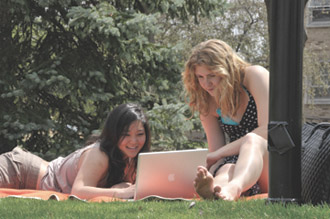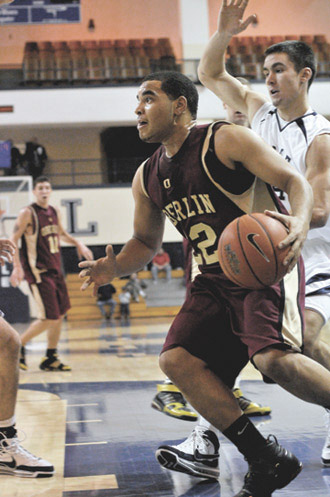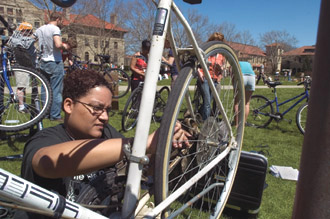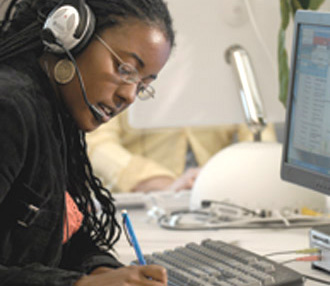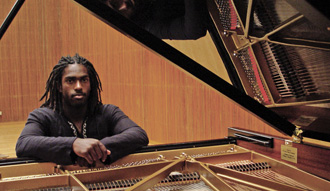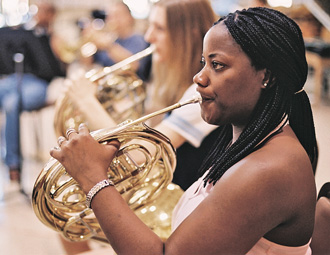 Oberlin has been a trailblazer in making college accessible. Now a changing financial aid landscape challenges the College to continue that proud tradition.
Oberlin College has a legacy of broadening access to higher education that is hard to top. In 1835, two years after Oberlin's founding, it became the first U.S. college with a policy to admit black students with the same standing as whites. Several years later, it achieved another first by graduating women as equals of men. Those pioneering steps, taken a quarter century before the Civil War, put Oberlin "way ahead of its time," says Alfred MacKay, who has been an Oberlin professor for 41 years and recently retired as provost.
"Educating men and women together and blacks and whites together in the early days was an absolutely explosive social mix," MacKay says. "But the founding mothers and fathers knew what they were doing. It's something we justifiably have been proud of, and we certainly have kept that historic legacy alive."
Today, one of the most significant ways the College maintains that legacy is through a financial aid policy designed to make Oberlin affordable for qualified students from across the socioeconomic spectrum. The College is committed to meeting the full, demonstrated financial need of every admitted student. Around 70 percent of Oberlin students receive some form of financial assistance. The average aid package—which may include grants, loans, and work-study—is around $29,300 per year, with about $24,500 of that coming from grants. Oberlin spends more than $43 million a year for need-based grants, an amount equal to more than a quarter of the College's operating budget and nearly triple what Oberlin was spending a little over a decade ago.
Oberlin announced in April that it was expanding its financial aid by launching a program called the Oberlin Access Initiative. The initiative will replace loans with grants for Oberlin's most financially disadvantaged students, many from families earning $35,000 a year or less. Under the new program, most of these students will be able to attend Oberlin at no cost to them or their families.
"There has been a sea change in the way colleges are thinking about financial aid," says Oberlin College President Marvin Krislov. "Access has become a major public policy issue."
That change comes amid much public scrutiny of American colleges' efforts to ease the financial burden of higher education on students and their families. In December 2007, Harvard University, which enjoys a $35 billion endowment, made headlines by announcing it will replace student loans with grants. Families earning between $120,000 and $180,000 may pay no more than 10 percent of their income toward a Harvard education, while students from families earning less than $60,000 may pay nothing. While that was great news for some Harvard students and parents, it put pressure on other colleges to follow suit. Many simply cannot afford to do so. But Yale, Dartmouth, and other schools soon announced their own programs to increase aid and eliminate student loans.
Harvard's moves came in response to growing public criticism of colleges' financial aid policies. A report issued in 2006 by the Commission on the Future of Higher Education labeled the nation's college financing system "dysfunctional." In September 2007, the U.S. Senate Committee on Finance began asking questions about the double-digit endowment growth at the nation's wealthiest universities and colleges. The senators wanted to know why more resources weren't being spent on financial aid. The committee sent a letter this past January to the 136 U.S. colleges with endowments over $500 million—Oberlin included—asking for 10 years' worth of data on costs, financial aid, endowment performance, and for explanations of their policies in those areas.
Access Combined with Excellence
For Oberlin, already a leader in providing access to worthy students regardless of race, gender, or ability to pay, expanding financial aid is more challenging than at wealthy institutions such as Harvard or Princeton. To understand the magnitude of Oberlin's commitment to financial aid, some context is useful. One reason for Oberlin's high financial aid outlay is that the socioeconomic makeup of Oberlin's student body differs significantly from most other highly selective colleges. A smaller percentage of Oberlin students come from families earning $250,000 or more a year, and more Oberlin students come from families at income levels ranging from below $10,000 up to $75,000 a year.
In short, Oberlin is doing more than its peers to fund students from lower- and middle-income families. "With our comparatively higher investments in student aid, the College receives about $4,000 less per student than its peer average in net tuition and fees," says Ronald Watts, Oberlin's vice president for finance. "Oberlin is outspending most of its peers on financial aid while receiving only about half as much per student in private gifts and grants."
This high level of commitment is in keeping with the College's history and mission. "Excellence, equity, and access," says Debra Chermonte, dean of admissions and financial aid, "are our guiding principles for financial aid."
The way Oberlin funds financial aid is also different. Many of the top 25 liberal arts colleges fund financial aid primarily with money donated and specifically earmarked for that purpose. At one school, all student aid comes from sources restricted solely to student aid. At Oberlin, however, 72 percent of aid spending comes from unrestricted, or discretionary, sources. That means Oberlin chooses to spend those dollars on financial aid. By spending them on aid, the College is also choosing not to spend them on faculty salaries, residence hall upgrades, or other needs, which are considerable. "At Oberlin," says Ross Peacock, director of institutional research, "this is having a huge impact on other parts of the operating budget that we have to forego."
Oberlin benefits enormously from its strategic financial aid expenditures, which help maintain the College's historic commitment to providing access to students who meet Oberlin's tough standards for admission. "What's important is access combined with excellence," says David Stull, dean of the Conservatory of Music. "We want to bring in the most talented, capable people who can meet our high standards and flourish in a transformative educational experience."
To help attract outstanding students from diverse backgrounds, the College has partnered with two national organizations set up to identify and help such students transition to top colleges. One is the Posse Foundation. It recruits bright, motivated "youth leaders" from urban public schools and sends them in small groups, or "posses," to many of the nation's leading colleges and universities, where they receive full, four-year scholarships. The posse becomes a support group on campus that significantly increases the students' prospects for success. The program has placed nearly 2,000 Posse Scholars at 29 colleges. Their graduation rate is an impressive 90 percent.
The second program, called QuestBridge, runs with a similar model, identifying highly promising, low-income youth and connecting them to one of 20 top-ranked colleges and universities, where they receive four-year scholarships.
Oberlin has just completed its first year as a partner with Posse-Chicago and QuestBridge, and 22 students from the two programs are currently enrolled. The College is investing more than $750,000 each year to support them.
The Oberlin Access Initiative
Although Oberlin is already providing a great deal of financial aid to worthy students, the College strengthened its commitment to access and affordability in April by creating the Oberlin Access Initiative. The initiative replaces loans with grants for low-income students who qualify for federal Pell Grants. Pell Grants are need-based federal awards of up to $4,300 a year that go to students from families with the greatest financial need.
"Pell Grant eligibility was chosen as the criteria for Oberlin's program because it is a standard indicator of high financial need, is calculated using a uniform, well-accepted methodology, and is verifiable," says Robert Reddy, director of financial aid.
But the Pell Grant itself is just a small part of a college's financial aid package. Pell recipients usually require aid from other sources. Oberlin provides substantial additional support to these students from its financial aid budget. Before the Access Initiative, a portion of that came in the form of loans. By replacing loans with grants, most Pell students will now be able to graduate debt-free.
The initiative is being funded in part by a pledge of $1.2 million from Oberlin Trustee Clyde McGregor '74. McGregor's gift will provide four years of grant aid for the anticipated 74 Pell Grant recipients who will enter Oberlin as freshmen this fall. These students will be known as McGregor Scholars.
A typical McGregor Scholar, says Reddy, would be a student from a family of four whose parents' annual income is $30,450 and whose assets total $12,000. Under current guidelines, that student would meet college costs with a Pell Grant, scholarship support from Oberlin, work-study opportunities on campus, and a federal Stafford student loan for $4,423. "While the loan amount might seem modest, after four years it becomes larger than the student's family's assets," says Reddy. "With the new Access Initiative, Oberlin will eliminate the Stafford loan entirely and replace it with a grant."
Asked to describe the kind of student the Access Initiative will help, Reddy tells of a young woman named Emily (not her real name), an incoming student from the west coast. Despite a string of hardships during much of her life—an absent father, a mother who struggled with substance abuse, and years spent bouncing among homeless shelters and the houses of classmates—Emily was able to maintain an A average in high school. She played on a varsity sports team, is an award-winning poet, and volunteered at a local middle school. At Oberlin, where she'll enter this fall as a McGregor Scholar, Emily plans to study physics and eventually become a scientific researcher. Her loan obligation was replaced with a $6,153 McGregor grant, leading to a total financial aid package of $49,000.
"Eliminating loans for Pell-eligible students is important because even a modest amount of debt may limit their choices of majors, internships, and even careers," says President Krislov. A 2007 study by Princeton University, for example, found that an extra $10,000 in debt diminished the likelihood that a graduate would take a job in public service.
The Access Initiative will also replace loans with grants for the approximately 240 currently enrolled Pell recipients when they return to Oberlin in August. "I think it's a great thing," says Wayne Mundekis, a sophomore sociology major from Springdale, Pennsylvania, and a Pell recipient. Mundekis is a running back in football and a catcher on the baseball team. With practices and games he has no time for a part-time job. To help support himself, he has done construction work in the summer. But he's looking forward to seeing student loans disappear from his aid portfolio. "The less debt you end up with, the better."
The Oberlin Access Initiative is being funded through the generosity of Oberlin's alumni and other donors. The College has begun an effort to raise "bridge funds" to support the current Pell recipients in the near term, while also working to raise a $25 million endowment to support the initiative in perpetuity. Already, more than 1,200 donors have stepped up to the plate with more than $1.1 million in cash and pledges. Oberlin's trustees have pledged another $2.5 million.
"I love this initiative," says Trustee Victor Hymes '79, who knows something about the challenges students face in paying for their education. "Most of these students would have been up to their eyes in debt and down to their last hundred dollars. That takes away your freedom. This program levels the playing field. It lets them dream. It enables them to leave college and go into whatever field is their passion."
Robert Lemle '75, chair of Oberlin's Board of Trustees, agrees. "This commitment honors our history while helping Oberlin compete with other top-tier schools," he says. "Our Pell-eligible students are the most price sensitive of all, and our ability to enroll them requires us to provide as competitive a financial aid package as we can."
Loans vs. Grants
While Oberlin has eliminated loans for students with the greatest financial need, for many families with higher incomes, student loans are still necessary when it comes to paying college costs. Many colleges cannot afford to eliminate loan requirements for all their students. And some experts worry that eliminating loans entirely risks turning higher education into an entitlement, or could cause affluent parents to think they don't need to save for college.
Even if Oberlin could afford to eliminate loans for middle-income students, does it make sense to do so? For many colleges in this era of increased public scrutiny, the answer is yes. The Project on Student Debt, a national initiative to increase public understanding of the complexities of funding a college education, lists 33 private colleges that have pledged to eliminate at least some student loans. The list includes most of the nation's wealthiest colleges: all eight Ivy League schools, Stanford, M.I.T, and liberal arts colleges such as Amherst, Williams, and Swarthmore. Many, like Oberlin, have pledged to do away with loans only for students below a certain family income level, but more than half have no income limitations on their loan-replacement programs.
Some higher education experts, however, aren't so sure that eliminating loans for all students is the best answer to the question of affordability. On its web site, the Project on Student Debt acknowledges that "loans play a crucial role in making college possible." Robert Zemsky, one of the nation's leading authorities on higher education policy, worries about the impact of loan-elimination programs on less-well-endowed colleges that can't compete without "doing visible damage to the quality of the educations they provide."
Some have even asked whether eliminating loans is good for the students themselves. "[W]e've made debt a four-letter word," Tufts University Dean of Admissions Lee Coffin told the Boston Globe in December. "I wonder what it will do to a generation that will go to college without any personal sacrifice."
Oberlin's policy has been to include loans as part of the financial-aid mix, but to limit the amount of debt any student takes on to an average of $4,300 per year, or $16,900 over four years. Though the College acknowledges that that level of debt can pose too heavy a burden for students from families at the lowest income levels—a problem the Access Initiative is designed to fix —it maintains that for most students, a certain amount of debt is manageable and reasonable.
College Endowments Under
the Microscope
For the Senate Finance Committee, the issue of financial aid is tied to the issue of endowment spending. It is no coincidence that the committee chose to look more closely at colleges' financial data on the heels of a fiscal year that saw the largest returns on endowment investments in nearly a decade. College endowments grew on average by a whopping 17.2 percent in fiscal year 2007. Yale's endowment growth topped the national list with a 28 percent increase, followed by Notre Dame's 27 percent. Oberlin's endowment performance was also strong, with a total return of over 22 percent, above the mean for leading colleges and universities. But making it unlikely colleges will replicate those gains again this year.
Colleges use their endowments to achieve two goals: to pay for immediate needs and to provide long-term financial stability. To address immediate needs, they set what's called a spending rate, a percentage of the endowment growth that will be spent to cover a portion of a given year's operating expenses. A billion-dollar endowment, for example, with a 5 percent spending rate, would provide $50 million to the operating budget. Any interest gained beyond that 5 percent would be reinvested to help the endowment grow. Oberlin currently has a $766 million endowment and a spending rate (calculated on a 36-month weighted market-value average) of just under 5.7 percent, a rate it hopes to lower to around 5 percent going forward. The average spending rate for all U.S. college endowments in 2007 was 4.6 percent, the lowest since 1999.
A proposal that has been gaining traction among senators is to force colleges to follow the lead of private philanthropic foundations, which are required by law to spend at least 5 percent of their assets each year in support of charitable causes. But higher education advocates point out that colleges and private foundations are very different creatures. Foundations exist to give away money, not to educate students. Their infrastructure and staff size tend to be very modest, while colleges must support faculty, administrators, science labs, libraries, residence halls, athletic facilities, and, in Oberlin's case, a world-class Conservatory of Music and an internationally renowned art museum. Colleges' support for those entities has to be ongoing and stable—it can't fluctuate with rising or falling stock markets.
The senators are right, however, in their view that endowment size has a lot to do with a college's ability to provide financial aid. Of the 33 private colleges that have pledged to replace student loans with grants, all but nine have endowments of $1 billion or more. In fact, the interest earned each year by Harvard's $35 billion endowment exceeds the entire endowments of all but a handful of colleges and universities.
Size, however, is not what matters most when measuring an endowment's financial impact. Because student enrollment varies widely among colleges, a more useful measure of an endowment's power is endowment per student. Oberlin's endowment is the 57th largest among U.S. private colleges and universities, but ranks 69th in endowment per student. Of the private colleges that have eliminated loans, just two have less endowment per student than Oberlin.
Is Oberlin Rich?
After all the federal commissions, endowment analyses, and aid-policy comparisons, the question remains: Is Oberlin doing all it can do? Given its high academic standards, expectations for what the student body should look like, and the many and varied competing demands on its budget—everything from maintaining first-rate programs of study and expanding student services to the rising costs of heating and cooling, employee health insurance, and technology upgrades—should Oberlin do more to ease the financial burden of its students?
"Oberlin is enormously rich in all the ways that matter," says trustee Stewart Kohl '77. "We're rich in the quality of the student body, the faculty, the values and culture, the history and tradition. The challenge is that we're not rich in financial assets relative to our aspirations."
Those aspirations include what Kohl calls an "ethos of accessibility" that aims to bring an Oberlin education within reach of "as many as possible" who meet the criteria for acceptance. There is also a steadfast commitment to academic and artistic excellence, which comes with its own high price tag. "Oberlin's depth and breadth of course offerings are comparable to a small university," says Watts. "We also have a huge library, an outstanding art museum, and one of the best conservatories of music in the country."
"Oberlin has its own alchemy," says Krislov. "But it also has a price, and the price is high. What you get for that price is access to excellence, and it's excellence across the board."
A Call for Support
Given all of the competing demands, a strong case can be made that Oberlin's commitment to student aid is exceptional. But if the price of an Oberlin education is a deterrent to the kind of academically superior students the College needs to attract, that is a problem. If financial concerns are an obstacle to the kind of access the College has been championing since its founding, that is a problem. And if tuition costs are a barrier to campus diversity and the benefits that accrue from it, that also is a problem. Resolving these problems requires money.
"If there were but one thing I could ask you to do for Oberlin, it would be to help provide needy students access to Oberlin's unrivaled combination of academic, artistic, and musical excellence," Krislov said in his State of the College speech during Commencement/Reunion weekend. "Help them have the opportunity to work with the amazing teacher-scholars who fill our faculty. Help them have the opportunity to experience Oberlin's rich, vibrant culture. By doing that, you will help open all our students' minds to ideas, people, and cultures they might never have experienced on their own. Learning to see life from other people's perspectives is the quintessence of an Oberlin education."
Krislov is not asking anything that he hasn't already done himself. His family recently pledged to create an endowed, need-based scholarship fund, and he has invited others to contribute to it. There is much that the College could achieve with respect to access if it had a stronger endowment, he says, such as fully endowing the Oberlin Access Initiative, or forgiving loans for a slightly more affluent segment of the student body, or maybe helping Pell-eligible students enjoy opportunities that other students take for granted, such as studying abroad, taking a low-paying internship, or even just flying home for spring break.
Krislov came to Oberlin with a stellar track record of expanding access to higher education. As general counsel at the University of Michigan, he led a successful defense before the U.S. Supreme Court of the university's right to use affirmative action in admissions decisions. At Oberlin, he advocates growing the endowment to open wider the doors of access.
"It's important for us to have diversity on campus so that our students can learn from each other and open their minds to really different perspectives," says Professor MacKay, who goes on to describe an Oberlin ideal—a vibrant multiracial, multiethnic, multinational student body full of the best and brightest from rich families, poor families, and all families in between. "That's the mix we've got to have to do the job that Oberlin has to do. Not every college has that ambition."
Paying it Forward
It didn't take Oberlin Trustee Victor Hymes '79 long to learn the value of working for what you want.
At the age of 13, when his East Palo Alto, California, school dropped music from the curriculum, Hymes moved in with friends of his parents seven miles away in decidedly more affluent Palo Alto so he could attend a school with a robust music program.
He was expected to pay the family $65 a month and to pay for special voice and piano lessons, and he had a paper route to help him cover the expenses. Every morning he would get up around 3:30 to fold and deliver 287 copies of the San Francisco Chronicle —the number is engraved in his memory—finishing around 6:15, which gave him just enough time to get to orchestra practice at 7:30. When his father died a year later, he took a second job as a hotel bellman and delivered pizza on weekends to help support his family.
Hymes brought that work ethic with him to Oberlin. As a Conservatory student in the mid-1970s he worked two jobs—in the dining hall and with campus security—to make ends meet.
At home in the summers he worked 8 to 4 at a pharmaceutical company, grabbed a couple of hours' sleep, and then worked the graveyard shift at Hewlett Packard, finishing just in time to start the routine all over again. And though he's justifiably proud of these efforts, when asked what made his college education financially feasible, he credits Oberlin.
"Oberlin's entire financial aid platform is what made it work," says Hymes, who received substantial scholarship and loan support in addition to his campus jobs. "That essentially made all of it possible."
In 2004 Hymes and his wife created the endowed Victor '79 and Kathy Hymes Scholarship, which is one of the ways he's working to repay the favor.
Richard Bader is a writer in Baltimore.