Think Differently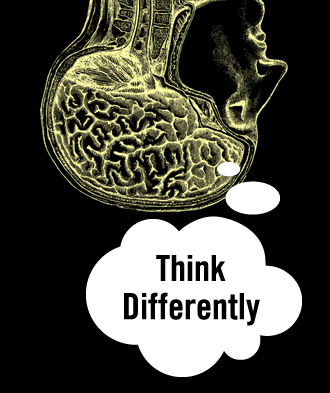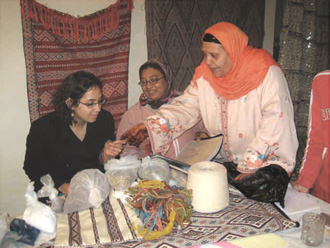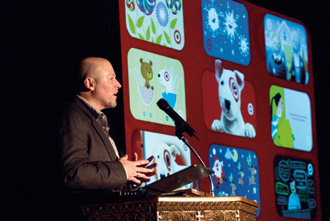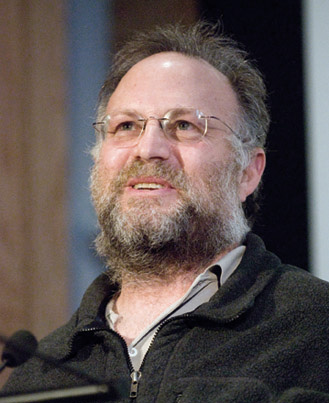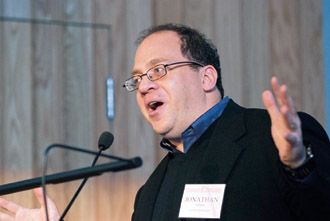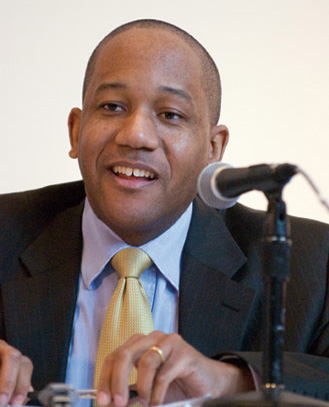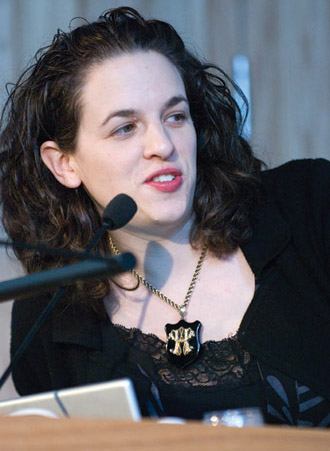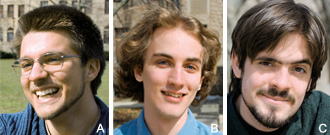 Oberlin's Creativity & Leadership project links brilliant ideas with the tools of entrepreneurship.
The capital city of Rabat, Morocco, hums with the usual complexities of society, commerce, and culture. Tourists scout the local bazaars for all sorts of handmade goods, including rugs, exquisitely made, that support female artisans in rural villages—but at prices that mostly benefit the middlemen.
Alia Kate '08 met those rug merchants while working for a non-profit organization during a semester abroad. Fascinated by the rug-buying exchange (browsing rugs and negotiating prices can take hours as buyers handle the fabrics, drink tea with the merchants, and discuss the history of the patterns), she repeatedly asked questions about the rugs' production, questions that the merchants couldn't answer. After talking with the villagers herself, she wondered something else: why couldn't the weavers keep more of the money made from their work?
Kate returned to Oberlin in the fall of 2007 convinced that the right business plan could benefit the Moroccan weavers, but she had neither the guidance nor start-up money to move forward.
Then a professor pointed her toward a new initiative at Oberlin aimed at two things: encouraging students to try their ideas, and connecting them with the resources to put their plans into action.
Launched by a $1.1 million grant from the Burton D. Morgan and Ewing Marion Kauffman foundations in 2006, Oberlin's new Creativity & Leadership project puts together an interdisciplinary toolbox of funding opportunities, classes, symposia, and alumni expertise—all in an effort to support student ventures. At Oberlin, entrepreneurship is seen as a way of connecting academic pursuits, passion, social concerns, and business in ways that bring about positive change.
It's been a perfect fit for Kate. And it's proving to be a perfect fit for Oberlin.
Shifting Definitions
Kicking off a two-day entrepreneurship symposium in February designed to celebrate the launch of the Creativity & Leadership project, Jerry Greenfield '73, co-founder of Ben and Jerry's Homemade, was asked what at Oberlin had prepped him to blend a successful business with social and environmental stewardship.
"Nothing specific," he replied. "It was more the atmosphere of social activism, breaking rules, not paying attention to conventional thinking, and not having to do things the way they have always been done."
That attitude extends beyond Oberlin. Nonprofits are adopting more and more of the practices of their for-profit colleagues. Businesses, meanwhile, have seen the benefits—and necessity —of adding social missions to their bottom lines. "Think differently" is just as often a rallying cry outside of academia as it is inside, as enterprises of all stripes constantly re-tool.
"The pace of change is relentless, so much so that change is the only constant," said symposium speaker Michael Alexin '79, vice president of softlines product design and development at Target Corporation. The corporate climate faces new challenges in a world that is more interconnected, well-informed, and -concerned with social justice and the environment, he added. "Companies need to adapt or go the way of the horse and buggy."
More relevant for Oberlin, many of today's students are less hung up on classic job definitions. Career choices are less about selecting among business, non-profit, or governmental work, and more about the job's outcome: that is, how many people will a particular organization help?
"We want Oberlin students to know that whatever they want to do is possible, that we value it, and that they should prepare themselves to do it very well," says Andrea Kalyn, associate dean of the Conservatory of Music and director of the Creativity & Leadership (C&L) project. That means applying the liberal-arts attitude to missions that once seemed disparate—like marketing ice cream while looking out for the environment, or maximizing profits for rural weavers.
Still, getting Oberlin students to plunge into a pool marked "entrepreneurship" can be a tough sell. The solution? "We let the students drive the process," says Kalyn. Since every idea, every project, and every scholar is different, providing a mix of structured classes, funding opportunities, and regular exposure to professionals in the field—oftentimes alumni—lets students find their own way to meet their unique needs.
"Historically, entrepreneurship has been the purview of business schools," Kalyn adds. "Oberlin is pushing the break with tradition a little further. Our project is premised on the recognition of Oberlin students as inherently entrepreneurial. The role of the Creativity & Leadership project is simply to facilitate and expedite the realization of that entrepreneurial spirit."
Kate's experience is illustrative. Before Morocco, she had developed skills and interests from classes and activities of her own choosing. Her exploratory drive then took her to northern Africa for two semesters. Back at Oberlin for her senior year, she took a C&L class focused on entrepreneurship in a liberal arts context, ethics, and planning and forming partnerships. Kate's vision was now crystallizing. Perhaps she could bring the bazaar experience to America, both to sell rugs and promote a sort of cultural exchange. Structuring the business in a different way could maximize payment to the weavers. Planning it correctly would keep the business sustainable.
Armed with more knowledge—and confidence that her goals were achievable—Kate applied for and landed a small C&L travel grant. She returned to Morocco during winter term to establish supply chains and handle logistics. But due to her project's large scale, she needed one more push, which came from Oberlin in April in the form of a competitive, panel-reviewed, $20,000 fellowship.
"C&L gave me the tools and more of the capability to take my raw ideas and channel them into something more productive," says Kate. Her business, Kantara Crafts, may have gotten off the ground without the support from Oberlin, she says, but probably not for years, and on a much smaller scale. Instead, the May 2008 graduate is mulling over new-business issues such as pricing, marketing, and billing.
"Strategizing takes a little more energy and creativity," says Kate. "I'm already thinking of ways to make this a more sustainable production," such as building in a co-op experience for college students who can travel to Morocco and learn the local culture while helping to run the business and lower labor costs.
Student-run ventures such as Kate's can take on many forms. Consider Nat Gelb '08, who earned an $8,000 C&L fellowship to turn his passion for music into a traveling summer camp program dubbed Rockstarz Clinic.
"Most kids don't dream of being in the New York Philharmonic; they dream of being rock stars," says Gelb. By taking experienced teachers, including recent graduates from the Conservatory, to summer camps across the country, where campers can play music, learn recording techniques, and develop skills such as learning to work together in a band, Gelb aims to spark in kids a lifelong interest in music. "Music promotes creative expression and discipline, yet it is also very social and serves as an excellent platform upon which to build friendships," he says. "Too many kids never get to experience these benefits."
The Power of a Network
From inventor Charles Martin Hall to Broadway and film director Julie Taymor, Oberlin alumni have successfully carried out the ventures they began in college. And while bright ideas are continually hatched in dorm rooms and dining halls, they seldom advance in a vacuum. Today's rising stars, like the Oberlin students before them, benefit from a world-class faculty and an ever-broadening alumni family.
Take Skritter, the brainchild of George Saines '08, Nick Winter '08, and Scott Erickson '09. The trio is creating software that helps Chinese-language students learn the visually intensive language by writing it out. Users will get instant feedback on accuracy. The program will keep track of the characters a user knows, and suggest new ones for study. The Skritter approach will supplement classroom learning. It's faster and more flexible than workbooks and is far more engaging than selecting preset options from computer screens.
The students—whose combined majors range from computer science and East Asian studies to mathematics, economics, and even cinema studies—took months to convince one another that creating and marketing this type of software wasn't just some crazy idea. This left them a long way from a functional product, however, and farther yet from a sales plan. Saines and Winter picked the brains of their professors, as well as staff in the language programs. Ideas bounced back and forth about technical feasibility, marketability, and more. They were met with constructive criticism, yet also plenty of encouragement.
Feeling ready to proceed technically, the trio next need ed to confront their business inexperience. Efforts by C&L staffers to connect them with alumni entrepreneurs were crucial. "Alumni have been extraordinarily generous with their time and expertise," says Saines. "We e-mailed a quick question about market research, and an alum called us back in under 10 minutes with good advice. Another gave us an hour of his time to go over our business plan and talk about financing strategies."
The end result was a $30,000 Creativity & Leadership fellowship to develop and launch the Chinese Language Software Company.
"I see the C&L effort as the beginning of a whole new outlook and direction for Oberlin," says Skritter mentor Jon Merril '84, co-founder of Astute Technology. "Oberlin is a great place to be when you're very serious about studying, but it can also be isolated from mainstream advances. This program can change that equation by helping to facilitate the network and the advantages of the school."
Lauren Abendschein '07, assistant director for entrepreneurship in the Career Services office, talks almost daily with alumni about C&L. The feedback is consistently positive, she says. "People are willing to be mentors; they're always excited about coming to talk and share ideas."
Kalyn concurs. "One of the most important elements of this program is providing students with diverse models, and we're lucky because we have many such models among our alumni."
One of those models is Melanie Lenhard Hedler '70. A former New York City real estate developer, Hedler returned to Lorain County in the 1990s and began developing and marketing products that promote green energy and sustainable agriculture. Since January, she has been mentoring six entrepreneurship scholars—"the most gratifying experience I've had in a long time.
"During my first meeting with the students, I put my hardhat on the table and said, 'this is where my Oberlin degree led me,'" she says. "Then I simply told them my story about my life in corporate America and in Ohio owning my own business. It's been a privilege to work with these kids who have such a great appetite for knowledge of the world outside academia."
Alumni provide a key boost to eager students, adds Merril, and with a shorter time commitment than one might think. "When students are receptive and ready to embark on a new enterprise, a simple e-mail and an occasional phone call can make all the difference."
Entrepreneurship may be the driving concept of the Creativity & Leadership Program, but what's equally important is that students steer themselves. "We want to create processes and structures that allow for students to develop their ventures, but we don't want to get in their way," says project director and Conservatory Associate Dean Andrea Kalyn. C&L offers varied opportunities for students to tap into campus resources:
Funding
Graduating seniors — working individually or in teams — can apply for up to $30,000 in seed money to launch their ventures through the C&L Fellowship program. Students must present a complete business plan and propose it to a panel of faculty, staff, alumni, and northeast Ohio entrepreneurs.
Grants of up to $6,000 help Conservatory and double-degree students fund innovative winter-term projects related to their professional development. Through this program, known as CIGSIE (Conservatory Initiative Grants Supporting Imagination and Excellence), students have recorded CDs, planned and carried out concert tours, and explored aspects of musical creation and performance.
Creativity Fund grants of up to $1,500 are ideal for students in the early stages of developing an entrepreneurial idea. Grants are open to students of all class years and majors.
Students who take on no-pay or low-pay internships can apply for internship stipends to help cover living expenses. Internship placements this summer include the Baryshnikov Arts Center and the environmental building supply company Green Depot.
Coursework
An Introduction to Entrepreneurship draws on guest speakers and case studies to inspire students to identify their own entrepreneurial aspirations and to think about the issues involved in creating and running a venture. Musicians have additional specialized options: one class in the Conservatory tackles the logistical and business sides of touring, while another teaches the nuts-and-bolts of establishing a freelance artistic career. Courses on grant writing and laun ching a venture will be introduced this fall.
Entrepreneurship Series
An expansion of Oberlin's popular Business Scholars Program, the newly renamed Oberlin Connect program now offers a separate track for would-be entrepreneurs. This intensive, multi-city, winter-term project matches Entrepreneurship Scholars with alumni in business and other fields who have started their own ventures.
Guest Speakers and Workshops
Open to the Oberlin community are guest lectures given by entrepreneurs in all fields, including the arts, business, healthcare, environmental sustainability, and more. Workshop topics include grant writing and business plan development.
Just Try Something
At first, ice cream magnates Ben Cohen and Jerry Greenfield had no manual for how companies could be environmentally friendly, nor how to structure a partnership with a local bakery to benefit both corporation and community. "We had no idea how to mix social ideals with business," says Greenfield. "So we just started trying different things."
Such willingness to take risks and learn, adapt, and try again is increasingly valued in the corporate world, says Target's Alexin. "Forward-looking businesses are realizing the competitive advantage that comes from hiring creative, imaginative, articulate people," he says. "It is easier to train someone how to use a business formula than how to think critically."
The strength of a project-centered program like C&L is its flexibility and inclusiveness. All projects, big and small, are given consideration, be they non-profit ventures; full-scale, commercial enterprises; or early attempts to "just try something."
Creativity Fund Grants—small awards of up to $1,500—help students experiment and engage with their interests, perhaps turning ideas into something more concrete.
Elisa Saltet, for example, graduated in 2007 with an environmental studies degree, extensive studies in the Conservatory as a cellist, and plans for graduate school. Her real goal, though, was to own a landscape architecture practice. "I needed experience running a business, especially understanding the nuances of leading a planning firm," she says. An Entrepreneurship Internship allowed Elisa to take an unpaid internship with noted landscape artist Walter Cudnohufsky, who offered the mix of mentoring and hands-on experience she'll need to break out on her own.
"We know that Oberlin students are dripping with ideas," says Kalyn. "We're offering the chance to put those ideas into action. At the same time, we're giving them opportunities to build skills and make connections that will help them in whatever they do after Oberlin."
Conservatory senior Scott Chowning '08 used a Conservatory Initiative Grant to explore making music in nontraditional spaces—specifically in the ledges and caves of Hocking Hills, Ohio. By pairing instruments with computer-based tools, he and Evan Adams '09 were able to study changes in reverberation and echoes within a variety of spaces. The project, Chowning said, helped them gain skills "to produce future installations and performances within nontraditional spaces and further our careers as electro-acoustic musicians."
On campus, Clara Brasseur '08 and Amy Caes '08 curated an art exhibit in April illustrating how artists use self-representations as a way of exploring transmasculine identities. By winning a small Creativity Fund Grant and a PoGo Family Foundation Grant, the pair was able to add an extra component—a catalogue that can be accessed outside of Oberlin. "The catalogue was a crucial aspect of the project," says Brasseur. "Because while exhibits have displayed self-representations by trans artists, there is little circulated documentation of these showings."
Cher-Wenn Dewitt '10 says a C&L Internship Stipend ultimately helped frame her career goal: to create an NGO to improve health infrastructures in underdeveloped countries. She plans to spend the 2008-09 school year in Kenya, where she volunteered with a medical relief group during winter term. It's an idea sparked by her work last summer with a disaster relief non-profit in New York—funded by the C&L stipend. "Realizing I had the organizational capacities to pursue a plan like this was something I had never thought about before the grant," she says.
So What is Going On?
Innovation and self-reliance have been part of Oberlin's tradition since settler Peter Pinder Pease began clearing land more than 175 years ago. Today, the City of Oberlin boasts no fewer than six alumni-run businesses, and throughout the country, Oberlin-degreed entrepreneurs abound in business, health care, the arts, the environment, and more.
"What we keep hearing from the many creative entrepreneurs Oberlin has produced is that the ability to take risks, to be imaginative, and to think across interdisciplinary boundaries is essential to being a successful entrepreneur," says Oberlin President Marvin Krislov. "That's why this program is such a great fit for Oberlin. Our students are not afraid to take intellectual risks, pursue bold ideas, or think beyond the confines of academic disciplines. They are very creative, intensely curious, and willing to travel all over the world in pursuit of knowledge."
"What is your brilliant idea?" reads a poster that Abendschein displays while promoting C&L to students in April. The ideas roll in: a community music session in Tappan Square that encourages the use of clotheslines instead of dryers, an environmental program for a student's former middle school, and a brewing cooperative that uses locally grown barley and hops, and whose beer sales support social causes.
"Entrepreneurship has always been one of the defining features of Oberlin students," says Associate Professor and Chair of Environmental Studies John Petersen. "Our students do not accept the status quo. They are risk takers in the most positive sense, and they create ideas, organizations, institutions, and movements where none previously existed."
Aaron Mucculio is a freelance writer and web designer in Oberlin.
For much more about the Creativity & Leadership project at Oberlin, including a video featuring Greenfield, Alexin, Merril, and others, visit www.oberlin.edu/creativity.
Interested in becoming an internship host, donor, or mentor? Contact creativity@oberlin. edu to learn more.