Alumni Notes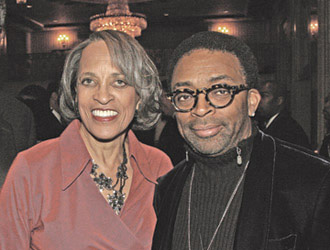 Johnnetta Betsch Cole '57 (pictured with filmmaker Spike Lee)
Higher Education Trailblazer
Higher education trailblazer Johnnetta Betsch Cole '57 (pictured with filmmaker Spike Lee) was honored with the Jackie Robinson Foundation's ROBIE Humanitarianism Award in March during a star-studded gala in New York. The award is the foundation's highest tribute to an individual who has worked to promote equal opportunity and social justice in the spirit of Jackie Robinson. Johnnetta is the president emerita of both Bennett College for Women and Spelman College.
Mastering Ceremony
During Memorial Day weekend, I participated in the 175th anniversary Commencement/Reunion celebration at Oberlin. No, this was not my 175th reunion, but Oberlin's. Although more alumni attended their class/cluster reunions in May 2008 than in any previous weekend, I attended not for my class reunion—that will occur in 2010—but for ceremonial functions as Alumni Association president.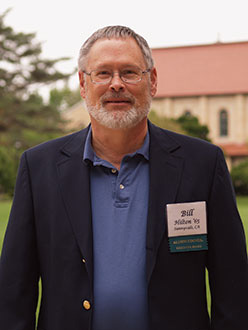 Participating in ceremonies does not seem much like Oberlin, nor is it my preferred kind of activity. It was, however, pretty "cool" (as this year's graduates might say), to have dinner at the president's house on which I had marched during my student years. It was cool to stand briefly on the stage in Finney Chapel to introduce President Krislov, a venue in which many fellow students had performed but which I had experienced only from the hard wooden pews. It was pretty cool to sit beside Esther Hunt '29 in the "main reading room" of Carnegie Hall for the Half-Century Club dinner. (Somehow 1929 feels so much farther from 1965 than 1965 does from 2008—math never having been my strength.) I trust you see that I enjoyed my weekend at Oberlin.
Weekend weather was glorious this year; not Oberlin glorious, but glorious for, say, coastal California. Thirteen years ago, at my 35th cluster reunion, a tornado warning sounded one evening. We partyers were asked to move to the ground floor of North Hall and stay in the hallway until the warning was cancelled. We did, and to pass the time, spontaneously broke into song, protest songs from the '60s. Blowing' in the Wind took on an entirely new meaning for us that evening.
It rained very hard that evening, but fortunately no tornado touched down in Oberlin. The next morning my wife and I went out to our rental car parked on Union Street, where we found it surrounded by a temporary lake. The water was deep enough to have flooded the foot wells inside the car, where my wife's shoes were floating like a pair of small boats. We bailed, cranked, and eventually drove slowly around the corner to lower water. That weekend the rental car bill seemed like money well spent.
During this year's Commencement, I had the honor of marching in the academic procession and the pleasure of presenting the Alumni Medal to Carl Gerber '58, who has given immeasurably to Oberlin and our Association over the past 50 years.
I urge you to connect virtually with this year's Commencement/Reunion celebration by accessing www.oberlin.edu/commencement. Some of the highlights you'll find there include:
President Krislov's first state-of-the-college address and Commencement remarks
Bios on honorary degree recipients, Carl Gerber, and other awardees
Hundreds of photographs from the weekend
A page on sustainability initiatives during the weekend
I hope these links whet your appetite to attend your next class reunion, whether it will be your fifth, 25th, 50th, or another. I'm confident that you'll have a good time. I also believe you will learn something about present-day Oberlin, about future alumni, and likely about yourself.
Bill Hilton '65
President, Oberlin Alumni Association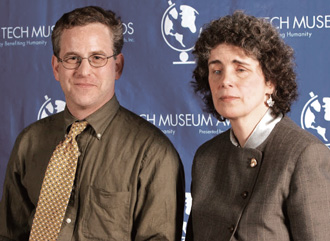 Honored for Their Work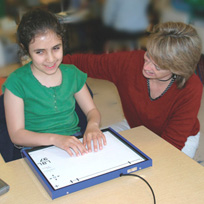 Honored for their work together in the field of assistive technology were Karen Luxton Gourgey '69 and Steven Landau '82. Both received the first Louis Braille Touch of Genius Award from National Braille Press for their award-winning Talking Tactile Tablet, a computer peripheral device that allows visually impaired people to use graphics by hearing audio descriptions of each component of an image. Karen, who is blind, and Steven, who is sighted, met in the 1990s in New York, where both were working on a series of federal research grants. Karen is director of the Computer Center for Visually Impaired People at Baruch College, CUNY. Steven is founder and president of Touch Graphics, Inc., and an instructor in NYU's Interactive Telecommunications Program. The pair received the $20,000 prize at a ceremony in Boston hosted by Jay Leno. W: www.touchgraphics.com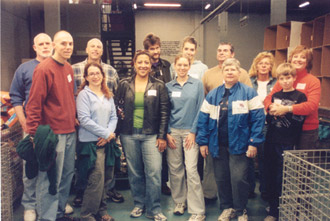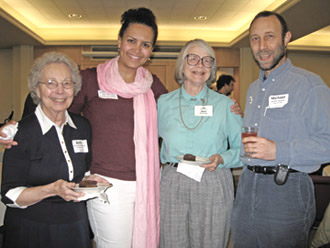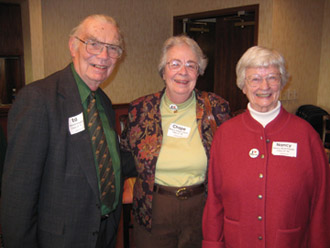 Regional Roundup
What's Happening in Your Region?
Find out at ObieWeb, www.oberlin.edu/alumni/oberlinClubs.
Washington, D.C.
Alumni volunteered at the D.C. Food Bank for their annual spring service project.
Tampa
Local alumni met for a raucous night of bowling, munchies, and camaraderie at Splitsville in early May under the leadership of Jonathan Skinner '84, regional coordinator.
Colorado
25 Oberlinians from the 1930s though the '60s gathered for a mini reunion in March hosted by Nancy Burd Frazier '40. Rachael Hazen '88 gave a brief presentation on her prolific Oberlin memorabilia collection—gathered mostly via eBay! From left: Ed A. Hawley '53, Nancy Chapin Davis '48, and host Nancy Frazier.
Seattle
Professor Harlan Wilson presented a talk to alumni in April entitled "Oberlin: A Sustainable Community?" at the home of Betty and Bill Rennebohm, both '42. From left: Betty, Wanda Benvenutti '94, Jean Durning, and Michael Rossotto '84.
Hoops and Ice III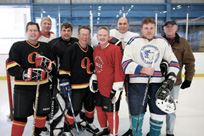 Oberlin's third annual alumni vs. students ice hockey game in March was backdropped by snowstorms, some of the worst in Ohio's recent history. Those who were able to brave the storm and lace up their skates at a sports complex in neighboring Elyria included: Bruce Campbell '66, Chris Browning '67, Cortland Hill '77 (advisor to the club team and event organizer), Bill Pastuszek '73, Louis Weigele '73, Ed Winter '75, Edmond Aghajanian '78, and Talor Walsh '07.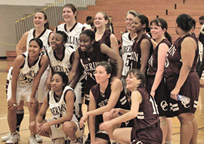 The annual women's alumni basketball game in February brought back former coach Chelsey Bevington Copley, Quintetta Stubblefield '07, Nzinga Broussard '02, Laura Wallerstein '03, Colette Thayer '91, Kelly Lindsley Gobrogge '91, Sonja Spencer '03, and former head coach Christa Champion.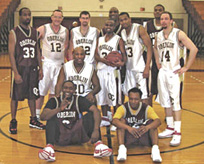 Held that same day was the men's alumni basketball game, which included Julius Hill '04, Adam Shoemaker '96, assistant coach Brett Nichols, Cameron Leverett '04, Miguel Curl '86, James Knight '01, Brian Buchanan '01, Chris Broussard '90, George Smith '87, Alonzo Crowder '03, and Steffon Thomas '03.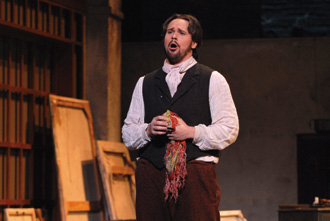 Baritone Edward Parks '06
Baritone Edward Parks '06 was one of five singers to win the Metropolitan Opera National Council Auditions in February and a cash prize of $15,000. He was selected from nine finalists after performing with the Metropolitan Opera Orchestra under the direction of Steven Lord '71. Edward, who studied with Professor of Singing Gerald Crawford, is the fourth Oberlin-trained singer in the last seven years to have won the prestigious Met competition. He studies with Richard Cross in Yale's Master of Music Program. Edward's 2008 plans included auditioning for the Met's Lindemann Young Artist Development Program, performing for a second season with the Orchestra Verdi in Milan, Italy, and participating in the Spoleto Festival and the Music Academy of the West. Edward also took first place in the Opera Columbus Irma M. Cooper International Vocal Competition XXIV, earned the Distinguished Achievement Award from the Oberlin faculty, and won the Dorothy S. Kish Prize for outstanding first-year opera student at Yale.