Around Tappan Square
Obama Selects Krislov
OC President Nominated to Serve on NEH Post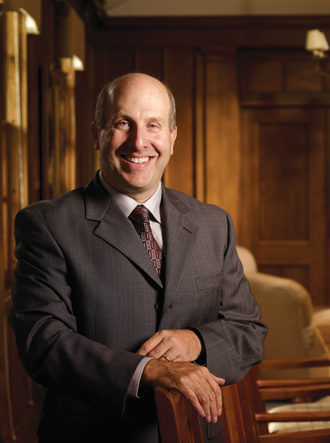 President Barack Obama nominated Oberlin College President Marvin Krislov as a member of the National Council on the Humanities, an advisory panel for the National Endowment for the Humanities (NEH). If appointed, Krislov will continue to serve as president of Oberlin College. Nominations were sent to the Senate for confirmation on July 20. The outcome was not known at press time.
"I am honored to be considered for this post with the National Council on the Humanities," says Krislov. "The work of the NEH is vitally important to current and future generations of Americans."
The 26-member council meets four times a year to review grant applications and advises the chair, who serves as the director of the NEH. An independent grant-making agency of the United States government, the NEH was established by the National Foundation on the Arts and the Humanities Act of 1965 and is dedicated to supporting research, education, preservation, and public programs in the humanities.
See the Oberlin beyond Oberlin section of this magazine to learn about others from the Oberlin community who have joined the Obama administration.
New Summer Theater Festival Reaches beyond Stage
Those who know Tennessee Williams' classic The Glass Menagerie would find the Oberlin Summer Theater Festival (OSTF) version familiar, up to a point. In this production, one of two plays inaugurating the festival's first season, Tom and Laura, the children of the aging, displaced white Southern Belle Amanda Wingfield, are biracial.
Without altering Williams' plot, the cast delivered a production well suited for the OSTF, which has as its mission presenting free, meaningful productions of theater classics to Lorain County and the larger northeastern Ohio community.
Paul Moser, OSTF's founder and artistic director, invited students, alumni, faculty, and veteran actors to perform in its first two productions, The Glass Menagerie and William Shakespeare's The Tempest. Performances took place in June and July and were attended by nearly 4,000 people.
Besides its cultural innovations, Moser's Glass Menagerie used projections and other lighting effects to capture the author's original expressionistic impulse, says Moser.
Working alongside Moser were Oberlin theater professors Justin Emeka '94, who is quickly becoming known for his desire to direct and act in nontraditional roles after directing Avery Brooks '72 last fall in Death of a Salesman, and Matthew Wright, an Equity actor who has worked in regional theaters across the country. This summer, Emeka portrayed Tom in The Glass Menagerie and Wright, Prospero in The Tempest.
Benjamin Stuber '03, a Brooklyn-based dancer, actor, and designer who played Trinculo and Antonio in The Tempest, studied under Moser and Wright during his four years at Oberlin and "was greatly excited to work with them again, especially when I was given such fun, challenging roles to play." After graduating, Stuber was active in the Chicago experimental theater and dance scene for four years, performing with such companies as the Anatomy Collective, Collision, Blushing Poppy, and his own company, One Continuous Mistake.
"Paul has assembled a treasure trove of skilled alumni and talented students, assets without which the festival would never have come to fruition," Stuber says. "The creativity, intelligence, work ethic, and general wherewithal characteristic of Obies has been instrumental in creating two truly entertaining and compelling shows."
Other alumni who took roles and assisted with the festival's production included Ben Sinclair '06, who currently works for the New York-based Current TV; Alexis Macnab '01, a performer and director living in Brooklyn, N.Y.; Aaron Mucciolo '02, director, producer, and lighting designer of several Oberlin productions; Lisa Maley '08, whose work has appeared at the New York International Fringe Festival; and May graduates Mike McGee, Alex Hunstberger, Rebecca Balmer, and Andrew Mooney, who directed Porcelain for Oberlin's first playwrights' festival this past spring. Veteran actress Karen Nelson- Moser also took the stage.
"I chose to return to Oberlin for the festival this summer because of the high quality of talent involved," says Stuber.
In addition to main stage shows, other components to the programming will eventually include a late-night cabaret and a weeklong day camp theater institute for area high school students.
Oberlin Plugged in Once Again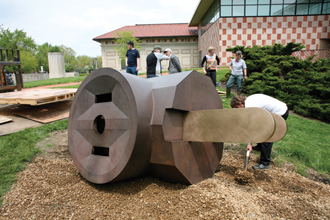 Alumni returning to campus this past year may have noticed Oberlin's beloved landmark, Claes Oldenburg's Giant Three-Way Plug, missing from the side lawn of the Allen Memorial Art Museum. The plug, presented to Oberlin in 1970, was inspected and removed last fall for restoration, and is now back in place.
Constructed of Cor-Ten steel and brass, the plug was first conserved in the early 1980s. Further pitting and corrosion led to its removal for additional treatment at the not-for-profit Intermuseum Conservation Association (ICA) in Cleveland, work made possible by funds from the Challenge America: Reaching Every Community program of the National Endowment for the Arts and by Oberlin alumna Ellen E. Uhrbrock '51.
"Upon inspection we noticed some blue-green color corrosion on the prongs and corrosion where the brass prongs meet the Cor-Ten steel body of the plug. This caused some cracking," explains Mark Erdmann, associate objects conservator at ICA. "It was then determined that the plug needed to be removed to inspect the part that was underground. Here we noticed that severe corrosion had taken place."
Intrigued by the plug's conservation, May graduate Katie Mauck researched the corrosion of Cor-Ten steel under the supervision of Oberlin chemistry professor Katie Oertel and ICA conservator Heather Galloway. In her research Mauck exposed slightly weathered Cor-Ten samples to a wet environment over several months and tracked the rate of corrosion. Mauck presented her research to the Oberlin community when the plug was reinstalled.
The sculpture, Oldenburg's first commissioned public work, paved the way for other large-scale public monuments for which he is renowned today.
During the 1970 installation at Oberlin, Oldenburg stated that he wanted the plug to seem to have fallen out of the sky, "like an acorn or an apple or a piece of Russian satellite or a meteor." The object's connection with the ground is also important: "One of the central thoughts about the piece is that it's a mechanical object in a very organic setting—a mechanical object behaving like something natural," he said. Originally situated on the south lawn of the museum, the plug was moved to its present location during renovations to the Venturi addition in 1976.
Slow Food Beats Fast Food,
Says Student Group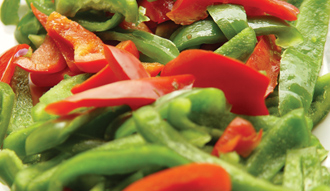 Slow Food is all about being in touch with your food, says junior Tyler Robinson. "So much of the typical American diet is filled with processed foods and snacks masquerading as smart choices. Low in carbs and calories perhaps, but damaging to the environment, and overly processed."
Started in Italy more than two decades ago out of resistance to the opening of a fast food restaurant in Rome, Slow Food promotes "good, clean, and fair food" by emphasizing the value of organic, locally produced fare. The organization has charters in more than 122 countries.
"We want to work with local food endeavors that are already in place, while getting some new ones started," says Amanda Tobin, a junior who, with Robinson, founded a Slow Food chapter at Oberlin. Such endeavors include holding instructional workshops (from bread baking to cheese-making), starting an organic garden at nearby Murray Ridge Center (a vocational facility for adults with disabilities), and regularly sending people to work at George Jones Farm, which serves as a model for organic food production.
Educating the Oberlin community is the group's priority, says Robinson. "Our ideology extends to the fact that as consumers, we often don't know where our food comes from. Our program advocates a deeper understanding of the nature of food production."
The organization's philosophy is also consistent with much of the ideology already circulating on campus. "Slow Food loves co-ops!" says Robinson. "But we also understand that the co-op atmosphere isn't for everyone. And that's why we hope to extend the underlying themes of food responsibility to people who don't have that level of control over what they eat."
Tobin says the group plans to work with Campus Dining Services and its food services company, Bon Appétit, which has been increasing the number of local products they use.
"We want to spread the idea that you don't have to give up everything and change your diet completely," she says. "Slow Food starts in small steps. For instance, buy tomatoes from the local farmer's market instead of ones that have been shipped from California."
Robinson agrees. "We aren't Luddites and we also don't boycott M&Ms. Our aim is to educate our peers about ways they can make healthy choices that will benefit not only their physical well-being, but also their taste buds and the environment."
Program Gives Young Students InSITES to Spanish
Twice a week this past spring, Harmony Pringle '11 made her way to fourth-grade classrooms in Oberlin's Prospect Elementary School. Bringing Spanish language flashcards with her, Pringle and her colleague, both instructors in the Spanish in the Elementary Schools (SITES) program, would spend the next 30 minutes teaching Spanish language and culture to about 20 9-year-olds.
"It's a joy just to see kids get excited about learning foreign languages," says Pringle.
In 2005, 16 student volunteers from the college began team-teaching Spanish to children in eight kindergarten and third-grade classrooms. The overwhelmingly positive response prompted Oberlin schools superintendent Geoff Andrews to request that the program be expanded into all classrooms at Eastwood and Prospect elementary schools—involving more than 500 students. SITES, now financed primarily by the college, also received more than $8,000 from the 2007 and 2008 Oberlin College graduating classes.
SITES has also contributed to the Oberlin Public School's ability to adopt the International Baccalaureate program (an international educational program for children ages 3-19) in 2008 by fulfilling its requirement for early language instruction.
"SITES encourages students to develop an interest in foreign languages and cultures from a young age," says Kim Faber, the program's founder and Oberlin College Hispanic studies instructor. To make sure student tutors are up to the task of teaching, they must take a language teaching-training course taught by Faber, which introduces them to the theoretical and practical aspects of language instruction. This type of training and classroom exposure has lead numerous SITES instructors to pursue careers in education after graduating from Oberlin.
"I feel grateful to have had the opportunity to get real, unfiltered classroom experience as an undergraduate," says Jonah Kaplan-Woolner '09, a three-year SITES instructor. "Many young people who want to teach have to go to grad school before they ever get in the classroom."
SITES is also making a difference beyond the confines of the classroom. This past spring the program co-sponsored Oberlin's first World Language and Culture Festival. Events included performances by college students, samples of food from around the globe, and a repainting of the world map mural on Prospect's blacktop. With more than 600 attendees at the festival, including college students, children, and parents, SITES proved to be a welcome connection between town and gown.
"The kids have been turned on to the world beyond Oberlin," adds Kaplan-Woolner. "They have seen that Spanish can be a tool to access that world."
Oberlin's Tom Reid Coaches a Rising Bowling Star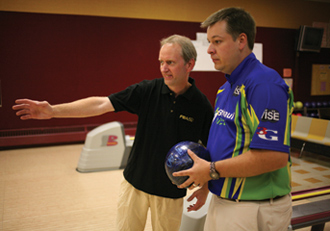 Many Obies know that Tom Reid manages the Oberlin College Lanes and teaches bowling classes. What they may not know is that he also coaches one of the top professional bowlers in the world: Chris Loschetter. A 28-year-old Ohio resident, Loschetter has been bowling regularly at College Lanes for the past five years and has won nearly $320,000 from Professional Bowling Association tournament play.
"I didn't want to go to college," says Reid. "I just wanted to bowl." His parents had other ideas. They pushed Reid out of the nest and into Oberlin, where he has stayed since graduating from the college in 1980. "Now there's no place I'd rather live and work," he says.
It all worked out for Loschetter, as well.
Reid met Loschetter through Erin Loschetter when she and Chris were dating. Reid had coached Erin, an Oberlin native and a skilled bowler in her own right, when she was on the College Lanes' youth league.
"Working with Chris has helped me develop confidence in my coaching instincts," Reid says. "There were times early on when I felt a little intimidated about making suggestions to someone already bowling at a higher level than I ever had, but many of my hunches turned out to be helpful suggestions."
In return, Loschetter says Reid's particular coaching style is what makes him so easy to work with. "A lot of coaches think it's their way or the highway. Tom's not like that," he says. "He's very open-minded. Tom Reid is not really very well known in the bowling world, but to me he's one of the top five coaches in the world. He is one of the main reasons that I even went on tour."
Throughout the years, Reid has worked to bolster Loschetter's physical game, giving him pointers on his swing, foot positioning, strategy, his mental game, and even his self-image. "I went through a lot of struggles with confidence," he says.
That's an area Reid understands.
"Teaching is the hardest thing I do," Reid says, "because it requires constant vigilance and analysis. It's very rewarding to see folks improve their skills and, thus, their self-image."
Their teamwork continues to pay off. Loschetter powered through his rough patch to qualify eighth last season in the PBA's World Point Rankings. Now his sights are set on first place and his first title. And while Reid is cheering on Loschetter, he's also thrilled by the learning opportunity for his Oberlin bowling students.
"What better role model could they have than one of the top touring professionals right here in their midst?" says Reid. "Chris is always open to students' questions. And it's so cool that there are Oberlin alumni all over the globe who turn on ESPN when he's on and say, 'I know that guy.'"
May Graduates Win Three
Creativity Project Grants
Oberlin's Creativity & Leadership Project awarded $60,000 to three 2009-10 initiatives. May graduate Mike Fry, awarded $28,000, plans to develop One World, One Rope, a global instructional jump rope program designed to foster leadership and physical fitness in school-aged children. May graduates David Midler and Noah Goldman received a $20,000 grant to develop SpinItIn, a hip tennis apparel company designed to bring "street cred" to the sport with unique clothing and gear. The project awarded $12,000 to May graduate Sara Krugman who, along with 2008 graduates Jolie Signorile and Gabriel Cohen, and assisted on campus by senior Asa Ivry-Block, will develop the Bread & Butter Collective, a printmaking group dedicated to earning their daily bread while creating a space to enjoy life's butter: community, progressive change, and creative process.
Read more at www.oberlin.edu.
Toni Morrison Dedicates
a Bench by the Road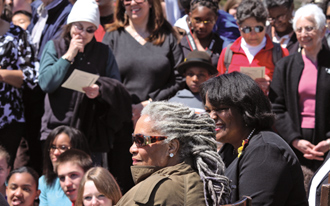 A couple hundred children and adults joined acclaimed novelist, professor, Nobel laureate, and Lorain native Toni Morrison on a patch of grass at the corner of North Main and Lorain streets in Oberlin on April 23 to dedicate the second of 20 benches that will commemorate the country's legacy of slavery. The placement of benches to memorialize the journey from slavery to freedom grew out of Morrison's 1989 observation that there was "no suitable memorial or plaque or wreathe or wall or park or skyscraper lobby. There's no small bench by the road." She said Oberlin is an ideal place because the community represents an understanding of the relationship between blacks and whites. "It wasn't only that the black ex, former, and escaped slaves made their way out with the help of other former slaves, it was that they arrived at a place where white people outraged at slavery were there to offer them succor and hope and to provide them escape. That combination of commitment on the part of Americans is what's significant about Oberlin, Oberlin in particular." Later that evening, thunderous applause greeted Morrison as she delivered the college's final convocation lecture of the 2008-09 academic year.
Trayless Effort Not Thankless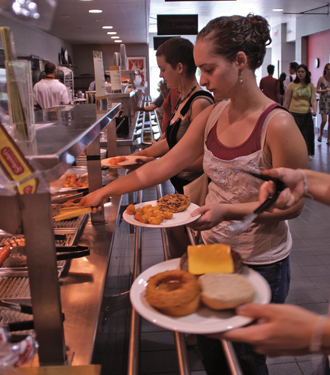 Food trays disappeared from campus dining halls with all-you-can-eat dining options last fall. The new trayless initiative encouraged diners to take only what they could eat, thereby reducing the food wastes that contribute to methane emissions in landfills. Before the trayless initiative, the college reported 230 pounds of postconsumer waste per day, or 5 ounces postconsumer waste per student per day, in Stevenson, the school's largest dining facility. According to a spring 2009 postconsumer food-waste audit the trayless program decreased post-consumer waste to 210 pounds per day, or 4 ounces per student per day at Stevenson alone. The trayless drive also reduced energy and water consumption. Stevenson had previously used about 800 trays and washed them about 1 million times during the school year. It is estimated that 350,000 to 500,000 gallons of water were saved during the academic school year.
—Campus Dining Services
Oberlin Embraces Multifaith Ministry
At a Campus Connections Fair last fall, one table was draped with red tapestry and adorned with images of Christ and various saints, statues of Buddha and Ganesha, a menorah, a Qu'ran, candles, and singing bowls. Students stopping by asked, "Is this new?" Rev. Greg McGonigle, staffing the table, replied, "Not really, but I am."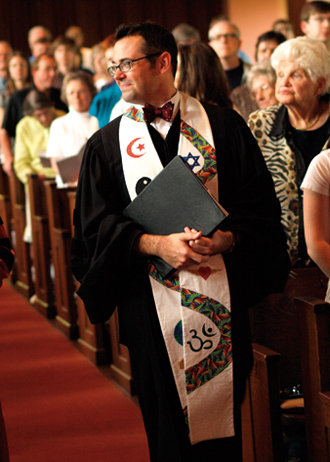 McGonigle joined the college last year as the first director of Oberlin's Office of Religious and Spiritual Life. A graduate of Brown University and Harvard Divinity School, he is an ordained minister in the Unitarian Universalist Association and former associate minister at the University of California, Davis.
While the late Rev. Fred Lassen had coordinated activities of the Office of Religious and Spiritual Life while serving as Protestant chaplain for the campus community until his death in 2007, McGonigle's newly created position gives greater emphasis to supporting all spiritual life and developing multifaith collaborations.
During his first year, McGonigle met with campus religious communities and individuals invested in Oberlin's spiritual life to get a sense of what people wanted and needed from his leadership. Religious diversity has increased dramatically in the United States in the past 20 years, which is reflected in Oberlin's student body, he says. To reflect the spiritual richness of the Oberlin community, McGonigle redesign-ed this year's Commencement/Reunion Baccalaureate Service into a multifaith celebration that featured music, prayers, and readings representing more than six religious traditions.
McGonigle says the Office of Religious and Spiritual Life should promote both spiritual support and religious and spiritual awareness. He views the office as "an oasis of peace in the midst of the storm," and he embraces his role as a counselor and spiritual leader. He also gives great importance to the office's educational role on campus. Oberlin College was one of the first colleges to incorporate the academic study of religion, and McGonigle believes that a critical understanding of religious diversity is "an essential part of a liberal education," especially when "religion plays an increasingly important, sometimes volatile, role in our world."
McGonigle is attempting to build connections with off-campus groups and communities, including some in Cleveland, to create a network of religious and spiritual resources for Oberlin students, faculty, and staff.
His true passion, however, lies in program coordination—giving talks, organizing discussions, and planning trips, often with an ethical or social justice focus. He recently participated in a panel discussion on religion, sexuality, and ecology and is working to foster a student multifaith group on campus. McGonigle recognizes, however, that he can't do it all himself, and that he shouldn't. "The process must be reflective of the goal. And the goal," he adds, "is to bring diverse people together."
Out of the Park, Ballplayers a Hit
in Classrooms
It was Brian Verne, a May graduate and co-captain of Oberlin's baseball team, who first had the idea of getting his teammates involved in the community.
"The athletics department has a lot of great people," Verne says. "By the time I became a senior I thought we could become more immersed in the community. I feel like we had the opportunity to reach out, as well as get the community more involved with Oberlin athletics."
So at the beginning of the 2008-09 school year, Verne met with the principal of Prospect Elementary. What became of their meeting was a program in which nine members of the Oberlin baseball team went into three fifth-grade classrooms four days a week to help students with their academic work.
"Athletes are looked up to by young kids," Verne says, "even Division III athletes. So we were automatically role models while we were there. After a week or two, it got to the point where the kids actually looked forward to us coming, and thus looked forward to doing their work. I worked with one girl who, at first, seemed like she had no desire to learn. After a few weeks she became more comfortable, and was completing assignments in less than an hour. It was very gratifying for both of us."
While Verne thinks athletes in general ought to serve as positive role models, he felt it was particularly critical to do so in the town of Oberlin, where, he says, the schools can seem fairly polarized.
"It is especially important to demonstrate teamwork and cooperation with peers," he says, "something that is inherent in varsity athletics."
In addition to going to the fifth-graders, the athletes also brought the fifth-graders to them. Toward the end of the school year, many of the students attended an Oberlin home baseball game against Hiram, in a show of support for the players who had supported them. The young students were treated to Oberlin baseball t-shirts, but also a victory, as the Yeomen beat Hiram 5-3. After the game, everyone chatted over barbecue.
"It's always important to give back to the community in whatever way possible," Verne says.
Newly Elected Trustees
Three new trustees were elected at the June meeting of the Oberlin College Board of Trustees. An additional trustee was elected by alumni.
Thomas T. Kutzen '76 is founder and president of Alphabridge Capital Management, based in Greenwich, Connecticut, where he manages its fixed-income arbitrage fund. Kutzen has 28 years of experience in the capital markets and in managing banks, portfolios, risk, and product development. He majored in economics at Oberlin and earned an MBA in finance at the University of Chicago Graduate School of Business.
William H. Lewis '90 is cofounder and chief financial officer of the New Jersey-based Aegerion Pharmaceuticals, Inc., a biotech company focusing on the development and commercialization of therapies to treat cardiovascular/metabolic disease. Lewis has been involved in the structuring and financing of companies since 1995, working with JP Morgan, Robertson Stephens, and Wells Fargo Securities. A history major at Oberlin, Lewis earned JD and MBA degrees at Case Western Reserve University.
Emily Nord McClintock '76 is completing a four-year term as president of the board of trustees of the Nord Family Foundation. An art history major at Oberlin, she earn-ed an MFA in the conservation of historic and artistic works at State University College at Oneonta (New York). She has worked in art conservation for numerous institutions, including the Allen Memorial Art Museum, the Boston Museum of Fine Arts, and the Fogg Art Museum at Harvard University. She lives in Cambridge, Massachusetts.
Alumni-elected trustee Amy Chen '79, who began a six-year term on the board in July 2009, is the first chief investment officer at the Smithsonian Institution, the world's largest museum and research complex. She is responsible for the overall investment strategy and management of the institution's $1 billion endowment. A government major at Oberlin, Chen earned an MBA at Cornell University. She worked in film production, distribution, and exhibition and was executive director of Women Make Movies.
In Other Words
"There are never spoilers, unless we are all spoilers of one another. Otherwise you ascribe the word spoiler to a nonmajor party candidate and give that candidate second-class citizenship status. I think it is a contemptuous word."
—Ralph Nader, consumer advocate and politician, in an interview with the Review while on campus to give a lecture.
"I think this generation is going to change everything. I think that it's going to change all the institutions that failed."
—Howard Dean, politician and doctor, in an interview with the Review while on campus to give a lecture.
"I think the only time I've had something get out of control [on my radio show] was when [author] Tom Wolfe's cell phone went off. He answered the phone and started talking while on the air! [My show] is right on the edge. If we goof, it's right there. If we do something wrong, it's right there, and that's the way I like it."
—Diane Rehm, NPR talk show host in an interview with the Review while on campus to give a convocation talk.
OBERLIN GREENS: Grounds for the Ground
Oberlin's coffee grounds helped perk up the crops of the organic George Jones Farm during the 2007-08 academic year. Wilder Hall's DeCafé and the Science Center coffee cart recycled 10 gallons of coffee grounds each week to the 70-acre college-owned farmstead and nature preserve. During 2004, Campus Dining Services began to send 100 pounds of preconsumer waste to the farm each week. In 2006, the Jones farm began vermicomposting, a method that involves feeding the food scraps to red worms. The red worms produce nutrient-rich castings that are sought after by farmers and gardeners alike as a natural fertilizer.
Talking Points
Cleveland Magazine recently named Finney Chapel the top music venue in the Cleveland area on its "eight greatest places to hear live music" list.

Looking for a new way to connect to Oberlin? Join the Oberlin Alumni Fund's Facebook Cause at www.oberlin.edu/giving/ facebook. Created specifically with alumni in mind, this tool helps the Alumni Fund communicate its mission. Thus far the fund's Facebook Cause has recruited more than 400 members, with more alumni joining daily. Sign up and join your Obie friends in supporting scholarship opportunities at Oberlin.
Eliott Borenstein '87 is a Guggenheim Fellowship winner. The New York University professor of Russian and Slavic studies will use his fellowship to support the writing of his book, Apocalyptic Entertainment in Post-Soviet Russia.
The College Swimming Coaches Association of America has named Oberlin's men's and women's swimming and diving teams to its Scholar All-American list. Scott McInerney '09 and Laura Fries '10 earned individual honorable mentions.
Seniors Matt Rubinstein and James Dietz won $1,000 in the 2009 LaunchTown Entrepreneurship Awards for the development of a web-based educational tool, History Tomorrow, which "fuses compelling news narratives with social networking technologies." In late March, Oberlin's Creativity & Leadership Project gave the pair a Creativity Fund award of nearly $2,000 to develop the project.
Professor of Musicology Steven Plank received the Thomas Binkley Award for 2009 in honor of his outstanding achievements in performance and scholarship as director of the Collegium Musicum at Oberlin.
Oberlin Appreciation Day 2009 in April drew more than 220 students to designated "appreciation stations," where they personalized 1,500 postcards, thanking alumni who donated to student financial aid. In addition, the student calling center made about 2,000 thank-you calls to Oberlin's generous donors. Nearly 13,000 alumni helped contribute more than $43 million in financial aid given in 2008, up from the nearly 12,000 alumni who helped Oberlin award $41 million in aid in 2007. To thank them, students penned more than 1,000 personal notes of appreciation.

Read more at www.oberlin.edu.