Oberlin
Beyond Oberlin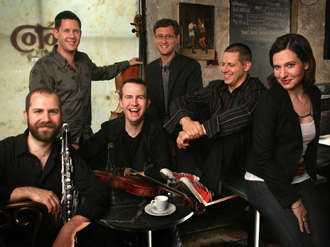 Dis Shows Respect
In the topsy-turvy, satirical world of The Colbert Report, being lampooned is often a sort of commendation. Host Stephen Colbert, whose character is a parody of conservative talking heads, recently took aim at composer Steve Reich, and with him the Oberlin Contemporary Music Ensemble (CME) and all-alum group eighth blackbird.
In a segment called Who's Not Honoring Me Now?, Colbert admonished the Pulitzer committee for awarding Reich the 2009 music prize for Double Sextet. To prove his point, Colbert played a few seconds of the piece, as recorded live by eighth blackbird and the CME in New York.
"That's what I call head banger music," he retorted. "In that it was clearly written by someone banging their head against the piano." He rolled a tape he claimed to have recovered from the composer, actually a video of Muppet Don Music, a 1970's Sesame Street character who banged his head on the piano in frustration whenever he suffered writer's block.
Tim Munro '02, the flutist with eighth blackbird, reports that the group loved Colbert's send-up. "He's a popular culture icon, and, given that he actually knows a great deal about music, getting made fun of by him is a great compliment!"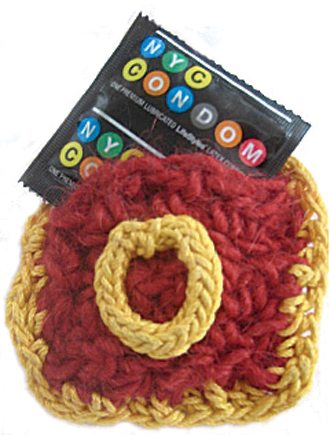 Obie Blog Watch
Blogger:
Naomi Dagen Bloom '55, doing blogger business as 'a little red hen.'
Tagline:
Peace, politics, yarnlife after 60
URL: alittleredhen.com
Background:
Naomi Dagen Bloom is like many grandmothers. She knits. She gardens.
But, of course, she's also an Obie, so her "garden" is street trees on which she heaps compost created in a kitchen composter in her New York City apartment. And her knitting? Among other things, she knits amulets to hold condoms, including one with the well-known Oberlin O. She also promoted the composting system by knitting 150 interpretations of red wiggler worms and getting others around the world to knit a worm. All of these interests, and many more, are evident in alittleredhen.com and her small family of other web sites.
The amulets, she explains, are "practical little pouches to ward off HIV/AIDS. Safe sex alert for women over 50, a growing at-risk population: Now you know; tell someone you care about."
"It is the Honor of My Life and My Career to be Celebrating This Day of Freedom With You."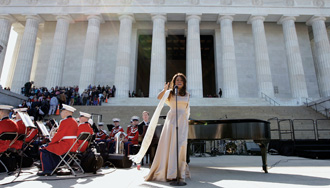 Associated Press/Alex Brandon
Opera singer Denyce Graves, who attended Oberlin from 1981 to 84, during her performance on the steps of the Lincoln Memorial. The event paid tribute to the Easter Sunday concert given there 70 years before by Marian Anderson, after the African-American opera singer was denied the right to play at Constitution Hall by the Daughters of the American Revolution. For the occasion, Graves wore a dress given to her by Anderson.
White House, Green Lawn
You give some people an inch, they take a mile. You give activist gardener Susan Harris '71 eleven-hundred square feet, she'll try to take 18 acres. That's what happened after Harris was contacted by aides to Michelle Obama in November to gather advice in order to make the White House organic vegetable garden shovel-ready.
"I volunteered to pull together some 'suggestions,' which in a bit of what I call 'blogger chutzpah' I expanded to the whole shebang with input from 34 experts," says Harris, a gardening coach, columnist (two Maryland newspapers), and blogger (GardenRant.com) who co-founded the gardening advocacy group DC Urban Gardeners in Washington. While Harris is glad to see the media paying attention to the politicians who are planting vegetable gardens, "there's literally no mention in all the news stories or their own press releases about these leaders doing anything to solve the problems created by institutional, industrial lawn care, for example, which is contributing mightily to the growing dead zones in the Chesapeake Bay and the Great Lakes."
Harris says she hasn't heard back from the White House but her proposal has blossomed into a new and larger project, www.GreentheGrounds.org, which aims to transform the thousands of acres of lawns surrounding official residences all across the country into environmentally friendly landscape. She'd even like to change rose gardens—including a well-known one at 1600 Pennsylvania Avenue—to have no-spray roses with companion perennials.
The campaign has picked up numerous institutional supporters, such as the Friends of the Ohio Governor's Residence, media exposure, including an article in the Christian Science Monitor, and even a shout-out from the blog of fashion designer Kenneth Cole.
Obama's Obies: The Tally So Far
The Oberlin College community is represented in the Obama administration by more than a half-dozen people and counting. Cynthia Hogan '79 is counsel to vice president Joe Biden, Desiree Pipkins '06 is research associate to the White House Counsel's office, Thomas Frieden '82 was named director of the Centers for Disease Control and Prevention and administrator of the Agency for Toxic Sub-stances and Disease Registry, Joe Reinstein '87 is deputy social secretary of the White House, and Pete Lavoy '83 is deputy director of national intelligence for analysis. There are also a number of appointments pending, including Jacqueline Berrien '83, who was nominated by President Obama to become chair of the Equal Employment Opportunity Commission and Martha Johnson '74, nominated to serve as administrator of the General Services Administration.
Know others who have taken important assignments in the new administration? Let us know by e-mailing oam@oberlin.edu.
Look for an article about the Oberlin alumni in the Obama administration in the next issue of Oberlin Alumni Magazine.
Charlotte Landrum and Jeff Hagan '86 contributed to Oberlin beyond Oberlin.