Bringing Light to Illumination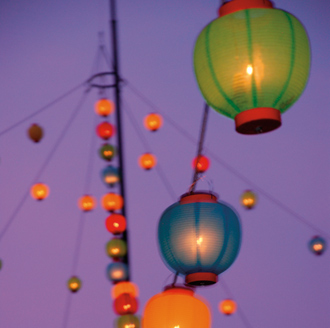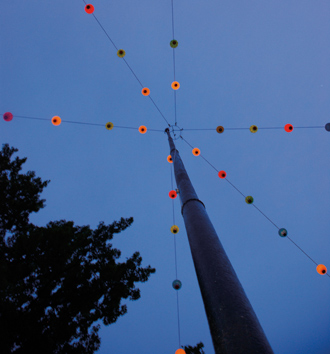 Modern-day Illumination doesn't look too different than it did 100 years ago, save perhaps the fashion choices of those attending. The first Illumination at Oberlin took place in 1860 to celebrate the election of Abraham Lincoln as president of the United States, but it did not become a tradition tied to Commencement until 1903.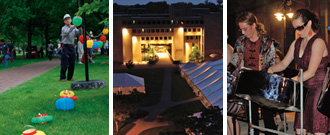 In May of that year, to commemorate the inauguration of Oberlin's sixth president, Henry Churchill King, Professor of Biology Frederick O. Groves suggested the stringing of Japanese lanterns around the campus and town. According to materials in the college archives, the Committee on Decoration arranged this first traditional Illumination.
Illumination continued annually with only a few interruptions until 1932, when it was cancelled due to budget constraints. In response to a general outcry, the festivities were reinstated the following year, only to go dark again during World War II, from 1942 to 1945.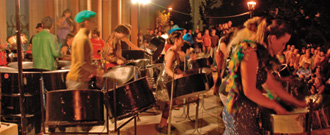 Despite advances in technology, the lanterns at Illumination are still lit by individual candles—no electricity is involved. Grounds Services Manager Dennis Greive leads a team of 25 grounds employees, custodians, and volunteers in hanging and lighting the 1,200 paper lanterns, all specially ordered from a company in Japan. This year's shipment of lanterns arrived about three months later than expected, after being held up in Japanese customs. The lanterns could not be delivered to Oberlin until every single one had a "Made in Japan" sticker attached.
Illumination 2009 changed its tune just slightly; rather than a large, conducted wind ensemble playing from the bandstand, a student jazz ensemble entertained graduating seniors, alumni, family, and friends with renditions of Dusty Springfield's Son of a Preacher Man, Wayne Shorter's Tom Thumb, and Overjoyed by Stevie Wonder. Performers included juniors Joanna Lemle, a singer, and Alex Morris, a drummer, along with graduating seniors Nina Moffitt, a singer; saxophone players Noah Weiss, Tim McKay, and Jordan Goldstein; guitarist Jamey Arent; bassist Christopher Mees; and pianist Andrew Lawrence.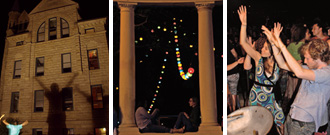 As customary, the evening's events ended with a performance by Oberlin's resident steel drum band, Oberlin Steel. According to Emeritus Secretary of the College Robert Haslun '67, a steel drum band has concluded Illumination from the steps of Finney Chapel since 1977. In past years, a wind band ended the event with Stars and Stripes Forever. This year, in a nod to that tradition, Oberlin Steel began its set with the tune.