Around Tappan Square
It's a Wrap
Creative writing and Latin major Lauren Clark '11 (pictured) and creative writing and English major Adam Chambers '11 wove a different sort of tale for their senior project: They wrapped the Memorial Arch in fabric. "The monument here is a pretty contentious place on campus," says Chambers. The pair wanted to "erase" the arch's history and politics to create a different, and temporary, new monument. "The way it works is, we wrap it up in a bunch of multicolored fabric and we ask people who pass by to write down their own dedication," says Clark. The pair then planned to sew those dedications onto the fabric. In that way, she says, people make it their own monument to whatever they want to memorialize. To see a video about the project, search "Oberlin's Memorial Arch Wrapped" on YouTube.
Eastern Japan Earthquake
Touches Oberlin
Oberlin's close connection with Asia translated into a variety of fundraisers and initiatives across the student body.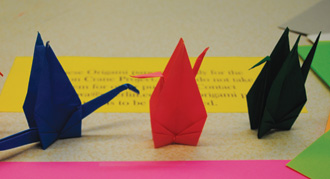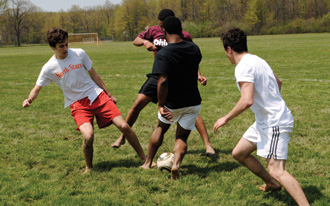 The East Asian studies department turned a few nights of paper folding in the Main Library into about 1,200 brightly-colored origami cranes to contribute to the Million Cranes Project. The Princeton University student-led initiative, created days after the March 11 earthquake, will turn the cranes into a piece of memorial art. The students involved hope their efforts will raise awareness in the United States, and show American support for Japan. As of this summer, 133 colleges and universities donated more than 200,000 cranes. Says Jordan White '13, who volunteered to teach other students how to make the cranes: "I got to teach people how to make origami and do something good for Japan."
And at the end of the school year, the East Asian studies department also sponsored a benefit concert for Japan, with performances by conservatory students and Oberlin Taiko.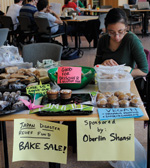 Shansi, the nonprofit organization on campus that promotes understanding between Asians and Americans, joined forces with Maria Domoto '70, a former Oberlin Shansi fellow and current executive director of Obirin Gakuen Foundation of America (OGFA), a nonprofit directly connected to Obirin, Oberlin's sister school in Japan. With Domoto's help, profits from Shansi's two-day bake sale—$500 —were sent to churches that were directly caring for people in the area afflicted by both the quake and resulting tsunami. "We wanted to get funds directly into the hands of the people," Domoto says. Shansi reported that none of the four Oberlin alumni who hold fellowships at Obirin were injured by the earthquake or its aftermath.
Jazmin Guerrero '11, an East Asian studies major and 2011-12 Shansi fellow, found baking chocolate truffles to be a way to help Japan, where she studied her junior year. Guerrero wanted to help her friends and host family living through the devastation. "I just knew I had to do something. There were so many people who took great care of me while I was there," she says. Guerrero donated the $135 raised from selling her 65 chocolates to OGFA.
Additional efforts to aid Japan included an Asian Pop Night benefit at the 'Sco that treated guests to Japanese music, organized by the Chinese Students Association; a giant Nintendo Super Smash Brothers video game tournament, at which onigiri rice balls and candy sushi were sold; and the men's varsity soccer team raised funds through a barefoot soccer tournament.
"I have been thoroughly impressed with the enthusiasm of students all across campus," says Matt Furda '11, a 2011-12 Oberlin Shansi fellow. "As someone with a deep personal investment in the country of Japan and its people, I have been deeply moved by the Oberlin community's outpouring of support."
Immediately following the disaster, the Office of Study Away contacted the nine Oberlin students studying in Japan, and all were safe and accounted for. The Office of International Students also called a meeting of the faculty members and students who are Japanese citizens.
---
(photo courtesy of KTVU)
As television stations gave viewers a bird's eye view of the devastating 9.0 earthquake and subsequent aftershocks that left many in Eastern Japan searching for loved ones amidst power outages and rubble, Jana Katsuyama '92 was reporting from the still-trembling ground. Katsuyama and her colleague, a video journalist, were on assignment for KTVU, the station they both work for based in Oakland, California. In addition to filing reports for the station's news program, Katsuyama blogged the details of the disaster. For her reports and blog, visit www.ktvu.com/japanquake.
Vernon Johns Family Visit
Standing:
Altona "Toni"
Johns Anderson
Sitting:
Elizabeth Lambert Johns
(photo by John Seyfried)
While on campus for the 22nd Annual Vernon Johns Celebration on April 15, members of the family stopped by the archives department to view documents and photos the college has on file for civil rights pioneer Vernon Johns '18. The family has many other documents and photos of Johns in its possession and has expressed an interest in donating some of the materials to the college. Their visit culminated with an evening program honoring Johns' legacy. The Johns family has historical and present-day ties to the college. For example, each April, the Vernon Johns Program, a fly-in program for admitted students of color, offers students the opportunity to see the campus, interact with current students of color, and experience Oberlin for themselves.
Oberlin's First Posse to Graduate
This year marks the graduation of the first of Oberlin's Posse scholars, students recruited through the New York-based Posse Foundation, which looks for students who have done well academically, but who may not be considering (or might be missed by) top-tier colleges and universities. The recruits form a tight-knit group in their home city before they begin their college careers through frequent meetings, training, and workshops, and arrive with a built-in network of support—their posse. All seven—Patrick Bourke, Tywanna Lesley, Jasmina Makota, Hope Rehak, Amber Walker, Bayoan Ware, and Kathleen Wright—were recruited from urban public high schools in Chicago, Oberlin's partner city in the program.
"Posse is all about diversity. And that's not just race. It's gender, it's sexuality, it's politics, it's religion," says Deborah Bial, founder of the Posse Foundation. For the scholars themselves, it's also about, well, their posse.
"I've always thought of Posse members as sort of my family on campus," says Wright.
Postgraduation plans of the Posse members include teaching, volunteering with the Peace Corps, professional singing, working in a family hostel business in Croatia, community organizing, and training future Posse members.
Talking Points
Pipo's Guggenheim. The Guggenheim Memorial Foundation named Pipo Nguyen-duy , associate professor of art and photography, a 2011 fellow in creative arts. The foundation recognized him for his body of work titled East of Eden: Vietnam, a series of staged, large-scale, color photographs that explore hope and renewal 30 years after the Vietnam War. "It was important to see [the landscape] in a whole new way, and explore the anxiety we all feel every day by living in a post-9/11 society," he says. The one-year fellowship affords him a return trip to Vietnam, where he plans to add at least 100 more images to the series.
New Dean. Eric Estes is Oberlin's new dean of Student Life and Services. Estes has served Oberlin in several capacities, including as associate dean of student life and director of the Multicultural Resource Center.
Boe Chair and Organ. The conservatory has established the first endowed professorship named after a current or emeritus professor—the David Boe Chair in Organ Studies—thanks to a $2 million gift from the Wyncote Foundation. A gift from two anonymous donors, both former students of Boe, made it possible for an organ in Peace Church in Oberlin to be dedicated in honor of David and his wife Sigrid for their tireless community service, leadership, and musicianship.
The Art of Debate. Oberlin's forensic public speaking and debate team competed against some of the best college orators in the country in the National Forensic Association national tournament at Illinois State University in April.
6 New Tenures. Those receiving the rank of associate professor, starting fall 2011, include Kazim Ali, creative writing; Jason Belitsky, chemistry and biochemistry; Kristina Mani and Michael Parkin, politics; Maureen Peters, biology; and Rebecca Whelan, chemistry.
A Prestigious Fellow. Christina Neilson, assistant professor of Renaissance and Baroque art history, received one of the most prestigious fellowships in her field from Villa I Tatti, the Harvard Center for Renaissance Studies in Florence. She is also the recipient of a grant from the National Endowment for the Humanities and a Franklin grant from the American Philosophical Society. She will use all of these to fund research for her book, Verrocchio's Factura: Making and Meaning in an Italian Renaissance Workshop. "I will spend most of my time in Florence, but also plan on making specialized trips to museums in Europe, where I will meet with curators and conservators," she says.
An Excellent Individual. Rian Brown-Orso, associate professor of cinema studies and new media, received a 2011 Ohio Arts Council Individual Excellence Award. These awards support artists' growth and development and recognize their work in Ohio and beyond in 13 different disciplines. Brown-Orso's work was featured, along with that of local artist Audra Skuodas, in 21st Century Expressions of the Second Sex, an exhibition at Cleveland's Convivium33 Gallery.
Fellowships and Awards
Read more about 2011 Fellowships and Awards at: http://new.oberlin.edu/home/news-media/detail.dot?id=2858397.
6 May Graduates Receive Oberlin Entrepreneurial Grants
Erika Zarowin was given $25,000 to establish a cooperative food market in a Cleveland urban food desert, so-named because of the distance residents must travel to access a supermarket. Harry Israelson, David Sherwin, and Federico Sanchez-Llanos received $25,000 to launch a company that will make 3-D video production available to artists, musicians, writers, businesses, and public servants at a grassroots level. Madhav Kaushish and Haider Ali Khan received $15,000 to develop an online program that will prepare students for standardized tests in public schools in India and Pakistan.
7 Alumni, 2 May Graduates Earn NSF Fellowships
Seven alumni enrolled in graduate programs received National Science Foundation Graduate Research Fellow-ships for 2011. In addition, two May graduates and five recent graduates received honorable mention distinction. Fellowship winners are Catherine Hartzell '02, immunology at Stanford University; Kateryna Kuksenok '10, human computer interaction at University of Washington, Seattle; Elizabeth Miller '07, ecology at University of Notre Dame; Valerie Morley '08, evolutionary biology at University of California, Santa Cruz; Oliver Pechenik '10, algebraic combinatorics at University of Illinois at Urbana-Champaign; Jennifer Soong '07, ecology at Colorado State University; and Olivia Winter '08, neuroscience at Stanford University. May graduates Jaie Woodard and Andrew Flachs, both honorable mention recipients, intend to pursue advanced study in biophysics and research in small-scale food systems that minimize oil input, respectively. Alumni receiving honorable mentions were Robin Abbey-Lee '09, ecology at Florida International University; Rebecca Brachman '05, neuroscience at Columbia University; Matthew H. Mutel '05, environmental science at Yale University; Jesse Hopkins '09, condensed matter physics at Cornell University; and Everett Schlawin '09, astrophysics at Cornell University.
14 Javits, Truman, Fulbright, Watson, and Coro Winners
May graduates and Watson fellows Joanna Johnson and Allison Swaim plan to inspire and inform. Johnson will pursue a business plan that will involve training with and gathering experiences of female runners across the globe to promote running as a means for empowerment. Swaim will ride aboard cargo freight ships to record sounds, interviews, and photos at various ports—putting a human face to global trade. Emily Hale Baker-White, a Harry S. Truman scholarship winner, plans to earn a juris doctor degree and continue her advocacy for at-risk youth. Truman honorable mention awardees Benjamin Altheimer and James "Stephen" Williams plan to pursue PhDs in physical chemistry and ecology and evolutionary biology, respectively. Javits fellow Andrew Flachs will pursue a PhD in environmental anthropology. Coro fellows Kyla Moore and Shayne Wells will observe, work, and evaluate an assigned project, while learning skills to develop as well-rounded leaders in public affairs in St. Louis and New York, respectively. Of the even Fulbright fellows, five will teach English abroad: Katie Thompson (Costa Rica), Helen Burns (Russia), Jonathan Doucette (Slovak Republic), and Cordelia Loots-Gollin, (Poland), all class of 2011, and Elena Rippel '10 (Germany). Charlotte Beers will study organ and conducting in Germany, and Theodore Waddelow will study the ancient Dilmun civilization in Bahrain.
Send Silence Packing
(photo by Brannon
Rockwell-Charland '14)
Many people racing through the Science Center on their way to classes on April 11 couldn't help pausing and stooping down to read the names attached to the 1,000+ backpacks varying in shapes and sizes lining the hallways. Each backpack represented one of the roughly 1,100 college students who commit suicide each year. The display is a part of a touring exhibition called Send Silence Packing, organized by Active Minds Inc., a national nonprofit organization that aims to reduce the stigma surrounding mental health issues on college campuses and to encourage students to seek help. Read more at www.oberlin.edu/oam.
---
ABOUT OUR COVER: The cover photograph of dinner at the Brittinghams—Smith '60 and Midge '59—taken by Ma'ayan Plaut '10 and staged with help from Kristina Deckert and Brandi Ferrebee '10 (whose face peeks out from the lower right corner), pays homage to Norman Rockwell's painting "Freedom from Want." The quintessential evocation of the warmth of a loving family sharing a meal, it seemed the appropriate model to illustrate the home-away-from-home feel of the dinners the Brittinghams host in their Oberlin home.
Wave Makers
Israel Ukawuba '11
Major: Biology
Hometown: Owerri'imo, Nigeria
Activities: Fitness Club, Soccer Club, Varsity Track and Field (sophomore and junior years)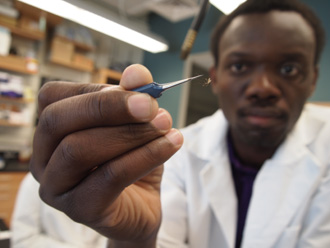 As a biology major, May graduate Israel Ukawuba's focus on mosquitoes and malaria was more than mere scientific curiosity. He knew from firsthand experience it was a matter of life and death. He and his family members have had malaria, and he's known people who have died from it. Ukawuba is from Nigeria, where, according to UNICEF, malaria—transmitted via a parasite on mosquitoes—takes the lives of 250,000 children under the age of 5 every year.
"The research is my shot at being involved in contributing to saving Third World, African countries," he said while working in his lab last semester, removing mosquitoes from their cages with a mini-vacuum gun that holds the insect in a tube-like compartment. "I would like to return home one day and use what I learn to help the people there."
Having established that mosquitoes have water-resistant skin, Ukawuba is trying to determine whether there is a connection between this property and their resistance to insecticide. If such a connection exists, it will allow for the creation of more effective chemicals to combat mosquitoes and, therefore, malaria.
For two years, Ukawuba worked with Bradley J. White '04 in Nora Besansky's research lab at the University of Notre Dame. Besansky '82 has pinpointed a group of "transposable elements" in the genetic makeup of the Anopheles gambiae mosquito—a brutally effective disease host that infects a person with malaria. Every two months Besansky's lab would send Ukawuba a batch of mosquitoes, which he would grow up to the point where their exoskeletons were not fully formed so he could experiment on them more easily.
"It's tedious work that requires passion," Ukawuba said. "You have repeat experiments over and over again, and you have to keep in mind that what you are doing is indirectly related to battling malaria. If you're passionate about the work, you won't mind it."
How would you explain what you are doing to non-scientists?
Think of the skin of the mosquito like a wall of sponge—a very selective sponge. My research is on the properties of that sponge.
What do you like to do in your free time?
I love reading boring biology books.
Story and photo by Sarp Yavuz '13
---
Oberlin's celebration of the 125th anniversary of Charles Martin Hall's discovery of an inexpensive aluminum extraction process was part chemistry class, party family reunion, and part history lesson as the school acknowledged the impact Hall had on Oberlin and the world. Representatives from Alcoa, the company that grew out of Hall's discovery, joined college officials and science faculty members for the celebration.
Greg Robinson, University of Georgia chemistry professor, led a seminar entitled "Lessons from Charles Hall: Stabilization of Highly Reactive Molecules," that, while focused on chemistry, put Hall's discovery into fascinating historical context. He traced the decline in the price of aluminum from $100,000 per pound at the time of Napoleon—who saved the aluminum utensils for only his most honored banquet guests—to two dollars per pound after Hall revolutionized aluminum extraction.
While the price may have dropped, the value of aluminum soared as its uses expanded broadly. Hall partnered with Alfred Hunt, who understood the commercial value of Hall's discovery, to form the Pittsburgh Reduction Company, later the Aluminum Company of America, better known as Alcoa.
At a reception and dinner following the talk, Sean Decatur, chemistry professor and dean of arts and sciences, was succinct about the importance Hall's discovery—and his subsequent generosity—was to have on Oberlin
"It is reasonable to think of Oberlin in eras of 'pre-Hall' and 'post-Hall.' The gifts that Charles Martin Hall gave Oberlin helped to bring it to the fore of the list of great institutions of higher education."
President Marvin Krislov agreed.
"Without question, Charles Martin Hall has had the greatest positive effect on this College, this community, this region, and our world of any Oberlin graduate to date," he said.
Those gifts to the college and community include the Arboretum and financial donations that are estimated to account for one-third of the college's current endowment, Krislov said. "Perhaps the biggest legacy was Tappan Square. Charles Martin Hall gave Oberlin the green heart we all cherish."
Hall, he added, "was an environmentalist even before that word was invented."
Krislov introduced members of the Hunt family, descendants of Alfred Hunt, including grandson Richard Hunt and Richard's wife, Priscilla Stevenson Hunt '51. Priscilla Hunt served on Oberlin's board of trustees and is currently an honorary member of the board. She was the daughter of Oberlin's ninth president, William Stevenson. Richard Hunt spoke of Hall's ability to leverage his discovery into a far-reaching industry and great wealth and, more importantly, truly transformative philanthropy.
The final event of the celebration was the keynote address from Kevin Anton, Alcoa's vice president and chief sustainability officer. His talk explored the importance and ubiquity of aluminum, from the Wright Brothers' first plane to high-tech military aircraft, from military tank armor to aluminum foil. Anton said Hall probably did not imagine his discovery would lead to bottle-shaped beer cans emblazoned with a picture of the Rocky Mountains that turns blue when the beer is cold, a fairly likely assertion given Oberlin's early temperance tendencies. Despite dramatic advances in the applications of aluminum, Anton pointed out that little has changed in the method of getting to the metal. "It's the exact same process that Charles Martin Hall discovered 125 years ago." He also noted aluminum is "infinitely recycleable."
Anton announced a gift of $10,000 to Oberlin's Green Edge Fund, and Alcoa's intention to plant trees at 125 locations around the world to mark the anniversary of Hall's discovery.
Anton was introduced by Julia Steyn '96, Alcoa vice president and co-managing director of business development and a double-major at Oberlin (economics and piano performance). "The last time I was at a podium in Oberlin was for my senior piano recital," she recalled.
In addition to the events, historical exhibits about Hall's discovery were displayed in the Science Center, Mudd Library, and the Oberlin Heritage Center.
Visit the Charles Martin Hall Statue Fanclub Facebook Page.