The Doctor vs. the Death Panels
MacArthur grant recipient Diane Meier '73 takes on the politics of palliative care.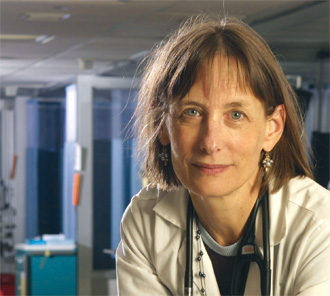 When many Americans first came across the concept of palliative care, it wasn't presented by that name.
Instead, in the midst of a contentious public debate over President Obama's health care reform plan in 2009, Sarah Palin and other opponents of the plan claimed its palliative care provision would establish "death panels." Catchier and lacking in subtlety, yes, but not exactly an accurate description of the end-of-life care planning that is a part of palliative care.
More than a year after the legislation was signed into law, Diane Meier '73, director of the Center to Advance Palliative Care at Mount Sinai in New York, is still angry that her field was intentionally misconstrued for political gains. "It was twisted and surrounded by lies, precisely in an attempt to defeat any kind of health reform," she says. Though Obama said the government wasn't going to be "pulling the plug on grandma," the provision was later removed from the bill because of the controversy. "It was an extremely effective strategy," says Meier.
Meier is one of the pioneers of palliative care, the medical sub-specialty designed to minimize suffering and give patients more control over their health care choices. Whereas hospice care is specifically for the dying, palliative care tries to maximize quality of life for patients living with a disease and is not dependent on their prognosis. It is delivered at the same time as treatments intended to cure or prolong life. Studies have found that patients who receive early palliative care, when compared to patients who receive standard care, have less aggressive care at the end of life but longer survival. These findings validate the work Meier has been doing for more than 15 years.
What is palliative care?
Palliative care is specialized medical care for people with serious illness. It is focused on providing patients with relief from the symptoms, pain, and stress of the illness—whatever the diagnosis. The goal is to improve quality of life for both the patient and the family.
"Modern medicine focuses on curing disease and prolonging life but fails to treat the physical and psychological distress of patients in both early and advanced stages of serious illness," says Meier. Her mission is to provide technical guidance to hospital staff and help advance new palliative care programs throughout the country. In the last decade, she helped make palliative medicine a formal sub-specialty with a board-certifying exam for doctors in the field. A survey released in July shows the number of hospitals with 50 beds or more with a palliative care team increased from 658 in 2000 to 1,568 in 2009.
In 2008, Meier received a $500,000 MacArthur Fellowship, a no-strings-attached grant awarded to individuals who show exceptional creativity in their work and promising prospects for the future.
Meier enrolled in Oberlin with the intention of becoming a teacher but switched to pre-med in her senior year. A semester teaching in an inner-city Philadelphia school as part of a Great Lakes Colleges Association program convinced her that she would be frustrated by the limitations of the profession. "I had a very naive perception that I could better influence things as a doctor," she says with a laugh. "For many years, I looked back on that with irony because doctors are also limited in what we can do to drive social change."
That passion—and her desire to follow a long list of family members—was what brought her to Oberlin. "It was a good fit for my values: its progressive nature, the fact that it was among the first colleges to admit blacks and women, and a place that always tried to do the right thing," she explains. "The environment really supported the notion that, as citizens, we all have a contribution to make toward making things better."
It took more than a decade before Meier found a niche in medicine that fulfilled her need to shake things up. While working in geriatrics, she realized that when it came to treating the chronically and terminally ill, there was no common ground between hospice and disease care. That recognition led her to establish the Hertzberg Palliative Care Institute at Mount Sinai in 1995. The model program assists patients and families in navigating the complexities of illness and devises strategies for managing pain and other symptoms.
Meier says that without a supportive health care policy, the advances that have been made in her field will be reversed. Using the money from the MacArthur grant, she took a year off from her day job and went to Washington, D.C. There, she worked with the Senate Committee on Health, Education, Labor, and Pensions to draft the health care legislation and spent 2010 as a Health & Aging Policy fellow in the Office of the Assistant Secretary for Planning and Evaluation, U.S. Department of Health and Human Services, honing the political skills necessary to influence policy makers. Now, back at Mount Sinai, she is still contemplating her next move and whether it might take her to Capitol Hill permanently. "I love my work," she says. "It's intellectually and existentially engaging, but I learned that you can't really influence what's going on in Washington if you're not there."
Melba Newsome is an award-winning journalist in Charlotte, NC. Her work has appeared in Time, Oprah, National Geographic, and Details, among others.