Another Chapter for Josh Ritter '99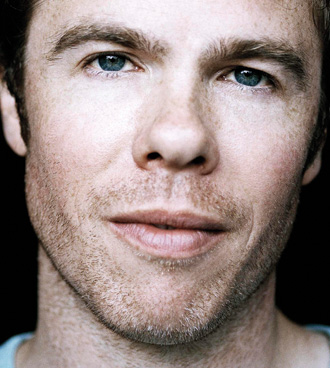 "It's an ongoing miracle that people, in this age where you can have everything you've ever wanted, in terms of entertainment, brought to your home at the push of a button, still drag themselves out to a show and hang out with strangers to see music."
It's late September, and Josh Ritter '99 and the Royal City Band have just arrived in Oberlin, Ohio, via London, England. They've just finished a month-long European tour, which followed a five-month-long tour of the U.S. It's a sunny fall afternoon, and Ritter is sitting on a bench outside Finney Chapel after his sound check. If he is jet-lagged, he doesn't show it. He flashes a warm, genuine smile.
"I've been back [to Oberlin] a few times because my brother [Lincoln Ritter '03] went here as well," he says. "It's tremendous—it's like, I remember having Sunday school teachers and they're the ones that you can't shine on. You can't put them off, and it keeps you grounded when you know you are going back to the place where you started."
He pauses and then adds, "I love it, but it gives you a little trepidation, you know?"
In 1994, Josh Ritter left his hometown of Moscow, Idaho, and headed to Oberlin College with the goal of studying neuroscience, just like his parents, Bob and Sue Ritter, who are both neuroscience professors at the University of Washington.
"That didn't work," Ritter says of his initial neuroscience major, adding, "for the better." He'd learned to play guitar in high school and wrote songs for fun, assuming that music would always be a hobby—nothing more. But at Oberlin, he found himself getting more and more into listening to and creating music. He began performing live at open mic nights at the Cat in the Cream, and quickly earned a following on campus.
"At a time when I was struggling and looking around for something, and feeling like I wanted to do music, and not doing all that well in school, I had professors who helped me stay here," Ritter says. "They realized that I was working diligently and trying to do something different. They gave me the latitude to let me make my own major and gave me a lot of patience and time, and introduced me to many of the people who I work with today."
Ritter's first-year roommate, Darius Zelkha '99, became his best friend and longtime manager. He met his Royal City Band bass player, Zack Hickman '01, at Oberlin as well—they've been playing together for 13 years.
Through his independent major, American History through Narrative Folk Music, Ritter became completely immersed in music that interested him; he even traveled to Scotland to study the roots of Appalachian folk. Before graduating, he made his first album, Josh Ritter, at a recording studio on campus.
After graduating, he worked temporary day jobs and played songs from his debut album at open mic nights all over the East Coast. Momentum began to build, and Ritter's big break occurred after he released his second album, The Golden Age of Radio, in 2002. Irish folk rock star Glen Hansard caught one of his live shows at a club in Boston and invited Ritter to open for his band, the Frames, on tour in Ireland. The entire country seemed to fall instantly in love with Ritter. He was anointed the "next big thing" on cover after cover of popular Irish music magazines, including Hot Press.
Ritter's music defies easy categorization. He's often compared to folk legends like Bob Dylan, Bruce Springsteen, and Leonard Cohen—artists who have clearly influenced his work. But he maintains that his sound is constantly, deliberately evolving.
"I think of [my music] as rock and roll with lots of words," he explains. "Styles are only good as far as bringing you new ideas. In the end, if you try to play a certain style, you can love it, but you're always adding to a style, no matter if you are paying homage or trying to develop something new. There's nothing under the sun that is brand-new."
Ritter spends little time worrying about how his music will be categorized. "Call it country, folk, or rock—whatever they call it, I'm happy, as long as they listen," he says.
After The Golden Age of Radio's release (by Signature Sounds), the records just kept coming, with each gathering more buzz than the one before it: Hello Starling (Signature Sounds, 2003), The Animal Years (V2 Records, 2005), The Historical Conquests of Josh Ritter (Sony Victor, 2007), a few live albums, and his latest, most critically acclaimed album, So Runs the World Away (Pytheas, 2010). "Idaho native and Brooklyn transplant Josh Ritter hits a beautiful stride on his sixth album, a soulful combination of conversational folk ballads and powerful gut punches," wrote Paste Magazine's Jenna Woginrich. Bob Boilen of NPR's All Things Considered, included the album in his top albums of 2010 list, adding, "I've come to expect good records from Josh Ritter, but this one took my breath away."
Given all the accolades he's earned, one would almost expect Ritter to take a well-deserved break from touring. Instead, he is doing the opposite—touring the world nonstop for months at a time, with only scattered, short breaks here and there.
"These days, if you're a musician making a living, you're touring. That's where a living is made, rather than selling a lot of records. Which is lucky for me, because I love it," he says.
"Touring is its own talent, whether you perform or not. It takes a certain constitution," he adds. "You're meeting new people, eating weird foods. For a writer, it's a great way to put gas in the tank. I think about it like you're collecting jigsaw pieces from all over the world, and you're taking them home and putting them together on your table. That's how you write—touring just forces new ideas."
The stage is also where Ritter's personality shines its brightest. In the spotlight, and backed by his band—Hickman on bass and guitar, Sam Kassirer on piano and keyboards, Austin Nevins on guitar, and Liam Hurley on drums and percussion—Ritter's genuine, ebullient energy is on full display, and it is contagious. He beams from ear to ear as he sings, bounces up and down on stage, cracks jokes between songs, and profusely thanks his audience for being there to support his music. When Ritter takes the stage, he is fully present and appears to be having the time of his life. Given how often he performs, this is quite a feat. How does he do it?
"I run every day. That's really important. You've got to stay healthy," he says. In fact, he ran three marathons in recent years. He also appreciates the opportunity to play for live audiences at a time when people are choosing to download music more than attend concerts.
"It's an ongoing miracle that people, in this age where you can have everything you've ever wanted, in terms of entertainment, brought to your home at the push of a button, still drag themselves out to a show and hang out with strangers to see music," he says. "If people come, there is no reason not to be filled with joy when you're playing—you're a part of someone's life for an evening."
Ritter says he is especially grateful when the stars align and he is able to tour with his singer-songwriter-producer wife Dawn Landes (they married in 2009). "A lot of times I'm on the road touring, or she's off touring. Our time at home is precious, but it's amazing when we can go out on the road together and spend some time in romantic places."
Nonstop touring, however, has some drawbacks. After touring relentlessly to promote 2007's The Historical Conquests of Josh Ritter, Ritter, who is known for his prolific songwriting, says he hit a wall.
"I suppose I could say I was burned out, but it wasn't that; I wanted to write and I wanted to play, but nothing, nothing felt right to me anymore," he wrote in an open letter to fans on his website. "Even more than that, nothing felt original. Suddenly, after all my effort, I had lost my confidence in the force and originality of my own work. I wrote and wrote. Nothing came and if it did, it was the same old stuff as before. … I felt at times as if I was hovering just above myself, watching the mediocrity of my afternoon threatening to spread across months and years into a lost decade."
Ritter trolled New York's museums and libraries in search of inspiration, reading up on such random topics as orbital decay, the Martian canals of Percival Lowell, the apocryphal hibernation of birds, polar exploration, the golden ratio. Then, during one sleepless night, an idea came that shook his creative juices back into gear. He quickly hammered out a story about a mummy in a natural history museum who woke up and fell instantly in love with an archaeologist.
An odd story for a folk song, perhaps, but the result, "The Curse," is a dreamy, poignant ballad-turned-cautionary tale about the wonders and limitations of science—and love. After that, the rest of So Runs The World Away pretty much wrote itself.
"The main thing writer's block causes is a crisis of confidence," Ritter says. "I got busy and I got distracted. I wasn't writing. You can't take the car from zero to 100 miles an hour in an afternoon of writing. So you think you have writer's block, but the fact is, you can't neglect it. You have to do a little bit every day."
Ritter's star continues to rise, in large part because of his ongoing campaign to get his music into earbuds around the world however he can—through live performances, MP3 freebies on his website, and even appearances on popular movie and TV soundtracks. Recently, his song "Change of Time" was featured in its entirety on the hit TV show Parenthood. Ritter finds this sort of exposure exciting, but says he has learned not to place too much importance on fame.
"You aspire to become part of a popular culture in some way. I don't know why! It's probably a Freudian thing," he explains. "When I first started playing guitar, I thought, 'I want to be the most famous musician. I want to be on the cover of Rolling Stone. I want all this.'
"And over time I've realized that stuff doesn't matter nearly as much as just making a living and enjoying your life, and writing—having the things in your life that everybody has a chance at, like a good relationship, a home," he adds. "Everything else is icing on the cake. None of it really matters if you are lost and lonely in some hotel room."
Fans of Ritter's song lyrics will be happy to learn that his latest project is the release of his first novel, Bright's Passage, by the Random House imprint Dial Press, in July 2011, which has been met with critical acclaim. The novel "displays Ritter's abundant lyrical gifts" and "is ultimately a dark parable in the southern Gothic tradition of Cormac McCarthy," writes Erin Almond of the Boston Globe. "I approached 'Bright's Passage' with distrust, but I found much to delight me," Stephen King writes in the New York Times. The idea for the book came to him during the same fit of inspiration that helped him write the songs for So Runs the World Away. When he began to write a humorous narrative song for the album, about a man named Henry Bright—a WWI veteran who comes home to West Virginia after the war with an angel he's recently acquired—Ritter realized the story was too big for a song and better suited to a book.
"I think I was called to songwriting because it was a format that fit what I wanted to say, and I could write stories. The first song I ever wrote was a story song," Ritter says.
"But in my life I've had goals," he adds. "I ran three marathons before I could write a book. But I always wanted to [write a book]. Now that I've done it, I want to do more. This is a new part of me. I'm really excited about it." He should be: O, the Oprah Magazine selected the novel for its summer reading list, a mention almost guaranteed to boost sales dramatically.
In a few short hours, Ritter and his band mates will give a rollicking, crowd-pleasing performance for hundreds of students, faculty and alumni on the Finney Chapel stage. Before excusing himself to prepare, though, Ritter surprises his interviewer by extending his arms for a bear hug. "So, I'll see you later, at the show?" he asks.
As he walks away, a woman seated on a nearby bench pauses to whisper, "Was that Josh Ritter?" She smiles and returns to her reading.
Elizabeth Weinstein '02 is assistant director of alumni outreach and engagement at Oberlin and a freelance writer whose work has appeared in Billboard Pro, The Columbus Dispatch, and OhioAuthority.com.