Sunday at the Brittinghams'
When a beloved Oberlin family serves dinner, practically the whole world is invited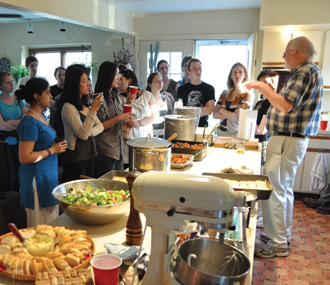 I climb the creaky steps of a well-known white house on Forest Street, yellow lights from the living room warming the porch. Opening the door, I am hit by a wave of scents and sounds. I can't see the kitchen from the foyer (or the entree as it's called in Turkey, my native country) but I know that's where I'll find everyone. I smile as I hear Smith Brittingham '60 say something silly about chicken, followed by chuckles from Brandi Ferrebee '10 and Midge Brittingham '60. I think to myself that the atmosphere here is what the word homey must have been coined for.
I walk into the kitchen and hug Smith as he sets down a large tray overflowing with a chicken and vegetable dish. "Oh, it's you!" he says, hugging me back, "Have I ever told you about Buket?" He is referring to another Turkish Oberlin student who attended Oberlin about three years ago. He likes to call her my "predecessor."
I smile and nod. "Okay then," Smith says. "Well, I'm glad to see you. Go, be with your people!"
"My people" are the other students and recent alumni in the house. Sunday dinners at the Brittinghams began in 2005 as a gathering of the friends of Raquel Arellano Raguse, a Spanish teaching assistant who was staying with Midge and Smith at the time. The dinners have since snowballed into multinational weekly events with 40 to 50 people regularly in attendance.
Smith Brittingham's Strawberry Shortbread
For the shortbreads:
10 cups regular flour
5 TB baking powder
2½ tsp baking soda
2½ tsp salt
3/4 cup sugar (plus more to sprinkle tops of shortcakes)
1 cup butter chilled (small chunks)
5 cups sour cream (not low fat)
5 eggs
1/2 cup light cream or half and half
For the berries
12 qts strawberries
granulated sugar (to taste, depending on sweetness of strawberries)
1/2 cup orange curacao (or other orange liqueur like Triple Sec)
For the whipped cream
2 qts heavy cream
sugar to taste
2 Tb vanilla extract (I use homemade extract but store bought would be acceptable.)
1. Cover 5 half-sheet pans with parchment paper, cut to size.
2. Process the dry ingredients for the shortcakes (I did this in three batches, 1/3rd at a time) in food processor. Pulse dry ingredients to mix, cut in butter and pulse until you get the usual "coarse meal" look. Put flour/butter in large bowl.
3. In another bowl, beat eggs and mix well with sour cream.
4. Add egg/sour cream mixture to flour/butter and mix well. Divide into four parts and one at a time, put each part on a well-floured surface and shape into a ball. Dough will be sticky. Press down and knead four or five times, then place 12 globs (approximately 1/3rd cup each) on prepared half sheet pan. (I use a regular ice cream scoop, filled about 2/3rds, but one could roll dough out to 3/4" and cut 2½" rounds). Press globs down to about 3/4" thickness. This quantity should produce between 48 and 54 shortcakes, depending on how good you are at scooping equal amounts.
5. Brush tops of shortcakes with light cream or half and half and sprinkle with granulated sugar.
6. Bake in 450º F oven (or 425º F convection) for 15 minutes or until tops are nicely colored and cakes are well risen. Cool on wire rack.
7. Clean and slice strawberries. Toss with granulated sugar and orange curacao. Let sit so that juices exude from berries. (I used to take some of the juices and boil them with a mixture of low-sugar pectin and cornstarch to thicken, then add back to the strawberries to give more of a glaze, but frankly, it isn't worth the effort, since the juices soak into the shortcakes and the whipped cream seals the deal.)
8. Whip the cream (in two batches) in a heavy-duty mixer, adding sugar and vanilla once the cream is nearly whipped.
9. To assemble, slice the shortcakes horizontally and place on a platter next to the strawberries and whipped cream. Put a spoon in the strawberries, one of those spoon-shaped spatulas in the whipped cream, and a stack of small plates next to the shortcakes. Go have a seat and eat your dinner. College kids will know how to fill up the plates with strawberry shortcake.
The homemade vanilla is straight from Cooks Illustrated. Split a vanilla bean and scrape the seeds out. Chop the hull into chunks. Heat 5 or 6 ounces of vodka in a saucepan until it almost boils. Add vanilla seeds and the rest of the hull to the vodka and pour it into an appropriate sized bottle. Shake the bottle once or twice a day for 2-3 weeks. Vanilla is now ready to be used.
Countries represented tonight include Turkey, India, China, Japan, Paraguay, Bolivia, France, Germany, and the United States. (I no longer find it ironic that I've met some of my closest American friends at these international dinners—Brandi makes an excellent case for her presence here by comparing her home state of Virginia to a foreign country.) Half the stories about these dinners start off like jokes: "A Russian, a Virginian, and a Peruvian walk into a kitchen..."
Midge served for many years as the executive director of the Oberlin Alumni Association, and is the first to celebrate the inclusiveness of these dinners and her guests' spectrum of backgrounds. Says Smith: "We like doing our Sunday dinners because of all the people who show up, connect, become friends. I often see people scribbling notes, exchanging contact information. People come here, meet new people, and have a great time."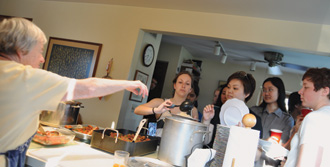 LOVE BY THE LADLE Midge pointing out which dish is veggie and which is for omnivores.
Each Sunday, Smith finds a new utensil to bang against an object, creating a makeshift bell that announces the arrival of dinner. There are omnivore options, vegetarian options, and even a gluten-free dish (you'll have to ask Smith directly what he thinks of veganism—hint: not much). Midge catches me eyeing the brownies and says, "Eat your dinner first!" I don't think I can explain just how much I appreciate her maternal influence.
Uncle Rick stands next to Midge, wearing an apron, and when he sees me he turns to her and says, "There's my star pupil." I feel my face redden, and I quickly deny the compliment. "I really cannot drive, and I am still terrified of traffic!" I blurt out, and they both laugh. Uncle Rick is Midge's brother and is a usual guest at the dinners. He sometimes takes international students to get their learner's permits and teaches them how to drive. I am the latest addition to a long list of people who know the difference between the brake and gas pedals, thanks to him. "We're driving on Monday, right?" I ask him, and he nods.
As usual, dinner is over at 7:30, always too quickly for my taste. Thankfully the feeling of being warm, full, and happy usually accompanies me well into the next morning. I thank both of the Brittinghams before leaving the house and I promise Uncle Rick I will not be late for our driving lesson.
On my way back to my dorm, I notice that my sweater smells like carrots, chicken, and garlic from sitting so long in the kitchen. A smile spreads across my face; for an international student who lives a continent and an ocean away, my sweater smells and feels like home.
Sarp Yavuz '13 served as an editorial assistant for Oberlin College's Office of Communications for two years.
---
The Brittinghams are well known to the Oberlin community, both the college and the town. For 28 years, Midge—short for Marjorie—Wood Brittingham worked at the Oberlin Alumni Association, almost exclusively as executive director, and has long been a volunteer with Christ Church in Oberlin, which supports the dinners as part of its outreach programs. Smith Brittingham is retired from a number of professions around town, including bartender, lawyer, innkeeper, and union organizer. In addition to the Sunday dinners, the two have opened their Forest Street home to guests as a B&B. The Brittinghams' two sons, both lawyers, also graduated from Oberlin: Smith Brittingham IV of Washington, D.C., in 1984 and William "Billy" Brittingham of Boston, in 1987. They also have a 20-year-old cat, Phoebe, who did not attend Oberlin.
Though Smith accommodates all variety of dietary needs—omnivores, vegetarians, non-pork eaters, and gluten-free—he draws the line at vegan diets. On Mondays, leftovers go to Christ Church, and Smith starts shopping for the following week. Whatever is served, the conversation is always lively. As Midge said at the time of her retirement from the Alumni Association: "Oberlinians love to talk about issues, real and imagined—it's how we socialize."
–Jeff Hagan '86