Alumni Notes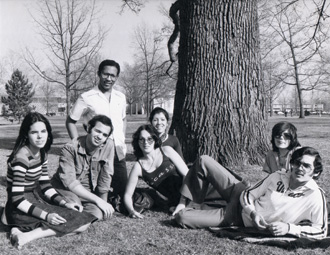 The theme of the Oberlin Latino Alumni Association (OLAA) reunion, to be held October 7-9 in Oberlin, is "Somos Obies: The Few, the Proud, the Oberlin Latinos!" Alumni are encouraged to attend and help celebrate Latinos at Oberlin and in the 21st Century. Reunion plans include a keynote address by Thomas Saenz, president of the Mexican American Legal Defense and Educational Fund (MALDEF), workshops, a Latino alumni concert, and an awards ceremony to recognize outstanding Latino alumni.
For more information, visit the Alumni Association's website at http://new.oberlin.edu/office/alumni or contact Danielle Young, Executive Director of the Alumni Association: danielle.young@oberlin.edu; 440-775-8692.
This photograph of Latino students at Oberlin in the late 1970s was taken for a college recruitment publication. Are you in the picture? Let us know: alum.mag@oberlin.edu.
The Experiences of Oberlin Alumni:
A Retrospective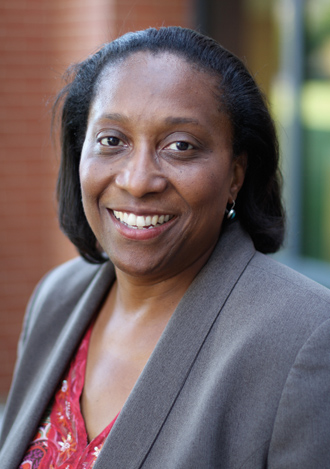 Oberlin alumni continue to make impressive strides and place their mark on the world. As we look back over the past year of happenings on and off campus, we can't help but be proud of our collective accomplishments.
The excitement began with Alumni Council Weekend in September, when members of the campus community, alumni, and friends celebrated the opening of the Dewy Ward '34 Alumni Center. The new home of the Alumni Association is housed in the sustainable East College Street Development, which was built by three Oberlin alumni: Naomi Sabel '02, Ben Ezinga '01, and Josh Rosen '01.
In October, hundreds of alumni returned to campus for the Alumni Association of African Ancestry (OA4) Reunion, celebrating 175 years of African American heritage at Oberlin. The weekend included an alumni panel, a memorial and tribute concert in honor of Wendell Logan (the late founder and former chair of the jazz studies program in the conservatory), dinners, banquets, a rendition of Macbeth directed by Justin Emeka '94, and much more.
Professor Logan was inducted posthumously into the Jazz Education Hall of Fame and was posthumously bestowed the Alumni Medal at his memorial service last fall. The award was presented to Bettye Logan, his widow, at Oberlin's commencement ceremony in May.
We offer congratulations to Clyde McGregor '74, who succeeds Robert S. Lemle '75 as chair of Oberlin's Board of Trustees. Robert was honored in great style during the March board meeting, and members of the Alumni Council's executive board were glad to be part of the festivities. The celebration kicked off with the dedication and ribbon-cutting of the Robert S. Lemle '75 and Roni Kohen-Lemle '76 Academic Commons in Mudd Library.
Also in March, the Alumni Association and the conservatory held an organ alumni reunion and announced the first endowed professorship named after a current or emeritus professor—the David Boe Chair in Organ Studies. This professorship was made possible thanks to a gift of $2 million by the Wyncote Foundation.
In addition, the Alumni Association this spring announced the launch of its first international alumni club. The Oberlin Club of London, headed by regional coordinator Katie Rowland '07, has hit the ground running with well-attended kick-off events and more to come.
For the first time, the 2011 Commencement/Reunion Welcome Center was situated in the Ward Alumni Center. In past years, much of the Alumni Office relocated to the Science Center for the weekend. Alumni were welcomed to their new home on campus as they arrived for a festive weekend.
As Obies, we have much to celebrate and look forward to. I encourage you to continue adding to the list of accomplishments by sharing your undertakings with us, through either a class note to the alumni magazine or via a submission to the Oberlin Stories Project (see new.oberlin.edu). If you have questions about volunteering, staying in touch, or registering for OBIEWeb, Oberlin's online alumni directory, please visit new.oberlin.edu/office/alumni.
Journey Back to Oberlin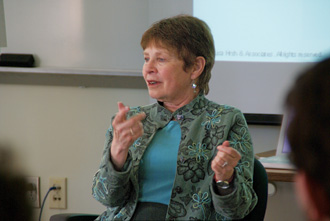 Lisa Hirsh's formal return to Oberlin began in 2008 when she agreed to host in her Boston home an Oberlin student who was working a summer internship in the area. Hirsh '65 and the student, Lucas Brown '09, talked all summer long, as they sat on her porch and hiked around Walden Pond.
It was during such a conversation that it became clear to both that Hirsh had more to offer Oberlin than just a spare room. She had amassed skills as an organizational change consultant and had long wanted to share them with Oberlin's student leaders through a course she called Leadership Journey. Brown, a cofounder of Oberlin's sustainability-themed Seed House (Student Experiment in Ecological Design) and founder of the Oberlin Ecological Design and General Efficiency Fund, believed that Oberlin's student activists needed more practical training, and he lined up financial support for the class from several campus offices on campus.
"Students are always taking on new challenges, trying to improve the quality of our environment and our community," says Brown, who majored in economics at Oberlin and was named a Rhodes Scholar. "But they rarely get a chance to step back from that and think about how to be better leaders, organizers, and teammates."
Hirsh taught the course over three weekends in the spring of 2009. Two years later, its participants still find themselves leaning on lessons learned there.
Nicolas Sippl-Swezey '11 worked on a political campaign in California last summer. "It was [the candidate's] first time running for statewide office, as well as the staff's, so there wasn't a foundation for what to do," he says. "I kept thinking about Leadership Journey. Every organization faces these challenges, whether it's students at Oberlin, a group of people running for office, or a nonprofit organization."
Allegra Fonda-Bonardi '11, who worked on a project to make the Ohio Women's Reformatory more environmentally friendly, says Hirsh's course filled an important gap for her. "We hear a lot at Oberlin about working on different causes, but learning the practical aspects is usually more of a struggle," she says. Leadership Journey helped her put her project in its context and develop a workable organizational plan.
Ben Jakubowski '11 had to unlearn what he had thought about organizational culture. "I naively believed that organizations were little more than collections of individuals," he says. Even if organizations had cultures to them, he says he at first doubted they could be actively constructed.
"Since participating in the class, I've had many opportunities to re-evaluate this mistaken assumption," he says. "I now try to recognize and create opportunities to actively shape the culture of the organizations I work with. It's a challenging, but rewarding, perspective that I doubt I'd have developed if I hadn't had the opportunity to participate in Lisa's course."
Hirsh came away with new perspectives, too.
"I was inspired by the projects the students wanted to take on and the contributions they wanted to make," she says. "Their willingness to be vulnerable, to be open to new ways of seeing and thinking, and to try on new skills and behaviors was terrific. It left me feeling hopeful about their ability to tackle the complex challenges in our world."
—Nadya Primak '13
Regional Roundup
What's Happening in Your Region?
Find out at ObieWeb, www.oberlin.edu/alumni/oberlinClubs.
Oberlin Cares: Hundreds of alumni, families, and friends across the country united for the Second Annual Oberlin Cares–Alumni Day of Service in April. Among highlights: the Oberlin Club of Chicago painted a homeless shelter; the Pittsburgh Club cleaned up Schenley Park; the Portland Club restored the Johnson Creek Watershed; and the Oberlin Club of London, our first international alumni club, helped to clean up Coppett's Wood Nature Preserve. The London Club launched this spring with the help of Cleveland Regional Coordinator Kira McGirr '06 and new regional coordinator for the Oberlin Club of London, Katie Rowland '07. The London Club already has held a happy hour and an alumni concert featuring David Breitman, associate professor of historical performance. Below is a sampling of activities from other alumni clubs:
Baltimore—Alumni Reception with Mayor Stephanie Rawlings-Blake '92:
In March, Obies from the Baltimore and D.C. area joined Oberlin President Marvin President Krislov for an alumni reception honoring Baltimore mayor and 1992 grad Stephanie Rawlings-Blake.
Arizona—Third Annual Alumni and Parents
Baseball Celebration:
More than 100 alumni, parents, and players celebrated Oberlin athletics at the home of parents Vic and Joan Knight in Scottsdale. We were joined by Natalie Winkelfoos, associate director of athletics.
Minneapolis/St. Paul—Alumni Reception with President Krislov:
Obies from the Twin Cities gathered on a beautiful May evening for a celebration with President Krislov hosted by Hudie '02 and Sarah Broughton at the lovely home of Hudie's parents, Walter and Valerie Broughton.
Oberlin Alumni Association— NYC Conservatory Alumni Reception with Dean David H. Stull:
Conservatory alumni in New York joined Dean Stull for a rooftop reception hosted by Lee Koonce '82. Alumni had an opportunity to meet the dean, reminisce, and learn about the first ever all-Conservatory Alumni Reunion and Celebration in 2012.
We're looking for volunteers to help strengthen Oberlin's presence in Albuquerque, Chicago, Columbus, Raleigh/Durham, South Florida, and Western New England. If you're interested in serving on the steering committee of one of these or your local alumni club, please contact John Keller, Director of Alumni Regional Activities and Education, at john.keller@oberlin.edu.
Exit from Brooklyn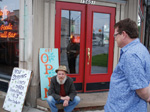 James Mason's return to Ohio was precipitated by what he calls in the preface to the new edition of his book Positively No Dancing his own country music song, in which he lost his wife, home, car, job, and even cat. In a way, he also lost his neighborhood. The writer, an Elyria, Ohio, native, spent most of the period following his 1987 graduation in the rough-edged Red Hook section of Brooklyn, the perfect time to observe its transformation from what Life magazine called the "crack capital of the U.S." to the home of an Ikea and a haven for better-paid hipsters and the boutiques that meet their needs. Mason now lives and writes in Cleveland.
Positively No Dancing, which Los Angeles Times book critic David L. Ulin said "gathers the detritus of city life and spins it into something spare and beautiful," is available through Freebird Books (freebirdbooks.blogspot.com). On September 18, he will do a reading at the Brooklyn Book Festival.
In June, Mason (left) shared billing with Oberlin creative writing Professor Dan Chaon (right) for a reading at a Cleveland café operated by Arts Collinwood, a neighborhood nonprofit arts organization.