Around Tappan Square
Onetime Gasholder House Now Holds Underground Railroad History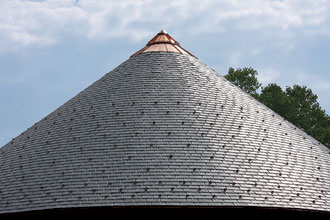 Within the next few years, the historic Gasholder House on South Main Street will reopen to the public as the Oberlin Underground Railroad Center, a monument to the city's heritage as a stop on the Underground Railroad. The site will serve as a center for visitors to Oberlin, many of whom travel through Oberlin via Underground Railroad tours such as the Adventure Cycling Underground Railroad bike route. The building will house artifacts from the Civil War era, as well as art exhibits, lectures, performances, and other community events relating to the city's heritage as a focal point of the abolitionist movement.
In addition to its function as a historical center, the site will double as a multimodal transportation hub, serving as a rest stop for both automobiles and cyclists on Lorain County's North Coast Inland Bicycle Trail, which will ultimately span from Elyria to Toledo. Plans for the rest stop include public restrooms, picnicking and pedestrian amenities, a sculpture park, and a bike shelter with an air fill station.
Built in 1889 as a storage center for coal gas, the Oberlin Gasholder building supplied light and heat for the city's street lamps until it ceased operation at the end of WWI. One of the few remaining structures of its kind in the nation, the building was placed on the National Register for Historic Places in 1998.
To read more, visit oberlin.edu/oam. For more information about the Underground Railroad Center project, visit the Oberlin Underground Railroad Center Project Facebook page or the city's website.
—EJ Dickson '11
Fine Fellowships
Going for the Goldwater
Adam Birdsall '13 and Melanie Malinas '13 were selected from more than 1,000 math, science, and engineering students nationwide to receive a Barry M. Goldwater Scholarship for the 2012-13 academic year. The competition is open to sophomore and junior students. Daniel Walden '12, a double-degree student with majors in classics and piano performance, is Oberlin's first Gates Scholar, a highly competitive graduate program at the University of Cambridge.
Interactive and Interfaith
May graduates Wyatt Hayman '12 and David Fisher '12 received grants totaling $50,000 from Oberlin's Creativity & Leadership Fellowship Program. Hayman, along with Jack Kearney '12 and Shahab Raza '12, will develop a technology company, Applaud, centered on a smartphone application that will facilitate an interac- tive conversation between customers, businesses, and employees. Fisher will establish a service-learning initiative, Interfaith Appalachia, which will offer service-learning programs that work with mining communities in the Appalachian region.
Panel Discussions
Interested in Oberlin history — both the college and town? The Oberlin Heritage Center has just the book for you. Oberlin: Origins and Onward uses the comic book format to tell the story of "how one small Ohio college town has a big impact." For more information, or to order the book, visit www.oberlinheritage.org.
Here Comes the Sun Power
Oberlin College has entered into a power purchasing agreement with Spear Point Energy to purchase electricity from a 2.27-megawatt (MW) solar array to be constructed on the northwest corner of campus. Designed and being built by SPG Solar, the photovoltaic array will be the largest on any college or university campus in Ohio. Construction will be completed by the end of August.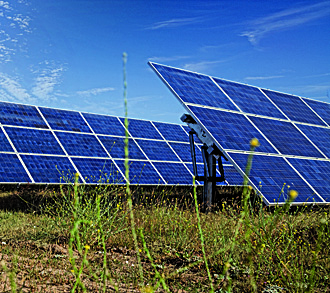 The array will consist of 7,722 polycrystalline photovoltaic (PV) panels bolted to a ground- mounted tracking system and will cover about 10 acres. It will generate approximately 3 million kilowatt hours (kWh) of electricity per year, enough to power 400 to 450 homes and equal to 12 percent of the college's annual consumption. The purchase of electricity from this system will move the college significantly closer toward its goal of carbon neutrality by 2025.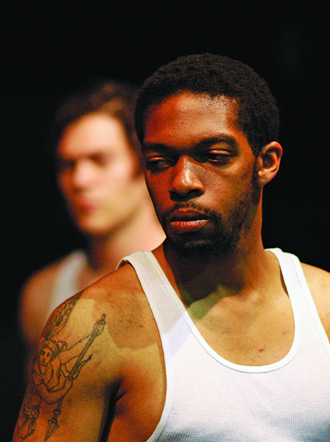 OTD Meets CPT: Iphigenia 2.0
Oberlin's Theater and Dance Program joined with the Cleveland Public Theatre (CPT) in April to present Iphigenia 2.0, a contemporary adaptation by Charles Mee of Euripides' Greek tragedy, Iphigenia at Aulis. The production is the first large undertaking of this newly formed partnership, which allows Oberlin students to share techniques, rehearse and perform alongside professional actors, and earn professional credits.
Oberlin students and professionals formed the cast of the show, which was directed by Matthew Wright, associate professor of theater, and produced by CPT artistic director Raymond Bobgan. The show incorporated movement and dance choreographed by Visiting Assistant Professor of Dance Holly Handman-Lopez. The collaboration between Oberlin and CPT is part of the college's ongoing effort to establish stronger connections with Cleveland and the flourishing Gordon Square Arts District. "Some of the best and brightest talent is coming out of Oberlin," Bobgan says, "and we'd like to keep them around."
—Amanda Nagy
Commencement and Reunions Picture Perfect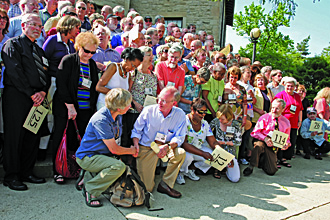 Commencement exercises were held May 28 on Tappan Square, with more than 715 students receiving degrees. Hundreds of alumni returned to campus for the weekend to take part in reunion gatherings and attend special events, including panel discussions, historical tours, concerts, and plays.
Commencement speaker Thomas Frieden '82, director of the Centers for Disease Control and Prevention, received an honorary doctorate; also receiving honorary doctorates were Martha Bergmark '70, founding president of the Mississippi Center for Justice; James Burrows '62, award-winning television director, producer, and creator; Margaret Cheney '76, professor of mathematics at Rensselaer Polytechnic Institute; Stanley Cowell '62, award-winning jazz pianist and composer and chair of the jazz studies program at Rutgers University; and Ntozake Shange, groundbreaking writer and performance artist. Richard Dunn, an active leader in Oberlin community development, was presented the award for distinguished service to the community. Civic leader, educational and environmental advocate, and former Oberlin mayor and council president Daniel Gardner '89 received the Alumni Medal. Daisy Khan, executive director of the American Society for Muslim Advancement, delivered the baccalaureate address.
For pictures, sound clips, and videos, including an archived webcast of commencement exercises, visit our Commencement 2012 webpage.
Retiring Professors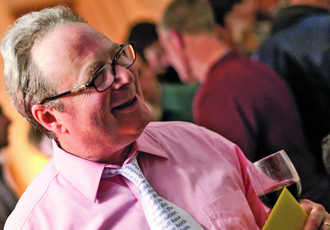 Professor of History Gary J. Kornblith. (Ricky Rhodes)
Professor of History Gary J. Kornblith has retired after teaching American history at Oberlin since 1981. Associate Professor of English John Hobbs retired after teaching at Oberlin since 1966, and Professor of Music Education John Knight retired 34 years after arriving in Oberlin.
The Arts at Oberlin: This Fall
September 13
Convocation
An Evening with Obie Journalists
Covering the 2012 Election:
Michael Duffy '80, Peter Baker '88,
Beth Fouhy '83, and Felice Bellman '88

September 21

Oberlin Orchestra Concert

October 6

Convocation
An Evening with Anna Deavere Smith

November 1

Artist Recital Series
Garrick Ohlsson, piano

November 7-11

Oberlin Opera
Il Mondo della Luna

Details and ticket information can be found in the Oberlin Art's Guide.
Alumni Events Beyond Oberlin
August 4

Oberlin Clubs of Portland, San Francisco, and Colorado/Wyoming: Annual Summer Picnic

August 5

Oberlin Club of South Florida: Annual Summer Picnic

August 19

Oberlin Club of Cleveland: Annual Summer Picnic

August 25

Oberlin Clubs of Minnesota and Ithaca: Annual Summer Picnic
Alumni event information can be found at The Oberlin Alumni Association.