The Reunion Matrix
After an exhaustive period of research lasting minutes and minutes at a time, involving data culled from casual glances at Wikipedia, guesses, and uninformed conjecture, we present to you the results of our first decennial Oberlin Reunion Matrix.
The matrix looks at the events, attitudes, preoccupations, and traits of three of the classes recently celebrating their reunions, along with the current graduating class, to give a sense of how Oberlin and Obies have changed, how they've stayed the same, and how accurately we can sort of make things up about them.
We'll be back with the grid in 2022. Well, 2022-ish.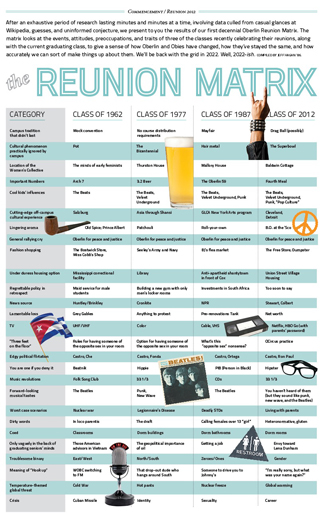 (Click for PDF)
---
Oberlin Alumni Magazine welcomes comments from readers.
Please address your letters to:
Oberlin Alumni Magazine,
247 W. Lorain St., Suite C,
Oberlin, OH 44074-1089
Phone: 440.775.8182 or email alum.mag@oberlin.edu.
Letters may be edited for clarity and space.
---