Alumni Notes
A Movement Movement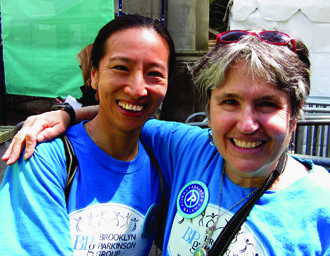 Every Friday afternoon, 20 or so people meet in a light, airy dance studio in Brooklyn, N.Y., to experiment with different ways of moving their bodies. They are dancers in this class, yet they also have something else in common: Parkinson's Disease. The class is part of PD Movement Lab, developed by Pamela Quinn '76 and sponsored by the Brooklyn Parkinson's Group to help people combat the idiosyncratic movement challenges that are brought on by the disease. In addition to dance moves, tools such as balloons, rope, masking tape, and balls are used to help people move gracefully. Quinn, a former dancer and choreographer who worked with both ODC/San Francisco (formerly Oberlin Dance Collective) and actor Michael O'Connor '74, knows too well the problems these students face. She herself was diagnosed 17 years ago at the age of 42.
Quinn's lab is one of a handful of classes sponsored by the Brooklyn Parkinson Group (BPG), a nonprofit organization founded in 2000 by Olie Westheimer '64. Westheimer was a support group leader for patients of her husband, a neuroscientist and neurologist specializing in movement disorders. Observing their movements, the lifelong dancer became inspired.

"I was completely struck by how people with Parkinson's Disease talked about helping themselves move," she said. "Some of the tricks they discovered were quite similar to what dancers learn to do in order to execute dance steps and sequences. They were thinking the way dancers think." Seeing this, Westheimer decided she wanted "to do something with them that was more about living a normal life than learning and talking about PD in a support meeting."

BPG soon formed a partnership with the Mark Morris Dance Group, a Brooklyn-based modern dance company, to create Dance for PD, a program that trains instructors around the country—and now, with sites in England, Germany, Italy, Canada, Israel, India, around the world—to teach dance classes for people with Parkinson's Disease. BPG now also offers classes in singing, fitness, and art, as well as dance classes in Manhattan at the Juilliard School and art workshops at the Museum of Modern Art.

Parkinson's results in inhibited, and even uncontrollable, motor functions—shaking, for example, or loss of balance. The disease can be so debilitating at times that most people with Parkinson's Disease are forced into early retirement. "Parkinson's becomes a full-time job," says Leonore Gordon '77, a clinical social worker/family therapist of 30 years and a longtime resident poet in public schools who retired from those careers in 2008.

A frequent attendee of the BPG classes since 2000, the year after she was diagnosed with the disease, Gordon has become a political advocate for persons with Parkinson's Disease. She was delighted to find Oberlin alumnae at this unusual intersection of Parkinson's Disease and dance in Brooklyn, but not particularly surprised. "Everyone I know who's an Obie sees gaps in the worlds they move in, and then attempts to create solutions," said Gordon. "We see what's needed and do what we can to solve the problems we stumble upon."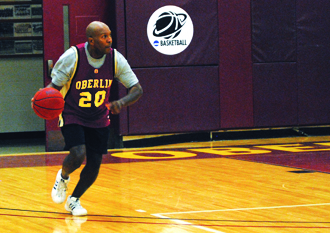 Heisman, Hoops, and More: Homecoming 2012
Reconnect with former teammates and the rich tradition of Oberlin athletics at the 2012 Athletics Homecoming Weekend, September 21-23. The weekend festivities include a tailgate party sponsored by the John W. Heisman Club and the Heisman Club Hall of Fame Induction Ceremony.
This year's inductees include the 1921 football team, swimmer John Limouze '01, swimmer Celeste Mercer '02, soccer player David Craig '87, and men's lacrosse player Ryan Kelley '98. The weekend also includes the current football team, women's soccer team, and field hockey team in action, plus alumni games for men's baseball, swimming and diving, and basketball.
Then-Heisman Club president George Smith '87 competed in last year's alumni basketball game (above).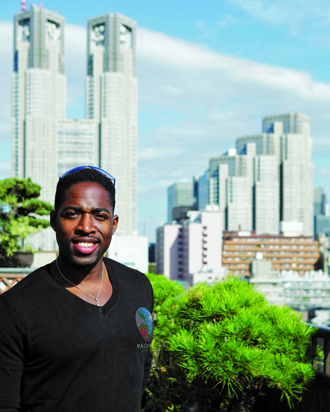 Building a Better Balcony
After studying economics and East Asian studies at Oberlin, Texan Theodore Jennings '99 moved to London to work for a finance and banking firm, which sent him to Japan in 2000. While gazing out from the veranda of his Tokyo penthouse apartment, he saw something very interesting in the verandas of his neighbors: a business opportunity. It was, he told the Japan Times in a recent profile of him, an "epiphany."

"One day I was looking out of my window, and I saw all the verandas and I thought, 'This would be a really good idea to design people's balconies,'" he said. In 2010, he turned his idea into a business, transforming bland balconies into compact but lush gardens using furniture, potted plants, pebbles, and decking. By greening the concrete floors, Jennings' designs also reduce a balcony's temperature, and thus cut home energy use.

Jennings had already gotten compliments for the design of his own 35-square-meter veranda, which gave him the confidence to try more, though it was a tough sell at first since the concept was brand new to Tokyo. He began with a half-dozen verandas he did for free for friends and acquaintances, some of whom were resistant even at that price point. But with those verandas to showcase, his business grew by word of mouth and friendly media coverage. Now, he says, he wants to become "the Louis Vuitton of outdoor lifestyle garden design shops."
Learn more at vacationverandas.com
The Times They Are A-Changin'
When I bought my new iPhone, I could hardly wait to get my hands on the instruction manual and start using this life-altering device. Well…the instruction manual consisted of a colorful, two-sided, tri-fold brochure with a description of all the wonderful functions my shiny new device could perform, but no instructions. When I asked my phone to call home, Siri responded with plenty of attitude: "Who are you?" I now call her Sistah Siri. Through trial and error, stops and starts, and multiple texts with my 18–year-old niece, I can now access e-mail, Facebook, LinkedIn, Twitter, and Scramble with Friends whenever Sistah Siri allows me. The times they are a changing, and that's true for Oberlin College, too.

The college is transitioning from printed mailings to more electronic communications. The Alumni office is doing "split" mailings, which means they send electronic event invitations and notices to alumni for whom they have active e-mail addresses, and printed invitations and newsletters only to those alumni who have not provided e-mail addresses. This approach saves costs and allows the office to communicate on a timely basis with all of you. It is also environmentally friendly. If you have not updated your e-mail address recently, please do so in the alumni online community (OBIEWeb) by visiting new.oberlin.edu/office/alumni or by sending your e-mail address directly to alumni@oberlin.edu.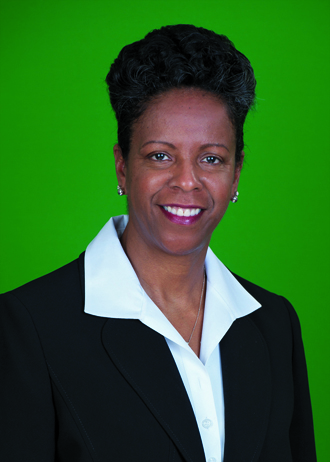 Do you know that regional event notices are sent to all alumni who live within a 50-mile radius of the event location? If the Alumni Office has your e-mail address, invitations will be sent to you electronically. If you frequently travel to a city that is not your primary residence, let the Alumni Office know and they can make sure you receive notices for other regions of interest (phone: 440-775-8692: e-mail: alumni@oberlin.edu.) A complete list of Oberlin's regional clubs can be viewed on our Alumni Clubs Page.

Alumni connections through social media outlets have increased considerably in recent years. Reunion classes are sharing ideas through Facebook; professional connections are being made through LinkedIn; and many Obie news items are going out via Twitter. Links to these sites can be found at the Alumni Portal. Warning: If you go to Facebook and search for "Oberlin," you may be overwhelmed with all of the pages and groups that come up. To date, more than 3,600 alumni are already members of the "Oberlin Alumni" Facebook group.

The Academic Calendar Committee proposed a number of changes that were recently approved by the General Faculty, which will affect the scheduling of future Commencement/Reunion Weekends. Commencement will now be held the fourth Monday of May (as opposed to Memorial Day). In some years, the fourth Monday will be Memorial Day, in others it will be the week before. Forty percent of future Commencement/Reunion Weekends will now take place the weekend prior to Memorial Day weekend. The first year that reunion classes will experience a non-Memorial Day Weekend reunion celebration will be May 20-23, 2016. The Alumni Office will provide plenty of notification of reunion dates to all classes.

More changes are also in the works and I'm excited to share them with you in the coming year. In the meantime, know that no matter how many procedural, technological, and structural changes are made, the Alumni Association remains committed to its guiding purpose of fostering the interests and continuing excellence of Oberlin College.
Jackie Bradley Hughes '76
President, Oberlin Alumni Association
2012 Alumni-Elected Trustee Election Results
Diane Yu '73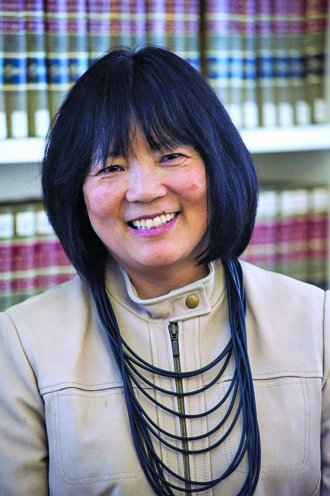 Diane Yu '73 was elected to serve a second six-year term (2012-2018) as an alumni-elected trustee.
Yu is chief of staff and deputy to the president at New York University, where she is a member of the top decision-making team and a key presidential advisor regarding dealings with NYU trustees, deans, faculty members, students, and the University Senate. She oversees the Office of Compliance and Office of Equal Opportunity and teaches a leadership class at NYU.
Yu is also executive director of the Sheikh Mohamed bin Zayed Scholars Program and co-executive director of the NYU Abu Dhabi Summer Academy for Outstanding Emirati High School Students. She sits on the board of the American Management Association and is a former president of the White House Fellows Foundation and Association. She holds an honorary doctorate from City University of New York.
Regional Spotlight
India in Ithaca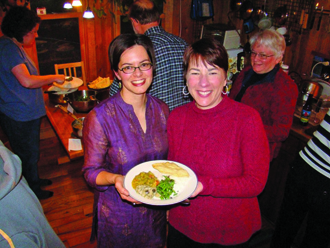 Oberlin's newest alumni club, the Oberlin Club of Ithaca, hosted a night of South Indian cuisine on April 28, cohosted by Asya Ollis '96 (left) and Hilary Greenberger '81. Asya had recently returned from six weeks of culinary study in South India and was eager to share her love of the cuisine.
Be sure to check out pictures of the many community service projects that were part of Oberlin Cares–Alumni Day of Service on theirxs Facebook page.
The Oberlin Alumni Association's regional clubs keep alumni, parents, students, and other friends of Oberlin connected to each other and to the college. There are 28 regional clubs, including an international club in London. Some of the activities are simply about getting people together, while others involve the kind of intellectual explorations that Oberlin's lifelong learners seek out.
Connect with your fellow alumni at The Oberlin Alumni Portal.