Thought Process
The Nature of Art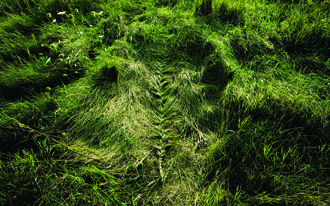 (Jennifer Ray '07)
This braided grass is an attempt to model an idealistic relationship between humans and nature; non-destructive and ephemeral — surely undone with the next rainstorm. Visiting Assistant Professor of Art Jennifer Ray '07 left a human mark on the landscape without harming it.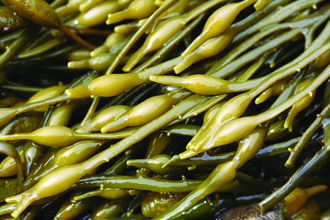 (Mary Garvin)
Seaweed, Ascophyllum nodosum (2008), by Associate Professor of Biology Mary Garvin, was exhibited at Cross-Listed, a showcase of works by 18 faculty contributors across nine academic disciplines that ran this spring in Oberlin's Baron Gallery. The photograph, taken at Acadia National Park in Maine, combines two of Garvin's favorite interests: biology and photography. The exhibit sought to "mirror the academic diversity of an Oberlin class."
Cross-Listed was organized by Exhibition Initiative, a student-run organization designed to showcase the wide range of artistic talents among members of the Oberlin community. Students organize, curate, and install all of the artwork they exhibit to gain real-world experience in the arts.
An essay in the student-penned exhibition catalogue explained that in this and another work in the exhibit, Barnacles, Garvin aimed to "capture both the ephemeral and often overlooked story of organic structures and organisms."
For more information, see exhibitioninitiative.com.
Just One Question
Q: What's Your Guilty Pleasure?
Thomas Frie den '82, Director of the Centers for Disease Control and Prevention and Oberlin's 2012 Commencement Speaker, had a hard time admitting his one guilty pleasure. He did tell us, but he couldn't resist taking all the guilt (and pleasure) out of it.
"I will admit to one guilty pleasure, and that's dessert — especially cheesecake, which is a specialty in New York where I grew up. Of course, most desserts are energy dense and contain a lot of calories without much nutritional value, so moderation is key. And I know that when I do indulge in a dessert, I'll have to hit the squash court a little harder the next day to burn off those extra calories."
10 Things You Might Not Know About Relativity
THE ENTIRETY OF RELATIVITY:

A MOVING CLOCK TICKS SLOWLY.
That is, in the reference frame where the clock moves, that clock ticks off less time than actually elapses. In the clock's own reference frame, it keeps perfectly accurate time.

A MOVING ROD IS SHORT.
But, again, in its own reference frame, that rod is not short.

A MOVING PAIR OF CLOCKS IS NOT SYNCHORNIZED.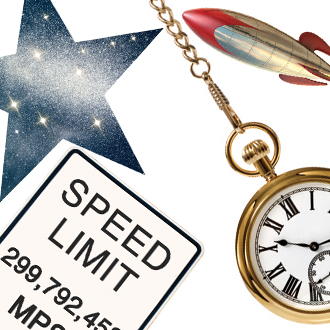 But, again, in that pair's own reference frame, the two clocks are synchronized.

THAT'S ALL THERE IS TO IT.
Relativity has a reputation for being complex, arcane, and unfathomable. But items 1, 2, and 3 above contain the entirety of relativity. Unexpected? Yes. Counterintuitive? Yes. Profound? Yes. Complicated? No.
THE CONSEQUENCES:

THESE THREE ITEAMS HAVE MANY CONSEQUENCES.
They're short and they're simple, but any alteration of such fundamental concepts as space and time are bound to have a lot of consequences. For example, see 6-9:

OUR LANGUAGE WORKS AGAINST OUR UNDERSTANDING OF RELATIVITY.
There is a past tense, a future tense, and a present tense, but there should also be a tense for "maybe in the past, maybe in the future, maybe in the present, depending upon reference frame."

IF EFFECT ALWAYS FOLLOW CAUSE, THEN NO INFORMATION CAN TRAVEL FASTER THAN LIGHT.
Some say that this "speed limit" comes from relativity alone, but it requires also the assumption of causality.

BUT DESPITE THIS SPEED LIMIT, WITH FAST TRAVEL YOU COULD REACH ANY DISTANT STAR WITHIN YOUR LIFETIME.
Because while you're traveling to that star, the clock that is your aging will tick slowly.

A MOVING OBJECT RESPONDS SLUGGISHLY TO FORCES.
But in that object's own reference frame, it responds to forces in the same way it always has. This is the physical content of the equation E = mc2.

OUR UNIVERSE IS ENDLESSLY SURPRISING, AND THEREFORE SUPREMELY DELICIOUS.
I've been studying the implications of items 1, 2, and 3 for 39 years, yet still I stumble upon the unexpected. Relativity continues to surprise and delight me.