Alumni Notes
News from the Docs
Journalist-turned-hedge fund manager Neil Barsky '81 has now turned filmmaker. His critically acclaimed documentary, Koch, about the combative and flamboyant former New York City Mayor Ed Koch, is playing in festivals all over the country (world, actually: its two screenings at the Jerusalem Film Festival sold out and a third was added). It's available via various on-demand platforms. Former cinema studies major Theresa Desautels '10 created a documentary about Burning Man that was featured in the annual South by Southwest Film Festival in March.
Fellow cinema studies major Drew Dickler '12 saw her senior project short narrative film, Dress, win best LGBT film at the Independent Filmmakers Showcase 2013 in Los Angeles. Drew also created a short film, featured on the website of New York Magazine, about Max Zahn '12 and his daily meditations outside the New York headquarters of Goldman Sachs, where he can be seen carrying a sign that reads "Let's alleviate suffering—together."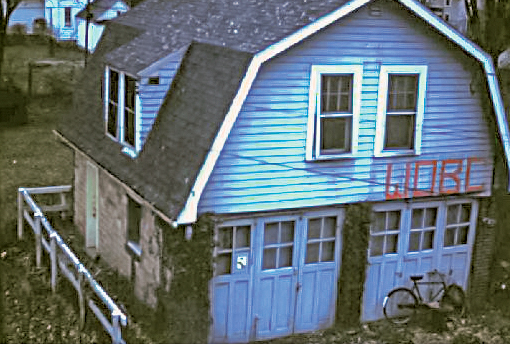 The Little Tin Man, edited by Gordon Holmes '09, premiered at the Seattle International Film Festival in June. AKA Doc Pomus, by Peter Miller '84, about the blues songwriter who wrote some of rock and roll's biggest and most revered early hits, including "Save the Last Dance for Me" and "This Magic Moment," opens in theaters nationally in October, starting in L.A. and New York. Among Miller's interview subjects is Pomus biography writer Alex Halberstadt '92.
Meanwhile, AIDS activist Peter Staley '83 is prominently featured in the award-winning How to Survive a Plague, which snagged a 2012 Academy Award nomination.
Binding with Science
Five science students from the Class of 1977 have reconvened in the most remarkable of ways: Each is a member of the National Academy of Sciences, a nonprofit organization that advises the U.S. on scientific matters. Plant biologist Joanne Chory was the first to be nominated, in 1999.
She was followed by evolutionary biologist Richard Lenski in 2006 and biophysicist Lorena Beese, microbial biologist Ralph Isberg, and neuroscientist 
S. Lawrence Zipursky, each in 2009.
"This is something that Oberlin should be really proud of," says Chory, who credits Professor Richard Levin for inspiring their efforts.
In researching viable varieties of the tree, Kristen looked in part at the work of southern Minnesota sustainable agriculture researcher Phil Rutter '70, who breeds hazelnuts and chestnuts and is president and cofounder of the American Chestnut Foundation. Phil dreams of developing hazelnuts as an alternative to traditional row crops; for decades he has been working at creating a commercially viable hazelnut bush and is now experimenting with machines to quickly harvest the crop. American hazelnuts grown by Phil are pictured on the cover of this magazine.
Contenders and Winners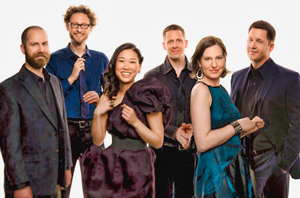 Oberlin alumni-spawned contemporary chamber music sextet eighth blackbird earned a Grammy Award for Best Chamber Music/Small Ensemble Performance of 2012 for "Meanwhile: Incidental Music to Imaginary Puppet Plays," from the 2012 release Meanwhile. The award ceremony took place in February 2013.
In March, Girls, the HBO series created by and starring Lena Dunham '08, won a Golden Globe award for best musical or comedy television series, and Dunham won as best actress in that division.
Also in March, Girls took home a Peabody Award, which recognizes excellence across the world of broadcasting, as did Joe Richman '87, founder and executive producer of NPR's Radio Diaries. Richman won the award for "Teen Contender," an installment that followed the exploits of a teenage boxer seeking a spot on the U.S. Olympic Team. A veteran of All Things Considered, Car Talk, and other NPR staples, Richman launched Radio Diaries in 1996.
Finally, Leon Rothenberg '97 won a 2013 Tony Award in June for best sound design for the play The Nance.
Transformative Effect
The esteemed Cleveland Museum of Art opened its first offsite gallery—in a renovated Cleveland Railway company transformer station on Cleveland's near west side—thanks to nationally recognized art collectors Fred '74 and Laura Bidwell.
The Bidwells bought and renovated the building, now called the Transformer Station, and will pay for operations and maintenance for 15 years, after which they will donate the building to the museum. The couple and the museum will jointly program the space. In June, the Bidwells were awarded the Martha Joseph Prize from the 2013 Cleveland Arts prize for their contribution to Cleveland's visual arts scene.
Alumni Association Survey Results
In April's issue of the Around the Square e-newsletter, Oberlin alumni were invited to take part in a survey asking about their relationship with Oberlin College and the Alumni Association. The survey was sent to more than 21,000 alumni for whom we had active email addresses in OBIEWeb, the online alumni community. The response was tremendous, both in quantity and quality. We received responses from alumni representing class years from the 1930s to 2013 and more than 85 pages of additional written comments. Here are some of the highlights:
More than 95 percent of alumni said they agree or strongly agree with the statement "I am proud of my association with Oberlin College." More than 75 percent were in the "strongly agree" category.
More than 80 percent of respondents said they feel well informed about what is happening at the college.
The Oberlin Alumni Magazine garnered high praise. Many value the magazine as a key communication vehicle.
Geography, technology, and generally busy lives present challenges to participating in alumni activities.
Finding the right mix of regional activities can be tricky. For example, younger alumni sometimes perceive some regional activities as intended for an older audience, and vice versa.
The executive board of the Alumni Council shares your interest in the reputation of Oberlin and its standing among peer institutions in national rankings, in particular those whose methodologies do not adequately recognize Oberlin's unique qualities or core values.
We also understand your strong desire for more meaningful connections between faculty, students, and alumni. This includes providing professional development opportunities, highlighting alumni who are not necessarily "rich and famous," and finding ways to get involved with the school that are not strictly related to fundraising.
This feedback has provided helpful guidance as the leadership of your Alumni Association looks ahead to possible changes. Many of the respondents thanked us for the survey. I want to thank you for taking the time to let us know how we can make your Alumni Association better.
All Oberlin alumni are welcome to join OBIEWeb via the link at new.oberlin.edu/office/alumni/. Through OBIEWeb, you can update your contact information, look up friends or alumni in your part of the world, and submit class notes to let us know what you are up to. You will also receive the monthly Around the Square e-newsletter, featuring updates on what's happening on campus and within the alumni community.
We plan to administer alumni surveys periodically in the years to come and hope you will participate. The Alumni Association also welcomes your feedback whenever you have something to share. You can contact the alumni office at alumni@oberlin.edu or by phone at 440-775-8692.
---
Volunteer For Your 2014 Reunion!
Join other classmates in shaping the activities for your next reunion.
5th Reunion

Classes of 2008, 2009, 2010
20th Reunion
Classes of 1993, 1994, 1995
25th Reunion
Class of 1989
40th Reunion
Classes of 1973, 1974, 1975
50th Reunion
Class of 1964
Half-Century Club Reunions
Classes of 1958, 1959, 1960
To get involved, contact the Alumni Office at 440-775-8692 or 
alumni@oberlin.edu.
SAVE THE DATE: Oberlin Lambda Reunion, October 10-12, 2014
---
Endquotes
''Columbia Heights gentrification 
T-shirt of the day: 'Oberlin Lacrosse.'''
Slate political reporter and MSNBC 
contributor Dave Weigel, tweeting about 
his Washington, D.C. neighborhood
"The interests 
I had at Oberlin all got thrown into the pot 
of my mind and stewed away there, to emerge 20-something years later into books. Don't underestimate your time here. 
The experiences you've had and 
the interests you've developed may well turn up years later in 
the oddest ways."
Tracy Chevalier '84, in her 2013 Oberlin 
Commencement address
''At Oberlin, 
we recognize our disagreements. But, we do so with 
open hearts 
and minds. 
We strive to 
learn from 
our differences and to have discussions grounded 
in reason but tempered by our values —especially empathy for others and respect for 
their points of view. Those discussions form the basis of education 
and lifelong learning.''
President Marvin Krislov, in a Commencement 
speech cut short by a downpour
''Huge Haass fans here tonight!''
John Oliver, host of The Daily Show 
with Jon Stewart, reacting to the enthusiastic 
audience response to Council on Foreign 
Relations President Richard Haass '73
"I did a lot of 
sad-girl journaling, and wrote sad-girl poetry —  lots and lots of sad-girl poetry."
Domenica Ruta '01, author of 
With or Without You, a memoir about 
growing up with a drug-addicted 
mother, in the New York Times