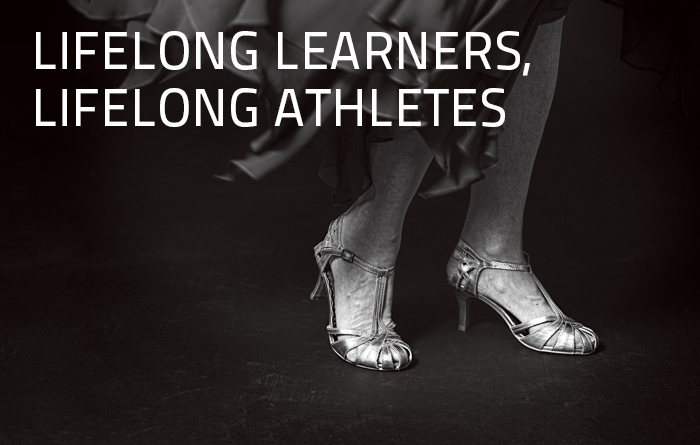 "YOU GOTTA KEEP MOVING," SATCHEL PAIGE ONCE 
SAID. IT'S A LESSON THAT TENNIS PLAYER JOHN 
ERIKSON '61 REMEMBERS WHEN THINKING ABOUT 
HIS GAME. IN FACT, IT'S A 
LESSON THAT MANY ALUMNI HAVE TAKEN TO HEART. STAYING ACTIVE, KEEPING FIT—THESE ARE ESSENTIAL 
INGREDIENTS FOR BOTH 
BETTER PHYSICAL HEALTH AND BETTER MENTAL AND SOCIAL WELL-BEING.
BUT DON'T JUST TAKE OUR WORD FOR IT: LET OUR OLDER ALUMNI ATHLETES 
THEMSELVES TELL YOU HOW 
AND WHY THEY DO IT.
---
Delbert Mason '56
"I think exercise has definitely had an effect on my sense of happiness, my sense of my own health, and it's kept me fresh."
"I had a cerebral hemorrhage in 1992 
and began a very regular exercise routine. When 
I step on the treadmill, I reflect on friends of mine who would like to be able to do that and can't. That's a great motivating factor for 
me to get up and do it. 
As you age, you tend 
to have friends who are affected that way. 
It makes me more appreciative of the fact that I can."
John Erikson '61
"There aren't 
a lot of people my age who play tennis at this level. It has kept me involved 
with younger 
people, and that keeps you young too."
"My doctor told me 
my arthritis would be a real problem if I ever stopped being active, 
but being fit helps your mind almost more 
than your body. Staying 
active keeps you 
alert, and you sleep better after a workout. 
Being together for sporting activities has kept me close to 
my family. There's a sense of well-being when you're active."
Jim Bavis '62
"When 
I'm active, 
I have all 
kinds of 
physical and mental advantages. 
When I'm unable 
(to be active), 
I know 
I'm failing myself."
"If you can find a team 
or a partner to work 
out with, then go for it. 
If someone else is counting on you, it makes it hard to say no. You'll 
feel better, you'll be happier, and you'll have someone who can 
be strong when you're feeling weak. When I exercise, my mind is clearer, my life is less cluttered, and I'm 
better at budgeting my time wisely."
Ann B. Stevens '69
"I've always been active; I wouldn't know 
what it would be like to be a couch potato."
"Everybody should keep up an active lifestyle. 
I maintain that if you feel down in the dumps, 
you feel much better 
if you go work out. After 
a swim, you feel ten times better than when you went in. And ballroom dancing is great because it's a social activity. After you go dancing, you feel a hundred times better. 
If you had a bad day, 
go dancing."
---
Pillar of Strength
Support of health and wellness is one of the pillars of Oberlin Illuminate: A Campaign for the College and Conservatory. Alumni donors sustain many athletics and 
health and wellness programs across campus, from team sports to club sports, from fierce competitors to the just plain fierce. These programs and facilities start our students on a lifelong path to staying fit, enabling them to have healthy brains inside healthy bodies.