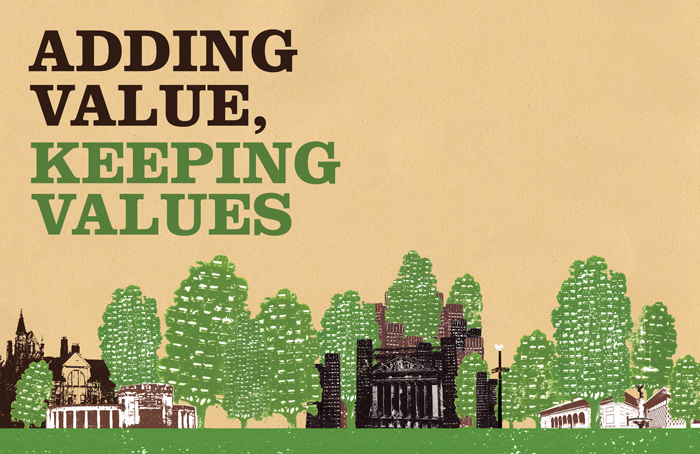 By Christopher Johnston
Illustrations By Katie Edwards
A decade ago, Stewart Kohl '77 and Bela Szigethy '77 devised a winter-term course ostensibly designed to offer Oberlin students a bird's-eye view of the intricate workings of mergers and acquisitions, hedge funds, venture capital, private equity, and investment banking. But there were ulterior—and altruistic—motives, which Kohl expressed succinctly: "Wall Street could use more Tappan Square."
"The world would be a better place if there were more Oberlin values and liberal arts training in the business world," Kohl says today.
Now in its 10th year, Oberlin Business Scholars (OBS) is a month-long experiential opportunity that provides select scholars from all majors with a foundation of skills, knowledge, and contacts to compete for jobs and internships in the fields of finance and consulting. Students take part in intensive workshops and site visits with alumni volunteers in the private sector. The inaugural class of scholars—13 in 2004—was paired with alumni in Cleveland and New York. The program has since expanded to include components in Chicago and Boston.
"Because Oberlin does not offer a degree in business, this program is particularly important for students who think it may be an appropriate career path—but don't yet have the means to know," says Dean of Studies and Vice President of Strategic Initiatives Kathryn Stuart.
Founding sponsors Kohl and Szigethy—co-CEOs of the Riverside Company, a private equity firm in Cleveland—have supported the ongoing evolution of the program, which now involves some 50 alumni. Kohl says it has more than exceeded their original expectations, providing a window to the realm of business and finance for students and exposing them to new ideas, worlds, and career opportunities.
Oberlin's Career Center oversees the Business Scholars Program. Director Richard Berman says he has made improvements to the continually evolving initiative, usually based on participant feedback. This year, for example, he increased the number of alumni panels and presentations. "The students just love it when they get to engage directly and be part of the experience at each site," he says. "So we're working with more and more presenters each year to incorporate a case study."
One graduate of the inaugural OBS class, David Kwakye '06, an investment professional at Emerging Capital Partners in Lagos, Nigeria, says he appreciated the exposure to different areas of finance, business, private equity, and consulting. "Getting to meet and interact with Oberlin alums working in these industries and hearing about their experiences was particularly helpful," he says. "Many of them remain mentors."
Oberlin Business Scholars begins its second decade in January 2014. Kohl looks forward to meeting the "diverse and impressive" group of students in the new class and following them as their careers take shape.
"We have a growing number of success stories," he says. "Watching these students enter the business world and seeing how their careers develop is especially rewarding."
Case Studies
Taking Care Through Business

by Christopher Johnson
Bent on Business
This summer, freshly graduated Jason Bent '13 began his career at Charles River Associates, an economic, strategy, and policy consulting firm in Washington, D.C. He works as a life sciences analyst specializing in the pharmaceutical and biotech industries. The two-year position will provide valuable hands-on experience and leave him with several options at the end to attend business or law school or move into another business.
"I'm interested in development," says the Madison, Wisconsin, native. "So I could certainly see staying in business and working in emerging markets or getting involved in development work in South Asia or Asia." Bent says the OBS program was "the turning point that cemented my interest in business."
Bent credits two winter terms at Oberlin with guiding him toward his early career steps. In his first year, he spent the term shadowing his uncle, who works in finance, on a business trip through Hong Kong, China, and India. That experience sharpened his interest in business and South Asia, and he returned to India several times while at Oberlin. The trip also led the economics and South Asia history major to apply for the Oberlin Business Scholars program in his second year<
Today, he has fond memories of learning how to purchase a suit at Brooks Brothers and can tick off key business etiquette lessons he acquired pertaining to dining or conversing with a colleague. But visiting banks and firms in New York—the heart of finance—and practicing the deal-making process was the most memorable part of the program.
"Most of the people we visited exuded a feeling of achievement and believed they were doing interesting and important work," he recalls.
"It was great to see how all of these alumni, who had spent anywhere between 5 and 40 years in business, still held on to that core Oberlin idea of changing the world positively."
A Host of Opportunities
Evelyne White '04 honed her passion for hosting people in her home while attending Oberlin. She enjoyed it so much that she later started hosting people through sites such as Air B&B. But something was missing from those experiences. In January, she and classmate Shane Boris launched Bookalokal to correct that.
"I realized that what was missing was the connection and social interaction with local people when you were traveling," says White, who studied harp at Interlochen Arts Academy before double majoring in harp and environmental studies at Oberlin. "So, Bookalokal is not just about food, it's about experiences."
The online platform connects guests to local hosts who share home-cooked meals, food tours, cooking lessons, and other creative "food events" that may feature live music or art shows. "It's just a very cool amalgamation of the art and food cultures," she says.
Of course, White's hosting skills are supported by an extensive resume that fueled her with the acumen to start such a venture. Her participation in the inaugural 2004 OBS group led to an investment banking gig at Bear Stearns. She then joined the Riverside Company for five years, having kept in touch with co-CEOs and OBS founders Stewart Kohl and Bela Szigethy, who had introduced her to private equity. She worked in the New York office before helping to open a branch in Brussels.
From 2008 to 2010, she took time off to 
earn her MBA at Harvard University, and the summer in between she worked at a clean technology investment firm. But her exposure 
at Riverside to management teams of small- and medium-sized companies inspired her to 
try it herself. Bookalokal now has hosts in 20 countries, primarily in Europe and the U.S., but Asia is in the plans. White recently won cash prizes from Harvard's new venture competition and Oberlin's LaunchU program (see essay, opposite). Currently, she is raising funds to hire more talent and accelerate the development 
of the company.
Looking back on what got her to where she 
is today, she says: "If there was anything at Oberlin that had an impact on my trajectory, 
it was OBS."
Taking Work Home
Born in Ghana, David Kwakye '06 knew he wanted to find a path back to Africa after his family moved to Rockville, Maryland, when he was in high school. Although Kwakye majored in economics, it was his experience as a member of the inaugural OBS class in 2004, which exposed him to the various areas of finance and business, that changed everything.
"For a sophomore, going into a corporate environment can be pretty daunting," he says. "So having that safe opportunity to learn essential business communications and job-seeking skills, combined with the connection to a network of Oberlin alums working in business and finance, was just amazing."
Based on the time his OBS team spent at the offices of the Riverside Company, he decided that a career in private equity was the way to go. In June, his two paths merged when he moved to Lagos, Nigeria, to join Emerging Capital Partners, an African-focused private equity firm with offices throughout the continent that manages $2 billion in assets.
During his time in OBS, Kwakye landed an internship at JP Morgan in New York for the summers of his sophomore and junior years. The firm made him a full-time offer after he graduated, and he took a job as an analyst in its tech media and telecommunications investment banking division. After two years, he left to work at Fortress Investment Group before deciding to pursue his MBA at the University of Chicago. While there, he did a summer internship with Credit Suisse in New York and spent a summer with an investment advisory firm in Accra, Ghana.
After completing his degree, Kwakye was hired by Credit Suisse as an associate in the investment banking division, where he focused on clients in the global energy industry. He worked in New York for two years, but began to search for private equity positions in Africa, finally landing his current position in the spring.
"The great thing about OBS is that it provides you with enough access, training, coaching, and mentoring, so that you can take it from there and run with it," he says.
The Entrepreneur's Entrepreneur
As managing director of Gridiron Capital, a private equity firm in New Canaan, Connecticut, Kevin Jackson '04 oversees approximately 
$750 million in capital aimed at buyouts of middle-market companies.
"We are very hands-on with family-owned businesses and entrepreneurs who have taken their businesses to a great level and carved 
out a solid niche," he explains. "But they need our support and expertise to help grow their businesses even more."
The Sacramento, California, native has been on track to flourish as an entrepreneur since college. Recruited by Oberlin's football coach 
to play safety, Jackson transferred from BYU-Idaho his junior year. The following summer he started a company in San Diego to sell Dish Network and Direct TV satellite systems and hired a manager to run it while he returned to Oberlin for his senior year.
That's when he met Christopher Wofford '87, now managing director and global sector head at Banc of America Securities in New York, 
who saw his promise and became a mentor. Wofford advised Jackson to look into the brand new Business Scholars program to further 
his business experience and abilities. Jackson ended up serving as captain of his OBS team and befriended Stewart Kohl and Bela Szigethy, who turned him on to the world of private equity. Kohl suggested he pursue a training program 
in investment banking. That led to a job at Credit Suisse in New York.
"OBS provided me with a deep appreciation for the alumni network and the dedication the alumni have to Oberlin," Jackson says. "That was clear through their willingness to meet with students who didn't know much about finance, investment banking, or private equity."
He then took a position with JP Morgan Partners (later CCMP Capital), earned his Executive MBA from Columbia University, and started with Gridiron in 2010. Throughout, he has continued to rely on the mentors and friends he made while completing the OBS program.
"They have played a major role in my ability 
to be where I am today," he says.
Christopher Johnston is a freelance journalist and author.
---
Perspective
LaunchU Too

New entrepreneurship program builds business on liberal arts 
foundation.

By Eugene Carr '82
Successful entrepreneurs are visionaries willing to take personal risks in order to bring new ventures to market. The best create massive amounts of value (and wealth) through innovation, creativity, and the ability to lead. When Oberlin graduate Charles Martin Hall invented the modern process for extracting aluminum working in collaboration with a former professor, he not only changed the world; he also created tremendous wealth, much of which determined Oberlin's long-term financial health throughout most of the 20th century.
LaunchU is betting that lightning can strike twice, especially at a place like Oberlin, which has always nurtured creativity, independence, and innovative thinking. For the next two winter terms, LaunchU will build upon a program piloted last January to help aspiring entrepreneurial students and alumni get businesses off the ground by creating a community of like-minded people with the relevant business experience to help and support new ventures.
LaunchU developed out of a position paper I wrote two years ago as a member of the President's Advisory Committee (PAC). The concept was a response to President Marvin Krislov's challenge to the PAC to develop extra-curricular ideas that would hit several of the institution's long-term goals: 1) enhance the Oberlin experience for students; 2) re-engage inactive alumni; and 3) help ensure the viability and vitality of Oberlin College well into the 21st century.
At the first LaunchU program, in January, more than a dozen teams of students and recent graduates worked for three intense weeks with business mentors to hone business ideas. In the fourth week they presented their plans to a panel of seasoned entrepreneurs and investors. Ideas included BinStored, a summer storage service at colleges, beginning with Oberlin; Bookalokal.com, a travel-oriented dining site; and a sustainable reading program in Kenya, Kenya Reads.
Following on that success, LaunchU was re-envisioned as the centerpiece of the Creativity & Leadership Program, which had initially focused on helping conservatory students become "self-entrepreneurs" in their careers. That program quickly spread from the conservatory to include arts and sciences students.
There are many reasons why Oberlin is the right place to nurture entrepreneurship, even if the idea has not traditionally been associated with the institution. Steve Jobs himself, explaining the success of Apple, described why advancement in technology must be coupled with the broadest and most open type of educational system:
"It's in Apple's DNA that technology alone is not enough—it's technology married with liberal arts, married with the humanities, that yields us the results that make our hearts sing."
In an era of crumbling public faith in the humanities as a foundation for personal success and economic innovation, isn't it the mission of a college like Oberlin to show how a liberal education is necessary to unleash creative new ideas into the global economy and promote social welfare? LaunchU aims to harness Oberlin's unique educational experience as a fertile ground where ideas might germinate from the interaction of students from myriad backgrounds and communities. The goals of LaunchU emanate from Oberlin's mission as an environment for thinking creatively about improving the world and adding value to the lives and institutions that make it a better place.
If you look around campus you will see in abundance what can come from entrepreneurialism: Carnegie Library, a gift from Andrew Carnegie; Mudd Library, a philanthropic effort by the son of a 19th-century mining engineer-turned-entrepreneur; Wright Physics Lab, a gift from one of those two Dayton bicycle entrepreneurs who happened to invent human flight.
As Oberlin continues to seek new ways to broaden its relevance to both students and alumni—and ensure its own long-term financial future—adding LaunchU to the portfolio seems ripe for our time. It might very well be that the next Charles Martin Hall just needs a little help getting her idea launched.
Interested in becoming involved in LaunchU 
as an investor, donor, mentor, or participant? 
Visit oberlin.edu/launchu.