Around Tappan Square
Running to Win: Women's Cross Country Races to Conference Title
Capturing its first conference crown in 22 years would have been sweet enough for the women's cross country team, but add in their narrow, two-point win and the thrill was nearly overwhelming.
"I was tying my trainers and immediately flung them into the air," says runner Flannery Cerbin '09, reliving the moment when scores were tallied at the North Coast Athletic Conference (NCAC) championship meet on October 28. "The team started yelling and screaming, 'We did it!' We pulled it off!"
Although the Yeowomen had been picked as the preseason favorites, "we knew we'd have to fight for it, and that's exactly what we did," says Barrie Newberger '07.
As the women heaved and pushed their way through a field of 96 runners at Earlham College's NCAC cross country course, mental obstacles proved just as challenging. For tri-captain Marie Barnett '08, a battle of wills loomed in the homestretch as she sensed another runner closing in from behind. A decision to stay engaged propelled her to a fifth-place time of 25:10 and the distinction of being the first Obie to cross the line. Five seconds later, Maddy Davis-Hayes '09 snatched seventh place, with tri-captain Ariane Burwell '07 finishing in 25:48 for 11th.
Meanwhile, like Barnett, Cerbin was battling her own mental race; that is, until the yells of Head Coach Ray Appenheimer at the 300-meter mark grabbed her attention. She needed to finish strong. Obligingly, Cerbin turned on the steam, not realizing just how hot Allegheny was on her heels. A few seconds later she would place 12th (25:57), with Alison Doniger '08 just tenths of a second behind for the 13th slot. Newberger's time of 26:04 was good enough for a 17th-place finish, and Piper Niehaus '10 rounded out the Oberlin top seven at 26:44 for 28th place.
By competition's end, the Yeowomen would cruise to a first-place finish and the NCAC championship with 48 points. Barnett, Davis-Hayes, Burwell, Cerbin, Newberger, and Doniger, an NCAA qualifier at last year's Great Lakes Regionals, each earned All-NCAC honors for their efforts.
Travis Grout '07 paced the men's team by receiving All-NCAC accolades for his fourth-place finish in the 8k race with a time of 27:07.
"This victory means we can do really great things," said Doniger before the ladies' trip to the Great Lakes Regionals in Richmond, Indiana, later that month. The team finished seventh out of a field of 31 teams. Davis-Hayes, Barnett, and Newberger earned All-Great Lakes Region distinctions after placing 19th in 23:14, 25th in 23:33, and 28th in 23:41, respectively. Rounding out Oberlin's top five were Burwell in 64th (24:30) and Doniger in 65th (24:31).
"If someone had told me three years ago that this team would win a conference title and have a chance at going to nationals, I'm not sure I would have believed them," says Appenheimer, who was named NCAC Women's Cross Country Coach of the Year. "These women believed in themselves and in each other."
Students Flock to Chinese Language Classes
Lecturer Kai Li teaches a new fifth-year course in Chinese language.
As China continues to grow economically and politically, professors in the East Asian Studies department are rising to meet student demand for more course offerings.
Two sections of a first-year Chinese language class were filled to capacity last fall, and eight students completed a new fifth-year course in Chinese language—a rare offering for a liberal arts institution.
Lecturer Kai Li, who teaches the highly advanced course, says that until now, students who progressed beyond fourth-year Chinese continued their studies through private readings.
"Most of the students in the new fifth-year class have spent time in China, which has improved their proficiency," he says. "They are able to use the language to express themselves. The language is a large part of the Chinese culture, which makes learning about China in other languages difficult."
Course materials for Topics in Chinese Sources I and II are selected from authentic literature and historical and political essays. Although reading and writing proficiency are key components of the course, so is developing a deeper comprehension of the Chinese society and history. "These students realize the importance of China and that the economies of the U.S. and China are very interconnected," Li says.
"China is a rising world power, and we've seen a big jump in Chinese language enroll-ment this year," says Associate Professor and Director of East Asian Studies Ann Sherif. East Asian Studies (EAS), in fact, has seen higher enrollments in all of its classes, a trend that just makes sense to James Barnard '07, an EAS major with interests in environmental studies. "What China does will make or break the earth," he says.
Fellow EAS (and philosophy) major Lei Zhao '08, who lived in China until he was 5 years old, hopes his studies in Chinese will assist him in law school. And although he still hasn't yet figured out "what to do with the language, my education in Chinese will be of great significance personally, as it will allow me to continue to interface with my culture."
Global Warming: Fight or Flight?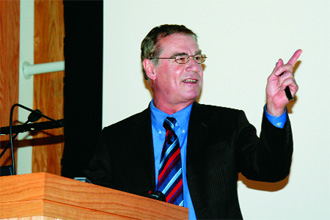 Climatologist and CATO Institute Senior Fellow Patrick Michaels
The title "Inconvenient Facts Ignored by Elizabeth Kolbert and Al Gore" got Obies flocking to an OC-Republican-sponsored lecture in October, in which University of Virginia climatologist and CATO Institute Senior Fellow Patrick Michaels delivered a lecture on global warming. He discussed ways in which global warming is exaggerated by politicians, scientists, and the media.
His talk, which kicked off the Ronald Reagan Political Lectureship Series, was in part a rebuttal to the previous day's Convocation Series speaker, New Yorker journalist and activist Elizabeth Kolbert, who has researched climate change on several continents. She warned that damage from current carbon dioxide emissions will not be felt for decades to come.
Students voiced both support for and opposition to Michaels' presentation; others expressed concern about spending too much time in debate while global warming problems add up.
Rounding out the Reagan Political Lectureship Series last fall was William Kristol, editor of the Weekly Standard, and Kate Obenshain Griffin, chair of the Virginia GOP.
Energy Alternative May Be Blowing in the Wind
Are wind turbines in Oberlin economically feasible? Professor of Physics John Scofield (left) and 2006 graduate Michael Roth initiated installation of a wind monitoring tower to find out.
The City of Oberlin is moving a step closer to wind power with the installation of a 160-foot monitoring tower designed to determine if wind turbines in Oberlin would be economically feasible.
Wind and weather data collected late in November, about midway into the year-long testing phase, showed that wind speeds were slightly lower than those first reported in Bowling Green, Ohio (90 miles west of Oberlin), where four commercial wind turbines were installed a few years ago. As Oberlin entered into its characteristically windy winter season in December, wind proponents here were optimistic.
"It's clear that the business case for wind is getting better all the time, as generator technology improves and the costs of other forms of energy continue to grow," says Pro-fessor of Physics John Scofield. He, along with May 2006 graduate Michael Roth, launched the project in 2003 as a follow-up to a Scofield-taught course on energy technologies.
Built last June, the tower is freestanding and self-powered by solar energy, says Roth. Wind speeds and direction, plus temperature, pressure, and humidity, are transmitted every two minutes through a wireless Internet connection and displayed on the group's web site. "We're right on the margin," Roth says. "Until we monitor for a year, we're not going to know whether or not wind is economically viable here."
For the College and town, the implications alone of renewable energy are exciting. The Oberlin Sustainable Reserve Fund awarded a $13,000 grant to the project, and "the College has supported efforts in several ways," says Scofield, referring to individuals who developed instrumentation and attended zoning hearings.
Oberlin's municipal power company handled the erection of the tower and the purchasing of equipment, while Oberlin's neigh-boring New Russian Township, where the tower is housed, provided $2,500 to fund the wireless Internet connection.
"One of the reasons we got the grant is because even if this is not profitable right now, it could be in the future," says Roth.
In Bowling Green, a college town similar in topography to Oberlin, the four wind turbines power 18,000 homes, making up for their initial cost of $2 million each.
The Oberlin project earned a new name this past fall—the Oberlin Wind Power Initiative—and attracted some new faces: Jaimie Harrow '07, Maria Stamas '07, Ross Myers '08, and Emma Barker '10.
Want more? See http://wind.oberlin.edu/.
World AIDS Week
AIDS activist Stephen Fallon
A thought-provoking talk called "AIDS, Orphans, and American Power" opened a weeklong series of lectures and discussions in November during the College's annual HIV/AIDS Symposium. Among the topics was a lecture enticingly titled "The Course They Don't Teach at Oberlin College: How to Fall in Love."
"You have to care enough to want to bring about change," said Florida AIDS activist and consultant Stephen Fallon to a room of student health educators during an HIV education strategies lecture. "You have to be objective enough not to impose judgment on people while removing them from harm's way. You have to be credible enough to inspire change."
Lori Morgan Flood, assistant dean and director of Oberlin's Center for Leadership in Health Promotion, says that on a busy campus like Oberlin's, "traditional health education often doesn't work. Instead, we're trying to do more things with integrated health education," such as bringing to campus the exhibit "Focus on Living: Portraits of Americans with HIV and AIDS," a national touring presentation of photos and stories of 16 Americans living with HIV and AIDS.
"There's a difference between knowing how to protect yourself and others, and actually doing it. That's what we're trying to get across," adds student health educator Helen Travis '07.
The symposium, which culminated with World AIDS Day on December 1, received support from the Robert James Frascino AIDS Foundation.
Applause for Oberlin Jazz
The Oberlin Jazz Septet, directed by Professor of Jazz Studies and Double Bass Peter Dominguez, took to the public television stage in October with a performance on Applause, an arts and culture program on Cleveland's WVIZ-Ideastream. The TV spot featured conversations about jazz studies at Oberlin with Dean of the Conservatory David H. Stull and Visiting Professor of Jazz Trumpet Marcus Belgrave. Among the topics was buzz surrounding the future home of jazz studies—the Phyllis Litoff Building—tentatively scheduled to open in 2008. A $750,000 grant from the Kulas Foundation last fall, along with last year's $5 million commitment from Stewart and Donna Kohl, puts fundraising for the project at the halfway mark.
Editor's Note - Effective April 22, 2010: Since this article originally appeared, the Litoff Building has been renamed. Oberlin's new home for jazz studies, music history, and music theory is now the Bertram and Judith Kohl Building.
Students Spur College to Divest from Sudan
Oberlin's Board of Trustees amended its investment policy last June so as to encourage investment managers in the general investment pool to divest from "targeted companies" doing business with the government of Sudan. Widespread di-vestment will hopefully put the Sudanese government in an unstable economic situation, thereby making it difficult to fund actions that have been recognized internationally as genocide.
"When there's any international attention put on [Sudan], violence goes down," says Rebekah Bob-Waksberg '09, a student representative of the campus activist organization STAND (Students Taking Action Now: Darfur), a nationwide student anti-genocide coalition with more than 600 chapters.
It was at the students' urging that President Nancy S. Dye and the Board were propelled to action last spring. Oberlin Investment Committee Chair Victor Hymes '79 says that companies providing military equipment, arms, or defense supplies to Sudan are first on the divestment list. Those that provide revenue to the Sudanese government, ones "that have offered little substantive benefits to those outside the Sudanese government or its affiliated supporters in Khartoum … [and] companies that have demonstrated complicity in the Darfur genocide or have not taken any substantial action to halt the genocide" will also be considered for divestment.
Excluded from divestment are companies that benefit the social development of Sudan, such as those providing medical or agricultural supplies, educational opportunities, or journalism-related activities.
A number of schools across the nation have taken part in divesting, including Harvard, Yale, Brown, Stanford, Dartmouth, Amherst, and the University of California system.
The Economics of Health Care
Harsha Thirumurthy's background isn't in movies. It's in AIDS research and health issues in Africa.
And yet, on September 9 in the Adam Joseph Lewis Center's Hallock Auditorium, he found himself commenting on scenes from Pretty Woman, Old School, and the 1950s cult classic Reefer Madness.
John Cawley, an associate professor of policy analysis at Cornell University, was using the movie scenes to demonstrate different economic theories on addictive behavior to support his conclusion that addicts exhibit "imperfect rationality" when making choices. Thirumurthy '98 was critiquing him.
The topic is right up Thirumurthy's alley. A post-doctoral fellow at the Center for Global Development in Washington, D.C., Thirumurthy did a dissertation at Yale examining the economic benefits and costs of various AIDS treatment programs in Kenya. He's now doing similar surveys in India and South Africa.
Cawley and a string of other health care economists presented their findings on the present and future of health care during a three-day conference designed to point out to students the research that lies behind teaching. Dozens of alumni in the health care field were on hand to examine, criticize, pick apart, and rebuild papers submitted by the key speakers.
"Incentives and Choice in Health Care: The Contributions and Limitations of Eco-nomics" was the brainchild of Frank Sloan '64, a professor of economics and the McMahon Professor of Health Policy and Management at Duke University.
"It just seems to me that the story of Oberlin is not told as frequently as it ought to be," says Sloan. "We have a lot of students who are interested in health. We thought it would be very nice to have the conference at Oberlin, rather than at a big hotel in the east or west."
Participants wrestled with hot policy issues of the day—such as how to expand health care coverage and the pros and cons of direct-to-consumer pharmaceutical adver-tising—as well as quieter topics, like how to best battle addictions.
In all, 10 scholars submitted papers at the conference, which will be bound and published this year. Oberlin's economics department, which sponsored the conference, will publish the critiques.
The event gave dozens of influential alumni a chance to mingle and discuss health care issues with other heavyweights in the field. Toby Cosgrove, CEO of the Cleveland Clinic, opened the conference with a speech titled "Leading Health Care into a New Economic Paradigm."
"[To] move from a doctor-centered health care system to a patient-centered health care system, [economists must create] benchmarks to measure, mark, and improve," Cosgrove said. He emphasized that the benchmarks would have to measure im-provements in the quality of hospitals and clinics as well—not just purely economic matters.
Henry Aaron, a fellow at the Brookings Institution and author of The Painful Pre-scription, gave a keynote address on such health economics questions as "how much does it cost to add a year to a human life by selected interventions?" along with other issues.
Several Obies involved in the real world of health care—from hospital administration to policy advising—also hosted panel discussions. Investment banker Geoffrey Harris '83, for instance, joined William Lewis '90, CFO of a start-up pharmaceutical company, and Theodore Iorio, founder of a generic prescription drug maker, to offer inside views of the health care financial system.
Daniel Waldo '72, an economist for the Centers for Medicare and Medicaid Services, discussed how to expand health care to the under-served with Daniel Mendelson '86, a political advisor in health care policy, and Steven Mickus, president and CEO of Mercy Health Partners in Toledo.
"It was an interesting conference, because it involved both academic economists and people who work in the field," says Hirschel Kasper, professor of economics at Oberlin and a conference organizer.
Various alumni took on the role of discussant, such as Brian Golden '84, a professor of economics at the University of Toronto; Emmett Keeler '62, professor at UCLA and mathematician with the RAND Institute; Daniel Rees '86, associate professor of economics at the University of Colorado; Jennifer Reinganum '76, professor of both economics and law at Vanderbilt University; Carla Willis '85, an economist with the American Medical Association; and Mark Smith '90, an economist with the Department of Veterans Affairs.
"There were some blockbuster people there," says Smith. "It's rare that you have so many quality people together, in a group so small that you could talk to them."
"Oberlin is where these kinds of things are discussed, there's a real commitment to undergraduate education. So you're not overshadowed by the graduate studies and the research agendas of the faculty," adds Sloan. ATS
Additional reporting by Fred Bernard '10
A copy of the program, including biographies of the speakers, can be downloaded at http://www.oberlin.edu/economic/Dept_of_Economics.pdf.
Conference papers can be downloaded at http://www.oberlin.edu/economic/Papers/HealthConf/.
Key to Saving Historic Pipe Organs May Lie under the Microscope
Professor Catherine M. Oertel (center), Titus van den Heuvel, and Lynn Shen '07 examine a lead-tin alloy pipe.
When newly minted PhD Catherine M. Oertel joined Oberlin's chemistry faculty last year, Titus van den Heuvel couldn't get to her research laboratory fast enough.
A double-degree senior in chemistry and organ, van den Heuvel has much in common with Oertel. She, too, was a chemistry major at Oberlin (Class of 1999) who shares van den Heuvel's love of the organ. So much so, in fact, that she's focused part of her re-search on studying why historic organ pipes are often lost to corrosion.
"Organs are our ties to the early composers, and some of them are becoming the endangered species of the musical world," she says. "Before the Industrial Revolution, organs were among the most advanced engineering feats there were."
Experts have long assumed that pipe corrosion stemmed from industrial pollution. But recently, scientists have determined that the organs themselves are actually eating the pipes. More specifically, it is believed that organic acids released from the instruments' wood are degrading their lead-tin alloy pipes.
Oertel, who studied organ pipe corrosion as a postdoctoral student at the Chalmers University of Technology in Sweden, says her work is an extension of what researchers there have been doing for the past five years. Determining how the metal composition of the pipes may promote decay could one day help organ makers better preserve these musical relics.
Using laboratory exposure chambers, she and van den Heuvel were able to simulate the corrosive atmospheres that organ pipes might experience. Samples of lead-tin alloy, ground into uniform, 3×3 centimeter segments, were placed into the chambers with a controlled level of acidic gas and air. Weeks later, the chambers were monitored for an increase in weight, which indicates the presence of corrosion. Using Oberlin's scanning electron microscope and x-ray diffractometer, the pair then analyzed the metal surfaces to characterize the corrosion.
Preliminary results show that pipes rich in tin are more resistant to corrosion than those containing more lead. Humidity plays a key role—also an important finding for organ curators.
"Allowing builders of new organs and restorers to better understand the factors that influence pipe metal corrosion, design features, or working techniques can be adapted to take this new information into account," says van den Heuvel, who recently accepted an apprenticeship in organ building with the Göteborg Organ Art Center in Sweden.
Equally excited about the research are those who teach the instrument, such as longtime professor of organ and harpsichord David Boe.
"The corrosion that has been attacking antique organ pipes, has been, for the organ profession, one of the most mystifying and distressing developments of recent years," he says.
"The very special musical qualities heard in 300-year-old pipes fashioned from lead and lead-tin alloys are, to the organist's ears, what the sound of a Stradivarius is for the violinist. The research that Catherine Oertel and her students are pursuing is groundbreaking and will undoubtedly lead to a fuller understanding and solutions addressing the deterioration. It's exciting to have her back at Oberlin as a colleague," Boe adds.
Oertel, hopeful to have other student researchers who share her passion, says she will move steadily forward, and perhaps examine in more detail the role of humidity and how other surface contaminants, like salt, could affect deterioration. Oertel's work is supported by the Discovery Corps program of the National Science Foundation. ATS
Staying Safe and Secure in the Tech World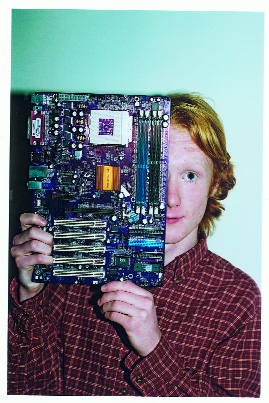 Ted Warner '09 knows the secrets of computer hackers.
"First I'm going to outline electronic voting machines and how they work. Then I'll look at the glitches that happened in Ohio during the primary last spring," Nick Ferrara '08 tells his classmates before revealing the "fun part" of his end-of-the-semester presentation: "security holes!"
The course is Computer and Information Security. Its young instructor, Assistant Professor Benjamin Kuperman, joined the computer science department last fall after two years teaching at Swarthmore. "One of my primary goals is to get students thinking about how security is present throughout their daily lives," he says. Suspect are things like magnetic swipe cards, social engineering, keystroke loggers, and electronic voting machines—all of which are zealously investigated by students in Kuperman's class.
The course also focuses on cryptography (the enciphering and deciphering of messages in secret code), program security, worms, and viruses, as well as ethics and intellectual property rights—issues that effect nearly everyone within arms' reach of a terminal.
"We have been teaching classes in operating systems and networks for many years; security of systems and networks is a natural sequel," says Rich Salter '73, professor and chair of the department. "Security is an increasingly important issue as our lives become more computerized. News of identity theft and stolen credit card information is common."
Although some social engineering attacks can be done through phishing, horses, and pretexting, other attacks have less sophisticated roots. Take, for example, the paycheck stub that Ted Warner '09 holds up in class.
"I found this in a trash can outside of my room—it even has a social security number on it," says Warner, only half joking when he instructs the audience not to take pictures of the screen behind him baring a list of personal information he retrieved during a Google search of social security numbers. This type of personal information, he says, which can be bought for just $5 in hacker forums, is a giant asset in helping thieves gain entry to a victim's credit history and other valuable information.
Warner goes on to list ways citizens can defend themselves, such as by confirming the identity of companies who ask for sensitive information online or by providing false information first.
Brendan Veeneman '07 and Mike Tomlinson '07 say that computer users who open mass e-mails expose themselves to attacks via keystroke logging, which uses undetected software to capture keystrokes. Loggers are sometimes used to measure employee productivity; they can also reveal what students are viewing during online tests and whom children chat with online.
"Mike likes to use his computer and e-mail," says Veeneman, as Tomlinson punches a few keys for effect. "He even likes sending and opening pictures, but what he didn't realize was that there was software on his computer that attached itself to the end of his jpg, causing every word of his private e-mail conversations to be transmitted onto an attacker's computer screen."
And unfortunately, security leaks don't stop there, says Ferrara. Consider the security risks caused by electronic voting machines. "Although some states require paper trails, others don't. Without any sort of trail, votes can be corrupted—even with them, if no one's looking," he says.
Since comprehensive research about electronic voting security has already been done—a September 2006 study by the Center for Information Technology Policy at Princeton University, for example, found that a model of an electronic voting machine made by Diebold was "vulnerable to extremely serious attacks" that could threaten the integrity of voting procedures—Ferrara was curious about the use and presence of paper ballots in Ohio in 2006. Though they were included alongside electronic voting machines, Ferrara suspects that many voters didn't notice the paper ballots or were unable to use them.
"Security is a field I've always been interested in. There just hasn't been a chance before now to take a class in it," he says.
"A lot of [computer science majors] get jobs doing web design," adds Christian Sutton '07. "This class is nice because sometimes in the course of getting those jobs, you might have to assure a client that their information can be secured."
"Professor X" Brings in New Donors
If you're a recent graduate who made your first donation to Oberlin last year, folks in The Oberlin Fund hoped you were partnering with the anonymous Professor X, who donated $5 for each young alum who made a first-time gift to the College. Impressed and fueled by the "spirit of competition," Dean of the Conservatory David H. Stull '89 joined the campaign to encourage donations from Conservatory and double-degree grads. By the end of the challenge, 289 alumni had become new donors (including sev-eral who made gifts of $1,000 or more), with Oberlin's own mystery teacher shelling out $1,445. Stull's efforts helped to pull in 49 donors, while pulling out $245 from his own pocket.
First-time givers, says Professor X, help Oberlin in several ways—by bumping up its percentage of donors, which is one factor used by U.S. News and World Report in ranking colleges, and by increasing Oberlin's eligibility for grants, a necessity if the College "is to remain accessible and affordable for the next generation of prospective Obies."
Encouraged by the campaign's success, Oberlin Fund Assistant Director Aaron Mucciolo '02 started a new campaign aimed at graduates of the past 10 years. With the title "Oberlin College Center for Albino Squirrel Research," the campaign hopes to raise money for student internships and travel, wind power research, performing arts rehearsal space, and more. ATS
Want more? See http://www.oberlin.edu/squirrel/.
Oberlin Commits to Climate Neutrality
A sculpture by Mika Hayashi Ebbeson '07 incorporates some of the hundreds of incandescent light bulbs collected around campus and replaced with compact fluorescent light bulbs.
Students monitor the Living Macine, which treats and recycles wastewater in the environmental studies center.
With the stroke of a pen, Oberlin took a leadership role in environmental stewardship in November when President Nancy S. Dye established Oberlin as one of the first colleges or universities in the country to accept the goal of climate neutrality by signing the American College and University Presidents Climate Commitment (ACUPCC).
"For many people on campus, sustainability and climate neutrality are the central issues for now and going into the indefinite future," says Dye. "It's something that every-body—students and faculty—is really concerned about. We, of all colleges, ought to be able to take this challenge and do well with it."
As a charter signatory, Oberlin is one of four schools in the United States and the first in its peer group to sign the ACUPCC. The initiative was developed by ecoAmerica, Second Nature, and the Association for the Advancement of Sustainability in Higher Education. The goal is to sign 200 colleges and universities by June 2007.
"It makes no sense to delay," says David Orr, Paul Sears Professor of Environmental Studies. "We can help galvanize support in higher education for a major change."
In celebration of Oberlin's participation, the student-led Environmental Policy Implementation Group (EPIG) organized "The Day Oberlin College Went Climate Neutral" on December 7, for which Student Senate purchased enough carbon offsets to neutralize Oberlin's environmental footprint for the day.
"Oberlin students are to be commended for keeping the issue of climate neutrality in the spotlight," says John Petersen, associate professor of environmental studies and biology.
"People respond to initiatives from leadership," says EPIG member Andy Barnett '08. "[This] gives us so much momentum."
Some of the steps needed to achieve climate neutrality at Oberlin have taken place, including a comprehensive greenhouse gas inventory and an arrangement with Oberlin Municipal Light and Power to purchase approximately 50 percent of the College's electricity from green energy sources.
Also, Oberlin now will require all future campus construction and major renovation projects to carry a minimum of "LEED" silver certification. LEED, which stands for Leadership in Energy and Environmental Design, is an environmental certification program administered by the U.S. Green Building Council that rates building projects in five categories, including site sustainability, water and energy use, and materials and resources. Upcoming campus construction projects include student housing and the new jazz studies center.
Other actions in keeping with the climate commitment include a pending purchasing policy that requires the college to buy Energy Star certified products and a student referendum from several years ago that allocates part of the student activity fee to subsidize public transportation.
Oberlin has two years in which to set a date by which it will achieve climate neutrality. Much of the planning will be left to the Environmental Policy Advisory Commit-tee, created by Dye in 2001, and the newly established Committee on Environmental Sustainability, a General Faculty committee involving students, administrators, facilities directors, and a new campus sustainability coordinator.
"You educate people by how you invest your money," says Petersen. "We're teaching people, I would hope, to think deeply about the past and the future." ATS
Additional reporting by Betty Gabrielli
Wave Makers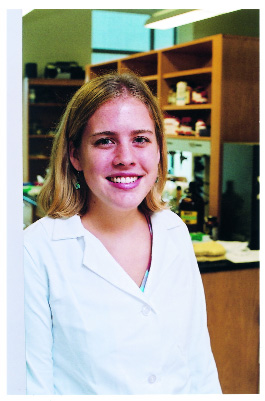 Emily Grace Dodd '07
Major: Theater, with a minor in chemistry
Hometown: Portland, Oregon
Nothing says "Happy Birthday" like a discovery that could help cure migraines and other craniofacial pain conditions, at least for Emily Dodd.
"It was my 20th birthday when I found Brain-Derived Neurotrophic Factor (BDNF) in trigeminal ganglia tissue. Everyone was thrilled," says Dodd of her research group's groundbreaking discovery that was published in the October 2006 issue of the Journal of Neurochemistry.
Last summer, Dodd joined the team of Dr. Agnieszka Balkowiec at the Oregon Health & Science University's School of Dentistry. Balkowiec's study focused on Calcitonin Gene-Related Peptide (CGRP) and BDNF proteins in relation to migraine headaches.
Although researchers have known that migraines involve the release of CGRP, which, if blocked, alleviates pain, little was known about the presence of BDNF. While staining cell bodies of the two proteins in rats, Dodd found BDNF in living tissue, a discovery that could enable new treatment for craniofacial pain problems.
The experience left Dodd fully charged upon returning to Oberlin—determined to pursue medical school and land a part in the campus production of Major Barbara.
"Oberlin has encouraged me to go for everything I love—science, theater, and working with kids," says Dodd.
Campus/community involvement?
Science club organizer and tutor at a local middle school, America Reads tutor, and participant in several campus theatrical productions.
Your research experience in Oregon?
It gave great perspective to the grand scheme of complexity and interrelatedness between our bodies' chemistry and our health.
What do you hope to contribute to the world?
I'd like to work as a special needs pediatrician, particularly with autistic children, while using my interests to connect, understand, and communicate with my patients.
Presidential Search in Full Swing
The quest for Oberlin's next president got off to a swift start last fall as the Board of Trustees appointed an 11-member Presidential Search Committee and hired the consulting firm Academic Search to help locate candidates.
The move came weeks after Nancy S. Dye announced plans to retire as president June 30, 2007, thus concluding 13 years of service. The Board of Trustees hopes to appoint a new president by the end of the current academic year.
The search committee includes six College trustees, all of whom are alumni; and one representative each from the Alumni Association, Arts and Sciences faculty, Conservatory faculty, administrative and professional staff, and student body. Serving as the consultant to Oberlin is Thomas Courtice of Academic Search Consultation Service. Courtice is a former president of Ohio Wesleyan University.
One of the search committee's top priorities was to draw up a list of desired attributes for Oberlin's next president. Seven public forums were held in November, open to all members of the campus community, allowing Courtice to solicit the views of trustees, faculty, students, staff, alumni, and town leaders.
"Based on his research and conversations, Tom prepared an initial draft of a written profile describing Oberlin's key institutional needs and priorities, and a related set of desired characteristics and talents for our next president," says Robert Lemle '75, chair of the Board of Trustees and head of the search committee. "This profile was then reviewed, revised, and approved by the committee."
The attribute list, says Courtice, reflects the qualities that Oberlin seeks also in its students: intellectual acumen, creativity, idealism, breadth of curiosity, and social and civic engagement. Also important is a professional reputation for setting high standards, and personal characteristics of warmth, integrity, and a sense of humor.
The presidential application process opened officially in January, with candidates being sought throughout the winter. "Nomina-tions from alumni are welcome and wanted," says Alumni Asso-ciation President Wendell P. Russell Jr. '71. The College is also in contact with national education and foundation officials, administrators, and faculty at other colleges and universities, and influential leaders outside of higher education.
Lemle urges alumni to review Oberlin's Presidential Search web site, located at www.oberlin.edu/presidentsearch, paying particular attention to the Search Profile. "The success of our search will depend on the involvement of all members of the Oberlin community," he says. "By nominating strong candidates, you can immediately be involved in the search process."
Desired Attributes for Oberlin's Next President
The successful Oberlin president will be:
A person with a consistent expectation for excellence in people and programs;
A self-confident and visionary leader who enjoys relating to a wide variety of people and interests;
A person who can appreciate the history, culture, and values of Oberlin, and who will implement the educational mission of its Conservatory of Music and its College of Arts and Sciences;
A strategic and accomplished thinker who values the creative process and the life of the mind, and who will lead by ideas;
A person of intercultural competence and global perspective, committed to diversity in its many forms and comfortable in celebrating and promoting it;
An accomplished communicator, prepared to actively engage the Oberlin community in thoughtful conversation and spirited discourse;
A person with proven abilities to inspire a significantly enhanced philanthropic culture and to generate increased contributed resources;
A person with a high level of skill in leadership, management, and administration, and an ability to balance those roles;
A person with sophisticated political skills and intuition, able to galvanize diverse points of view in a complex setting;
A person who is entrepreneurial and capa-ble of prioritizing, making difficult decisions, and implementing effective change by building trust in a community of sometimes strongly divergent views.
Questions or nominations should be directed to Courtice at tom.courtice@academic-search.com or 614-405-9209.
Oberlin Presidential Search Committee
Robert S. Lemle '75, Chair
Chair, Board of Trustees
Vice Chairman and General Counsel (retired), Cablevision Systems Corporation
Co-Founder and President of Board of Trustees, Long Island Children's Museum
Old Westbury, NY
Victor L. Hymes '79, Vice Chair
Oberlin College Trustee
Chief Executive Officer and Chief Investment Officer, Legato Capital Management LLC
San Francisco, CA
Robert J. Frascino '74
Oberlin College Trustee
Founder and President, The Robert James Frascino AIDS Foundation
Los Altos, CA
Erik Inglis '89
Associate Professor of Art History
Co-Chair, Department of Art
Oberlin College
Joseph F. Karlgaard
Delta Lodge Director of Athletics and Physical Education
Oberlin College
Courtney Merrell '09
Comparative Literature Major, Vocal Performance Major, Theater Minor
Oberlin College
William L. Robinson '63
Oberlin College Trustee
Professor of Law, University of the District of Columbia
Washington, DC
Wendell P. Russell Jr. '71
President, Alumni Association
Senior Counsel, Meijer, Inc.
Grand Rapids, MI
Susan J. Troy '76
Oberlin College Trustee
President, Martin Linen Supply Co.
Los Angeles, CA
Timothy Weiss
Director, Division of Conducting and Ensembles
Ruth Strickland Gardner Professor of Music
Associate Professor of Conducting
Oberlin College Conservatory of Music
Danette Wineberg '68
Oberlin College Trustee
Vice President, General Counsel and Secretary, The Timberland Company
Exeter, NH
Search Consultant
Thomas B. Courtice
Academic Search Consultation Service
Columbus, OH