The Future of American Politics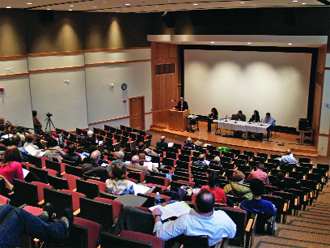 Campaign strategies, election reform, and the future of congressional-presidential relations were topics addressed by alumni.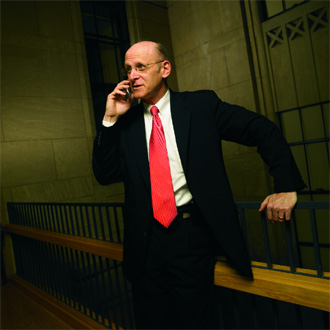 John Lawrence '70, chief of staff for House Speaker Nancy Pelosi
Washington D.C. Mayor Adrian Fenty '92 and aide William Singer '03
Senate candidate Jan Ting '70 of Delaware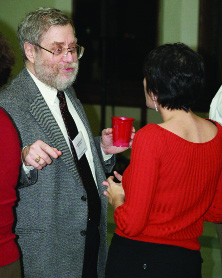 Monroe Professor of Politics Ronald Kahn
Ohio Lieutenant Governor Lee Fisher '73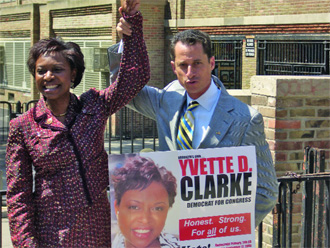 New York Congresswoman Yvette Clarke x'86
Conference celebrates Oberlin initiative in electoral politics (and, less openly, election outcome).
While Oberlin alumni past might have invoked the political calculus of the '60s with incantations of "Chicago Seven" or "Catonsville Nine," a more recent graduate, Matthew Kaplan, today sits before an Oberlin College politics conference talking about the "Arizona Five" and the "Iowa Two." When he gets to "Wyoming-at-Large," it's clear that something different is going on here.
Rather than passionately defending the radical acts of civil—and sometimes less-than-civil—disobedience of more than a quarter century ago, the 2005 Oberlin alumnus and his colleagues are rattling off congressional districts that proved competitive in the November 2006 election as though acting in a well-scripted episode of The West Wing.
These alumni are running campaigns and, in some cases, governments. They talk about polls and message crafting and use phrases like ground war and micro-targeting. They wear, when required, suits, although sometimes that means a bulked-up muscle suit made to look like a certain Austrian-born body-builder-turned-governor. They make compromises beyond wardrobe choices.
They have become—the horror!—insiders.
For Richard and Dorothy Cole, both '56, this means mission accomplished.
It was insiders of a different stripe who brought the political process to where it stood 15 years ago, when the Coles watched, aghast, at the confirmation process for future Supreme Court Justice Clarence Thomas, more commonly called the Anita Hill hearings.
"We thought, 'We have to have better people becoming judges and making better legislation,'" recalls Dorothy Cole. That's when the Coles thought of Oberlin, where they'd met as students in a history class more than 35 years earlier. In making a gift, Dorothy says, she and her husband hoped for something "more than lectures"—a program that would really involve Oberlin students.
With an endowed fund from the Coles, Oberlin's politics department created the Oberlin Initiative in Electoral Politics, which has as its goal "to promote student interest in electoral politics and in pursuing careers as elected officials." The OIEP includes an alumni small-grant fund, support for Oberlin campus activities related to electoral politics, and the Cole Scholars program, a paid summer internship in a political campaign bookended by course work on electoral politics (see sidebar). About half of the presenters at the November conference were graduates of the program.
"It was our vision to get Oberlin students into politics," says Richard Cole. "We were looking for integrity and smart people. We needed better people in the public square. That's what was really wrong, and it's still wrong. There's no better place to look for better people than Oberlin."
The conference, "Election 2006 and the Future of American Politics," celebrated the OIEP's first 12 years. Two dozen panelists and speakers, plus about 75 participants, returned to campus three days after the ground-shifting midterm elections to discuss such topics as the success and failure of the pundits, cultural pluralism, election reform, and political realignment. Speakers included Washington, D.C.'s mayor-elect; chief of staff for the newly elected Speaker of the U.S. House of Representatives; and Ohio's next lieutenant governor; plus scholars, campaign consultants, and political candidates who examined the November election results from a variety of angles.
Luncheon keynote speaker Lee Fisher '73, in his first speech since winning his race for Ohio lieutenant governor with running mate Ted Strickland, said he was jealous of the Cole Scholars for the experiences they receive. "I believe there is no experience in life that is quite like the insides of a political campaign," Fisher said.
Washington, D.C., mayor-elect Adrian Fenty '92 screened his campaign video and introduced several Oberlin alumni who helped get him elected, including aide William Singer '03. Singer was a sophomore politics major in 2000 when he first made contact with Fenty, then fresh from a D.C. City Council seat win against another Oberlin alum. It didn't stop Fenty from taking an un-Oberlin stance during the mayoral campaign. "I'm as progressive and liberal as anyone else who has graduated from Oberlin College," Fenty said, "but I pledged not to raise taxes."
John Lawrence '70, chief of staff for U.S. Representative Nancy Pelosi, invoked Oberlin's heritage when he began his remarks by analyzing the political shifts that took place in an election that brought a Democratic majority to Congress. "I think it's fitting [that] I went to the first college to admit women," he said, "and I'm going to work for the first woman to be Speaker of the House."
While the conference was an unabashed celebration of the Oberlin Initiative in Electoral Politics and the Coles' contribution toward it, it was an only slightly abashed celebration of Democratic successes so fresh on the minds of the partisan crowd, who did little to hide their positions.
Marc Sandalow '82, Washington bureau chief for the San Francisco Chronicle, said that when he attended Oberlin during the 1980 election, he "not only didn't know anyone who voted for Reagan, I didn't know anyone who knew anyone who voted for Reagan."
Many of the speakers drew applause when they discussed their joy, relief, and even shock over their victories.
"A lot of us here have come from campaigns," said Valerie Baron '06, a Cole Scholar in 2004 who served as director of grassroots fundraising for the successful Sherrod Brown for U.S. Senate campaign in Ohio. "We're now thinking, what just happened?" She said she's had a little trouble adjusting to life after the election because, she said, "Winning is a little bit new."
The last word Saturday night was given to Republican office-seeker Jan Ting '70, the dinner's keynote speaker. Ting noted that the first club he joined when he arrived at Oberlin was the College Republicans, and although his politics have changed over the years, Ronald Reagan brought him back into the GOP fold. Ting said he was profoundly moved by stories of human rights abuses told by Vietnamese students he met who fled their home country after its fall to the North Vietnamese and Viet Cong fighters.
But being a Republican on a Democratic-heavy program wasn't the only thing that set the affable Ting apart. "I want to disprove the thesis of this conference: that every campaign that had an Oberlinian working on it won," said Ting, who had lost his race for U.S. Senate in Delaware earlier that week.
Unable to attend the conference due to a scheduling conflict was newly elected Congresswoman Yvette Clarke x'86, a Democrat from Brooklyn who served on New York's City Council for five years. In Congress, she now holds the seat once held by Shirley Chisholm, the first black woman elected to Congress.
Jeff Hagan '86 is a freelance writer in Cleveland.
The Cole Scholars: 12 Years, 125 Scholars, and One Arnold Schwarzeneggar Costume Later
Renata Strause '05, a self-described "Yankee city slicker," got her rented Ford Focus hopelessly stuck in the Texas mud. Alex Muchnick '06 donned an Arnold Schwarzenegger mask and a muscle suit with a sign that said, "I can be bought for $8 million." Melissa Threadgill '04 built a wearable telephone booth. Colin Koffel '08 performed synchronized dancing with a broom (encouraging a vote "for sweeping change"). Following a report that the Congressional campaign on which Julia Vogl '07 was interning had received support from a Scientologist, the field director on the campaign abruptly quit, thrusting Vogl into the job just 10 days before the primary.
That's the shape of political change in America today, and about 125 Cole Scholars have embraced it.
"I loved it," says Vogl. "I learned so much from that campaign, and I was given so much responsibility that I wouldn't have gotten in any other situation."
Richard and Dorothy Cole, who created an endowed fund to support the program, believe Oberlin students bring something unique and needed to the political process.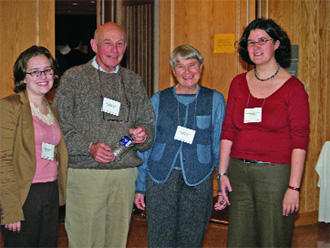 Cole Scholars Renata Strause '05 (left) and Georgia Hollister Isman '03 flank Richard and Dorothy Cole.
"Our experience over the last several years has highlighted the importance of having people who are fundamentally honest involved in the process," says Richard.
Among Oberlin students, says Dorothy, "there's a rigor and an intensity."
"The Cole students are the doers," says Ronald Kahn, James Monroe Professor of Politics and Law and director of the Oberlin Initiative in Electoral Politics. Associate Professor Eve Sandberg is in charge of student placement.
"They're idealistic, but they're doers, and doing makes them be pragmatic. The Cole program puts them there to see the realities. But," he adds, "we don't want them to become so pragmatic that they lose their idealism. It's a fine line."
Oberlin President Nancy S. Dye says the OIEP has been "a very good program for us. It really has encouraged not only the Cole Scholars, but the campus generally to get involved in electoral politics."
It's also helped in recruiting. "The fact that alumni like the Coles really value the type of person that comes out of Oberlin—a thoughtfulness and dedication to really bettering the world—and want to see more of us in politics really inspired me," says Koffel, who worked on a successful senate campaign in Minnesota.
"The Cole Scholarship is actually one of the things that attracted me to Oberlin," says Hannah Neprash '07, who hopes eventually to return to Minnesota and follow the footsteps of Paul Wellstone and Hubert Humphrey into politics. "I've gotten out of this more than I ever expected, hoped, dreamed, thought was possible.
"Working on campaigns is satisfying, challenging, constantly changing," she adds. "Every job I've done since then seems like a piece of cake."
Additional reporting by Kimberly Frumkin '07