Oberlin Storms Carnegie Hall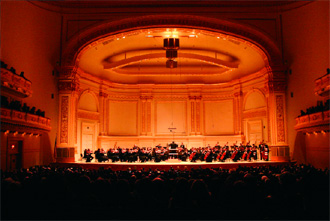 Oberlin's Orchestra and conductor Robert Spano '83 wow the New York critics—and a capacity crowd.
It's been a quarter-century since Oberlin students last performed on the fabled Carnegie Hall stage. (1982, to be exact.) Judging from the accolades received by the Oberlin Conservatory Symphony Orchestra and conductor Robert Spano '83 after their exhilarating performance on January 26, the wait was far too long.
Vivien Schweitzer, reviewing the concert for the New York Times, described the performance as "dynamic," "vividly illuminating," and "stellar" before acknowledging the loyal alumni who "turned up in full force, packing Carnegie Hall with enthusiastic supporters."
Patrick J. Smith, writing for musicalamerica.com, concluded his rave review with: "Bravo for the level of individual contributions, bravo for the seamless integration of the various groups within the orchestra, and bravo for the sonority (without blasting) of the band as a whole. An enormously refreshing evening!"
Spano and the musicians became thoroughly swept up in the applause of a full house of Oberlin alumni, family members, and friends. The wide-ranging program opened with the 1999 work blue cathedral by composer Jennifer Higdon. Mozart's Piano Concerto No. 25, featuring soloist Pedja Muzijevic, followed and led into an exhilarating finale, Bartók's Concerto for Orchestra, which showcased the student musicians beautifully.
This epochal evening originated with a conversation between Dean of the Conservatory David H. Stull '89 and Spano, the Atlanta Symphony Orchestra's music director. "Several years ago, Bob and I were chatting about ways we could do a project together," Stull says. "He was excited by the idea of conducting the student orchestra at Carnegie Hall."
Without the support of Jolyon F. Stern '61, however, Stull and Spano's conversation would have been nothing more than wishful thinking. Stern, the president and CEO of the DeWitt Stern Group, underwrote the concert and was honored with an acknowledgement during Stull's on-stage introductory remarks.
"As a College, we have always aspired to imbue all of our graduates with a sense of purpose that extends beyond a passion for achievement and a desire for excellence," Stull told the audience. "At the center of Oberlin is the belief that each graduate should not only seek great success in his or her life, but also aspire to develop the character required to make the world a better place—whether that be through courageous action, bold endeavor, intellectual pursuit, financial support, or the sharing of great music.
"Tonight's concert would not have occurred if it were not for the support of an individual who represents exactly that kind of character," Stull added. "I am referring to the remarkable gentleman who funded this evening's performance, Jolyon Stern."
The evening began with a pre-concert lecture that drew a healthy, engaged audience to a lively discussion on the subject "Playing to Win: The Future of Great Music in the 21st Century."
A recording of the electrifying Carnegie Hall concert is currently in production, allowing everyone to relive this "enormously refreshing evening."
A Maestro Robert Spano '83 and Composer Jennifier Higdon

B Jolyon F. Stern '61, president and CEO of the DeWitt Stern Group

C Pre-concert panel "Playing to Win: The Future of Great Music in the 21st Century," which featured Dean of the Oberlin Conservatory of Music David H. Stull '89, music critic and historian James M. Keller '75, founder and president of the Sphinx Organization Aaron Dworkin, Oberlin Conservatory Professor of Music Theory Brian Alegant, and Composer Jennifer Higdon.

D Frederick B, Artz Professor of History Leonard V. Smith '80, Stephen L. Zipursky '77, and Oberlin College Trustee Susan J. Troy '76

E Dean of the Oberlin Conservatory of Music David H. Stull '89 and Spano

F Oberlin College Trustee Stewart A. Kohl '77, Donna M. Kohl, Mikhail N. Baryshnikov, and featured pianist Pedja Musijevic

G Cassandra Bequary '10, Charles Steuart Pincombe '09, Spano, and Sally Kinter '06

H Oberlin College Trustee Robert J. Frascino '74, Giuliana C. Koch, and Oberlin College Trustee John D. Koch '75

I Spano, Andra S. Marx '80, and Eugene V. Carr '82

J Elaine Dee '45 and Oberlin College President Nancy S. Dye

K Oberlin Business Scholar Cody Hartley '08, Richard C. Bailey '51, and J. Barton Harrison '51

L Oberlin College Board of Trustees Chair Robert S. Lemle '75, Dye, and Mimi Halpern '60

M Linda D. Clapp, Dean of The Juilliard School Stephen H. Clapp '61, and Stull



Kevin Filipski is New York-based writer who has covered the arts for such publications as the New York Times and Playbill.
Complete coverage of this concert event will appear in the 2007 issue of Oberlin Conservatory magazine.