Reunited: Celebrating More than 170 Years of Black Presence at Oberlin
"It was very important to have black student relationships while at Oberlin; it was the one thing that kept students afloat," reflected Todd Middleton '83, thankful to have caught up with his Oberlin mentor earlier in this fall day. Now, in a crowded room full of familiar faces, the bond they shared seemed even more special.
"There were very few African American professors when I was in college, and not all of us were able to take classes with them," he said. "We needed each other."
Obies still do, albeit in a slightly different way, say members of the Oberlin Alumni Association of African Ancestry (OA4). The group's reunion in October, "And We Rise: Celebrating More Than 170 Years of Black Presence at Oberlin College," drew 175 alumni back to campus—Oberlin's largest specialty reunion ever.
Along with the musings, hugs, and laughter were valuable panel and group discussions that examined African American recruitment and retention on campus, alumni involvement, and OA4's role in Oberlin's future. The reunion was even acknowledged in the Congressional Record, with Ohio Rep. Stephanie Tubbs Jones recognizing the contributions of Oberlin "and its illustrious African American alumni toward the establishment of a world and a nation based upon the principles of social and economic justice."
"This is a different time. This is not 30 years ago. It's not all about 'black power' anymore," said Jackie Bradley Hughes '76, an OA4 advisory committee member who has been involved with the group since its establishment in 1997. "Black students are just as comfortable speaking, living, and being with people who are not black. Thirty years ago that was not the case. Now we have more black students who [pay full tuition]. I think having alumni come back to campus to see this will help them determine how they can be of better assistance."
Alumni can help by hosting winter-term students, talking to high school students about Oberlin, and making monetary donations, said Oberlin Trustee Michael Lythcott '70. "I think a lot of black alumni have been concerned about the decline in African American student retention," he said. "On the other hand, they're also hearing about programs that the College is involved in to try to address that."
"After my first Commencement, Johnnetta Cole '57, who never hesitated to give me advice, leaned over and said, 'Sister, you have a problem,'" President Nancy S. Dye told alumni during dinner. "Oberlin has made it a priority to retain African American students, and over the last 10 years we've seen great improvement."
Two new recruitment and retention efforts are the Posse Program and QuestBridge. The Posse Program identifies, recruits, and trains student leaders from public high schools to form multicultural teams for enrollment at top-tier universities. Next fall Oberlin will welcome a group of 10 such students from Chicago. A similar program, QuestBridge, links bright, motivated, low-income students with educational and scholarship opportunities; nine students have been admitted early admission to Oberlin for next fall.
Another opportunity, The 1835 Fund, was established by Hughes, Dawn Alexander '82, dt ogilvie '70, and Kay Thomson to commemorate the year Oberlin began admitting students of color. The fund awards student stipends for internships and offers support for African ancestry constituents in such areas as scholarships, retention, and alumni lectures. The ultimate goal—to endow a chair in the Department of African American Studies—is dependent upon fundraising results. To date, the fund totals $62,200, with nearly $12,000 raised from the OA4 reunion.
"Students can be empowered by knowing that folks from backgrounds just like theirs have successfully navigated Oberlin, and black alumni mentors and role models are great resources to aid in their success," said Alumni Association President Wendell P. Russell, Jr., '71.
That's exactly what OA4 President Andrea Hargrave '97 had in mind when she resolved to move forward with OA4 suggestions to record campus history from the African American perspective, particularly from alumni who were on campus during the Civil Rights Movement and other such monumental times. Doing so will not only keep current and younger African American alumni connected to their past, but may also serve as a recruitment tool.
"I put together a core team of alumni representatives for every five years so we can get a cross-generational view of the real issues OA4 should be focused on," said Hargrave, already looking to the organization's future. "Incredible kudos to Jackie and the group who have been sustaining OA4. It's only because of the strong foundation that they've built that we're able to move forward."
Editor's Note: OAM was in production when Oberlin learned of the death of Todd Middleton '83, who passed away December 4, 2006. Hi
Read the tribute that was read into Congressional Record. To find out more about OA4, contact its president, Andrea Hargrave '97, at ajhargrave@yahoo.com.
---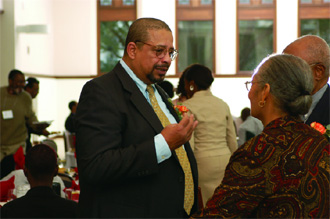 Oberlin College Trustee Michael Lythcott '70.
---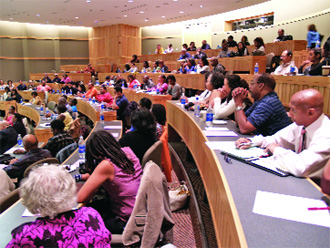 Alumni discuss the state of the College and OA4's role in impacting its future.
---

OA4 President Andrea Hargrave '97 and longtime member Jackie Hughes '76.
---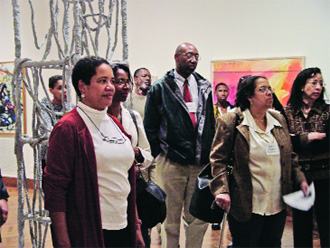 Alumni tour the exhibit "Portraits of the Black Experience" at the Allen Memorial Art Museum.
---

Emeritus Professor of Pianoforte Frances Walker-Slocum '45 signs her new autobiography, Miraculous Journey.
---

Alumni Association President Wendell P. Russell, Jr.,'71.
---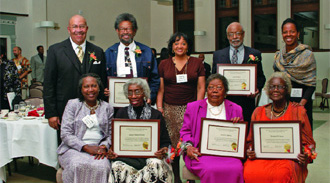 Presented with Polaris Awards in recognition of their mentorship to students and service to the community were (back row, with plaques) Professors Booker Peek '66, James Millette and Wendell Logan (not pictured), and (front row, with plaques) Frances Walker-Slocum '45; Pearlena Chaney, a retired 34-year cook at African Heritage House; and Elizabeth Herod, a retired 40-year administrative assistant.
---

Alums cheer on the Yeoman football team during its matchup with Denison.
---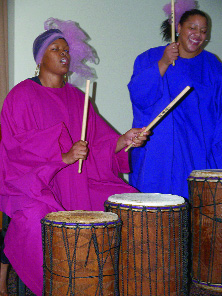 A Soul Session performer at African Heritage House.