Alumni Association 2008 Awards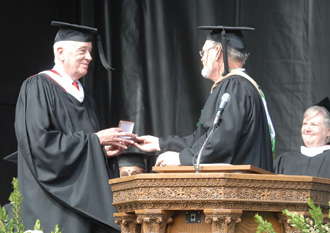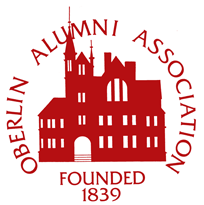 Each year, the Oberlin Alumni Association identifies and honors several alumni whose contributions to Oberlin and/or achievements to society are considered outstanding.
The Alumni Association's highest honor—the Alumni Medal—which recognizes outstanding, sustained, and unique service to Oberlin, was presented this year to Carl Gerber '58 of Washington, D.C.
A chemistry major while at Oberlin, Carl became active with the Alumni Association early on. In 1960, while working with the Atomic Energy Commission in Washington, he helped organize the D.C. regional alumni club. He coordinated and stayed involved with it for many years and, in 2001, received the Oberlin Club of Washington Honors Award.
In 1969, Carl joined in efforts to revitalize the Alumni Association. Created were programs that tapped alumni to recruit students to Oberlin and to offer career advice to current students. Carl served on the Alumni Association's executive board for several terms and as president in 1972.
For the past 25 years, Carl has been president or vice president of his class. He has served on his 50th-reunion planning committee, as chair of the alumni awards committee, and helped plan many major campus events, such as a series of symposia in connection with Oberlin's sesquicentennial in 1983. He has lectured several Oberlin classes, presented three environmental colloquia, and served on Oberlin's Environmental Policy Advisory Group in the early 2000s. In 2001, the Alumni Association honored him with its Distinguished Service Award.
In his professional career, which spanned nearly 40 years, Carl focused on the management of research and development programs and the interaction between science, technology, and public policy—concentrating on energy and environmental issues. For 30 years, he held senior management and policy positions in government and with nonprofits such as NASA's Lewis Laboratory, the U.S. Atomic Energy Commission, the EPA, the National Science Foundation, the Brookings Institution, and more.
In 1992, he sat on a World Health Organization panel that studied the environmental impact of energy production and use. He also served as the U.S. representative on the Energy and Environment Group of the Organization of Economic Cooperation and Development.
In addition to a Congressional Fellowship, Carl received a William A. Jump award for exemplary achievement in public administration and an EPA Distinguished Career Award.
Presenting the award to Carl last May during Oberlin's Commencement ceremony was Alumni Association President Bill Hilton '65, who also noted Carl's lifelong appreciation for the arts, which was cultivated at Oberlin through his friendship with legendary professor of art history, Ellen Johnson. As a result, Carl has donated several works to the Allen Memorial Art Museum, has endowed a fund for the purchase of contemporary art, and is chair of the museum's visiting committee.
"Carl has given much of himself to his alma mater," said Hilton. "With this award, his fellow alumni say 'thank you' for his years of exceptional service and a career that exemplifies the best of Oberlin."
The Alumni Association presented its other top awards during the annual meeting of the Alumni Council in September.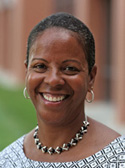 Honored with the 2008 Distinguished Service Award, which recognizes outstanding and sustained service to the Alumni Association, was Jackie Bradley Hughes '76, in part for her success in leading the Oberlin Alumni Association of African Ancestry (OA4). The group held a large and inspirational reunion in 2006 that drew 175 alumni to campus for two days of panel and group discussions, tours, receptions, and concerts.
"Jackie encouraged black alumni to attend the reunion, to let current African-American students know about the success of their predecessors, and to serve as career mentors—all while strengthening the bonds among alumni," said awards presenter Dixie Sommers '70, chair of the Alumni Awards Committee.
Jackie also cofounded the 1835 Fund, which commemorates the year Oberlin began admitting students of color, to fund student stipends for internships and other activities supporting African ancestry constituencies. Within the Alumni Association, she has served as chair of the Nominations Committee, as a member of the Trustee Search Committee, and as an admissions representative. When not busy with Oberlin, Jackie is a human resources manager at Orrick, Herrington, and Sutcliffe, a law firm in San Francisco.
The Association also honored two alumni with Certificates of Appreciation in recognition of their unique service and contributions to Oberlin.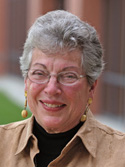 Maxine Houck '58, who is well known by her classmates, has served as class president or class agent for nearly every year since 1973. "One of the class president's jobs is to write the class letter," noted Sommers. "Maxine is a champion letter-writer. One of her classmates told us that Max's class letters are priceless in their humor and their effect and that they deserve to be published as a collection and set forth as an example!"
Maxine also served Oberlin as an admissions representative and as a member of several reunion gift committees. A retired high school English teacher and leader in Planned Parenthood and the League of Women Voters, Maxine now lives in Oberlin. She enjoys traveling and has taken two trips to Russia with the Alumni Association.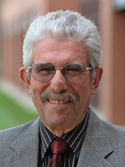 Also honored was Andy Goldner '56, cofounder and chair of the Alumni Association's Development Committee, charged with enhancing alumni giving to Oberlin. "Andy is dedicated—and I mean dedicated—to ensuring that Oberlin has the resources to continue to be the place we want it to be," said Sommers. "As we all know, one of the keys to financial strength is alumni giving. Andy was a leader in establishing the Development Committee and has worked tirelessly to build and strengthen relationships between it and Oberlin's development office. He has also taken special steps to encourage our newest alumni to become givers."
Andy, who lives in Grants Pass, Oregon, has served Oberlin as class president, as an admissions representative, and as a member of his reunion gift committee.
Each year, staff members in the Office of Admissions, Office of Development, and the Alumni Association also have the chance to recognize additional volunteers.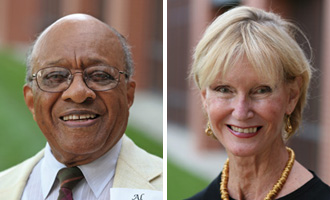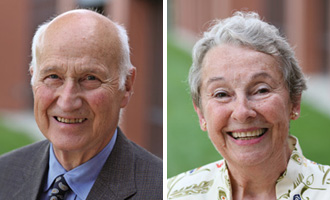 This year, four alumni were honored with the Class President of the Year Award: Al McQueen '52 of Oberlin; Jeanne Atkinson '53 of New York; George Shambaugh '54 of Atlanta; and Thelma Morris '54 of Oberlin, who together coordinated a "fabulously successful" 55th reunion in May.
"This group began planning early and arranged many special programs for their classmates," said Sommers. "They encouraged an impressive attendance with effective and informative reunion letters and personal calls to classmates, and they recruited more than a dozen cluster-mates to help set up headquarters and assist throughout the weekend."
Two alumni were honored with the Regional Coordinator of the Year Award: Jill Seidenstein '93 and Michael Schwartz '84, both of Seattle. "These two Seattle-ites have proudly carried the Oberlin banner at a myriad of successful events in their three years together," Sommers said. "Michael and Jill have connected Seattle-area alumni with faculty, trustees, and alumni from other colleges, while also bringing the whole spectrum of social and cultural events to their region. Their love for Oberlin and their enthusiasm for its alumni are evident in their creativity in devising tremendously successful events and in their warm welcome to those new to the region."
Presented with the Admissions Coordinator of the Year Award was Tiffanie Luckett '99, of Greenbelt, Maryland. Tiffanie's relationship with the Office of Admissions began when she served as an intern for the Alumni Recruiting Network and then as a senior intern with the admissions office.
"For the past six years, Tiffanie has been a valued member of the Alumni Admissions Advisory Committee and has served as regional coordinator for the greater Washington, D.C., area for as long as we can remember," Sommers said. "Her support of the admissions office is a vital part of recruiting efforts, and her ability to find alumni to help with our events, particularly the Alumni Interview Day in January, is legendary."
When not recruiting students to Oberlin, Tiffanie works as the director of development at the American Society of Hematology.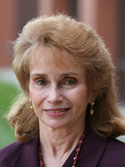 Presented with the Class Agent of the Year Award was Amy Rothstein '68, who has served as the Conservatory Cluster Agent for the Classes of 1967-1968-1969 for the past six years. "Last year, she helped alumni celebrate their 40th reunion in grand fashion by spearheading a fundraising drive that garnered a total of $1.05 million—more than $200,000 over the initial class goal—and with a participation rate of 61 percent," Sommers said. "During this fundraising drive, Amy personally contacted 30 classmates to help raise key gifts for the reunion, contributing to the overall success of the endeavor."
An avid musician, Amy teaches piano in McLean, Virginia, where she lives with her husband Richard '68.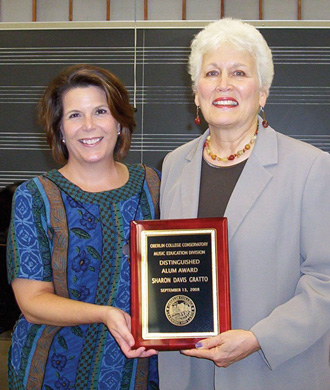 Also recognized this fall was Conservatory graduate Sharon Davis Gratto '66 of Kettering, Ohio, who was honored with the Distinguished Alumnus Award from Oberlin's Music Education Division.
Sharon is currently a professor of music and chair of the music department at the University of Dayton. She spent 16 years at the Sunderman Conservatory of Music at Gettysburg College, where she coordinated the music education program and conducted several choirs.
A specialist in world music, Sharon returned to Oberlin in September to present a workshop on the topic for music education students. She also studies topics related to audition anxiety, arts-in-education programs, arts instruction in alternative school formats, and mentoring new music teachers.
Sharon has held several key positions with national organizations, including as national repertoire and standards chair for Ethnic and Multicultural Perspectives for the American Choral Directors Association. She holds master's degrees from American University and the State University of New York at Potsdam, and a doctorate from Catholic University.
Editor's Note: The Alumni Association's 2008 Distinguished Achievement Award will be presented to Xavier Pi-Sunyer '55 in March 2009.
Also honored in September were retiring members of the Alumni Council's Executive Board:Chanel Chambers '97, Walt Galloway '69, Ellen Hertzman '85, Wendell P. Russell, Jr. '71, and Leon Dorsey '81 (not pictured).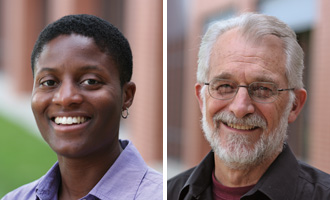 Chanel Chambers '97 (left); Walt Galloway '69 (right)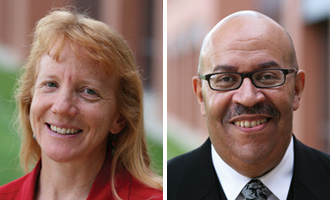 Ellen Hertzman '85 (left); Wendell P. Russell, Jr. '71 (right)
New for 2009! The Alumni Association is introducing a new award this year—the Outstanding Young Alumni Award—which will recognize alumni who are 35 years or younger who have distinguished themselves in one or more of the following areas: professional career, service to humanity, and service to Oberlin College. Nominations for this and other awards are accepted throughout the year. For information and lists of past recipients, please visit OBIEWeb at www.oberlin.edu/alumni/.
Celebrating OC's Asian Pacific American Community
Reunions are inherently about history, and the Oberlin Asian Pacific American Alumni Association's reunion in October—"Building a Movement: Celebrating the Asian Pacific American Community at Oberlin College"—was no different. What may have been different were the planners' conscious efforts to document their community's history, and to use that process to take a deeply reflective look at the changes, growth, and successes of the past 40-plus years of activism and engagement at Oberlin. If the volume of recorded histories and the turnout of current students and multiple generations of alumni are any measures, then the past is but prologue—Oberlin's APA community is thriving.
(E) Daniel Tam-Claiborne '09 and Chloe Pak Drummond '10, leaders of student groups on campus, were among over a dozen current students participating in the weekend.
(F) Ashley Suarez '06 added to the historical record generated by conference participants.
(G) Carol Izumi '76 and Peggy Chan '76.
In the last four decades, the number of Asian Pacific American students at Oberlin has grown massively. Attendees who graduated in the 1970s could remember almost every APA student from their time by name; the 1990s alone saw more than 750 APA-identified graduates. With more students have come more organizations, activities, classes, and events celebrating and exploring the community and its heritage. Cultural events highlighting a myriad of student backgrounds are prominent parts of the campus calender. The College recently tenured a position in Asian American history. And Oberlin students created and continue to organize the extremely well-regarded Biennial Midwestern Asian American Student Conference, now in its 15th iteration.
The October weekend took full advantage of the combined gathering of alumni, students, faculty, and staff all at once. Among the jumping-off points for discussion were a panel presentation on the current state of the APA community and an alumni-led panel discussion on immigration policy today. Alums delved further back into Oberlin's history by hearing from faculty members who teach a course on the Memorial Arch and by looking at how reactions to the arch have differed over the decades. Key among the weekend's activities was a session dedicated to mapping out the major events, people, and themes of Asian Americans at Oberlin—two dozen alumni and students shared their memories in a workshop, the product of which will be kept in the College's archives. Attendees also enjoyed a film festival of alumni-created works and took advantage of all 'down' time to network, catch up, socialize, and discuss presentations more deeply.
Older alums were excited to hear about the range of endeavors undertaken by the current generation of scholars and activists. Younger alums connected with the roots of the organizations they'd run and the issues with which they themselves had grappled. By weekend's end, everyone had the chance to explore their own community's lengthy and vibrant history—and to leave feeling that their movement continues to build.