Alumni Notes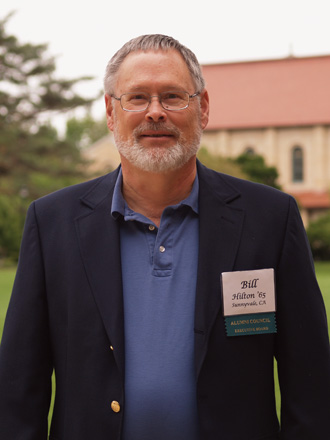 Are You Still Needed?
When I get older, losing my hair, many years from now
Will you still be sending me a valentine, birthday greeting, bottle of wine?
If I'd been out till quarter to three, would you lock the door?
Will you still need me, will you still feed me, when I'm sixty-four?
—Paul McCartney (1967)
Oh! How did it happen? I'm celebrating my 65th birthday today, am now eligible for Medicare, and feel nostalgic for The Beatles and music of the '60s. I'm class of '65 and still excited about our alma mater.
I've been hearing lately that desperate times call for desperate measures. I'm not financially desperate (yet), but I do feel an increased urgency to connect the strands of the web I think of as my life: from western Pennsylvania mill town and basic Protestant home through Oberlin to California, Vietnam, anti-war marches, two marriages, many jobs, agnosticism, knee surgery. …I shall not go on sharing my threads, for if this makes any connection with you at all, it's probably to provoke wonder about your life and how you are weaving together the strands of your own life into a tapestry.
Perhaps you've been interweaving the parts of your life all along, producing mind-FULL-ness all along, tying all the knots. Perhaps? If not, however, allow me to make two suggestions for the unfinished composition that is your life.
First, connect with present-day Oberlin students by returning to campus for a reunion or other excuse, or by participating in an alumni event in your region that includes students. Talk with the students. I believe you may find their tapestries as tightly woven as your own, though possibly somewhat smaller.
Second, if connecting with current Oberlin students increases your hopefulness about the future, do something concrete to help them realize their goals and dreams.
Host a winter-term project or house a winter-term student;
Interview prospective new students this winter or spring, if the opportunity is available in your region;
Sign up on OBIEweb to be a career mentor to Oberlin students;
Contribute generously to the Oberlin Alumni Fund and pay it forward for the future of our planet.
Today's students still need you, maybe now more than ever. I believe we need them for the future's sake!
Bill Hilton '65
President, Oberlin Alumni Association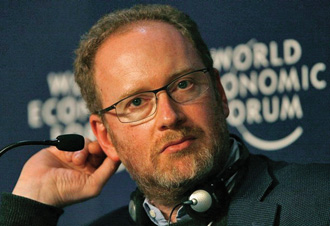 The National Academy of Television Arts & Sciences (NATAS), which distributes various Emmy Awards each year, awarded David Schlesinger '82, editor-in-chief of Reuters News at Thomson Reuters, its Lifetime Achievement Award for Business and Financial Reporting in December.
"More than any other news organization, Reuters understands that there is no sharp dividing line between business reporting, political reporting, and other kinds of news," said Peter Price, president/CEO of NATAS. "As editor-in-chief, David has preserved this venerable organization's core journalistic values while enthusiastically embracing the possibilities and challenges of the digital age."
At Reuters, David oversees all editorial operations and strategy. He joined the company as a correspondent in the Hong Kong bureau in 1987 and assumed his current position in 2007. "Recent events have shown just how important good economic journalism is to Wall Street and Main Street alike," said Bill Small, chairman of the News & Documentary Emmy Awards. The ceremony was held December 2 in New York.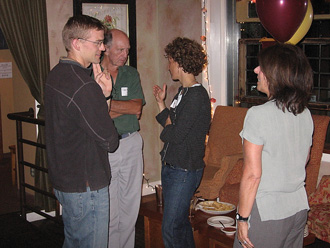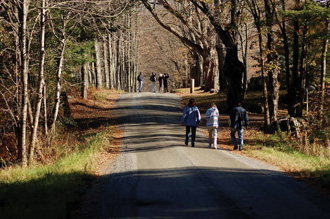 Regional Roundup
What's Happening in Your Region?
Find out at ObieWeb, www.oberlin.edu/alumni/oberlinClubs.
Western New England
Two club traditions returned this fall. In September, some 30 alums made their way to the Northampton Brewery (the oldest operating brewpub in the Northeast), where several alumni lingered well past the official close of the event. In October, club members gathered at the home of Wallis '63 and Cornelia Reid for the club's annual fall foliage hike and potluck supper.
Boston
The newly christened BOCA (Boston Oberlin College Alumni) rang in the end of a seemingly endless political season with a Post-Election Laugh-or-Cry Happy Hour. The event brought together area Obies for drinks, food, and plenty of discussion.
Pittsburgh
More than 25 people packed the home of Nicole Johnston '99 and David Ortiz for a fall potluck feast. Thanks to Regional Coordinator Lindsay Schriftman '00 for another well-attended event.
New Mexico
A "genial bunch" of alums enjoyed a pleasant afternoon at the Albuquerque Zoo, sharing food, catching up, and welcoming recent transplants to the region. Watch for a companion event in Santa Fe.
Research Triangle, N.C.
Fifteen intrepid club members fortified themselves with a picnic lunch before hiking the trails of Eno River State Park. Outgoing College Trustee Reggie Patterson '05 shared updates from Oberlin. Watch for other upcoming club gatherings, including musical events.
San Francisco
Bay-area alums enjoyed a dozen performances by 19 musicians at the club's seventh annual alumni concert. The event was capably marshaled once again by Joanna Sacks '85.
Northeast Ohio
Five generations of alums and future alums gathered for dinner at the home of Maureen Mullin '80. On the agenda—in addition to good food and conversation—was a well-received presentation by Ben Jones '96, Oberlin's vice president for communications.
–Aaron Mucciolo '02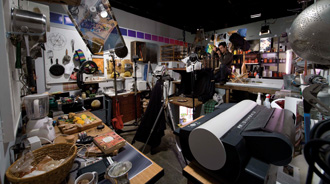 Obie Artist is at Home at the Whitney
After graduation, some Obies return to their hometowns; others trek halfway around the globe as Peace Corps volunteers or nestle into U.S. hotspots like San Francisco. Corin Hewitt '93, a sculptor and photographer, found his way to the Whitney Museum of Art in New York, where, for the past three months, he cooked, composted, sculpted, and took photographs in a 13 x 23-foot home-away-from-home while visitors peered in at his process.
Hewitt's exhibit, Seed Space, which ran from October through this January 4, invited viewers to think about "whether the 'product' is the process of production, or the photographs themselves" while watching the artist move about his space—cooking and canning vegetables, arranging still lives using food, and feeding the by-products to a legion of composting worms. As he went along, Hewitt photographed these processes to create a series of works that were cycled out of the room and hung on the surrounding walls of the museum.
Hewitt's path to the Whitney began shortly after he earned degrees in art history and studio art at Oberlin. While living in New Mexico, he held solo art exhibitions before heading overseas to enroll at the Staatliche Akademie der Bildenden Kunste in Germany.
Several years later, Hewitt's curiosity about America's fascination with the role of weather and weather forecasters led to his 2002 showing of a larger-than-life sculpture of Willard Scott in an airshaft in New York City and then onto an unused grain silo in Richmond, Vt. Soon after, he was awarded a fellowship at Socrates Sculpture Park in Long Island, and later studied at the Skowhegan School of Painting and Sculpture in Maine. It was during this period that the Whitney acquisitioned one of his large-scale sculptures, 85 Union Street.
Exhibitions at the Taxter and Spengemann Gallery and with the Public Art Fund in New York followed. His work was also included in New City: Sub/Urbia in Recent Photography at the Whitney Museum in 2005 and Eight Americans at the Wanas Foundation in Sweden in 2006.
Seed Stage grew from Hewitt's MFA thesis at Bard College in 2007, in which he used a kitchen as a studio and took still-life photographs of food and other objects. "I became interested in how I was another one of the 'organic' objects moving across the surface of the space," he says. "I then decided to remove a corner of the room and let the whole thing, [myself] included, become a sort of image in time."
Although Hewitt grew much of his own food and composted the leftovers, Seed Stage was not an exhortation to go green; "it was meant to raise questions [about systems of making and perceiving]," he says. "I'm also really interested in how we think about what we inherit: whether it is from our ancestry, the places we live, those we know, or what we learn through study."
Hewitt has two solo exhibitions planned for this spring. The Seattle Museum of Art will open an exhibition of his photography in April, and the Taxter and Spengemann gallery in New York will show a new series of sculptures in May.
—by Josh Spiro '09