Around Tappan Square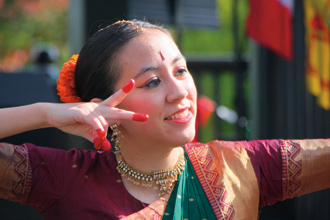 (photo by Gary Cohen '11)
Zoe McLaughlin '11 performs the Saraswati, a dance that honors the Hindu goddess of knowledge, music, and the arts, during Oberlin's Culture Festival in October. Founded by Oberlin's Spanish in the Elementary Schools Program, the annual festival celebrates Oberlin's cultural diversity while seeking to raise awareness about cultures worldwide. Nearly 2,000 participants enjoyed food, drinks, activities, and performances by OB Jump, the Black River Belles, Oberlin Aikikai, Sola Luna Yoga, and OCircus.
Oberlin to Host Foreign
Language Program
Oberlin College has been selected as a new site of the Middlebury-Monterey Language Academy, a prestigious foreign-language summer study program for talented youth that currently has campuses in Vermont and Massachusetts.
Begun in 2008, the Middlebury-Monterey Language Academy (MMLA) is a collaborative project between the Language Schools of Middlebury College, longtime leaders in the immersion approach to learning languages, and the Monterey Institute of International Studies, a world-renowned graduate school for linguistic education.
"We're excited to bring our summer-immersion language program for middle and high school students to Oberlin College for the summer of 2010," says Roberto d'Erizans, director of the MMLA. "Oberlin is uniquely well-suited to support the mission of the Middlebury-Monterey Language Academy, and it is our hope to build a relationship with both the college and the community of Oberlin that will last for years to come."
The Oberlin program will bring together 70 educators from around the country to teach a class of 200 middle and high school students for a period of four weeks. Students will completely immerse themselves in their language of study—speaking only the target language inside and outside the classroom throughout the program's duration. Courses in French, Spanish, Arabic, and Chinese will be offered.
"Partnering with the Middlebury-Monterey Language Academy is a great honor for Oberlin," says President Marvin Krislov. "The MMLA is a terrific program that fits well with Oberlin's great tradition of internationalism. Having the MMLA here will enable middle and high school students to acquire the superior foreign language skills and cultural awareness they will need to become tomorrow's global leaders."
The academy will be open to students who have completed 7th through 12th grades. The cost for the 4-week program is $5,267 and includes tuition, room and board, field trips, activities, materials, and textbooks. Financial aid through the MMLA is offered on a rolling basis to students demonstrating need. In addition, Oberlin College has established a special scholarship fund for students from Lorain County.
Besides the exceptional learning opportunities the program brings to the region, the selection of Oberlin as an MMLA site is also a positive for area businesses. "The greater Oberlin community will benefit from the increased activity these students and their families will bring to town during the summer months," says Associate Dean of Studies Ellen Sayles. "The close physical connection between the town and the campus, as well as vibrant downtown offerings, present attractive shopping and dining opportunities to MMLA staff, students, and families."
For more information on the program, visit http://www.mmla.middlebury.edu
Synagogues Fill Library's Main Floor
Those entering the main level of Mudd Center this fall saw the majestic replica of a 13-foot bimah, a synagogue platform for reading the Torah, stretching to the ceiling of the library's spacious gallery. The exhibition, titled Wooden Synagogues: Recovering History through Art and Architecture, featured large-scale construction models of two synagogues built in the Jewish market towns of Zabludow in 1637 and Gwozdziec in 1731, as well as architectural drawings, historical photographs, diagrams, maps, and text descriptions. During a talk sponsored by the Friends of the Library, Tom Hutka, professor of architecture at the University of Wisconsin-Milwaukee, explained that synagogues in Poland were built to blend in and adapt to the culture of the surrounding environment, while still keeping cultural and religious significance intact.
View a slideshow of the synagogues at http://www.oberlin.edu/library/synagogue_slideshow.html
Peace Comes to the Classroom
During his visit to Oberlin in October, Bernie Mayer '68 got into a heated dispute with an Oberlin resident right in the middle of a group of students, staff, and faculty members. It was a shameless display. Everyone watched in anticipation of the outcome.
That's because Mayer is a conflict specialist. And the altercation was an act used as a teaching tool in a conflict engagement clinic cosponsored by the Oberlin Peace and Conflict Studies Development Group, an organization largely responsible for Oberlin's new concentration, peace and conflict studies (PACS). The Intro to PACS course that was offered fall semester had an enrollment limit of 25. Fifty students showed up on the first day.
Mayer's workshop was a plus for PACS' founders, who want the concentration to foster campus communication. Steve Mayer, professor of psychology and co-teacher of the Intro to PACS course explains, "The way college is set up, most of us think within a given department." Now that the PACS concentration is established, "conversation is becoming more of a focus."
As for the discipline itself, Steve Crowley, professor of politics and co-teacher of the PACS intro course says, "For interested students, the concentration highlights related courses in different departments, and even divisions, of the college. In the past, such students would have had to go through the rigorous process of creating an independent major, or might simply have been unaware that such related offerings were available."
The experiential component of the concentration requires a hands-on project with a PACS focus outside of Oberlin, linking undergrads with Oberlin alumni in the field, says Mayer.
PACS, through the work of the Peace and Conflict Studies Development Group, has also forged relationships among students, alumni, and community members. The development group grew out of a 2005 ExCo taught by Sheera Bornstein '08 and Al Carroll '58, who requested that the Class of 1958 donate to the budding concentration. More than $60,000 was raised.
"Maia Brown '10 and I were delighted by the nearly unanimous faculty approval of the PACS concentration," says Carroll. Brown has led the PACS Development Group (now Support Group) since 2008. "Our sustained five-year effort by students, faculty, alumni, and community members has paid off. We believe the concentration will help provide students, no matter what their major, gain the confidence and ability to deal with conflicts nonviolently."
Sarp Yavuz '13 contributed to this article.
OC Takes Part in STO Test Flight
80-centimeter telescope on the STO (photo by chris Martin)
In October, Chris Martin, assistant professor of physics and astronomy, along with David Lesser '11 and Kirill Tchernyshyov '13, traveled to the Scientific Flight Balloon Facility in Ft. Sumner, New Mexico, to take part in the test launch of the Stratospheric TeraHertz Observatory (STO). STO is a radio telescope that rises to the edge of space underneath a helium balloon the size of a football stadium to measure the properties of the dust and gas between the stars. Lesser and Tchernyshyov received hands-on experience with the installation and alignment of the telescope's star-pointing camera, while Thomas Shaw '13 stayed in Oberlin to write the software that helps make sense of the raw data from the telescope. The successful one-day test flight was in preparation for a two-week science flight that will take place in Antarctica in January 2011. Martin, who, before coming to Oberlin spent two years at the Amundsen-Scott South Pole Station as a member of the Antarctic Submillimeter Telescope and Remote Observatory crew, is planning to take students to the Antarctica launch.
For more information, visit http://stratocat.com.ar/fichas-e/2009/FSU-20091015.htm
Music Revisited
(photo by Roger Mastroianni)
When Jennifer Koh '97 returned to perform in the Artist Recital Series in October, she revisited musical roots in more ways than one. Her concert program, which traced solo violin music from Bach through turn-of-the-century virtuoso Eugene Ysaÿe, to contemporary composers Elliott Carter, Kaija Saariaho, and Esa-Pekka Salonen, centered on Bach partitas she has been practicing and working on for years. The program also demonstrated the connection between new and older music and added a fresh dimension to Bach, using video art created by award-winning artist and filmmaker Tal Rosner. "I believe that the music written today creates a kind of thread to the past," Koh said during her visit to Oberlin, where she also led a master class for current students, passing on her own knowledge and passion.
Kuhn's Pearls of Wisdom
(photo by John Seyfried)
In a recent address to conservatory students, renowned soprano Judy Kuhn '81 recalled her Oberlin years with disarming honesty—including a senior recital where she forgot the words and had to cross the stage to sneak a peek at her accompanist's music. Kuhn quickly realized that opera just wasn't her thing and, shortly afterwards, stepped off the graduation stage and into a friend's car headed for New York City. Kuhn went on to land the role of Cosette in the United States' premiere of Les Miserables, earn three Tony Award nominations, and achieve worldwide fame as the voice of Disney's Pocahontas. At Oberlin, she encouraged students with her own hard-won advice: "Never limit yourself. When you have an interest in something, try it. Put yourself out there. Always study. Work is your best school."
Radio Drama Not Dead
"There are a lot of reasons to hire a private detective these days. I am not one of them. Hardin Lovelace, private eye."
So begins The Dead Hear Footsteps, WOBC 91.5 FM's sole radio drama, a half-hour weekly live serial that began in 2000 as a class project of Ben Rubin '03. Set in the fictional California port town of Bayside, with endless docks, a Chinatown, opium traffickers, and East Coast mobsters, it's a far cry from its actual setting inside WOBC's dingy Studio B on the top floor of Wilder Hall—a tumble of old vinyl, dented metal cabinets, mismatched chairs, and a piano missing its ivory. But, of course, it's radio, so no one has to know.
As acknowledged at the beginning of each installment, plots and themes are blatantly plagiarized from works by detective writers Raymond Chandler and Dashiell Hammett, as well as Theodore "Dr. Seuss" Geisel. Episodes of DHFS, as the show is affectionately called, may be self-contained stories or nudged along by the overall story line, with the set of stock characters providing continuity. Minor figures, from mobsters to murderous lounge singers, pepper each episode. The present cast of the show consists of 12 to 16 students.
"Over these seven to eight years, we've cranked out a mythos," says Jamie Albrecht '10, the show's producer and director. Albrecht's computer houses a character database exceeding 100 entries. These characters revolve around the show's star, Hardin Lovelace, a lousy yet loveable detective who is more often sloshed than successful.
Presenting 30 minutes of drama each week requires a regular process of collaborative story meetings, splintered script writing, and final editing to create a unified plot. Parts are assigned largely based on who applies the best accent.
All you need, explains Albrecht, are "a good script and enthusiastic actors."
And sound effects. The show depends on both a suitcase of props and digital effects, which lead to moments of unintended comedy, such as when "the gunshot turns into a glass of water being poured," says former DHFS member Beau Mahurin '06.
The out-of-tune piano at the back of the studio also is key. Mahurin, who originally signed on as the DHFS musician, recalls sitting behind the piano "and ad-libbing atmosphere music according to the descriptions in the script."
What helps carry the story, says Albrecht, is thinking about the audience—or, rather, the possible lack thereof. "When you're doing radio, you're never quite sure if anyone's actually listening.
"We're doing it mostly just out of the love of it," he says. "We love the characters and we love Bayside, and we want to keep writing stories about them."
Listen to the show at wobc.org.
Help on Wheels
"The [Henry B.] Betts Award will change my life," Ralf Hotchkiss '69, hon. '91, told his benefactors 15 years ago. The award was presented to Hotchkiss, who built the first motorized wheelchair to climb stairs while a student at Oberlin, for his significant contributions to quality of life for people with disabilities, specifically his invention and design of wheeled mobility devices. "Now I can link more of the designers who have pieces of the solution together, so we can share our knowledge," he added. When Hotchkiss returned to Oberlin this past November, his mission remained on course. His company, Whirlwind Wheelchair International, supplies cost-effective chairs constructed from local materials and built for durable terrain to more than 45 countries. While speaking to a room full of budding social entrepreneurs in a talk titled "Trickle-up Development: What we can learn from disabled untouchables," he used his own chair—the product of mechanics and engineers from around the world—as an example of collaborative construction. The wheels, he said, were made in Zimbabwe and used for pushcarts. Made entirely of flexible rubber, they give the chair added versatility. The wheelchair constructed at Oberlin was especially useful for climbing "the three flights of the then all-female Keep Cottage," he joked.
In Other Words
Wendy Levy '82 (photo by Ma'Ayan Plaut '10)
Many companies "spend all day developing really cool online tools for no good reason except to make money, and in my mind, that's not good enough."
—Wendy Levy '82 on "How Do We Change the World? What I Know About Storytelling, Emerging Technologies and the Challenge of Social Justice." Levy is director of creative programming at the Bay Area Video Coalition, a group of independent media makers.
"If I had any inkling that God wanted me to [resign], I would've stopped. … God has felt so palpably close."
—Episcopal Bishop of New Hampshire Gene Robinson, during a talk in Finney Chapel. Robinson, known as the first openly gay and partnered bishop of a major Christian denomination and the religious leader who delivered the invocation at President Barack Obama's inaugural event, has been active in promoting civil rights for lesbian, gay, bisexual, and transgender people.
"It was a struggle growing up. A friend saw some medication in [my] medicine cabinet and asked his mom about it. Suddenly, a whole network of parents knew, and I didn't have any friends. …Living with AIDS takes a lot out of you, but it also gives you a lot."
—AIDS and HIV activist Rey Cordova on "Growing Up Positive," a talk given during World AIDS Week. Born with HIV in 1980, Cordova is one of the oldest people living who was born with the virus.
Oberlin and Colleges
Across the Country
Put Russell Under the Scope
(Illustration by Dinara Mirtalipova)
After a concerted campaign from colleges and universities across the country, including Oberlin, Russell Sporting Goods has agreed to a full, independent investigation of its Jerzees de Honduras factory by the Worker Rights Consortium (WRC).
Analysts say the college market occupies a significant part of Russell's business. At Oberlin, its products are primarily used by some student groups and the Oberlin athletics department, which purchases roughly 150 shirts and five dozen sweatshirts annually, says Kiki Jacobs, associate director of athletics.
Oberlin College started boycotting the sporting goods company's wares in May as part of a nationwide campaign to pressure the company in response to repeated violations of workers' rights. The following month the WRC reported that in six of Russell's factories, labor contracts were worded in a way that would strip workers of benefits if they formed a legitimate union, says Casey Babbitt '12, a research intern for the college's Purchasing Committee. If the boycott remains in effect, the athletics department will continue to use its inventory until its supply runs out.
The WRC is expected to release its report in January, at which time Oberlin's Purchasing Committee will convene and decide whether it will lift its boycott.
Only Fair Florida Tomatoes
Served at Oberlin
(Illustration by Dinara Mirtalipova)
Diners in Oberlin cafeterias may have noticed that their favorite winter dishes containing large tomatoes are taking on a smaller appearance.
The change came about in November after the college's food service provider, Bon Appétit Management Company, announced that all company venues relying on Florida tomatoes would be supplied by growers who have agreed to the code of conduct established by Bon Appétit and the Coalition of Immokalee Workers (CIW), a worker-run group that seeks to improve the lives of low-wage, mostly agricultural workers throughout the state of Florida.
Alderman Farms, which grows primarily grape tomatoes, was the first Florida grower to sign the agreement.
"After standing in the fields with tomato pickers in Florida, and seeing firsthand their dismal work conditions, I gave my word that if we couldn't locate growers who would agree to our wage and labor requirements, we simply wouldn't serve tomatoes in winter," says Fedele Bauccio, CEO of Bon Appétit.
The code of conduct has been, to date, the most comprehensive program designed to address the abuses farm workers face. Bon Appétit's nonprofit foundation has also created three fellowships for recent college graduates.
Talking Points
President Marvin Krislovwas officially sworn in November 13 to the advisory council to the National Endowment for the Humanities (NEH). Nominated by President Barack Obama in July, Krislov was confirmed by the U.S. Senate on November 5. The 26-member council meets four times a year to review grant applications and to advise the NEH chairman
Oberlin's annual teaching awards were presented this fall to D.R. Longman Associate Professor of Biology Mary Garvin, Associate Professor of Art Erik Inglis, Professor of Comparative American Studies Wendy Kozol, Professor of Music Theory Warren Darcy, Associate Professor of Jazz Guitar Robert Ferrazza, and Professor of Viola Peter Slowik. The professors were recognized by their peers for their commitment to excellence and innovation in the classroom.
The Ninde Scholars Program inducted its biggest class yet in October: 10 students. Funded by onetime Kendal at Oberlin residents Dick and Nan Ninde and a community match of $450,000, the program assists students at Oberlin High School with the college admissions process, offers ACT and SAT test preparation, and arranges personal visits to Oberlin's campus.
The women's cross country team took the conference title at the North Coast Conference Championships in October, followed by an appearance at the NCAA Cross Country Championships. The team finished 23 out of 32 teams, with junior Joanna Johnson placing fifth overall and earning her second straight NCAA All-America honor in cross country and her third overall.
Assistant Tennis Coach John Erikson '61 and his son, Carl Erikson '94, won the USTA Super-Senior Father-Son Clay Court Championships in Sarasota, Florida. Both are members of the Heisman Club Hall of Fame. John served as the club's president from 2004-06, and Carl is one of Oberlin's most decorated tennis players.
The Camille and Henry Dreyfus Foundation has awarded Associate Professor of Chemistry Manish Mehta the Henry Dreyfus Teacher-Scholar Award for his outstanding leadership in conducting original scholarly research with undergraduates.
For more information, visit: www.oberlin.edu.