Alumni Notes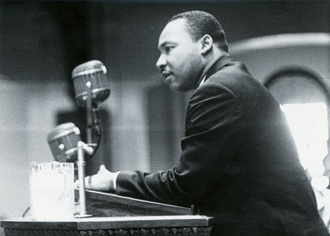 Rev. Martin Luther King Jr. visited Oberlin three times to speak, but he only spoke twice. Shortly before his November 14, 1963, visit, King caught the flu, but came to Oberlin anyway, ignoring doctor's orders. After receiving a three-minute introductory standing ovation, King realized he was indeed too sick to speak. Instead of the soul-stirring speech audience members had hoped for, they received a two-minute apology. In his second appearance at Oberlin on October 22, 1964 (pictured), King's speech on "The Future of Integration" was heard by an estimated 2,500 students, faculty, and visitors in Finney Chapel and was broadcast on WOBC. In 1965, Oberlin awarded King an honorary degree of humane letters. He also gave the Commencement address. Read his Commencement speech and more at www.oberlin.edu/oam.
How Will You Engage with Oberlin?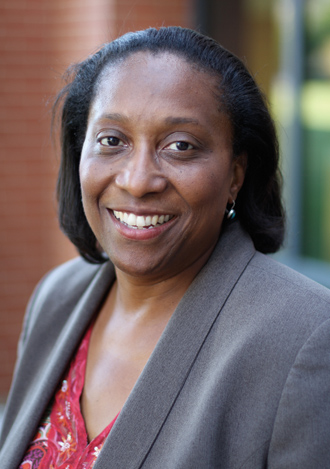 Greetings, Oberlinians! As the new president of the Alumni Association, I have had the immense pleasure of catching a glimpse of the vibrant body of alumni that comes from Oberlin's college and conservatory. It is a great honor to have been selected to help steward such an illustrious, innovative, and spirited group of Oberlinians.
With the arrival of 2010, I look forward to many exciting things that alumni have in store, and I encourage you to stay tuned. In Oberlin, the new alumni center, slated to open in late spring, will provide not only a wonderful new workplace for the Alumni Association staff, but also a special gathering space for alumni as they visit campus. In addition, the conservatory's new Litoff Building, future home of the jazz studies program, will be dedicated this year with a wonderful splash of activities featuring special concerts and events.
Off campus, the Alumni Association hopes you will consider connecting with Oberlinians at one of the regional events taking place in cities around the globe, serving on a steering committee in your area, or collaborating with others in strengthening our off-campus networks. Alumni can choose to participate in social or volunteer opportunities that will link you with members of the extended Oberlin family and contribute service to Oberlin.
To learn about Oberlin and its alumni activities, refer to the OBIEWeb events calendar at www.alumni.oberlin.edu/eventregistration. or the events update section in the alumni e-newsletter, Around the Square. (If you are not receiving Around the Square, make sure the Alumni Office has your e-mail address so you won't miss out on future issues.)
Additionally, we continue to offer new ways for alumni to be engaged:

Share news with your classmates by sending class notes via OBIEWeb (www.oberlin.edu/alumni);
Highlight what is uniquely Oberlin in your experience by submitting a story to the Oberlin Stories Project (http://stories.oberlin.edu/contribute.shtml);
Help recruit students or increase student yield;
Offer student internships;
Serve on an alumni committee;
Assist with development efforts by becoming a class agent;
Participate with reunion planning;
Help plan regional events.
If you are interested in volunteer opportunities please contact the Alumni Office at alumni@oberlin.edu or 440-775-8692.
Most of all, we hope you will contact us and share your input on what we do that resonates with you or what innovative ideas you have for how we might do things better. As we begin a new year, we hope to encourage you to become engaged with Oberlin. Let us hear from you!
All the best in the New Year.
Dwan Vanderpool Robinson '83
President, Oberlin Alumni Association
Editor's Note - Effective April 22, 2010: Since this article originally appeared, the Litoff Building has been renamed. Oberlin's new home for jazz studies, music history, and music theory is now the Bertram and Judith Kohl Building.
Our Man on the Street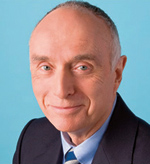 As an experimental psychologist, Lloyd Morrisett '51 sought to improve access to preschool learning for disadvantaged children. Although his early research helped close the education gap for a small number of students, Lloyd wanted to help as many children as he could. With public television producer Joan Ganz Cooney, he launched Sesame Street, teaching children early reading and arithmetic skills in short, funny vignettes. In its first season, Sesame Street reached more than half of the nation's 12 million 3- to 5-year-olds. Now celebrating is 40th year, it is broadcast in more than 120 countries and has won more Emmy awards than any other show. Included as part of President Obama's "Educate to Innovate" program to expand math and science teaching, the legacy of Sesame Street—and Lloyd Morrissett—endures.
Regional Roundup
What's Happening in Your Region?
Find out at ObieWeb, www.oberlin.edu/alumni/oberlinClubs.
2010 Oberlin Cares—Alumni Day of Service
Please join Obies throughout the country on Saturday, April 17, 2010, for a nationwide community service program. We hope this Alumni Day of Service will bring alumni and students together and give everyone the chance to give back to their communities. If you live in a non-club area, we encourage you to participate by choosing your own service project locally. Look for community service projects in your area by visiting www.oberlin.edu/alumni/oberlinClubs/oberlincares.html.
The Alumni Day of Service is just one of many ways to stay connected and involved with Oberlin. Whether you are interested in young alumni activities, book clubs, career networking, or social and cultural events, you can engage with Oberlin from any part of the country. Below is a sample of what our clubs have been doing recently. To plug into your local Obie scene, please contact me at 440-775-8692 or john.keller@oberlin.edu. Thank you again for your commitment to Oberlin College!
Oberlin Club of New York City
Oberlin Alumni for New York Cares Day
A handful of plucky Obies braved the rain October 17 to join 8,000 New Yorkers in performing vital tasks to create better learning environments "for New York City students." Team Oberlin was organized by Mei Song '01.
Oberlin Club of Chicago
Reception with Professor Anuradha Needham
Twenty-five alumni and three prospective students joined Anuradha Needham, Donald R. Longman Professor of English and director of the Institute for Gender, Sexuality, and Feminist Studies, for a dessert reception after her talk, "Laughter Bollywood Style," at the Chicago Humanities Festival.
Oberlin Club of Houston
Fall Lunch at Pasha Restaurant
Nearly 20 Obies joined regional coordinator Larissa Potiomkin '00 for lunch at Pasha Restaurant, featuring a "breeze of Mediterranean" appetizers, entrees, and desserts.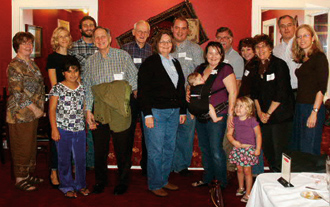 Oberlin Club of Western New England
Seventh Annual Fall Hike and Potluck Supper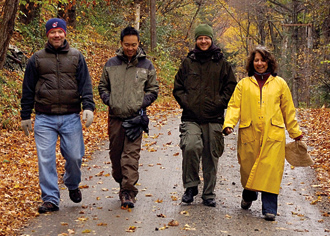 Scott Kelly, along with friend Nick Boutros '01, John Keller of the Alumni Association (left), and Evelyn Bloom '69 (right) enjoyed the homestretch of fall color on a two-mile hike laid out by host Wallis Reid '63. Harry Lavo '61 took the photo. Karl Schoen-Rene '80, with wife Candace and daughter Skyelyn, did this same circuit. In all, 24 Obies, friends, and family members attended this year's annual hike and potluck, despite low temperatures and steady rain.
Oberlin Club of New York City
HAIR on Broadway with Jenny Gersten '91
More than 100 Obies and friends joined President Marvin Krislov for a talk with Jenny Gersten's father, Bernard Gersten, executive producer of the Lincoln Center Theatre, on November 12. Later that day, Obies attended a sold-out performance of HAIR. The following day in Brooklyn, Carolyn Kubitschek '70 hosted more than 30 alumni for a meet-and-greet with Ben Jones '96, Oberlin's vice president for communications, and Danielle Young, executive director of the Alumni Association.
Oberlin Club of Cleveland
Fall Potluck with Dean Sean Decatur
Obies from around Cleveland had a chance to meet and talk with Sean Decatur, dean of arts and sciences, while enjoying a variety of hearty fall foods and drinks at the beautiful home of Maureen Mullin '80.
Oberlin Club of Columbus
Reception with President Marvin Krislov
More than 60 alumni enjoyed an elegant reception with President Marvin Krislov that was graciously hosted at the law firm of Vorys, Sater, Seymour & Pease LLP by alumni Bill Pohlman '82, Jackie Ford '83, and Nina Webb-Lawton '87.
John Keller
Director of Regional Activities and Engagement
Mobile Enterprise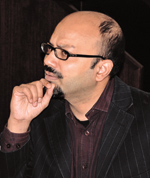 "I was never an A+ student, and I have proof," says Kamal Quadir '96, founder and CEO of CellBazaar, Inc., who visited campus this fall to speak to young entrepreneurs. "But I worked very hard." CellBazaar uses cell phones to connect buyers and consumers in developing countries to exchange basic goods, enabling more growth and enterprise. "In developing countries like Bangladesh," Kamal says, "you don't have the same access to computers. But there are millions of mobile phone users." Throughout his day at Oberlin, Kamal listened to students pitch their own ideas for new ventures, and he responded with personalized advice. He finished the day with a talk on leveraging existing technology, and helping entrepreneurs working with extremely limited resources.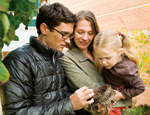 Sadhu Aufochs Johnston '98, the green "whiz kid" who led the city of Chicago through a staggaring number of sustainability initiatives during his six years as chief environmental officer, moved north in November to assume a new post: deputy city manager of Vancouver, B.C. He and his partner, Manda Aufochs Gillespie '97, an environmental living writer and teacher, were dubbed "Vancouver's first all-natural power couple" by the Vancouver Sun in October. "Vancouver has already done so much in terms of building a wonderful sustainable quality of life," Sadhu said. "I feel like I could contribute and take it to another level." (photo by Tanya Rosen-Jones '97)