Oberlin
Beyond Oberlin
<33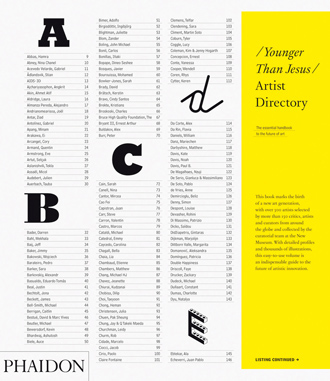 Compared to the work of the man in the title, most of the artists appearing in Younger Than Jesus: The Artist Directory would agree they're underachievers. Even still, appearing in the book, the New Museum's directory of 500 best international artists under the age of 33, is quite an accomplishment for the four Oberlin alumni on the list, given that only about 50 U.S. artists were included. Jacob Ciocci '00, Cory Arcangel '00, Ginger Takahashi '99, and Paul B. Davis '00 are among the top artists, and Julia Christensen, a member of the art department faculty, also made the cut. A trio of curators, including Lauren Cornell '00, working with a team of 200 art-world insiders, devised the list.
Real Food, Digitally Delivered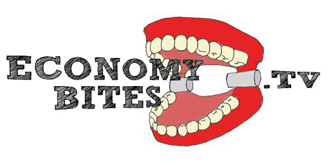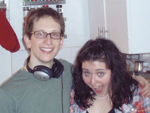 Daniel Schloss and
Allie Schwartz
Daniel Schloss '07 and Allie Schwartz '07 are on the forefront of at least three fronts, and they're pulling it all together into one project. The pair has combined their understanding of media convergence, the foodie trend, and the ongoing recession to forge a web-based cooking show for urban-dwelling, budget-minded home chefs (very much like themselves) called Economy Bites (www.economybites.tv) The show, appearing new every Friday, features Schwartz as the light-hearted host who promises at the beginning of each five- to six-minute episode to show you how to produce a meal you "cook on Sunday, eat 'til Thursday." Don't worry about scrambling along to make your own meal in that fraction of an hour—the website features the recipes used in the episodes, along with cooking tips, between-episode blog entries, and short video features.
"Even though we're in a recession, we care about eating real food that we cook," says Schloss, a filmmaker. "If Allie, a liberal arts graduating amateur foodie can do it, then anyone can."
Besides the show's co-creators, the entire team behind Economy Bitesis Obieriffic: The website was designed by Ben Regenspan '08, music composed by Seth Samuel '07, and the logo designed by Ravi Jackson '07.
Who is Katie O'Reilly '08?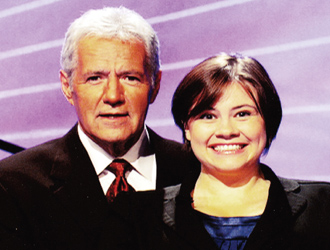 This Oberlin Conservatory alumna recently came excruciatingly close to winning more than $15,000 on Alex Trebek's famous game show.
A vocal performance grad, Katie O'Reilly '08 was in the spotlight on the September 25, 2009, episode of Jeopardy!. She held on to first place throughout most of the game; her $2,000 first-round lead steadily growing to a $4,700 gulf by Final Jeopardy.
Though the questions were all over the map—one of her favorite coups was correctly identifying a photo of the Ferrero Rocher chocolate wrapper—her Oberlin education certainly helped, she says, with the musical and literary trivia. Among her correct answers: the name of New York's performing arts Mecca¹ and the number of trombones and cornets in the famous Music Man band².
"The Music Man is my favorite musical," she says. "I would've been very sad if I hadn't gotten those."
O'Reilly's journey to the Jeopardy! set actually began while she was a student at Oberlin. "I always kinda liked Jeopardy!, but it was never something that I was really into," she says. During her senior year, on "a total whim," she took the test on the show's website, the first-level screen for potential contestants.
O'Reilly made the cut, but the callback date conflicted with Commencement. After graduating, she tried again and was asked to audition in the Boston area, where she now lives. Held at a local hotel, the audition employed a sort of makeshift version of the familiar set: a slide projector and a computer. After the tryout, she was invited to compete on the real show, taped in July; now, her answers (actually, as per Jeopardy! form, questions) would be broadcast to more than 8 million viewers nationwide.
That night, the pressure was on, but things were going well. She got both Daily Doubles, naming a famously corpulent Shakespearean character³, for $1,000, and the Mexico City palace commemorated in the Marine Corps Hymn4, for $2,500. When Final Jeopardy came, she wagered $5,200, which, if answered correctly, would have cinch the win.
The answer: "Because of the requirements in pumping blood to its brain, it has the highest blood pressure of any living animal."
"I was thinking of an animal with a really big brain," says O'Reilly, who racked hers to come up with a response. "What is a blue whale?" she scrawled on her screen.
Unfortunately, the right response had more to do with gravity than heft. Because of their long necks, giraffes' blood pressure is through the roof. "It was sad," she says. "Giraffe didn't even occur to me." It did occur to both of her competitors, however; O'Reilly finished third.
Did the outcome make her wish she'd done things differently at school, perhaps taken another biology class? "No," O'Reilly says with a chuckle, "then I would've done just as bad at school as I did at Final Jeopardy."
She does have a plan for getting a second shot, though. "Become a celebrity so they invite me back on Celebrity Jeopardy!." Don't be surprised if, in a few years, Katie O'Reilly becomes the first opera diva to take home the championship.
¹Lincoln Center, ²76 and 110, respectively, ³Falstaff, 4the Halls of Montezuma
Obie Blog Watch
Blogger:
Daniel Radosh '91 at radosh.net
Tagline:
Pop. Politics. Sex. So On.
Background:
What's good for Daniel Radosh '91 might not be good for his readers: Radosh, whose writing has appeared in the New York Times, New Yorker, Salon, McSweeny's, and Modern Humorist, was hired a few months ago as a writer for Comedy Central's The Daily Show, slowing down his rate of blog posting.
Too bad, because radosh.net is very funny. It's like a standup comic with hyperlinks, spotting absurdities in the culture and cutting and pasting them into a genuine critique of it. Radosh.net pointed out, for instance, that Esquire magazine's online version declared Facebook's street cred dead—right under its own permanent link to the social networking site. Radosh and his guest posters take shots left and right, as content to jab filmmaker Michael Moore as Republican party chief Michael Steele.
Readers need not worry, it seems, that the new gig will get in the way too much: Radosh is posting video of the bits he's written for the The Daily Show.
Charlotte Landrum and Jeff Hagan '86 contributed to Oberlin Beyond Oberlin.