Around Tappan Square
Oberlin professors Marcus Belgrave (trumpet), Robin Eubanks (trombone), and Billy Hart (drums) performed during an October musical tribute to the late Wendell Logan, founder and chair of Oberlin's jazz studies department and respected composer, performer, and educator. The Oberlin Jazz Ensemble, Andrew Frierson, Ki Allen, and James McBride '79, among others, also participated in the tribute. Logan was awarded the Oberlin Alumni Medal posthumously. The medal, presented to his wife, Bettye, recognizes outstanding and sustained service to Oberlin College. Logan was honored for his extraordinary contributions to the life of Oberlin's college and conservatory and to the students he mentored and taught. (photo by Kevin Reeves)
Republican Rove Draws Crowd—
and Protests
Controversial political operative and former George W. Bush advisor and chief of staff Karl Rove discussed health care, President Obama, immigration, gay marriage, government spending, and the economy before a standing-room-only, yet skeptical Finney Chapel crowd. His visit was sponsored by the Oberlin Republican and Libertarian Club as part of its Ronald Reagan Lecture Series.
Rove entered Finney amidst a mixture of cheers and boos before settling behind the podium. Outside the chapel, residents, students, and union members—flanked by two giant, inflatable rats—waved picket signs and shouted words of disgust.
"A long time ago, your little town started the civil war," Rove joked to the audience inside, attempting to ease the tension. "Let's not start another civil war tonight." The lively crowd responded with laughter and applause.
There was reason to lighten the mood. Some students were unhappy that Rove, a key player in such Bush policy decisions as the war in Iraq, had been invited to campus. The frustration grew when students learned that audience questions would be filtered through a student panel before being posed to Rove. "Among other things, students were upset because they felt that Mr. Rove's request that questions be read through selected moderators did not represent what Oberlin is about," said Yeworkwha Belachew, Oberlin's ombudsperson and director of the Oberlin College Dialogue Center (OCDC). "They felt as though their voices would not have a chance to be heard." OCDC sponsored two forums, one before the talk and one after, to discuss the Rove appearance and the arrangements for questioning the speaker. Outside of a minor outburst, threats to significantly disrupt the event never materialized.
"One of the goals [of having a speaker like Rove at Oberlin] was to get the community to pause for a moment and listen to the other party," said Timothy Hall, associate professor of philosophy, at an OCDC-organized faculty panel. Hall is faculty advisor to the Republican and Libertarian Club.
"It has been almost 10 years since we've had a speaker cause so much commotion," Belachew said later. "I am surprised at how well it went."
Nadya Primak '13 and Paris Achenbach '13 contributed to this story
Dewy Ward '39 Alumni Center
Alumni and friends of all generations gathered in downtown Oberlin on September 24 to celebrate the grand opening of the Dewy Ward '34 Alumni Center, the new home of the Oberlin Alumni Association. Visit the alumni association website, http://new.oberlin.edu/office/alumni, to learn more about the center and see a video of its opening.
In Other Words
"As a journalist, you're almost like a child, you never get to pick the events that form you." —Mark Boal '95, journalist and Oscar-winning writer of the Hurt Locker.
"I have become more and more fascinated with language, and the usage of it, and the meanings, and the layering of meanings." —Ishmael Beah '04 during an interview with online student publication Fearless and Loathing. Beah and his mentor, professor Dan Chaon, gave a convocation speech in October.
"It doesn't matter why you believe the climate is changing. The fact is it is changing. One doesn't have to be some sort of apocalyptic visionary to understand what climate change might mean." —Christine Todd Whitman, former New Jersey governor and Environmental Protection Agency administrator, who delivered a convocation lecture in November.
"People joke that, while some think globally and act locally, McDonough's problem is he thinks galactically and acts molecularly." —William McDonough, architect for the environmentally forward-thinking Adam Joseph Lewis Center, during a celebration of that building's 10th anniversary.
Alumna Brings Traveling Library of Congress Exhibition to Oberlin
The Library of Congress rolled into town on 18 wheels in October, carrying hundreds of years of American history. Of course, it wasn't the actual Library of Congress, but a traveling exhibit that will visit 60 sites across the Midwest and South during the next year. The project, called Gateway to Knowledge, is sponsored by philanthropists Emily Rapoport '09 and her sister Abby, who have donated $1 million to the library to make the exhibition possible. Gateway brings important collections to smaller cities and towns—particularly in rural areas—and shares a wealth of information with visitors who may not be aware of their access to the publicly funded institution.
"When my sister Abby and I were presented with the idea of a traveling exhibit, we were very excited, but we wanted to make sure that the exhibit would be visiting towns that didn't have access to major museums nearby," Rapoport says. "The Library of Congress is such an amazing institution, and so few people understand what it really is and that it is open to everyone." Rapoport says the exhibit is not just about the library's literary collection, but also about the resources available through the Library of Congress website, of which she hopes the exhibit will encourage more use.
Gateway to Knowledge features museum-style exhibits, a multimedia display, and informational kiosks. From on-board terminals, visitors can access the Library of Congress' main site, the Center for the Book/Literacy Programs, a site for schoolteachers with customized lesson plans, a genealogy site, and sites pertaining to museum exhibits and collections.
Eric Nord Dedication
(photo by John Seyfried)
A street that runs in front of the East College Street Project in downtown Oberlin was officially christened Eric Nord Way during an October dedication. The late Eric Nord, who was cofounder and chair of Nordson Corporation, donated millions to education, social services, and the arts. Active contributors to the college, Eric and his wife, Jane, gave $3.5 million to the college's Center for Service and Learning to enable students to do volunteer work throughout Lorain County. At the time, it was one of the largest gifts the college had ever received from a living donor. Jane Nord (above, front) was present at the October street dedication.
---
Folksinger/songwriter Josh Ritter '99, performing in Finney Chapel this fall: "This is a thrill. I've had dreams about this."
Enthusiastic audience member: "So did we."
Ritter: "Was I wearing pants? Because in mine, I was very exposed."
---
Less is Best in Intercollegiate Energy and Water Use Competition
During three weeks in November, 40 colleges and universities nationwide, including Oberlin, used technology created by six Oberlin alumni to take part in the Campus Conservation Nationals, an intercollegiate competition aimed at reducing electricity and water use.
To measure and track their energy use in real time, students at all the colleges used the Building Dashboard system created by Lucid Design Group founders Michael Murray '04, Gavin Platt '06, and Vladi Shunturov '05. Obies Adam Hull '09 and Chris Fry '05 also work for the company. The Dashboard, which has been in use in Oberlin's residence halls for years, allows users to view their energy use and consumption online, as well as track how their individual behavior impacts energy saving efforts. Oberlin played a key role in developing the Campus Conservation Nationals (CCN) and serves as one of the founding participants.
Andrew deCoriolis '07, Lucid Design Group's manager of public programs and organizer of the event, believes the competition can stimulate meaningful, lasting change. "The goal of the CCN was to motivate students to change their behavior and to see a measurable reduction in electricity, water, and carbon dioxide emissions, and to foster a culture of conservation on college and university campuses," he said.
Prior to the competition, each competing building underwent baseline measures of energy use. While competition between schools was encouraged, each building also competed against its own earlier performance. The hope, said deCoriolis, was a 5 to 15 percent energy reduction within each building.
CCN participants were eligible to win awards in two categories—single residence hall and campus-wide. The winning halls and college campuses will receive products from Lights Out Green, StudyLikeaChampion.com, and the U.S. Green Building Council. The winning campus also will receive a real-time Building Dashboard.
The Alliance to Save Energy and the National Wildlife Federation also sponsored the event.
See https://oncampus.oberlin.edu/source/articles/2010/12/03/resource-reduction-competition-results/ for competition results.
Steinway Piano Dedication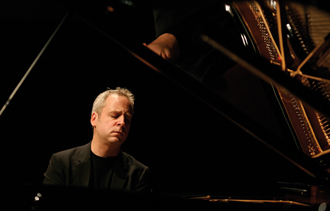 Jeremy Denk '90 performed in a small concert in October dedicating the Hamburg Steinway piano donated by Motoko and Gordon Deane, both Class of 1971, in honor of Professor Emeritus Joseph Schwartz. The concert, held at Clonick Hall in the Bertram and Judith Kohl Building, included performances by piano faculty members Joseph Schwartz, Sedmara Rutstein, Peter Takács, Haewon Song, Robert Shannon, and Monique Duphil.
$1 Million Federal Grant
(photo by Jennifer Manna)
Congresswoman Marcy Kaptur secured a $1.1 million federal award that will help move Oberlin and three other communities toward a clean energy future. Oberlin College will administer the award, which will be used to conduct a comprehensive, district-wide assessment of energy infrastructure and alternative energy transmission under the guidance of the National Energy Technology Laboratory.
Sophomore Brings Juárez Mayor,
Art Show to Oberlin
When Robert Palacios '13 learned one requirement of living in Spanish House was a project in Spanish or related to the Spanish-speaking world, he went a little further than, say, a written report. Instead, he brought to Oberlin the mayor of Ciudad Juárez, a Mexican city reeling from drug-related violence, and on the way made Oberlin a stop in an international art show of political posters advocating peace in that region.
"I lived most of my life in El Paso, Texas. It's right across the border from Ciudad Juárez," Palacios says. Juárez is "a city that went from a not particularly dangerous place to the murder capital of the Americas." In 2009, more than 2,600 people were killed in Ciudad Juárez, a city of about 1.3 million people.
For his project, Palacios wanted to bring in a speaker from El Paso or Ciudad Juárez to talk about the violence that plagued his neighboring city. His first contact, the University of Texas Latin American studies department, yielded an e-mail address for the deputy mayor of Ciudad Juárez. "I never expected to hear back from him. (But) the same day he wrote me an e-mail saying 'Yes, the mayor would love to come to Oberlin.'"
When Palacios went to Juárez last summer to visit the mayor, José Reyes Ferriz, he got a better appreciation for the level of the threat there. "The amount of security inside his office was unbelievable," says Palacios. "At one point things got so bad he was sleeping with an AK-47 on his bed." After his family received death threats, Ferriz moved them to the United States.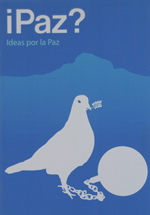 Poster from the
Peace of Art exhibit
Back in El Paso, Palacios spotted a postcard for an intriguing art exhibit called Peace of Art, Art Exhibit for Peace, featuring artwork intended, as its organizers put it, "to give a face to the violence and help people understand the ways in which it has changed people's lives." Thinking he might find a designer for a poster for the mayor's Oberlin visit, Palacios contacted the exhibit's organizers. They proposed bringing the show to Oberlin.
Soon Palacios was juggling not only the plans for Mayor Ferriz's visit, but also managing transportation for dozens of works of art. In addition to the weeklong exhibit and Ferriz's talk and panel discussion with Oberlin faculty, the organizer of the art show, Sandra Salas, came to discuss the inspiration for the exhibit.
The whirlwind of events more than satisfies Palacios's Spanish House requirement. Esmeralda Martinez-Tapia, faculty in residence at the program house, recalls Palacios calling her over the summer to discuss his project, and apologizing for talking about it so soon. "It was then that I wanted to clone him," she says.
"I admire Robert because he single handedly managed to do what Oberlin is all about," says Martinez-Tapia. "He's just wonderful."
To read a Q&A with Robert Palacios and see more work from the art exhibit, visit http://new.oberlin.edu/newsletters/parents/story_detail.dot?id=2684546&issueUrl=/newsletters/parents/2010/12/issue_06.dot&pageTitle=December%2015,%202010.
Like Father, Like Son
Oberlin tennis alumni and Heisman Hall of Famers John '61 and Carl '94 Erikson are the number one father-son tennis duo in the nation.
In November, the Eriksons won their eighth major title in the USTA National Senior & Super Senior Father-Son Clay Court Championship in Sarasota, Florida. With their latest victory, the Eriksons have won all four national championships in a calendar year on all four different surfaces: clay, hard, indoor, and grass.
John Erikson is an assistant men's and women's tennis coach at Oberlin. He excelled in tennis, basketball, and football for the Yeomen, and remains one of the top players nationally in his age group. His son Erik '90 also plays tennis.
"I enjoy competing, and tennis is a great game in that you can keep playing as you get older," says John. "To be able to compete with your sons provides even greater enjoyment. Playing with Erik and Carl has kept me 'in the game,' and winning national championships with Carl has been the icing on the cake."
Carl is one of Oberlin's most decorated tennis players. He was the first member of the college division to be named the CoSIDA/GTE Academic All-America Team Athlete of the Year, and compiled a record of 95-19 in singles and 76-14 in doubles. He qualified for the NCAA tennis championships three times and earned All-America Honors in 1993 and 1994 in singles and doubles. He was the 1993 and 1994 NCAC Player of the Year, a four-time All-NCAC first-team selection, and he ranks first among Oberlin tennis players in career-singles wins (95) and career-doubles wins (76).
—Amanda Nagy
Shakespeare gets Southern Accent in New Staging
Shakespeare is not normally performed with a Southern drawl, under a blood-red sky, with hoop skirts and whips whirling around the set. The bard's Macbeth does not usually focus on the plight of the servants and serfs who slip in and out of the play's violence. But Justin Emeka '95, visiting professor of theater and director of this adaptation of Macbeth, wanted to put this oft-told tale in a new light.
"I've always been interested in using different experiences and cultural references to help me tell the story in a new way," he says. And so, on the weekend of October 7, Oberlin audiences packed Hall Auditorium for Shakespeare's Macbeth, viewed through the lens of the Reconstruction-era United States.
In Emeka's Macbeth, the title character is a spineless general for the North, Lady Macbeth is a Southern belle desperately clinging to her privilege, Banquo and Macduff are black freedmen in the Yankee army, and the three weird sisters are impoverished black sharecroppers seeking vengeance.
"It's a horrifying play for a number of reasons," says Emeka. "The play explores something that's fascinating in the corruption of the soul, in the corruption of a nation, and in trying to rebuild once it's been poisoned by corruption. My job as director is to kind of reveal that story in an effective way."
The innovative staging included scenes of slavery, the Ku Klux Klan, and lynching, which Emeka hoped would put the script's violence in a modern context. He credits his Oberlin experience as a student with his confidence to explore such new possibilities.
"A lot of times people are taken aback by my audacity to take a classic like Macbeth and put in an African aesthetic," he says. "At Oberlin I gained the confidence to say 'I am me… and what I say is of value, and I belong to the world and the world belongs to me.' Oberlin gave me the freedom to take ownership of my own vision.
"[For] people who had never imagined themselves or who had never been invited to participate in Shakespeare, [this staging] made them feel like Shakespeare belonged to them, that he was their playwright, too."
2010 Honorary Degrees
Oberlin College presented honorary doctoral degrees at the May commencement exercises to Julie Taymor '74, award-winning theater, film, and opera director; Diane Meier '73, director of a national organization devoted to increasing the number and quality of palliative care programs in the United States; Peter Molnar '65, professor of geological sciences and fellow of the Cooperative Institute for Research in Environmental Sciences at the University of Colorado at Boulder; Anne Krueger '53, professor of international economics at the School for Advanced International Studies, Johns Hopkins University; Reverend James M. Lawson Jr., a champion of civil rights and nonviolence for more than seven decades; and Robert Spano '83, one of the brightest and most imaginative conductors of his generation.
Honorary degrees were also given April 30 to Dr. William H. Cosby Jr., Dr. Camille O. Cosby, and Stevie Wonder (see OAM Summer/Fall 2010 issue).
In addition, Carol Longsworth, who served a 37-year term as director of the Oberlin Community Chamber Singers and a 28-year tenure as director of music at First Church in Oberlin, received the Distinguished Service Award, and Leanne Wagner '76 was awarded the Alumni Medal (see http://oberlin.edu/alummag/winter2010/features/awards.html for more information about alumni awards).