Alumni Notes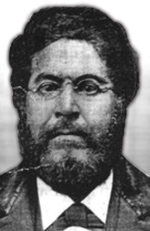 More than a century and a half after George Boyer Vashon was first denied access to the bar exam in his home state of Pennsylvania because of the color of his skin, the first African-American to earn a degree from Oberlin was posthumously admitted to the state bar in an official ceremony on October 20, 2010, in Pittsburgh.
A pioneering lawyer and abolitionist in the mid-19th century, Vashon earned a bachelor's degree in 1844, according to college archives. In addition to his law studies, Vashon was also a dedicated scholar and linguist who studied Latin, Greek, Hebrew, and Sanskrit.
Vashon's great grandson, Nolan N. Atkinson Jr., chief diversity officer for the Philadelphia law firm Duane Morris LLP, and Pittsburgh attorney Wendell G. Freeland played a key role in winning official recognition from the Pennsylvania Supreme Court for Vashon, who was twice rejected by the Allegheny County Bar, in 1847 and again in 1868. He was the first licensed African-American attorney in New York.
In addition to his law practice, Vashon taught in Haiti, was a professor at New York Central College, and later returned to Pittsburgh, where he became a public school principal. Vashon served as president of Avery College and moved to Washington, D.C., where he was admitted to practice before the U.S. Supreme Court. In 1867, he became the first black professor at Howard University. He became a professor of ancient and modern languages at Alcorn University in 1873.
—Amanda Nagy
From Sunlight to the Limelight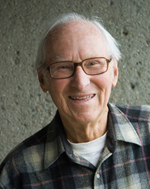 Kenneth Sauer '53, an emeritus chemistry professor at the University of California, Berkeley, was awarded a Lifetime Achievement Award by the International Society of Photosynthesis Research. The award, reserved for individuals who are at least 60 years old, is presented once every three years to recognize exceptional career-long contributions to understanding the process of photosynthesis.
Originally from Cleveland, Kenneth earned a PhD at Harvard in 1957. Early in his career, he focused on the reaction that produces oxygen from water. Today, he and his research group are studying processes that could use sunlight as a commercial energy source.
Sauer and his group are studying a protein complex in a light-dependent reaction known as Photosystem II. At Berkeley, he's pioneered methods for studying this process.
Sauer says Oberlin's science students have a distinct edge because they have opportunities to participate in undergraduate research.
"There's a real benefit from being involved in undergraduate research, because that's where all the excitement and pioneering work is going on."
—Amanda Nagy
D.A. Henderson K.O.s Smallpox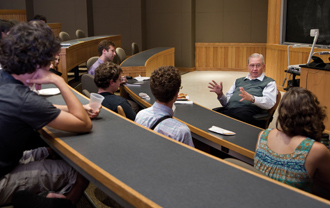 After you cross off "eradicate smallpox" from your to-do list, what could possibly come next?
How about being named the president's lead expert on bioterrorism one month after the September 11 terrorist attacks?
Such has been the fate of Donald A. Henderson '50 (D.A. to friends), a physician and epidemiologist who won the Presidential Medal of Freedom in 2002 for heading the World Health Organization team that eradicated smallpox worldwide.
It's pretty heady stuff, especially for someone who seems to have backed into each job either by accident or over his own objections. As he explained to an overflow crowd at the 119-seat lecture hall during a lunch hour talk at Oberlin this fall, "My career wasn't designed." He followed his lecture with an informal discussion with students from the emerging diseases seminar in the biology department, which cosponsored the event with the president's office and the Montie-Block lecture series.
His medical internship required Henderson to spend two years in one of the uniformed services, so he opted for the Epidemic Intelligence Service of the Public Health Service. "I didn't like this infectious disease stuff," he says, "but it looked to be more interesting than doing routine physical exams on recruits." Infectious diseases became a lifetime specialty for Henderson.
When he was first asked to join the George H. W. Bush administration, he told them he was sure they had called the wrong number "because I'm a registered Democrat and my wife is president of Planned Parenthood of Maryland." And when he was asked if there were any of the president's policies over which he disagreed, he began rattling them off in short order: "Fetal tissue (research), gun control, abortion..."
"Stop! Stop!" he was told. But he was hired anyway.
The Oberlin origins of Henderson's career are characteristically quirky. He says he draws upon the skills he gained working on the Oberlin yearbook and helping to found WOBC for his work in epidemiology, which involve "a whole combination of things"—such as social interaction, political issues, and detecting patterns. "I enjoyed working with a group trying to achieve something," he says of his time with the yearbook. From WOBC he learned that he also enjoyed what he calls "the whole experience of administration. "It lends itself to tremendous creativity," he says. "It's helpful if you don't have an ego problem."
Ego doesn't seem to be an issue for Henderson, who deflects credit for wiping out the deadly smallpox virus to his World Health Organization team and flatly states, "No, I did not" eradicate smallpox. "I was simply the head of a remarkable, inspired team of more than 70 nationalities." On the other hand, he says, "some of the best things I've done, I didn't get credit for." One such accomplishment he points to, typical of Henderson's ability to collaborate and see the bigger picture in the details, was a plan to streamline a research funding formula that involved the federal Office of Budget and Management and academics, and surprisingly met with the approval of both groups.
Henderson, dean emeritus and professor of the Johns Hopkins Bloomberg School of Public Health and a founding director of the Johns Hopkins Center for Civilian Biodefense Strategies, is no longer the White House's lead expert on bioterrorism, but he's still dogged by concerns over the threat. "We're a long way from being prepared, and I can tell you, I don't sleep well at night."
—Jeff Hagan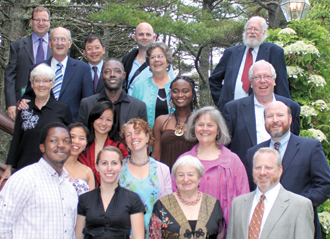 Bottom row: Asishana Osho '10, Brandi Ferrebee '10, Midge Wood Brittingham '60, Smith Brittingham IV '84. Second row: Shi Mei Lee '08, Jo Ling Goh '09, Lyn Freundlich '87, Diane Kenty '77, Scott Bellows '85. Third row: Jane Hatch Herndon, Edo Bedzra '05, Anita Ofori-Addo '06, Carl Bewig '62. Top row: William Brittingham '82, Larry Herndon '61, Clyde Owan '79, Benjamin Von Reiche '10, Mary Reiss Bewig '62, Smith Brittingham III '60.
Retired Alumni Association Executive Director Midge Wood Brittingham and her husband, Smith, both Class of 1960, celebrated their 50th wedding anniversary in June with a weekend celebration at their vacation home near Boothbay Harbor, Maine. Among the 43 guests were two former Alumni Council presidents: Clyde Owan '79 and Diane Kenty '77.
Gang of Four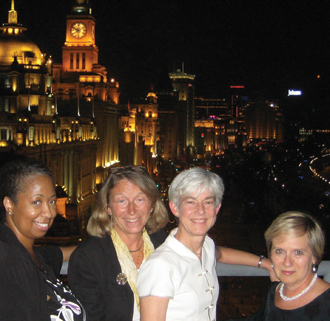 Karen Buck Burgess '72 sends this photo from an August gathering in Shanghai with her lifelong friends from Oberlin. All have had stints working and living overseas, and in the years before e-mail and social media, Karen says, staying connected was a challenge.
"Our husbands and children have become like extended family over the years, meeting at events such as weddings, births of children, and graduations," she says.
Karen, a lawyer, recently retired from the Securities and Exchange Commission. Delia Pitts '72 is the assistant vice president for student affairs at Rutgers University. Bea Camp '72 is the U.S. Consul General in Shanghai, and Marcie Berman '72 is principal deputy assistant secretary for arms control at the U.S. State Department.
"This year, we decided to celebrate our friendship, and our collective 60th birthday, by gathering in Shanghai," Karen says. "Bea's experience in hosting congressional delegations stood her in good stead as she hosted us all for about a week of travel, Chinese food, and conversation."
The so-called "Gang of 4" was accompanied by their husbands, John Vincent (Delia), John Burgess '72 (Karen), David Summers '71 (Bea), and Charles Ries (Marcie).
After a birthday dinner on the Shanghai Bund waterfront, the group enjoyed jazz music—led by Theo Croker '07 and his fellow conservatory alums Charles Foldesh '07 and Curtis Ostle '06—at Peace Hotel Jazz Bar.
"It was a glorious night, celebrating our longstanding ties of friendship," Karen says, "even though we were on the other side of the moon from Oberlin, where it first began."
Regional Roundup
What's Happening in Your Region?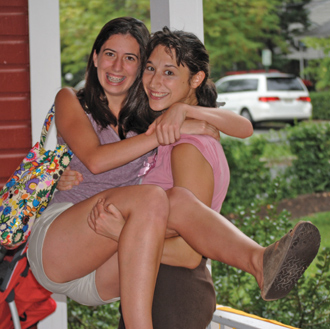 Find out at ObieWeb, www.oberlin.edu/alumni/oberlinClubs.
This past year the alumni clubs focused on a number of opportunities to strengthen Oberlin's presence in their area. They recruited new alumni volunteers; created diverse and enjoyable programming with an emphasis on community service, cultural and faculty events; and addressed the need for more professional networking opportunities—a request we've heard from our alums nationwide.
Interested in learning more or volunteering on your local alumni club's steering committee? Check out the new Regional Alumni Clubs page at http://new.oberlin.edu/office/alumni/clubs/ or contact me at 440-775-8692 or john.keller@oberlin.edu to plug into your local Obie scene TODAY!
Oberlin Club of Washington D.C. –
Annual Ice Cream Social
More than 100 D.C. area Obies, parents, and students braved the rain to hear this year's program, "Exploring American Democracy," with comments by professors Carol Lasser and Gary Kornblith; a presentation by Oberlin Club Honors to Michael Doyle '78; a welcome to the Class of 2014; and, of course, Ben & Jerry's ice cream!
Oberlin Club of Southern California –
Obies Night Out in L.A.!
In September nearly 40 Obies networked, ate, drank, shot pool, and learned about volunteer opportunities with the local club at the Happy Ending Bar & Restaurant on Sunset Avenue.
Oberlin Club of Cleveland –
Say Cheese!
More than 75 Obies from Northeast Ohio enjoyed a cheese tasting and tour of Lake Erie Creamery with owners Mariann Janosko '63 and her husband Jerry Onken.
Oberlin Club of Chicago –
Alumni Reception with President Krislov
On October 21 about 100 alumni, parents, and students joined President Marvin Krislov and host Daniel Ash '92 at the Chicago Public Media studios at Navy Pier for an evening reception and tour.
—John Keller
Director of Alumni Regional Activities & Education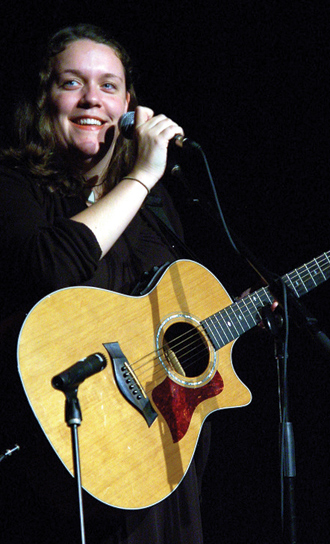 Lucy Wainwright Roche:
At Home on Tour
Given that Lucy Wainwright Roche '03 is the daughter of two famous entertainers—singer-songwriter Suzzy Roche (of the Roches) and folksinger-songwriter and actor Loudon Wainwright III—her musical talents are hardly surprising. That is, to everyone but Lucy.
"I come from a family of musicians who are wild and crazy," Roche said between songs at a concert last year at the Cat in the Cream, a frequent stop for the often-touring musician. "I raised myself kind of Mormon in comparison."
Mild-mannered and soft-spoken—even onstage—Lucy was the quiet, studious one in a theatrical family that also included half-siblings Martha and Rufus Wainwright, both musicians. She grew up in New York's Greenwich Village, but spent much of her childhood on the road with her mom and was the first member of her immediate family to graduate from college.
Roche became interested in Oberlin when she came to visit her best friend from high school who attended Oberlin. Though the friend transferred out of Oberlin, Roche was hooked by the weekend visit. It helped, she says, that the Roches used to play gigs at the college. Lucy grew up hearing stories about Oberlin being the group's favorite college venue because audiences were always so enthusiastic and receptive.
At Oberlin, Roche studied creative writing and dabbled in music for fun. She worked at the Cat in the Cream, helping to book artists for the Oberlin Folk Festival and occasionally performing her own songs. Her goal, however, was to become a teacher. After graduating, she taught in North Carolina for a year and then earned a master's degree in elementary education from the Bank Street College of Education in New York.
"I was pretty shy about the music thing because my whole family was doing it. I was rebelling," she says of her decision to pursue a teaching career. Two years into teaching in New York, her brother Rufus asked her to sing backup on his tour during her summer vacation. She accepted.
After that, Roche says, "I sort of got the itch to be on the road." She taught school for just one more year, and, in 2007, turned a part-time music venture into a full-time career. Her first full album, Lucy, was released in October.
Roche's family has been nothing but supportive. "My siblings and I are really different. It's great because we're not stepping on each other's toes with our work," she says. "We can collaborate, and it works, but Rufus doesn't sound like me, and I don't sound like Martha."
Although she's traveled the world with her mom, dad, and brother, Oberlin remains one of Roche's favorite places to visit, and she makes new friends whenever she visits campus. After her show, star-struck students formed lines around her, asking for autographs, soliciting career advice, and even inviting her to their parties. "I love coming back to Oberlin," she says, with a smile.
—Elizabeth Weinstein '02
Lena Dunham: Indie Queen of
(Nearly) All Media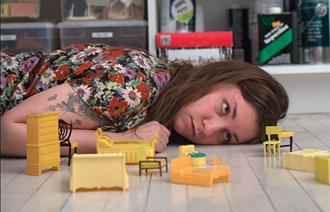 After graduating in 2008, Lena Dunham boomeranged back home to New York to live with her parents, artists Laurie Simmons and Carroll Dunham, and her overachieving younger sister, Grace. For a brief period, the creative writing major fumbled through experiences shared by many a recent college graduate: dead-end jobs, awkward attempts at romance, and escalating family tensions.
Then, in 2009, Dunham, an aspiring filmmaker with a handful of college film projects already under her belt, began to write a somewhat fictionalized account of her quarter-life crisis, starring Dunham as "Aura," a recent graduate of a small Ohio college, and her real-life mother and sister as, well, Aura's mother and sister. The film, Tiny Furniture, was shot mostly in her parents' Tribeca loft, on a very low budget ($25,000), and has become an instant indie phenomenon.
The movie snagged the Jury Award for Best Narrative at the South by Southwest film festival and flattering reviews in the New York Times, the New York Post, the Los Angeles Times, Rolling Stone, and Entertainment Weekly (which called Dunham "a big talent to be reckoned with, a storyteller of gigantic charm and subtlety, and a filmmaker of exciting feminine originality"). A lengthy profile of Dunham also appeared in the New Yorker.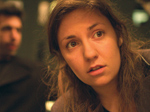 Her film also attracted the attention of film and television producer Judd Apatow, who is now working with Dunham on developing an HBO sitcom, with Dunham as star, about a group of 20-somethings who move to New York after college. And the 24-year-old has signed on to write and direct the movie adaptation of Dash & Lily's Book of Dares, by authors Rachel Cohn and David Levithan (who also wrote Nick and Norah's Infinite Playlist).
"I would say filmmaking encompasses everything I have ever been into—art, fashion, human interaction, writing, and photography," she said while visiting Oberlin in October for a special screening of Tiny Furniture at the Apollo Theatre. "All the things I love and find compelling, and all the social modes I love, kind of come together in one job that I didn't even know could be a job."
—Elizabeth Weinstein '02
Friends in High Places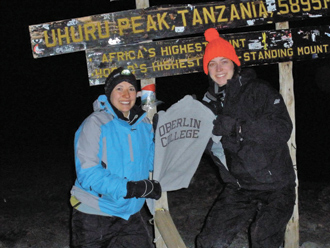 Christa Wagner and Marie Barnett, both class of '08, met in Moshi, Tanzania, in July and completed a seven-day trek up Mount Kilimanjaro. Both successfully reached the summit of Africa's highest peak: 19,300 feet. Following the climb, they traveled to Zanzibar and Kenya. In September both began another trek, starting work toward PhDs: Christa in cellular and molecular medicine at Johns Hopkins University and Marie in clinical psychology at Adelphi University on Long Island.