Oberlin
Beyond Oberlin
Science Class Clown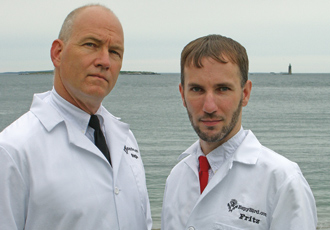 Stephen Voltz '79 had been a practicing attorney for 20 years, but beneath the lawyerly veneer was a clownish mad scientist waiting to break free. Four years ago, he co-founded EepyBird, which takes the science of everyday objects and turns it into performance art. Voltz and his partner, Fritz Grobe, who dropped out of Yale to juggle professionally, are best known for their experimentation with the explosive results when Mentos candies are dropped into Diet Coke.
The video of that experiment spread across the web like wildfire and eventually garnered the pair two Emmy nominations, multiple Webby awards (honoring excellence on the Internet), and appearances in videos with performers such as the Blue Man Group, Barenaked Ladies, and Weezer. But before the hubbub, EepyBird's roots can be traced back to Voltz's passion for the stage and the circus arts.
Growing up in San Francisco, long a mecca for street performers, Voltz taught himself to juggle and later eat fire, performing for tourists with his brother, John. Their signature trick involved Voltz placing an apple on his sibling's back and slicing it in half with a two-foot steel machete, much to the crowd's delight and their mother's dismay.
"One of the things I solidified during my time [at Oberlin] was that I probably was going to find a nontraditional path," Voltz recalls. In college, he taught juggling and acted in the Magic Circle Children's Theatre. He was also inspired by the work of Bill Irwin '73, a Tony-winning actor and clown who appeared most recently in the film Rachel Getting Married.
"[Bill Irwin] was actually teaching an EXCO course on clowning my freshman year, and it was full, and then the next year he was gone," says Voltz, "so I saw him perform but I never got a chance to meet him or study with him."
In 1999, Voltz began vacationing with his family in Maine, where he discovered the Celebration Barn Theater, a breeding ground for mimes, actors, storytellers, and jugglers that holds annual summer workshops. There he met others who shared his passion for clowncraft, including Grobe.
One thing Voltz learned from Grobe was the value of hunting methodically, even scientifically, for novelty. "In the circus world, it's worth your time to spend six months, a year, finding basically a great three minutes that no one else has, because that's what you can make a career on," says Voltz.
After trying for months to run EepyBird and his civil litigation practice simultaneously, Voltz shuttered his law firm, and EepyBird became a full-time job. Supported by a combination of live performances, gigs coaching corporations on viral marketing, and sponsorships for their videos, the duo has gone on to build a Coke and Mentos-fueled rocket car, as well as Post-it notes waterfalls. They're tight-lipped about future projects, but the one thing that's certain is that mad science marches on.
Enchanted Chanter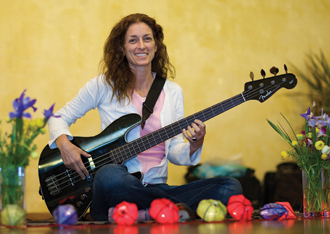 An estimated 16 million Americans attend yoga classes as a way to slow down and relieve stress. As they're lying on their mats, or folding into yet another down-dog position, there's a good chance they are listening to music by Wah!, a 1979 Oberlin graduate who has pioneered a genre of popular music based on Sanskrit devotional chanting.
Wah! is the equivalent of a yoga rock star who has created a soundtrack for the yogic lifestyle. Savasana, a CD of relaxation music released in 2002, sold over 50,000 copies worldwide. With the release of Maa in April 2010, Wah! has broadened her appeal by incorporating dance beats, electronica, and even some reggae.
While a student at Oberlin, Wah! (she changed her name at age 17) spent a winter term studying Indian classical music with Roop Verma. Her major in performing arts (with a minor in voice) brought her into contact with a dance professor who introduced her to meditation. The practice took hold, and she began meditating daily.
Wah! did not pursue a musical career immediately after graduation. She went to New York and held a number of jobs, including booking tours for dance troupes. She also kept meditating, often accompanied by singing mantras. More than a decade later, when she began performing publicly, she says, "my meditative practice and my music were intertwined." Live audiences at Wah! concerts participate in uplifting call-and-response chanting that she says is "the antidote to the fast pace of our society."
Concrete Improvements in L.A. River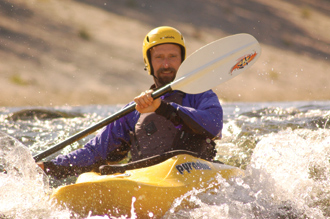 What started as a gag—in two senses of the word—ended with a victory for environmentalists and a new vocation for the satirist who started it.
George Wolfe '86 first dipped his toe into the Los Angeles River for a YouTube video he was making of a man frustrated by freeway traffic who abandons his car and, with a kayak found along the way, takes to the water. Part of the joke is that the 51-mile river, bottomed by concrete in places to rush rainwater away from Los Angeles and keep the city flood-free, doesn't seem like much of a river, and, as Wolfe says, "most Angelinos can't say where it begins, where it flows, or where it ends." Its edges are frequently spotted with rusting shopping carts, garbage bags, litter, graffiti, and homeless encampments. The only glimpse some people have gotten of the river are scenes from movies like Grease and The Italian Job, which use the riverbed the way much of L.A. is used: as a roadway.
Wolfe, a dedicated boater, continued to kayak the river. Though he was deterred at times by police on foot and in helicopters, one odd encounter encouraged him: A woman from the U.S. Army Corps of Engineers tracked him down and informed him that he could use his trips to prove that the whole river was "traditionally navigable," a central criteria for determining if a waterway deserved Clean Water Act protection. The woman, who turned out to be a whistleblower, had seen his YouTube video.
When he realized she was serious, Wolfe became serious, too, launching a river expedition with the specific goal of proving its navigability. Despite being denied a permit to put his boat in the river, he led a 3-day journey and submitted a report documenting the group's discoveries to the U.S. Environmental Protection Agency. Two years later, in July 2010, the EPA declared the river a "traditional navigable water."
Now Wolfe, who lives in Venice Beach, has launched L.A. River Expeditions, a first-ever boating program for the river. Wolfe says it will focus on "safety, boating skills, and teamwork, but also environmental stewardship, ecology, and watershed management." Participants will learn about leadership, the politics of water, local history, and sociology/urban studies—Wolfe's major at Oberlin.
That is, if the river trips get official approval.
When that happens, his business will get off the ground and into the water pretty quickly: He already has a waiting list of 700 urban adventurers willing to go where few have gone before, and many didn't even know existed.
Josh Spiro '09, Megan Harding, and Jeff Hagan '86 contributed to Oberlin beyond Oberlin.