Around Tappan Square
Illuminated Research
(Photo by Hanna Exel '12)
A research paper written by senior art history major Claire Jenson '12, titled "Robert of Hangest's Missal: Reconstructing a Medieval Illuminated Manuscript," won a national research award from the Forum on Education Abroad, an organization for study abroad professionals and international educators. As one of just two winners, Jenson will present her research in March at a national conference in Denver to an estimated crowd of 1,500 people. To read a profile of Jenson, a native of Lexington, Mass., visit oberlin.edu/oam.
—EJ Dickson '11
Notable Grants and Awards
NSF Supports Stephen Fitzgerald's Work in Hydrogen Storage Materials for Fuel-cell Vehicles
Physics professor Stephen FitzGerald was awarded a three-year, $235,000 grant from the National Science Foundation to develop hydrogen storage materials that are critical for the use of fuel-cell powered automobiles. These materials also will enable the selective capture of carbon dioxide, which is vital to natural gas purification and environmental efforts aimed at carbon sequestration. Oberlin students will be involved in all aspects of the research, including equipment construction, data acquisition, analysis, and writing of the final papers. Visit oberlin.edu/oam. for more information.
—Amanda Nagy
Bertram and Judith Kohl Building Receives LEED Gold Certification
(Photo by Kevin Reeves)
The Bertram and Judith Kohl Building, the new home of the jazz studies department, has officially received LEED Gold certification, making it one of the few—and perhaps, only—music conservatories in the world to receive the distinction. Designed by Cleveland-based architecture firm Westlake Reed Leskosky, the building sits just east of the conservatory. For more information, visit oberlin.edu/oam.
—EJ Dickson '11
A Glorious Circus Show
Henrik Ehrhardt '13 and Sam Karpinski '14 performed a dance routine in The Glory Days of Velvetina, the fall production of Oberlin's student circus. OCircus! produces two shows each year—a family-friendly show in the spring, and a burlesque-friendly student-centered show in the fall. Formed in 2006, OCircus! crews include as many as 75 members, including tumblers, aerial performers, clowns, jugglers, magicians, dancers, stage crew, musicians, and costume designers.
Site Saving
A New Mission in Libya: Professor Susan Kane Leads Program to Preserve Endangered Sites in Cyrene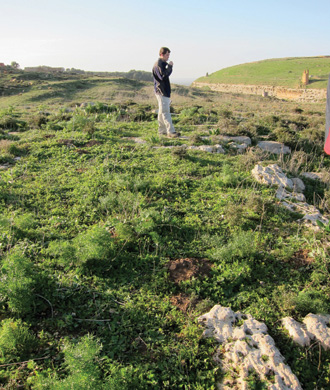 (Photo courtesy of James Countryman)
Professor Susan Kane, an internationally known expert on Greek and Roman sculpture and chair of Oberlin's archeology program, is leading a project to assist the Libyan Department of Antiquities to document and assess threats to archeological sites in the Cyrenaica region of eastern Libya.
U.S. Secretary of State Hillary Clinton pledged $180,000 in October for a new U.S. Ambassadors Fund for Cultural Preservation project, which brings together Oberlin faculty and the Libyan Department of Antiquities in a comprehensive program of mapping, documentation, and risk assessment in one of the most culturally significant ruin complexes in the world.
Kane directs the Cyrenaica Archaeological Project, an international mission that works in partnership with Libyan archeologists at the ancient Greco-Roman site of Cyrene and at sites throughout the Cyrenaica region. Since the United States resumed diplomatic relations with Libya in 2004, Kane has applied for grants and visited about once per year, most recently in January 2011 with her husband, Sam Carrier, an associate professor of psychology, and senior archeology student James Countryman (pictured above). The purpose of the trip was to establish a working relationship between Libya's Department of Antiquities and the Metropolitan Museum in New York. To learn more about the project, visit oberlin.edu/oam.
—Amanda Nagy
Top 5
Ohio Magazine has named Oberlin one of its top five hometowns in Ohio.
(photo by Tanya Rosen-Jones '97)
Go YEO
Women's Cross Country Team Runs to Wisconsin
The Oberlin College women's cross country team qualified for the NCAA Division III Championship for the third straight season after finishing fourth at the NCAA Great Lakes Regional, which was hosted by Oberlin. At nationals in Winneconne, Wis., the Yeowomen recorded their highest finish ever in the current 32-team format, placing 15th overall. Oberlin was led by sophomore Molly Martorella, who earned NCAA All-America honors for finishing in 21st place.
News Brief
Alumni-led Harp Ensemble Brings Pluck to White House
(Photo by Kathy McCune)
The American Youth Harp Ensemble, led by artistic director and founder Lynnelle Ediger-Kordzaia '92 (center), ended a December concert marathon (41 performances in 16 days) with a performance at the White House on December 16. Sixteen harpists from the AYHE Touring Ensemble were selected for the second year in a row to perform in the East Room. This spring the ensemble will be featured in an hour-long live broadcast on NPR affiliate WCVE 88.9 (Richmond, Va.), the opening concert for the Mid-Atlantic Harp Festival, and in Carnegie Hall. The ensemble includes current master of music theory student Amanda Ellerbe '14 (second from right).