Around Tappan Square
Wabash Cannonball Stops in Oberlin
The Yeomen football team achieved something they hadn't done since 1945: beating the number-10 ranked Wabash College. Final score for the November 3 game, which was played at Wabash's Hollett Little Giant Stadium in Crawfordsville, Ind., was 31-16.
---
No Slump for Sophomores
The women's cross country team turned in its best performance in school history on November 17 with a ninth-place finish at the NCAA Championships. With a trio of second-year runners leading the way, the team beat last year's 15th-place showing and recorded the best finish out of any school from the Great Lakes Region. "It was another amazing group effort by these young women," says Head Coach Ray Appenheimer, referring to runners Carey Lyons, Emma Lehmann, and Lindsay Neal. "For three sophomores to carry us like they did all year is truly outstanding, and it means the future is bright for this team." The team earned its fourth straight North Coast Athletic Conference Championships title on October 27, placing four runners in the top five. Junior Molly Martorella finished first and was named NCAC Runner of the Year.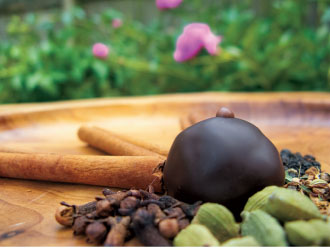 ---
Oberlin Alumni Magazine Needs Your Help
Are you a farmer or a chef? A baker or a chocolate maker? Someone who works on food justice and security issues? Our spring issue will be dedicated to food — the food our alumni, students, faculty, and others in the Oberlin community grow, make, sell, and think and write about. If your connection to food goes beyond just eating it, we'd like to hear from you. In addition to what we include in the magazine, we'll be compiling an online directory of Oberlin alumni food enterprises and an online recipe book. E-mail us at alum.mag@oberlin.edu, with FOOD in the subject line.
---
Live From Oberlin
Missing Oberlin athletics? Now you can watch the games from home. The athletics department has been streaming home athletics events since 2008 and produces 80 to 100 live events per year.
Find out more at www.goyeo.com/stream.
The Oberlin Conservatory of Music began live-streaming concerts from five campus venues this fall. All live-streamed concerts are available free of charge for the 2012-13 academic year. The programs include faculty and guest artist recitals, chamber music concerts, large student ensembles (such as the Symphony Orchestra), Chamber Orchestra, Contemporary Music Ensemble, Oberlin Jazz Ensemble, and other programs. A September performance by violinist Jennifer Koh '97 was among the fall's live-streamed events.
Visit oberlin.edu/conservatory and click on Listen Live to learn more.
---
National Science Foundation Awards
The National Science Foundation (NSF) awarded a $355,090 grant last spring to chemistry professor Matthew Elrod (left), who studies issues of air pollution and climate change. Elrod and his students are seeking a more precise understanding of the interaction between naturally emitted and man-made chemicals in the atmosphere.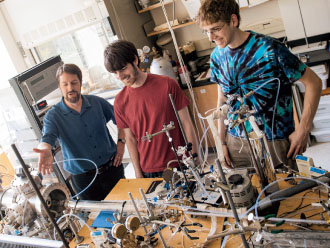 Associate Politics Professor Michael Parkin
Received a $37,000 NSF grant to extend his data collection into the next several election cycles. He studies how the Internet and new media affect campaign behavior — specifically how congressional candidates' websites affect campaign strategies, risk-taking, and negativity.
Alison O'Connor and Ben Altheimer
Graduates in May of 2012, both will receive funding for three full years of graduate school. O'Connor is pursuing a PhD in chemical oceanography at the Virginia Institute of Marine Science, while Altheimer studies biophysical chemistry at Harvard. They were among 17 Oberlin students and alumni honored by the NSF Graduate Research Fellowship competition — one of the best showings from Oberlin in recent years. Alumni fellowship recipients were Diana Chong '06, Alexander Krohn '10, Jasmine Mote '09, Hannah Neprash '07, Cyrus O'Brien '08, and Ardon Shorr '09. Hannah Fuson '11, Hadley Iliff '09, Ariel Kahrl '09, Michael Lemon '07, Andrea McQuate '10, Chase Nelson '10, Bryne Ulmnschneider '09, Margaret Zimmer '11, and Nathan Harris '11 received honorable mentions.
Hilary Neff '13 and Rachel Manning '14
Named 2012-13 Dalai Lama Fellows, a global program that awards grants to young social entrepreneurs. The women are working together to tackle the issue of food injustice by leading an outdoor education gardening program for schoolchildren in a small Appalachian coal-mining town in Kentucky.
Christopher Pickens '14
The second Oberlin student to earn the Ernest F. Hollings Scholarship from the National Oceanic and Atmospheric Administration. A biology and geology major at Oberlin, Pickens will receive up to $8,000 for two years and be provided with a summer internship. He hopes to do research in marine biology and work to "mitigate harmful fishing practices and manage population density of endangered species."
Assistant Philosophy Professor Kate Thomson-Jones
Earned a highly competitive fellowship from the American Council of Learned Societies to support her work in the philosophical examination of the digital arts. Thomson-Jones, who studies the philosophy of film, aesthetic formalism, and the value of art, will use the stipend (up to $35,000) to finish a book on digital art.
New Faculty Members
New faculty members at Oberlin this year include someone who studies ruby-spotted damselflies, another who researches Native American pirates, a history prof who looks at the role of marketing in 20th-century U.S. foreign policy, a man who has joined his father on the faculty, a former White House fellow, a puppeteer, and a real, actual Dame. For information on new faculty hires for 2012-13, visit oberlin.edu/oam.
Robert Lewis Kahn Hall
A residence hall for first-year students who pledge to make sustainability part of their everyday lives, has earned a Leadership in Energy and Environment Design (LEED) Silver rating. The three-story building on North Professor Street is named for the late Oberlin athlete and philanthropist Robert Lewis Kahn '55, who has given the college in excess of $34 million.