Ted Schempp's Modern Life
Allen Memorial Art Museum Collection
These artworks were acquired by the AMAM from Theodore Schempp in the years listed, part of a group of 30 sold or donated by him from 1933-1979.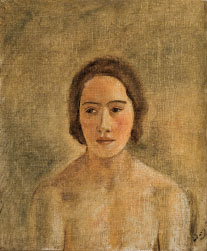 Bust of a Woman, ca. 1927
André Derain (French, 1880–1954)
Charles F. Olney Fund and Friends of the Museum Fund, 1933.80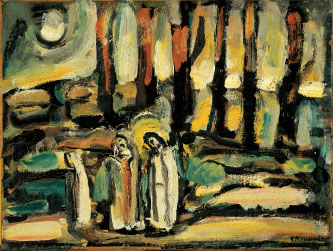 Nocturne (Gethsemane), 1915–39
Georges Rouault (French, 1871–1958)
R. T. Miller Jr. Fund, 1941.48
Composition, 1941
Fernand Léger (French, 1881–1955)
R. T. Miller Jr. Fund, 1944.22
Ted Schempp had three loves: music, art, and Odile Arnould. His love of music brought him to Oberlin — his mother's alma mater — from Wisconsin in 1922. Though he studied piano at Oberlin, he came to recognize that his limited hand strength would hamper a concert career.
Drawn to French painting since the age of 8 when he asked his mother to take him to a Chicago museum, Schempp pursued a life among artists, painting and traveling throughout pre- and post-war France to collect and deal in modern French art. Back home, Schempp drove the length and breadth of the United States selling paintings out of the back of his car. Over the years, he logged miles in nearly every state, eventually returning to Oberlin. In fact, the Allen Memorial Art Museum was Schempp's very first buyer, and he went on to sell to Oberlin quite a few of the museum's standout pieces.
During one of Schempp's visits to Oberlin, his friend, professor of art Ellen Johnson, sent a student, Robert Light, to help Schempp unload his car. It was the sight of Schempp pulling great art from the back of his car that partly inspired Light to pursue his own very successful career as an art dealer.
Schempp returned to France shortly after WWII and met Odile Arnould, a young woman who had modeled for Henri Matisse, at the Café du Dôme in Montparnasse. She began posing for Schempp and eventually became his wife.
It was Schempp's own experience as a painter that allowed him to develop close professional relationships with other artists. He could discuss with them the process of creating art in ways other dealers could not. Schempp lived in the same neighborhood as cubism pioneer.
Georges Braque, and the two became good friends. He was also friends with abstract painter Nicolas de Staël, who lived below Schempp and dedicated artworks to both him and Odile. Schempp would become the first dealer to introduce de Staël to American collectors, including Duncan Phillips. During this time, Schempp also grew to know Pablo Picasso, Matisse, Georges Rouault, and Hans Hartung. He purchased works from important artists at critical junctures in their careers, and his name appears in provenances for major works belonging to museums throughout the United States.
With Odile as Schempp's muse, the couple divided their time between America and France, living in both California and Saint-Tropez.
Their homes were filled with art that caught Schempp's eye and paintings he created himself.
And while Schempp, who died in 1988, made his name in art, his love of music clearly never left him. When he made his will, he stipulated that his estate would be fully gifted to Oberlin, with provisions for the college itself as well as for the conservatory and museum. Ted Schempp began his professional and creative journey here in Oberlin, and with the neatness of a perfect circle, it comes to its conclusion here as well. •
You can find more paintings Mr. Schempp sold to the museum here.