Thought Process
Exco Class or Cable TV Show
The list of names below contains either a recent class in the Experimental College (ExCo), or a show currently (or soon to be) on a cable television network, or both. Can you tell which is which? (Answer key below.)

1. Ninjago
2. Baguazhang
3. Zen/Gardening
4. How to Boil Water
5. Mom's Cooking
6. Asian Cuisine
7. No Kitchen Required
8. Mexican Made Easy
9. Monty Python's Flying Circus
10. Battlestar Galactica
11. Argentine Tango
12. Curiosity
13. Destroy Build Destroy
14. Defiance
15. Oppression & Resistance
16. American Greed: Scams, Scoundrels and Scandals
17. American Standup
18. #SoMeXco
19. Life
20. Girls in Motion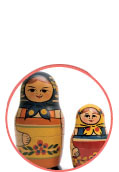 21. Doctor Who
22. Murder in the U.S.
23. Untamed and Uncut
24. Dames and Dark Cities
25. Russian Dolls
26. Tanked
27. Lift Every Voice
28. Exalted

29. HoopCo
30. Girls
31. Cats 101
32. Inside Men
33. Going Deeper
34. Competitive Computer Programming
35. Frozen Planet
36. Beyond Gnarly

37. Ink Master
38. An Introduction to Jewish Humor
39. Intro to Contortion
40. Ballroom Dancing
---

Character Builders
Skritter, a Chinese and Japanese language learning program founded in 2008 by Nick Winter '08, George Saines '08, and Scott Erickson '08, released a free mobile app on iOS in June.
Since its launch in April 2009, the service has received rave reviews from language students all over the blogosphere, with CNET Asia blogger Ryan McLaughin writing that Skritter has "the potential to boost any student's Chinese character reading and writing ability quickly and efficiently."
Winter started working on Skritter as part of his honors project in computer science. He enlisted Erickson and Saines, his housemates, to help him develop the program, and the three put together a winning proposal for a $30,000 grant from Oberlin's Creativity and Leadership (C&L) program to help fund the project and form a start-up, Inkren ("ink people" in Chinese) LLC. They secured additional funds to launch Skritter through an investor they met through C&L and a grant from the Lorain County Community College Innovation Fund.
The inspiration for Skritter came from an unlikely source: a Nintendo DS game called "Trauma Center: Under the Knife" that Winter often watched his roommate play. "Basically, it was a game where you're a surgeon and you operate on these ninjas while these other ninjas try to attack you, and you have to do surgery by making incisions into the patient's body with a stylus," he explains. "And I just thought, wow, it'd be awesome if I could learn Chinese characters like that." •
For more information on Skritter and Inkren, visit www.skritter.com
---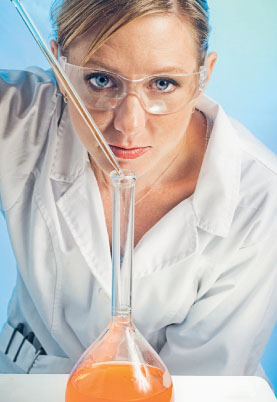 Cool Job
Q: What's so cool about your job?
Kelly A. Dobos '01
Title: Research Scientist in the Skin Beauty Research Lab at the Americas Research Laboratories of Kao USA
I use my chemistry background to formulate skin care products for the Jergens brand. I don't think people realize just how much science goes into the products they use every day. Molecular orbital theory explains the way some sunscreens work, and the principles of physics explain how a pearlescent pigment can have a white mass tone but shift to any color of the rainbow depending on the viewing angle.
It's amazing to see something I developed in the lab scale-up to production and on shelf out in the marketplace or mentioned in a major beauty magazine. That's the other cool part of my job: I get to travel to New York City frequently to talk to beauty editors about the science behind the products I develop. And in just a few days, I'm traveling to the U.K. and Spain to help support our brand's extension into Europe.
I really do love my job! •
---
Channel 0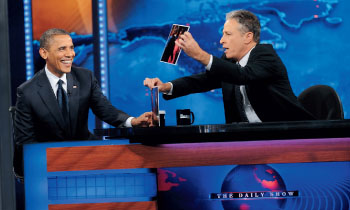 Have you noticed that Obies are all over the small screen
these days?
We're not just talking about Lena Dunham '08, whose starring role as post-grad Hannah Horvath, not to mention her writing and directing credits, for HBO's Girls has put her at the forefront of all TV critics' (professional or otherwise) must-watch list. At the 64th Primetime Emmy Awards in late September, Girls was nominated for four Emmys, including Outstanding Comedy Series. Although Dunham didn't win any of the three Emmys she was individually nominated for, she certainly played a memorable role in the award show's opening sequence.
But Dunham wasn't the only familiar name at the Emmys. Author and historian Geoffrey C. Ward '62 won for Outstanding Writing for Nonfiction Programming for his work on PBS's Prohibition, a three-part documentary film series by Ken Burns. Daniel Radosh '91 was among the team of writers to win for Outstanding Writing for a Variety Series for Comedy Central's The Daily Show With Jon Stewart. Radosh's presence on the The Daily Show's staff might be responsible for the most recent Oberlin shout-out in October: "It's like being pulled over by a blind cop," quipped correspondent Larry Wilmore, referencing recent voter identification laws that would disenfranchise eligible voters, many of them African American. "He hears your hip-hop music; how's he supposed to know you're a Jewish kid from Oberlin?"
Another Daily Show connection is Ryan Lester '11, a conservatory composition major who wrote the jaunty guest walk-on music themes that play during the show's third act.
With Partners, which premiered on CBS in late September, the perennial James Burrows '62—who has directed pilot episodes for over 50 hit television series, including Cheers, Friends, Frasier, Will & Grace, and 3rd Rock From The Sun—can now add another pilot to his already extensive resume.
Over on NBC, Dan Evans Farkas '88 is the music editor for the Broadway musical drama Smash, which is halfway through its second season. And the endearing dork Andy Bernard, played by Ed Helms '96, is still around in the ninth season of The Office. On ABC's Suburgatory you'll find the clueless high school guidance counselor, Mr. Wolfe, played by Rex Lee '90.
And if you're reading about television in any magazine that has the words "New York" on the cover, you're probably reading something by Emily Nussbaum '88: She is the television critic for The New Yorker and a contributor to New York Magazine. •
---
Rooted in China

Pauline A. Chen's new novel The Red Chamber (Alfred A. Knopf, 2012) is about three women in an aristocratic household in 18th-century Beijing, but its roots are in Oberlin and of a more recent vintage. Chen's story, a retelling of the classic Chinese novel Dream of the Red Chamber, was inspired by classes she taught on that book during her two stints on the East Asian studies faculty (1996 to 2001 and again as a visiting professor from 2009 to 2011). The Red Chamber was the Book-of-the-Month-Club July selection and a Barnes & Noble book-of-the-month pick, and the Washington Post named it one of the best audiobooks of 2012. Chen, now an affiliate scholar at Oberlin College who lives in Oberlin, also wrote the young adult novel Peiling and the Chicken-Fried Christmas.
---
Endquotes
Author William Goldman'52, about crafting a sequel to his modern classic, The Princess Bride. In herocomplex.latimes.com
Oberlin Review Sports Editor Phoebe Hammer '13 in the Oct. 5th 2012 issue of the Review.
Allen M. Bailey '36 in the May 1939 Oberlin Alumni Magazine.
Charles Edward Hufnagel-Dvorak '11, about working through the service-for-hire website TaskRabbit.com, which hired him to camp out in line at an Apple store so a client could be among the first to own an iPhone 5. In vanityfair.com.


Early jazz afficianado James Neumann '58, whose massive collection of LPs, 45s, 78s, CDs, and other materials - The James and Susan Neumann Jazz Collection - is now housed in the Oberlin Conservatory. In the Oberlin Review.