Class Notes
HUDDLE BUDDIES
Friendships forged on the line of scrimmage at Oberlin were rediscovered on the shores of Maine's Lake Cobbosseecontee, where members of Oberlin's football team from the great Class of 1953 and their spouses gathered in August to celebrate their 60th anniversary.
The revelers, from left to right: Joan Mannheim '53 (wife of William '53), Ann Craig '55, Norm Craig '53, Connie McIntyre '53, her husband, Lefty, Janet Michael '56, and Roger Michael '53. (Missing from picture are Donald Robertson '53, his wife, Marianne Carlton '54, Steve Davenport '53, and Joanna Davenport '54.)
---
1940s
1940
James A. Russell Jr. celebrated his 96th birthday on December 25, 2013. He earned a PhD at the University of Maryland and had a successful career in higher education, serving as professor and dean at Hampton University and then president of Saint Paul's College. After retiring, he joined the faculty of West Virginia State University, where he eventually served as interim president. James was married for 68 years to Lottye Russell, now deceased, and has two children. He remains an active member of his church.
1950s
1952
Nancy Nicalo writes, "Attending our 60th reunion was a happy event. Now I am harvesting my container garden on my deck on Hyner Mountain, Pa.: tomatoes, green peppers, green beans, and herbs. Just looked out the window to see a doe and her fawn munching on the edibles available among the fern. I hope I can inspire more '52ers to write a note. Where are you?"
Joyce Ransome was unable to attend her 60th reunion and therefore unable to include her book about 17th-century clergyman Nicholas Ferrar, A Web of Friendship (James Clark, 2011), in the annual commencement exhibit of alumni authors' works. Ferrar and his family created a community at Little Gidding in England that was notable for its rigorous religious life. It was this Little Gidding that gave its name to T.S. Eliot's fourth quartet.
Constance Sue Strike and Alan Graham Wadsworth celebrated their 50th wedding anniversary in June 2013. Alan moved to Mill Valley, Calif., after Oberlin, and Connie moved to San Francisco after graduating from Vassar.
The two met in the Bay Area and have stayed there ever since. They were married in Hartford, Conn., where Connie grew up. They have three "practically perfect" children and five grandchildren.
1954
In recognition of his endeavors in fostering and sustaining friendship between Germany and the United States, Merlin Lehman was presented the German-American Friendship Award at the opening concert of the Bach Week Festival held in Evanston, Ill., last April. Merlin was a Fulbright Scholar at the Hochschule für Musik in West Berlin from 1958 to 1960 and earned a PhD in music at Northwestern University in 1977. His association with the Bach Week Festival extends back many years: He has served on its board of directors since 1996 and as cochair more recently. He has sung in the Bach Week Festival Chorus since its inception and has performed solo organ pieces in several concerts. Merlin was presented the award—to his complete surprise—during the concert's intermission.
1957
Jane Gray Coutts and her husband, Curt '58, say they "decided to prepare for the future" by moving into a two-bedroom apartment (independent living) in a life care community 20 minutes from their former house in Stuart, Fla. "We are as active and busy now as we were before we moved and have made new friends while maintaining contact with our former Florida friends. Our three 'kids,' now in Maryland, New York, and Minnesota, have all seen and approved of our new home. Curt has already made temporary use of the extended care facility here following surgery for cervical stenosis in August." The two are hoping to attend Oberlin's Class of 1958 reunion. [a]: 1701 SW Capri St., #164, Palm City, FL 34990 [e]: cjcoutts@comcast.net
Ann-Adele Lloyd sang in the chorus in the Asheville Lyric Opera's October presentation of I Pagliacci and Puccini's Suor Angelica, her first time in an opera chorus in 50 years. "What a difference now! I am struggling to remember my Italian." She reports that her younger cast members were kind and guided her to her position on stage since she had a hard time remembering blocking as well. "Our principals are wonderful," she says, "and it has been a fulfilling experience for me."
Richard Rooney writes, "Pardon me for tooting my own horn. I have had a lifelong goal of shooting my age or better in golf. Yesterday I had a 77; I am now 78 years old."
1958
Potomac Vegetable Farm, owned by Hiu Newcomb, was awarded a Fairfax County Environmental Excellence Award in Business on September 24 for its dedication to sustainable farming practices called "Ecoganic." Hiu and the farm were nominated by Kay Fowler '77, who was in the audience for the award presentation.
1959
Covet the Oven, a new book of stories by writer Jerome Mandel, tells tales of the head, the heart, and writing. Covet the Oven is available in Kindle format and paperback at Amazon. Jerome won first prize in the P.E.N.-UNESCO International Short Fiction Competition in 1997 for "Third Time, Ice Cream" which appeared in Nothing Gold Can Stay: 18 Stories of Israeli Experience (1999), also available in Kindle format. Jerome says his paperbacks, signed by the author, can sometimes be found among used booksellers at inflated prices.
A few stories from both books, together with some of his most accessible academic writing (on Housman, Lawrence, Fitzgerald, Joyce), are available for free on his website.
1960s
1960
Deborah Hayes published a new book, Ruth Shaw Wylie: The Composer and Her Music. Wylie, an American composer and university professor of composition and music theory, made her career at the University of Missouri (1949–1969) and at Wayne State University in Detroit. "Hers is scarcely a familiar name, yet she left a distinguished body of work and opened the ears of her students and audiences to the beauties of ensemble improvisation as well as traditionally notated concert music," says Deborah. Visit wyliebook.com for more information, including how to order.
1962
Mary A. Turzillo was awarded first prize for a full-length book of poetry in the Science Fiction Poetry Association's Elgin competition for her collection Lovers & Killers (Dark Regions, 2013). Her 1999 novelette, Mars Is No Place for Children, previously won a Nebula Award. That work and her novel, An Old-Fashioned Martian Girl, are recommended reading on the International Space Station.

A Kent State University Emeritus Professor of English, she lives in Berea, Ohio, with her husband, NASA scientist and science fiction writer Geoffrey A. Landis. Lovers & Killers is available from Amazon or the publisher's website: www.darkregions.com.
1967
Dick Hobby launched a new company, Zero Circle Films at zerocirclefilms.com
Soprano Sarah Levine-Simon has created videos of herself singing while cooking—and singing about cooking—that she hopes will introduce new audiences to classical music.
1969
Walter Galloway retired in 2012 after 38 years in environmental research and various forms of training, facilitation, and organization development. Since 1974 he has worked with the EPA's Office of Research and Development as a chemist, environmental scientist, facilitator, change agent, and manager. For the last several years he did the work he enjoyed most: working with local governments, citizens, and fellow research scientists on how to succeed in community-based environmental protection. Walt is a member of the Rhode Island Rivers Council, the board of a local watershed association, and the board of his grandkids' Waldorf school. He and his wife, Hollie, enjoy living back in rural West Greenwich, R.I. Walt is singing in a small group doing early ecclesiastical music. The couple continues to enjoy their two granddaughters, Ashlyn, 15, and Aliya, 12, who live nearby. Walt counts himself among "the growing group Gallup now refers to as SBNR (Spiritual But Not Religious) folks." At Oberlin, he is a co-lead class agent, serves on the steering committee of Oberlin Enviroalums, and enjoys interviewing prospective students as a part of the Alumni Recruiting Network. "The kids today are amazing!"
1970s
1970
John Lawrence retired after working for 38 years in the U.S. House of Representatives, the last eight as chief of staff to Speaker and Democratic Leader Nancy Pelosi. Pelosi and current Speaker John Boehner presented John with the McCormack Award for Excellence for his service to Congress. John, who holds a PhD in history from Berkeley, has begun teaching as a visiting professor at the University of California's Washington campus. His blog on current political issues, DOMEocracy, can be found at johnalawrence.wordpress.com.
Luther K. Robinson, associate professor of pediatrics at the SUNY School of Medicine and Biomedical Sciences and director of dysmorphology and clinical genetics at the Women and Children's Hospital of Buffalo at Kaleida Health, received the Excellence Award from the National Organization on Fetal Alcohol Syndrome in June. The award recognizes Luther's career-long dedication to studying and preventing fetal alcohol syndrome.
Dixie Sommers retired from the Bureau of Labor Statistics in June after 43 years of public service. She is staying in the Washington, D.C., area and "enjoying much more time for birding, photography, and planning interesting trips. Oberlin is also keeping me busy!"
1972
Judith Miller Glasser is coauthor of an illustrated children's book, Learning to Feel Good and Stay Cool: Emotional Regulation Tools for Kids With AD/HD (Magination Press Children's Books), released in August 2013. The book is a practical guide for parents, clinicians, and school counselors who are trying to help children with AD/HD learn how to feel good, how to problem-solve, and how to take charge of their feelings while minimizing their upsets.
Leslie Lawrence is the founder and director of Wilson Avenue Writers in Cambridge, Mass. She conducts workshops for writers in her home and also does private consulting. She says she would "love to work with Obies or friends of Obies."
1973
Steve Mann married Lucy Kennedy in 
her home in the village of Eyam, Derbyshire, England, last May. Bob Segan and Janet Wynn attended. Steve retired from the Foreign Service in 2009 and moved to London, where he advises ExxonMobil on international affairs. Lucy is a prosecutorial barrister, specializing in financial crime.
1977
Joseph Graves sends "a heads up that my son, Xavier Graves, is the keyboardist for the rock group Viva la Muerte, which recorded a new album, All the Birds, on Ex Umbra records. Joseph proudly reports that the album was #1 in the Jam Bands category on iTunes the week it came out.
Swallow Press, the trade imprint of Ohio University Press, created 
an online reading guide to Sharp and Dangerous Virtues, the dystopian novel set in Ohio written by Martha "Marti" Moody. It is available on the Swallow Press website, which also features two chapters of the book that readers can sample and an interview with Marti.
1979
Carrietta "Cari" Jackson released two books. Love Like You've Never Been Hurt interweaves psychology, spirituality, and real-life stories to help heal "the pain that comes when we have been hurt by a loved one." For the Souls of Black Folks: Reimagining Black Preaching for 21st Century Liberation, based on Cari's doctoral dissertation, examines how aspects of black preaching foster power dynamics in black churches that disempower black churchgoers and, as a consequence, impede the full socio-political liberation of African Americans needed in this era.
1980s
1981
Laurie Gutmann accepted a position as professor in the neurology department at the University of Iowa School of Medicine. She held the same position at West Virginia University School of Medicine.
"After 20 years at WVU, I've joined the neuromuscular disease group at Iowa to focus more on clinical research. I have enjoyed building clinical treatment programs and doing research in my hometown, but new and exciting opportunities beckon me to the Midwest!"
"Honoring my personal commitment to lifelong learning and proving that it is never too late to return to school for an advanced degree, I earned an executive MPA degree at Baruch College in New York in September 2013," says Maria Orengo '81. In March 2013, Maria became interim executive director at the New York City Mission Society, the city's oldest charity/nonprofit, which recently celebrated its bicentennial. She also serves on the Oberlin Latino Alumni Association board.
1982
Eric W. Orts published Business Persons: 
A Legal Theory of the Firm (Oxford University Press). Among the topics he addresses is "hybrid social firms" that combine a profit-motive with social/sustainable goals, such as poverty reduction or sanitation provision 
in poor countries. The book also includes a critique of contemporary thinking about executive compensation, as well as the "corporate persons" debate now famous after Citizens United. The book is available at Amazon.
1983
This past summer, The Atlantic published 
Tim Riley's critique of the television shows Breaking Bad and Nurse Jackie and their inversion of counter-culture utopianism. It's available online.
Amy Shaftel is one of five 2013 recipients of the Willmoore H. Kendall Scholarship from the Club Foundation of the Club Managers Association of America. The scholarship provides tuition support to mid-management professionals who are interested in pursuing the Certified Club Manager designation. Amy is the catering and special events manager at the Seattle Yacht Club.
1985
Gretchen M. Engel was named executive director of the Center for Death Penalty Litigation, a nonprofit law firm that represents prisoners facing the death penalty in North Carolina. Gretchen has been at the center since 1992. She recently secured a life sentence for one of her first clients, a woman who had been on death row for 23 years. She was assisted in this effort by volunteer investigators Peter Carlson '84 and Stephen Perry, and by psychologist Jonathan Farber '78. Gretchen lives in Durham.
1986
Dan Vernon is working at Whitman College in Walla Walla, Wash., teaching genetics, molecular biology, and genomics and doing research on plant gene functions. He was promoted to professor in 2010 and was just named the Arthur G. Rempel Professor of Biology, an endowed position named after another Oberlin alum, Art Rempel '34, who taught at Whitman for many years.
1988
Dallas Crow's poetry chapbook, Small, Imperfect Paradise, was published by Parallel Press at the University of Wisconsin. The poems cycle through a relationship from hopeful beginning to painful dissolution—"Like a home movie played backwards," he writes in the poem "Separation."
Hannah Higgins, a professor of art at the University of Illinois at Chicago, was included among the top 200 Advocates for American Poetry by Seth Abramson, series coeditor of Best American Experimental Writing. The list was published on Huffington Post.
1990s
1990
Kyung Hwang's book A History of Korea—An Episodic Narrative (2010) has been translated into Korean. He teaches at the University of Southern California and lives in Claremont with his wife and son—very close to a street called Oberlin Avenue.
1991
In August, Jessica Ames, her partner, Julie Blumenfeld, and their son, Ari, enjoyed a long weekend in Portland, Maine, for the Bat Mitzvah of Nori Hilton. They hung out with Nori's big brother, Leo, and parents, Lori Weinblatt and David Hilton. "We were lucky enough to stay in Portland at the home of Hans Indigo Spencer; his wife, Erica Beck; and their kids, Charlie and Annica. Jessica, Lori, Hans, and their spouses and kids usually spend some time hanging out together in Portland every summer. It's always a terrific mini-reunion!" Jessica also took a solo trip to Portland last spring to see Lori (aka Bess Welden) in her original one-woman show, Big Mouth Thunder Thighs.
Sangeeta Swamy '91 was the keynote speaker for the New Zealand Music Therapy Conference in November 2013.
The conference was hosted by the New Zealand School of Music and focused on cross-cultural collaboration: celebrating the diversity of people and their practice and research in music therapy and related disciplines.
Sangeeta earned her PhD in music therapy at Lesley University in 2011 and has a private practice in Chapel Hill, N.C.
1992
George Twigg marked his fifth anniversary as director of public affairs at Vermont Energy Investment Corporation (VEIC), a nonprofit dedicated to reducing the economic and environmental costs of energy use. VEIC has an Oberlin connection as the program administrator for Efficiency Smart, which it runs on behalf of American Municipal Power for nearly 50 municipal electric utilities, including Oberlin's.
1993
Jennifer Abrams and Katherine Pradt welcomed daughter Edith Winifred Abrams-Pradt on November 16, 2012. She immediately set about disassembling their lives in the most fabulous and messy way possible. Jen and Katherine are getting very little sleep, but are completely and thoroughly entranced with their little entropy machine. They have already started saving for her Oberlin education.
Jen Grant was named a NeXXt Scholars Program Fellow. The program is part of an International Women's Undergraduate STEM (science, technology, engineering, and mathematics) Education Initiative, which was launched by Secretary of State Hillary Rodham Clinton in December 2011. Jen is among the faculty mentors matched with undergraduate female scholars—international and American—with strong Muslim roots who are seeking undergraduate degrees in STEM fields from U.S. schools.
1995
Jesse Couenhoven and his wife, Amy Tsou, welcomed son Ian Beckett Couenhoven on August 7, 2013. Jesse, a religion professor at Villanova University, also gave birth to his first book. Oxford University Press published Stricken by Sin, Cured by Christ in July 2013. Jesse and Amy live in downtown Philadelphia.
Edinburgh University Press published Rocco Gangle's Francois Laruelle's Philosophies of Difference: A Critical Introduction and Guide. Laruelle is a contemporary French thinker who has published over 20 books since the 1970s. Rocco translated Laruelle's Philosophies of Difference in 2010, which was the first of his books to appear in English. The new book presents Laruelle's ideas to a general philosophically informed audience.
1996
Abra Bush was named director of the music division of the Boston Conservatory following a position as assistant dean of academic affairs and director of assessment at the Eastman School of Music. Abra, the first vocalist to lead the music division at the Boston Conservatory, holds a Doctorate of Musical Arts in voice from the Ohio State University School of Music.
Two CDs containing works by Curtis K. Hughes are now available. The album Flux Flummoxed (Albany Records), from violinist Ben Sung and pianist Jihye Chang, includes his composition "insult to injury." The album 
Heavy Up/Heavy Down by Yesaroun' Duo, featuring Eric Hewitt on saxophone and Sam Solomon on percussion, includes Curtis' "Two-Faced."
Naoko Nakamura maintains an active performing and teaching schedule in the Dallas area. She is an adjunct assistant professor of harp at Southern Methodist University.
1997
Robert Bettmann is the editor of Bourgeon: Fifty Artists Write About Their Work, published in 2013 by the nonprofit Day Eight. The book is a collection of articles, including a dialogue between Rob and Loren Ludwig '99, selected from the magazine Bourgeon, of which Rob is founding editor. A resident of Washington, D.C., he is also a choreographer and the board chair of the D.C. Advocates for the Arts.
Diepiriye Kuku-Siemons accepted a lecturer position at the University of Northampton in Northampton, UK. "I joined Northampton Business School's department of cross-cultural studies, started by my husband of 10 years."
---
SING AGAIN AT OBERLIN!
The Oberlin Summer Festival Chorus 
in conjunction with Credo Chamber Music and the Oberlin Conservatory of Music
July 9-19, 2014
Come back to Oberlin for a special musical and learning experience! Sing Haydn's The Creation under the inspiring baton of John Nelson in Severance Hall, Cleveland.
Participants will be able to 
observe selected sessions of the 
Oberlin Conservatory Choral Conducting Symposium, July 13-19.
* Not a singer, but love music? Come for a weekend of educational events July 17-19 about The Creation, culminating in the July 19 performance at Severance Hall.
For more information: Contact Peter Slowik, Director of the String Division and Artistic Director of Credo Chamber Music, at peter.slowik@oberlin.edu.
---
2000s
2000
Emily Jack and Aaron Smithers announce their marriage on May 26, 2012, in Hendersonville, N.C. Alumni in attendance were classmates Jeffrey Bean, David Brennan, Maggie McFalls, Lydia Ries O'Halloran, and Gitta Zomorodi; Liz Atack, Naima Bond, Taylor Neaman-Goudey, all '01; and Jacob Kramer-Duffield '02. Emily and Aaron live in Chapel Hill, N.C., where both work at the University of North Carolina library.
Christina "Criss" Porterfield Kovac completed the digital restoration of James Blue's momentous film The March for the National Archives & Records Administration (NARA). The film chronicles the March on Washington for Jobs and Freedom held on August 28, 1963, and features an introduction by Oberlin's own Carl T. Rowan '47. The film can be seen on NARA's YouTube channel.
2001
Nicolas Dosman earned a doctoral degree on May 22, 2013, at Teachers College, Columbia University. His dissertation is titled "Music in the Lives of Bronx Adolescents: A Case Study of the Celia Cruz High School of Music."
Lauren Goodman was promoted to assistant professor, clinical, in the Division of Pulmonary, Allergy, Critical Care and Sleep (and adjunct professor in the division of palliative medicine) at Ohio State University's Wexner Medical Center. "I've finally finished all my training, including medical school, an internal medicine residency, two clinical fellowships [Hospice and palliative medicine and pulmonary and critical care], a Master of Medical Science degree, and an NIH training fellowship in lung inflammation, all at Ohio State, but am still proud to be an alumna of the last Ohio school to beat the Buckeyes in football."
Anne Gadwa Nicodemus and Julia Nicodemus were married in Providence, R.I., on November 9, 2013, their 11th anniversary. The couple has moved halfway across the country together twice, bought a house together, coparented fur babies, and legally adopted a single family name (Anne's mother's maiden). They are "thrilled to finally gain some federal legal rights, now that half of DOMA has been repealed."
Yvonne Piper earned an MS at the University of San Francisco School of Nursing in June 2013. She is a family nurse practitioner in San Francisco, working as a primary care provider at Lyon-Martin Health Services and as a study clinician at San Francisco City Clinic.
Neal Schindler and Elizabeth James were married June 23, 2013, at Salem Lutheran Church. The couple lives in Spokane, Wash. Neal met Liz at his birthday party in 2012 and liked her from the start. After all, she was feisty and wore great hats. Liz took a little longer to warm up to Neal, but they were soon getting cocktails at Bon Bon and picking peaches at Greenbluff. The couple honeymooned in Long Beach, Wash. Neal is a mental health counselor at a family preservation services agency; Liz is a house parent at a crisis nursery. They have "a smart and beautiful cat, Pepper Ann, and a hungry goldfish, Rory."
2002
Mark Tipton was appointed executive director of the Portland Conservatory of Music [Maine] and accepted the position of trumpet instructor at Bowdoin College, a post that he held at Colby College for four years. The Colby College Symphony Orchestra premiered his orchestral composition, Cor Cordis, in December 2012.
2003
Rebecca Hartsough Brentin and Steven Brentin announce the birth of baby boy Gabriel Muir on December 26, 2012, in Denver. The healthy, happy baby "has already become a hiking fanatic, just like his middle-namesake, John Muir."
2004
William Frost accepted a position as political officer at the U.S. embassy in Lome, Togo. "I'm very excited to spend my first tour with the State Department in charge of my own section, even though it scares me as well. I'll be here until August of 2014."
2005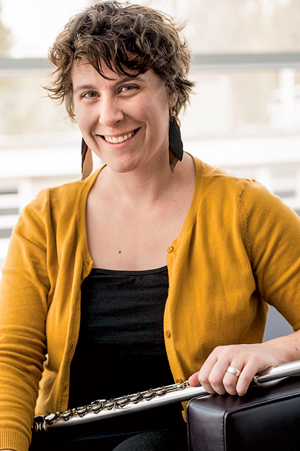 Elisabeth Blatchford is assistant professor of flute at the University of Memphis Rudi Scheidt School of Music in Tennessee. She plans to continue to tour and perform with the City of Tomorrow, a wind quintet that took first prize at the Fischoff National Chamber Music Competition in 2011. The quintet spent two weeks in residence at the Great Lakes Chamber Music Festival in Detroit in June.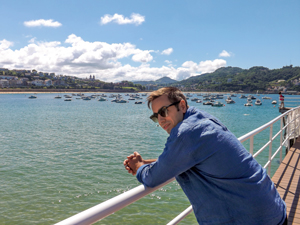 Raphael Sznajder accepted a position at the Federal Communications Commission's Attorney Honors Program in Washington, D.C., working in the Media Bureau. Raphael recently graduated from Northwestern Law School in Chicago. "I was always very interested in media, particularly given my background in entertainment. I'm very excited to work in communications policy—it's an ideal combination of my passion for service and my substantive interest in media."
2006
Sadye Campoamor, a community organizer with the New York City Public Advocate's Office, was named a 2013 New York City Rising Star by City & State, a newspaper, website, and electronic newsletter. Sadye works with New York mayor-elect Bill de Blasio. "The diversity, the vastness of who makes up our city, all of the moving pieces, is by far the most incredible part of my job," she told City & State, which covers New York politics and government.
Mark Stockett and Naomi Lipke were married in Madison, Wis., on May 25, 2013. The couple lives in Stockholm, Sweden. Obies enjoying the festivities include (from left) Stephanie Patterson '07, Hannah Hoose, Mark, Naomi, Elana Riffle, Brian Wonch, Melodie French and, not pictured, Gus Visscher. Hannah played the piano for the ceremony, and Melodie was best man.
2007
Emily Feingold and Steven Bergdall were married August 18, 2012, in Owego, N,Y., with 27 Obies in attendance. The couple lives in the San Francisco Bay area, where Emily is completing a master's degree in counseling psychology at the California Institute of Integral Studies (CIIS). Steven, who completed a certificate in sound healing at CIIS, is a musician, composer, and teacher.
Claire Miller was promoted to Massachusetts state director at Toxics Action Center in Boston. "I support over a dozen community efforts across the state to clean up and prevent pollution at the local level through organizing, while developing long-term leaders for the environmental movement. I also oversee our work to support all the communities in New England fighting to retire coal-burning power plants. I got my start through Green Corps right after graduating."
2010s
2012
Greg Brown recently published In Jordan, an e-book about his experiences studying abroad in the Middle East during his junior year. It is available at Amazon and through its publisher, Thought Catalog.
---
VOTE FOR AN ALUMNI-ELECTED TRUSTEE!
VOTING DEADLINE: APRIL 4, 2014
Cast your vote and join thousands of other alumni in helping to shape the future of Oberlin's Board of Trustees. Your vote counts!
The candidates for the 2014 election are Susan Nolan Lubow '90, partner with the law firm of Porter, Wright, Morris & Arthur LLP in Columbus, Ohio, and Thomas Riis '73, director of the American Music Research Center at the University of Colorado-Boulder. The alumni trustee elected this spring will serve a four-year term (July 1, 2014 to June 30, 2018).
For more information and to vote, visit new.oberlin.edu/office/alumni.
If you would like to nominate someone to be considered as a potential alumni-elected trustee candidate, contact Danielle Young, executive director of the Alumni Association, at alumni@oberlin.edu or 440-775-8692. Please include name, class year, and qualifications.
---
2013 Alumni Awards
DISTINGUISHED ACHIEVEMENT AWARD
DR. RICHARD R. LOVE '66 is now scientific director of the International Breast Cancer Research Foundation (which he founded), a director of the International Cancer Experts Corps, and a director of Amader Gram, a Bangladeshi non-governmental organization, after an academic career at the University of Wisconsin, Ohio State University, and the National Cancer Institute.
"Richard embodies many of the values that the college emphasizes, in particular high intellectual standards, excellence in teaching, innovative leadership, commitment to the social and moral issues of the day, humanitarianism, critical thinking, exposure to different thoughts and cultures, a world outlook, freedom of expression, inclusiveness of a variety of lifestyles, and combining scholarship with activism and social responsibility."
DISTINGUISHED SERVICE AWARD
CENDRA LYNN '66 is a clinical psychologist, certified traumatologist, and a certified social worker. She is in private practice in Ann Arbor, Michigan. Cendra specializes in grief and bereavement and is the founder of a number of organizations and online communities to help people dealing with death, dying, grief, and bereavement.
"The world is a better, more compassionate place because of Cendra's dedicated work."
OUTSTANDING YOUNG ALUMNI AWARD
MARTHA D. KAISER '03, PhD, previously an associate research scientist at the Yale School of Medicine, is a scientific consultant based in New York City who has already achieved exceptional levels of productivity and impact in advancing our understanding of autism.
"Simply put, Martha is a terrific scientist. She is smart, driven, and well-read, and she integrates concepts and methodological approaches across disciplines with ease. I'm impressed by her ability to ask just the right questions in just the right ways."
ALUMNI APPRECIATION AWARD
Since 1998, TED GEST '68 has been president of Criminal Justice Journalists, a national organization of reporters, writers, and broadcasters who cover criminal justice.
"Ted Gest's devotion to Oberlin has been strong and steady. Few can match his true dedication to the institution and the Oberlin community."
---
An Association on a mission…
Thank you! I am grateful for the opportunity to serve as president of your Alumni Association. As I've engaged over the years with the association and with Oberlin, I've continued to be impressed and amazed by the vitality, creativity, massive intelligence and wit, and vibrancy of this institution and its constituents, and I look forward to the next two years enormously. While serving as president-elect, I had the opportunity to watch at close range the extraordinary leadership of Jackie Bradley Hughes '76. Jackie is a dedicated and energetic alum who has served with grace, intelligence, creativity, and total commitment to the ideals of Oberlin. Thank you, Jackie, for all that you have done and will no doubt continue to do for Oberlin.
Part of the work that the association's leadership has undertaken over the past year has been a thorough reexamination of how we function, with the goal of finding better and fresher ways of engaging more alumni with the association and with the college and conservatory. And while we recognize that the leaders of the association have worked diligently to reach out and touch as many alumni as possible, we need to do more.
So how and where to begin?
A task force appointed by the executive board has taken a deeper look at restating the mission of the Alumni Association's leadership and has reconfirmed that our goal ultimately is to inspire the passion and creativity of all alumni and to foster meaningful and diverse opportunities for lifelong engagement. We're not just talking about engagement with the association; we are looking for ways to ensure that all of us have "meaningful and diverse opportunities" to engage with each other, but also with the students, faculty, staff, and leadership of the college. We've identified six pillars that we believe can provide the foundation on which all of us can build a framework for increased engagement. These include:
Recognition of the value of alumni engagement to the Oberlin community and alumni
Many and diverse pathways for meaningful involvement
Strategic alignment with Oberlin's goals
Strategic and flexible leadership
All forms of multidirectional communication between and among Oberlin's constituencies
Accurate data and state-of-the-art, user-friendly technology
Those discussions led to dozens of ideas that fell into 16 categories ranging from enhancing regional programming, leveraging technology in creative ways to bring Oberlin to you, and fostering more interactions between alumni and current students. The key finding from all of the groups: You like being asked these questions, and it makes a difference to be heard. We would love to hear from you. Share your thoughts with us by sending an email to alumni@oberlin.edu.
Best wishes and fond regards to all.
Chuck Spitulnik '73 President, Oberlin Alumni Association
---
Heisman Hall of Famers
The Heisman Club of Oberlin College inducted five new members into its hall of fame on on October 4 as part of the athletic department's Homecoming Weekend.
Robert D. Ebel '51 Football and Baseball
A two-sport standout, Ebel was a four-year letterwinner in football and three-time letterman in baseball. As captain of the 1950 football team, he led the Yeomen to a 7-1 record that still holds today. In that same season he earned Ohio Athletic Conference honors and was named as an All-American. On the baseball team, Ebel served as a pitcher all four years.
Jonathan M. Greer '79 Swimming
As a senior at Oberlin, Greer earned NCAA First-Team All-America honors in the 50-yard freestyle and was tabbed as an Academic All-American before earning a postgraduate scholarship from the NCAA. He was a two-time Ohio Athletic Conference Champion in the 100-yard breaststroke and had multiple top-five finishes at the conference meet. He held the school record in the 50-yard free for 14 years; his time of 21.64 still ranks fourth on the all-time list.
Harsha Thirumurthy '98 Cross Country and Track & 
and Field
An elite distance runner, Thirumurthy earned 11 total letters in cross-country and track and field. He was a five-time NCAC Champion in track and field, and four-time All-NCAC runner in cross-country. The 1997 NCAC Outdoor Track and Field Distance MVP, Thirumurthy was named to the NCAC All-Decade team in 2004. Still an active runner, he has competed in seven marathons over the last five years.
Nzinga Broussard '02 Basketball and Track & and Field
One of the greatest female athletes in Oberlin's history, Nzinga Broussard is the all-time leading scorer in women's basketball history with 1,693 points. A four-time All-NCAC First-Team selection and All-Decade Team selection in 2004, Broussard was also a five-time conference champion in track and field and 1999 Outdoor Track Sprints MVP. She still holds the school record in the 200 meters.
Pamela Walker '02 Field Hockey
Walker was a standout goalie for the Yeowomen field hockey team, earning NCAA All-America honors as a senior in 2001. In that season she led the nation with a .938 save percentage, allowing just seven goals on 112 total shots. She was a four-time National Field Hockey Coaches Association (NFHCA) All-Region selection and was named as the NCAC Defensive Player of the Year in 2001. Walker was also a four-time All-Academic selection by the NFHCA.
---
2013 Alumni-Elected Trustee Election Results
Karen Buck Burgess '72 was elected to serve a four-year term (2013-2017) as an alumni-elected trustee. Burgess has worked for more than 25 years as a public interest lawyer specializing in financial market issues. She served at the U.S. Securities and Exchange Commission in a variety of senior legal positions, including associate general counsel and counsel to the chairman. Burgess is currently legal counsel at the Public Company Accounting Oversight Board, which was chartered by Congress after the Enron collapse to strengthen financial reporting. She is married to journalist John Burgess '72. They have two daughters, Katharine and Sarah.
On January 30, 2013, alumni-elected trustee Dr. Kofi Lomotey '74 resigned from the Board of Trustees. Lomotey was serving a six-year term, which ends on June 30, 2014. Dr. Jacob Gayle '79 has agreed to continue his service on the Board of Trustees and complete Lomotey's term. Gayle is vice president of community affairs at Medtronic, Inc., in Minneapolis and executive director of the Medtronic Foundation.
CLASS NOTES are prepared from a variety of sources, including news media articles, press releases, notes sent to us though mail (including e-mail), and Obieweb.