Photograph by Tanya Rosen-Jones
Brian and Janae Kuzawa of nearby Ashland County were joined in 
the park that day by a dozen others, some also toting guns, to challenge what they felt was the city of Oberlin's illegal restrictions on firearms. They were met by about 20 counter-demonstrators. At a second demonstration the following weekend, the numbers swelled, and activists brought bigger guns. They gathered in the playground area off South Pleasant Street the day before the issue was to be discussed at the Oberlin City Council meeting. The city was in a tough spot. Under pressure from a gun-rights group, the council would either have to rescind its gun ban in city parks to comply with state law or fight the issue in court.
The pro-gun activists brought their guns to town to make a point, and they did. The image of the happy-faced—and armed—Kuzawas was captured by a Cleveland Plain Dealer photographer and has become nearly iconic. It was picked up by the Associated Press and run in newspapers and websites across the state and beyond. It is also Brian Kuzawa's Facebook cover picture.
The fuse of the gun controversy had been lit the month before, with an e-mail Brian Kuzawa sent to Oberlin Police Chief Tom Miller.
"My wife and I, along with our kids, will be visiting a park in Oberlin tomorrow, and we will, as always, be lawfully carrying our handguns," he wrote. "I am hoping that in so doing, we are not accosted by any officers of the Oberlin Police Department. Our goal is to enjoy a nice day in the park with our kids." Kuzawa said the local ordinance prohibiting guns in city parks violates state law, and he asked the chief to respond with "any guidance you may have on your department's stance on this issue." The police chief told Kuzawa he had a right to bring guns into city parks.
Ohioans for Concealed Carry is known for challenging, and sometimes suing, towns and cities over their gun laws. The group has the upper hand in such arguments; the Ohio Supreme Court in recent years has ruled against cities—including Cleveland—that have tried to impose gun laws more restrictive than the state's. The court has said that communities are required to follow state law, which allows guns in most public places, including parks.
It was clear that Oberlin's 1998 prohibition was antiquated—so clear that the city's insurance carrier said it would not provide coverage if the city were sued. The city law director advised council to rescind the law. But many Oberlin residents, including some council members, did not want Oberlin to give in. They were against the presence of guns in their parks, and they bristled at what they saw as bullying by gun activists.
Oberlin's progressive heritage may have made the city an attractive target for gun activists. Some in town had hoped council would uphold that heritage by fighting for what they believed to be a moral cause. In an early-September sermon at First Church in Oberlin, Pastor David Hill urged congregants to contact their council representatives and press them to stand behind the gun ban. Hill talked about civil rights activists in the South who risked their lives to protest unjust laws. He drew a comparison to Oberlin residents who in 1858 undertook the famed rescue of runaway slave John Price in defiance of the Fugitive Slave Act.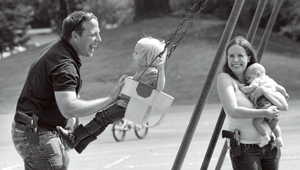 "Imagine if, when John Price had been spirited away out of Oberlin by the slave catchers seeking to return him to Kentucky, the Oberlin folks had said, 'Well, the Fugitive Slave Act is the law of the land; better not get involved,'" he said.
Hill and other pastors met with council members, urging them to hold off rescinding the gun ban. "I think for many of us, when you're fighting an injustice, you don't determine if you're going to fight it based on whether you're going to win or not," Hill said later in an interview.
But a divided council voted reluctantly on September 16 to change the law in order to avoid a costly, no-win legal battle. "The legal precedent was firmly established against us," Sharon Soucy, vice president of the council, said in an interview. "We accepted the fact that we needed to get in compliance with state law and rescind the ordinance."
The 4-3 vote dismayed many of the 100 or so people who packed the council chambers that Monday night hoping to keep guns out of their parks. But neither did it satisfy Ohioans for Concealed Carry. The group had warned council that its revised ordinance was still out of bounds: It rescinded the gun ban, but still restricted "unlawful possession" of firearms in parks—language Ohioans for Concealed Carry said was outside the city's authority.
Two weeks after the council vote, the group sued the city. And a citizens' group, unhappy that council had given in and allowed guns in parks, filed petitions for a voter referendum seeking to overturn the decision. Council members were under attack by both sides.
Ohio has become one of many states to pass right-to-carry laws and to otherwise expand gun rights over the past decade. The state also passed a "preemption" law, which requires all communities to follow state law. Ohioans for Concealed Carry, which formed in 1999, has served as a watchdog and routinely puts cities on notice about invalid gun laws.
The National Rifle Association says uniform state laws rectify confusion stemming from a patchwork of regulations among communities. "This affects hunters, target shooters, and firearm collectors who travel through multiple jurisdictions," the NRA said in a statement after Ohio passed its law. "Additionally, individuals who travel with firearms for personal protection are at risk of breaking the law simply by crossing from one municipality to another."
Doug Deeken of Ohioans for Concealed Carry said there still may be 100 cities out of compliance with state gun laws, and most repeal their laws after it's brought to their attention. "We don't like going around suing people," he said. "But fundamental rights are fundamental rights. You can't say you have a zone where certain civil rights don't apply."
Despite voting narrowly to lift the gun ban, all seven Oberlin council members had voiced opposition, the Oberlin News-Tribune reported.
"These folks came to town, and battle lines started being drawn," said Councilman Aaron Mucciolo '02, who voted against changing the law. Mucciolo said he favored tabling the ordinance because residents did not want council to cave.
Councilman Bryan Burgess, who also voted against changing the law, came to the park to counter the pro-gun activists. He said some of them carried assault weapons to the second rally. Ohioans for Concealed Carry disputes that. (Deeken said there were "assault-style weapons," but no guns that fit the definition of an assault rifle.) Several councilmen accused activists of intimidating residents. Deeken denied that, saying anti-gun activists were "foul-mouthed and vulgar."
Armed pro-gun activists also stirred tension when they entered restaurants. The owner of Lorenzo's Pizzeria said he would not let a group with guns in the dining room, but allowed them patio seating outside. The Slow Train Cafe posted a sign forbidding firearms on the premises after gun-carrying activists came in one weekend. Other merchants, including the Oberlin Market, also posted no-firearms signs after gun activists came through town. "People were definitely on edge and concerned about people being in local establishments and parks with guns," said owner Elizabeth Ramsey.
A.G. Miller, chair of Oberlin College's religion department and pastor at a local church, was among those who wanted council to take a stand. "From our perspective, it was a missed opportunity to galvanize the larger community to think more creatively about how to respond," he said. "I'm not sure what can be done. State law does say [guns are allowed in parks], but is state law correct, moral, or right?"
Councilman Burgess said he didn't want to take his kids to a park where people could be armed. He also didn't want outsiders telling council how to run the city. "My point to them was their guns aren't welcome here," Burgess said. "I don't care if the state of Ohio says they have a legal right to carry a gun. Morally, it's not right."
But gun-rights activists say such statements are an affront to what they consider a constitutionally protected right under the Second Amendment.
"What if Oberlin had a law that said we don't wants blacks in the parks? Should they be allowed to do that?" said Jim Irvine of the Buckeye Firearms Association, which was not involved in the Oberlin controversy.
In a short time, Oberlin had become a flashpoint in a debate taking place in Washington D.C., in state capitals, and in communities across the nation. While the politics of gun policy heat up with each mass shooting, the nation remains solidly divided on gun rights. At the same time, states across the country have loosened gun restrictions, and concealed carry permits are soaring, the Wall Street Journal reported in July. All 50 states now have concealed-carry laws, after Illinois adopted a law in summer 2013. Ohio is on pace to issue more than 120,000 carry permits in 2013, about twice as many as in 2012. Ohio lawmakers have introduced 19 firearm-related bills since January 2013, the Cincinnati Enquirer reported in August. Most of the bills would expand gun rights. Ohio is also considering "stand your ground" legislation fashioned after the Florida law that was the subject of debate in the 2012 shooting death of Trayvon Martin and the trial of George Zimmerman. The Ohio legislation would expand circumstances under which a person can use deadly force in self-defense. Another measure, House Bill 231, would allow concealed guns on college campuses and in day-care centers, churches, and government buildings.
Toby Hoover, executive director of the Ohio Coalition Against Gun Violence, said the state has stripped local governments of any authority to restrict guns. "It's a battle in Ohio," he said. "It's very unfortunate some cities are now realizing how much has been taken away from them."
In its lawsuit against Oberlin, Ohioans for Concealed Carry challenged the revised ordinance—which forbids "unlawful" firearms in parks—saying the city has no right to regulate guns at all. The lawsuit, which also names the Kuzawas as plaintiffs, said several other Oberlin gun ordinances don't follow state law, including prohibitions against transporting loaded magazines or "speed-loading devices" in motor vehicles.
Soucy said she believed the revised ordinance is on solid ground. As of early November, the council was still considering a response. She said it's possible the council will simply rescind the challenged ordinances, as other cities have.
In the meantime, council is exploring other ways to keep guns out of parks. Councilman Burgess said one measure under discussion is leasing city parks to a nonprofit group. As a private entity, a nonprofit could restrict guns, he said.
There is also talk of seeking a law that would restore "home rule," allowing cities policy discretion on guns in public parks. Oberlin City Manager Eric Norenberg said the furor over guns in Oberlin parks could spark a statewide campaign, and he's spoken to other city managers about a joint effort. On the night it voted to allow guns in parks, city council also introduced a resolution urging the state to give cities such authority.
Such an effort would be an uphill battle in Ohio's hard-right General Assembly. "They want to expand gun rights as much as they can," said Burgess, who is a gun owner.
"I'm not anti-gun. But I can't fathom why you'd want to take one to a playground."